Baked root chips with buttermilk-parsley dipping sauce are the best things that have come out of your oven since sliced bread.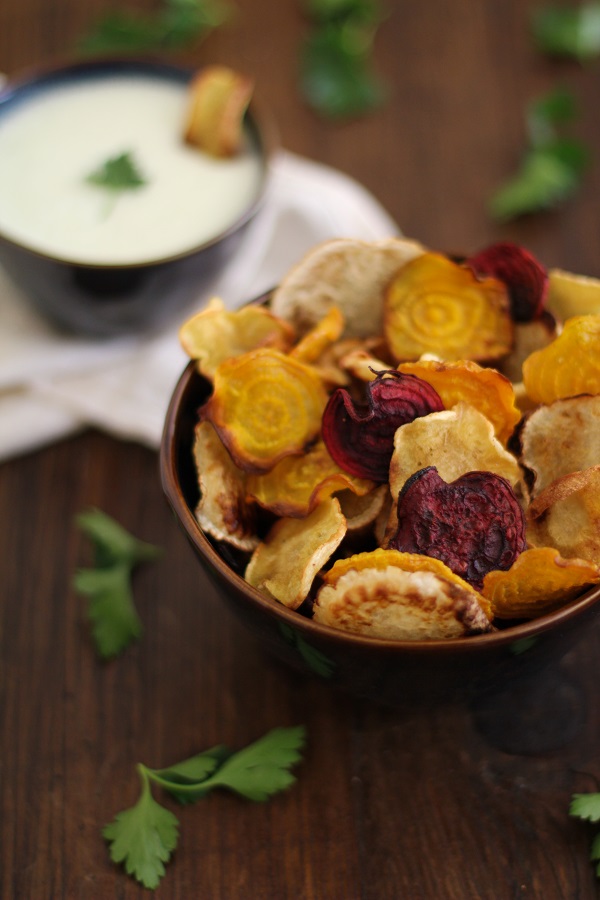 This won't come as a shocker, but I prefer acquiring kitchen appliances over all other things in life. Cars? Purses? Shoes? Foggedaboutit. But a nice whatchamacallit to facilitate my kitchen musings? I'm down.
It's true. I haven't exactly contributed to luring our economy out of the pits of depression via my wildly outrageous spending habits. I will, however, slice up some veggies and roast them in the bakery oven for the mad peeps.
A few weeks ago, I purchased a mandolin slicer – – – > a De Buyer Kobra Slicer
to be exact (not sponsored). With smooth, sleek efficiency, it slices thinly, evenly, sexily. I've never seen such a perfectly sliced vegetable.
What do you do with a perfectly sliced vegetable, you ask (in your best Sherlock Holmes voice…whatever that sounds like)? You make chips out of them!!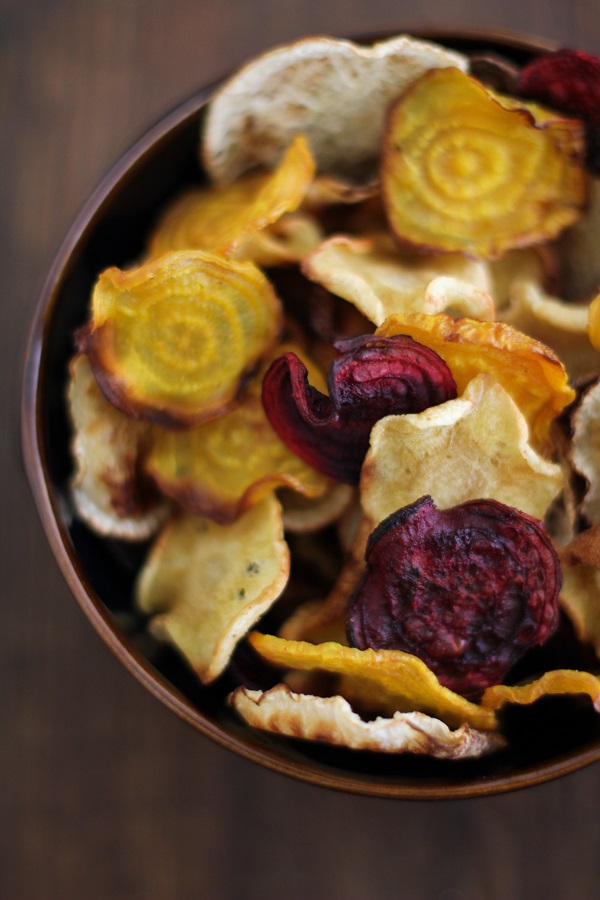 I certainly hope you've been craving roots because between Monday's Roasted Beets with Orange-Tahini Dressing and these root chips, you've got great bunches of root vegetables flying at your face from all angles!
Have you had yourself a root chip? Do you like things that go snap, crackle, pop? Do you like a good hippity dippity? Great! These crispy oven-baked root chips with dipping sauce are your jam!
My cookbook,
Paleo Power Bowls
, is now available! CLICK HERE to check it out. Thank you for your support!
If you make this recipe, please feel free to share a photo and tag @TheRoastedRoot on Instagram!
Baked Root Chips
Homemade chips made with root vegetables are a nutritious alternative to regular store-bought chips!
Ingredients
Buttermilk Dipping Sauce:
1

cup

whole milk Greek yogurt

1/3

cup

buttermilk

2

tablespoons

fresh parsley

finely chopped

2

cloves

garlic

minced

1

teaspoon

lemon zest

1

teaspoon

pure maple syrup

1/4

teaspoon

sea salt

to taste
For the Root Chips:
1

large turnip

peeled and thinly sliced

1

large parsnip

peeled and thinly sliced

1

large golden beet

peeled and thinly sliced

1

large red beet

peeled and thinly sliced

2

tablespoons

avocado oil

or grapeseed oil

1

teaspoon

dried thyme

1/2

teaspoon

garlic powder

1/4

teaspoon

ground cumin

1/4

teaspoon

sea salt

plus more for sprinkling
Instructions
Prepare the Buttermilk Dipping Sauce:
In a small bowl, whisk all ingredients for the dipping sauce together until combined. Cover and refrigerate until ready to use. Note: the sauce will thicken as it sits in the refrigerator.
Make the Chips:
Preheat the oven to 400 degrees F.

Whisk together the oil, dried thyme, garlic powder, ground cumin and salt in a small bowl.

Peel all of the root vegetables and use a mandoline slicer to slice them 1/8-inch thick. (You can also slice them thinly using a sharp knife, but be very careful, as roots tend to be difficult to cut.)

Use a brush to lightly coat both sides of each chip with oil, then place the slices on an oven-safe wire rack, making sure the slices do not overlap. Place the wire racks on 2 baking sheets. (If you don't have enough wire racks or baking sheets, you can make the chips in 2 batches.)

Place the baking sheets in the oven and bake the roots until golden-brown and crispy. Check on the roots every few minutes once they have been baking for 20 minutes; remove any chips that are brown and crisp and return the rest to the oven until they're all done baking.

Serve fresh out of the oven with buttermilk-parsley dipping sauce. Store any leftovers in a sealed bag or container - note that chips will not stay crispy after they have sat for a while.
Nutrition