Roasted Beet & Fig Salad with Goat Cheese and Blackberry Balsamic Reduction is an amazing side dish to any main entrée! This nutritious, flavorful beet salad is just as nutritious as it is tasty!
There was some serious crunching this weekend.
You know that little cookbook I've been telling you about for 6 months?
It's pretty much in the bag.
Other than a booty busting trail run, a marathon Revenge watching session, and a prime rib dinner that prompted me to put on proper clothing and run a comb through my hair, this girl's been glued to her Imagine Dragons pandora radio and her overheating laptop. Tip typing away at the love of my life.
My book about bugs. Delicious Probitoic Drinks.
There may be a period of adjusting back to real life after all the time I have spent with Microsoft Word and Adobe Lightroom. With Imagine Dragons radio. Goo Goo Dolls have made a comeback, what? We're so lucky!
Apparently I won't be too prompt about my adjustment back.
Okay…things…that involve you. This salad!
This salad plus my obsession for beets and figs.
At my work, we keep fancy olive oils and vinegars because we ladies love us some fresh crisp salads for lunch.
We currently have a bottle of strawberry balsamic vinegar, which has made me a better employee and is responsible for me enjoying food more at work than at home as of late. It's that good. I actually long for it.
Can I go to work now? I'd like some strawberry balsamic vinegar.
Well, as awesome of a worker bee I am, glued to a bottle of vinegar, the smart thing to do is make it yourself at home. DIY fruity balsamic, represent! You hate me today.
Roasted Beet & Fig Salad:
I made blackberry balsamic which is pretty much the easiest way of being a fancy person, requiring just blackberries, balsamic vinegar, honey and the willingness to boil. Do you hate beets? Soak those buggers in a fruity balsamic vinegar. Life's changing!
Let's have a conversation about roasting. Roasted beets: good. Roasted figs: great! Roasted figs make me want to sing corny songs.
It's probably healthy for my relationship that I don't act on this impulse. And this salad…serious fist pumping, chest bumping, football-hiking UGH! I did just say all of those things about a beet salad. Unabashedly.
What happens when you have a cookbook to finish?
You take 20 pictures of figs because how freaking cool do their extraterrestrial tendrils look on the inside? Move over, cookbook, figs is crazy!
And then there's the pictures of beets too.
For the past few weeks, I have been roasting a few beets at a time before the workweek starts so that I can have them in salads during the week.
I feel like such an adult when I tell you these things. I then do posh things with the roasted beets like toss them together with blackberry balsamic vinegar, roasted figs, goat cheese and walnuts.
You know what else I do with this salad?
I double salad it. Put it on top of mixed greens, add in some blueberries and stain everything red. You can double salad, too. All's you need is green and blue…berries. Okay, I'm done.
And that's all. Beets bring you a good life.
Also try my Roasted Beet Arugula Salad with Maple Balsamic Vinaigrette!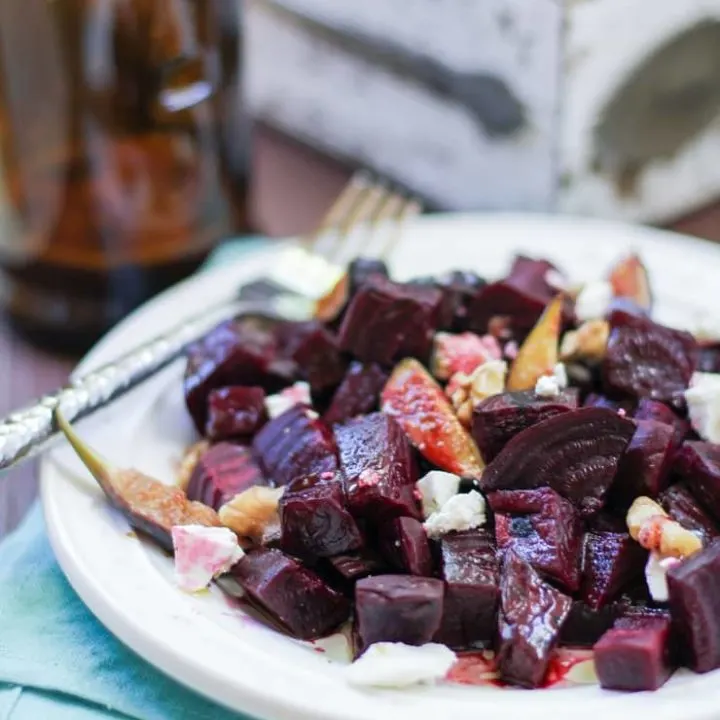 Roasted Beet & Fig Salad
Roasted Beet & Fig Salad is a nutritious salad recipe loaded with antioxidants and Vitmains! That goat cheese is everything here!
Ingredients
For the Roasted Beet & Fig Salad
1 large red beet, chopped
4 figs, quartered
2 tablespoons walnuts, roasted
3 tablespoons goat cheese
Sea salt and pepper to taste
For the Reduced Blackberry Balsamic
¾ cup ripe blackberries
½ cup balsamic vinegar
Instructions
To Prepare the Blackberry Balsamic Vinegar
Heat the balsamic vinegar and berries in a saucepan over medium heat, covered. Bring to a full boil
Remove cover and smash blackberries with a fork, allowing the mixture to continue to boil. Reduce the liquid by 1/3.
Add the honey and stir to incorporate.
Use a fine strainer to strain out the blackberry pulp and push on the pulp with a spoon to release as much of the juices as possible.
Pour the blackberry balsamic vinegar into a jar and put it in the refrigerator to cool.
To Prepare the Beet Salad
Preheat oven to 400 degrees F.
Scrub the beet and chop off the greens (you can discard the beet greens or use them in your cooking). Dice the beet into ¼" to ½" cubes. Place the chopped beet on a sheet of aluminum foil. Fold the edges of the foil over on top of each other, creating a package of beet.
Put the beet package on a cookie sheet and roast in the oven for 50 minutes or until beets are soft when poked with a fork. Remove from the oven and set aside to cool.
While beets are roasting, quarter the figs and place them on a parchment-lined cookie sheet. Roast them for 10 to 12 minutes, until their juices begin seeping out. Remove from oven and set aside.
When everything is nice and roasted and cooled, arrange the beets, figs, walnuts and goat cheese on a plate. Drizzle everything with 2 teaspoons of olive oil.
Drizzle desired amount of blackberry balsamic vinegar over the ingredients, saving what you don't use for future salads.
Serve salad either warm or cold!
Nutrition Information
Yield

4
Serving Size

1 Serving
Amount Per Serving
Calories

188
Total Fat

12g
Unsaturated Fat

0g
Carbohydrates

19g
Fiber

2g
Sugar

15g
Protein

4g