Roasted Beet Salad and Peach Salad with pluots, blue cheese and walnuts is a flavor-infused healthy salad recipe to make you feel amazing! Whip it up every week for a nutrient blast!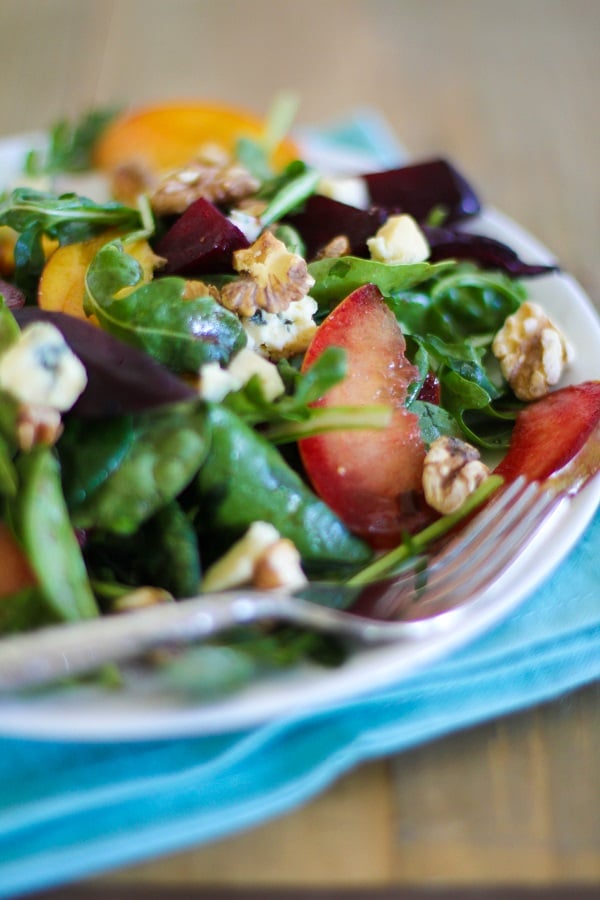 My relationship with the roasted beet salad has been a long time coming.
I have put it on a pedestal, idolized it, wondered if I could do it justice with all the right ingredients. I've waited anxiously, cursed and praised its beauty, scrutinized all my options. Awkward conversations have transpired.
I've been collecting my ingredients, trying to find the right words to say, and then it dawned on me: it's not about the right move, it's just about the move.
It's about putting sweet and salty together, soft and crunchy, nutty and creamy. And it's about remembering the obvious: it's just a salad. Just toss the thing and get a move on. I saw a recipe in Cooking Light for Roasted Baby Beets and Blood Orange Salad with Blue Cheese and took this as serious inspiration to finally make my roasted beet move.
Why all the buzz around the salad? Who knows. I've roasted beets, made smoothies out of them, a tart, pulled out some crazy ravioli moves, juiced them, burgered them, baked cake with them. The beet and I…we've been around the block a time or two. But possibly the most simple beet dish has been a source of confusion and indecision.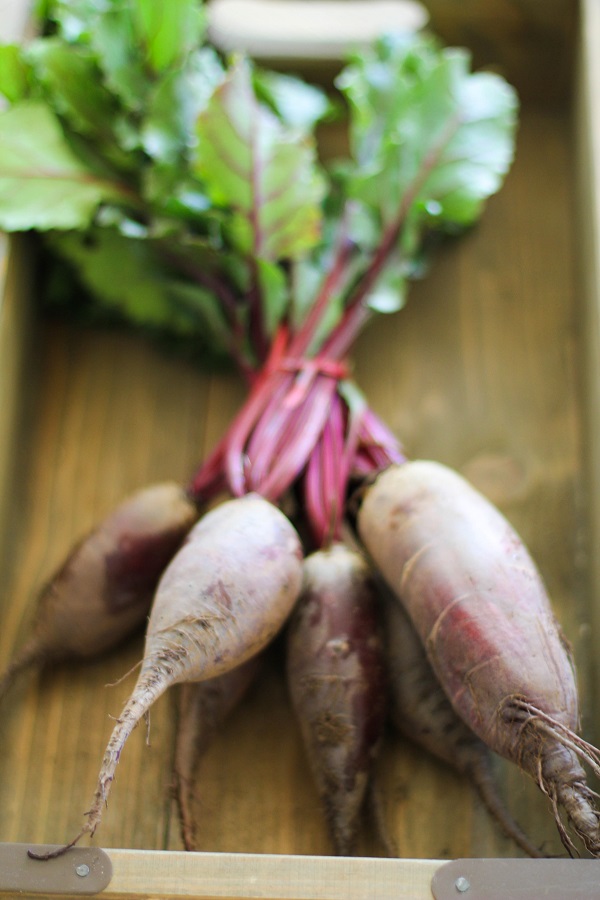 Not anymore. The beet's been roasted. It's been tossed. And loved on. I picked up a bushel of beets from the farmer's market and kicked the salad right off its pretty perch to make it something real. I had also picked up peaches and pluots and adore robust cheese, so all that milling about was all in vain considering how naturally the recipe came together.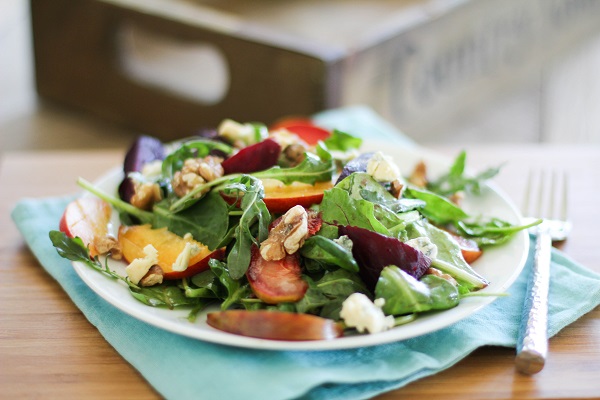 I love everything about this salad from all its fresh flavors to pretty colors and its strong, silent presence. It's cool with you talking to it. I'm cool with you talking to it. You plus me plus beets. Get up on it!
Roasted Beet and Peach Salad
Roasted Beet and Peach Salad with blue cheese and walnuts is fresh, flavorful and delicious!
Ingredients
3

cups

small beets

roasted and chopped (about 1.5 )

1

peach

pitted and sliced

1

pluot

pitted and sliced

5

ounces

mixed greens

3

tablespoons

balsamic vinegar

2

tablespoons

walnut or olive oil

1

teaspoon

stone ground mustard

1

teaspoon

honey

1/3

cup

to ½ blue cheese

crumbled*

¼

cup

walnuts

roasted and chopped
Instructions
Preheat oven to 400 degrees F.

Wash and scrub the beets well.

Place beets on a long piece of tin foil then fold the foil into a packet. Place the foil on a cookie sheet and roast 45 minutes or until tender when poked with a fork. Allow beets to cool 20 minutes. Once cool, peel the skins off using your fingers or a paring knife (they should come off in strips easily).

Chop the beets and set them aside.

In a small bowl, whisk together the balsamic vinegar, walnut (or olive) oil, mustard, and honey until completely combined.

In a large salad bowl, add the mixed greens and toss with desired amount of dressing.

Add the peach and pluot slices, roasted beets and toss again.

Serve salad with roasted walnuts and crumbled blue cheese on top!
Notes
*If blue cheese isn't your thing, substitute it for goat cheese or feta cheese
Nutrition