Roasted Beets with Orange-Tahini Dressing is an easy vegetarian (and vegan!) side dish that is packed with flavor and nutrition. Roasted beets are packed with vitamins and minerals and are delicious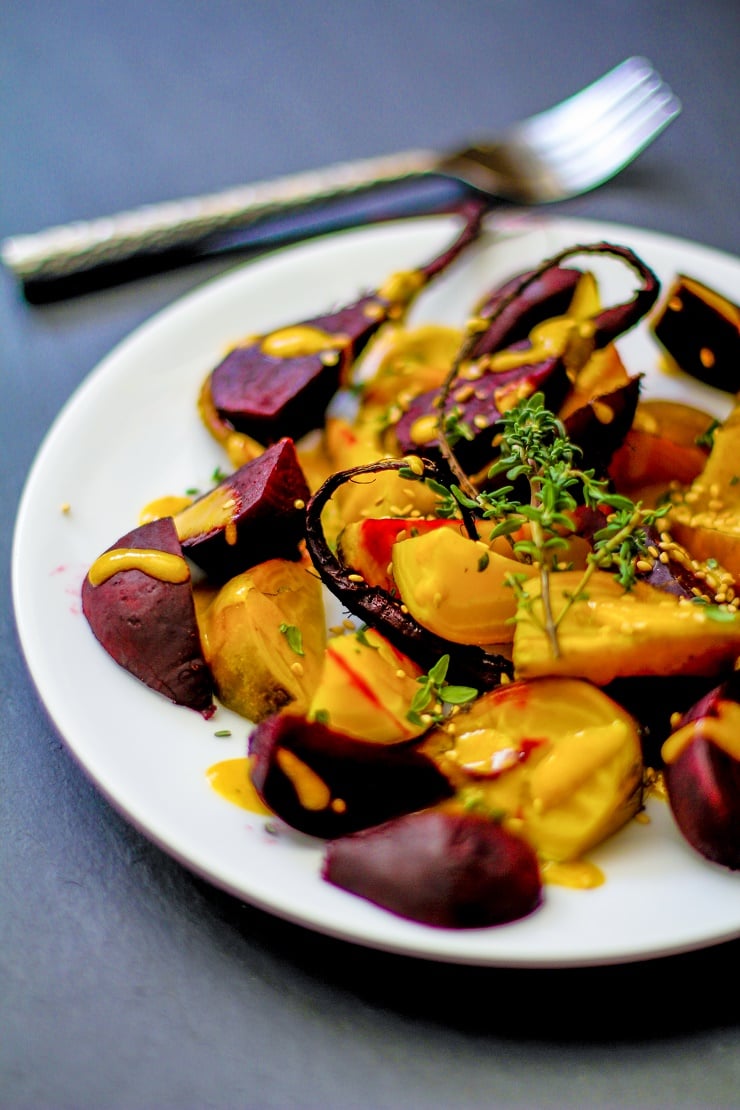 Given how un-technologically savvy I am, it's a truly a wonder that I own and operate a website. …webblog…blog…blogsite…webpage. Whatever.
What you see here is a polished version of what is actually a complete cluster of I-don't-understand-how-any-of-this-really-works. You don't get to see my back end..errr…back office…where all the files, code, and techy stuff is housed for this site. And truthfully, I don't spend much time back there, either…because it's dark, confusing, and very mysterious.
So when something remotely tech-related needs to happen on my site, I do what every all-star site owner would do: I ignore it for as long as possible. And then I call someone and have them deal with it.
I began getting emails a few weeks ago from the company that backs up my site, informing me they couldn't perform the back up. I also noticed my posts stopped showing up in my blog feed. So true to form, I ignored it all. And then I waited for the most opportune time to finally buck up and handle it like a champ. Which was yesterday morning. While hungover from Saturday night's ladies night. Because hungover is the perfect state to be in when you need to deal with anything that already doesn't make sense.
In order to resolve my tech issue, I had to make a phone call. This is how the phone call went:
"SiteLock, this is Matt, how can I help you?"
"Hiiiiiii! Yes, hi. I'm calling because one of you people.." < – – – seriously? Who says, "you people"? "….ahem…excuse me. I mean… one of your colleagues from my site host…server…FTP… warehouse…storage…facility…called me a few weeks ago to tell me my site had been hacked by spybots with malware or whatever, so I upgraded to your antiviral program that, like keeps spam out of my site. Or whatever. And after I did that, my blog feed, like done broke itself. CauseIwriteablog. It's a blog I write…my website's not a website, it's a blog. And I've been getting emails from VaultPress telling me they can't back up my site because there's a problem with my IP address or something. And my posts don't show up in feeds like feedly, bloglovin'…" < – – – did I seriously just reference "bloglovin'" to a tech guy? Ugh. "So anyway, I don't know if there's a link between the anti-spam thing and this feed thing…I assume there is, but I don't really kno –"
"What's your email address, ma'am?" < – – – I got ma'am-ed. Stab, twist.
"It's roasted root fooooooood at gmail dot cooooooom"
"Okay, yes, I see here we set up a firewall for you a few weeks ago. So basically the firewall is doing exactly as it's supposed to, which is great. But it severed the connection between your IP address and certain users in order to prohibit them from doing harm to your site. So you're invisible to some people right now. In fact, you're invisible to me, even."
I whisper: "I'muhninjaaaa"
He continues: "….This is really an easy fix. We just need to white list your IP address. One of our support crew can help you with that but unfortunately, they don't work on weekends. So I hate to ask this, but do you mind calling back tomorrow?"
"Not at all!…but so…whenIcallback…what do I, like….say? I tell them I need to be added to the white pages?" < – – – I SWEAR, I'm not normally this helpless. Except I am.
chuckle
"So you'll just tell them you need to white list an IP address. It should only take them five minutes."
"Okay. Okay, got it. Alright. White list. And. Okay. So, what does this whole thing meeeeeeeeeean? Like, why would my feed juststopworking?" < – – – clearly, I wanted to keep talking to this person.
"Again, when the firewall was set up, it hid your IP address from potential malicious users, which has made your feed invisible."
"Oh okay, alright, thankyousomuch, I'll call tomorrow. And yes, thanks, I appreciate all your help."
"You're very welcome. Thank you for choosing SiteLock and you have a great weekend."
And that, my friends, is what back end maintenance looks like.
All this tech stuff really whets my appetite, so I whipped out these insanely easy superfood megalomaniacal roasted beets with orange-tahini dressing and had to remind myself as I was wolfing the ENTIRE thing down, that no, Julia…you do not need to eat 8 beets in one sitting. Because fiber.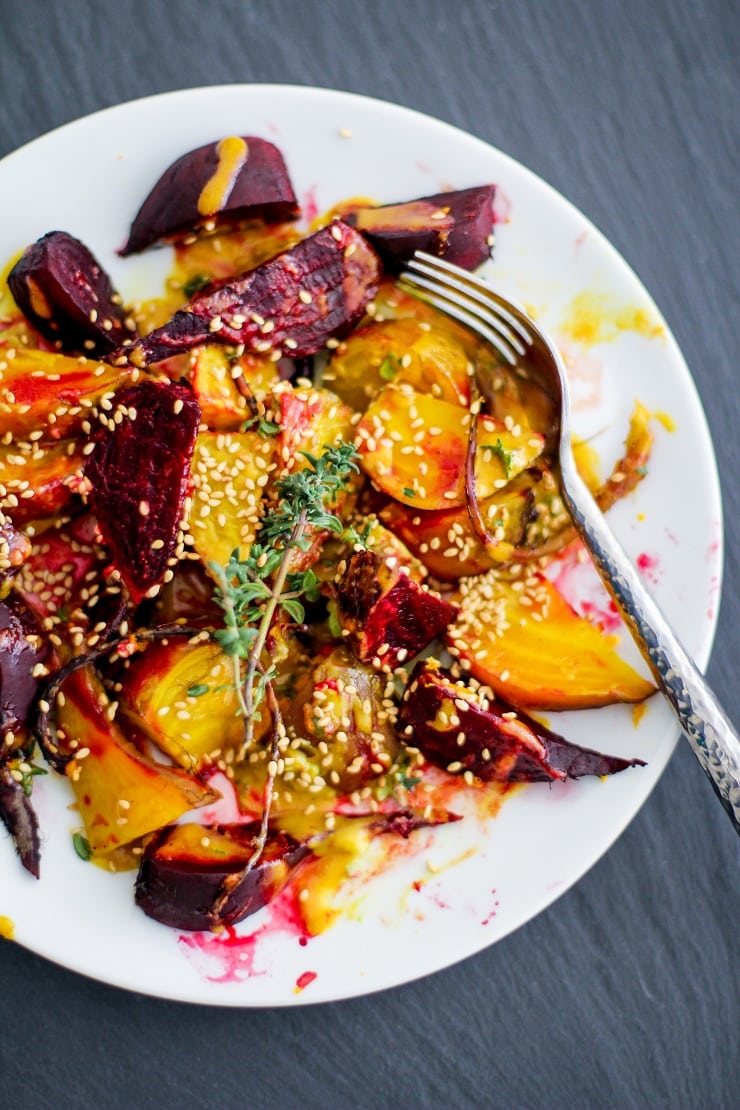 Case in point: this beet salad was a true delight. AND it can be made into a proper green salad lickety split. You just add greens, you see. And avocado would be scrambunctious. And chopped walnuts and red onions. All great ideas! Now you see me ramble…
Now you don't!
Roasted Beets with Orange-Tahini Dressing
Roasted Beets with Orange-Tahini Dressing is a unique immunity-boosting side dish.
Ingredients
4

small red beets

4

small golden beets

2

tablespoons

tahini

4

tablespoons

fresh orange juice

1

teaspoon

orange zest

1/4

teaspoon

kosher salt

1/4

teaspoon

turmeric

1/2

teaspoon

ground cumin

1

teaspoon

honey

Sesame seeds for serving
Instructions
Preheat the oven to 375 degrees F.

Peel and chop the beets. Place them on a long piece of foil and wrap them, enclosing them into a packet.

Place the foil packet on a baking sheet and bake for 45 to 50 minutes, until beets are soft, cooked through, and juices are seeping out of them. Remove from oven and allow beets to cool.

In a small bowl, whisk together the last 8 ingredients until smooth and creamy.

Serve the beets either warm or cold with dressing drizzled on top.

Other serving options: You can also turn this into a green salad by adding mixed greens, avocado, red onion, chopped walnuts, and any other salad add-ins. If you choose to do this, double or triple the dressing recipe.
Nutrition
Serving:
1
of 6
|
Calories:
104
kcal
|
Carbohydrates:
18
g
|
Protein:
3
g
|
Fat:
3
g
|
Fiber:
5
g
|
Sugar:
12
g
More roasted beets recipes: