Gluten free, grain-free, refined sugar-free paleo granola. This simple recipe incorporates nuts and seeds, plus – bonus points – you end up with huge granola clusters!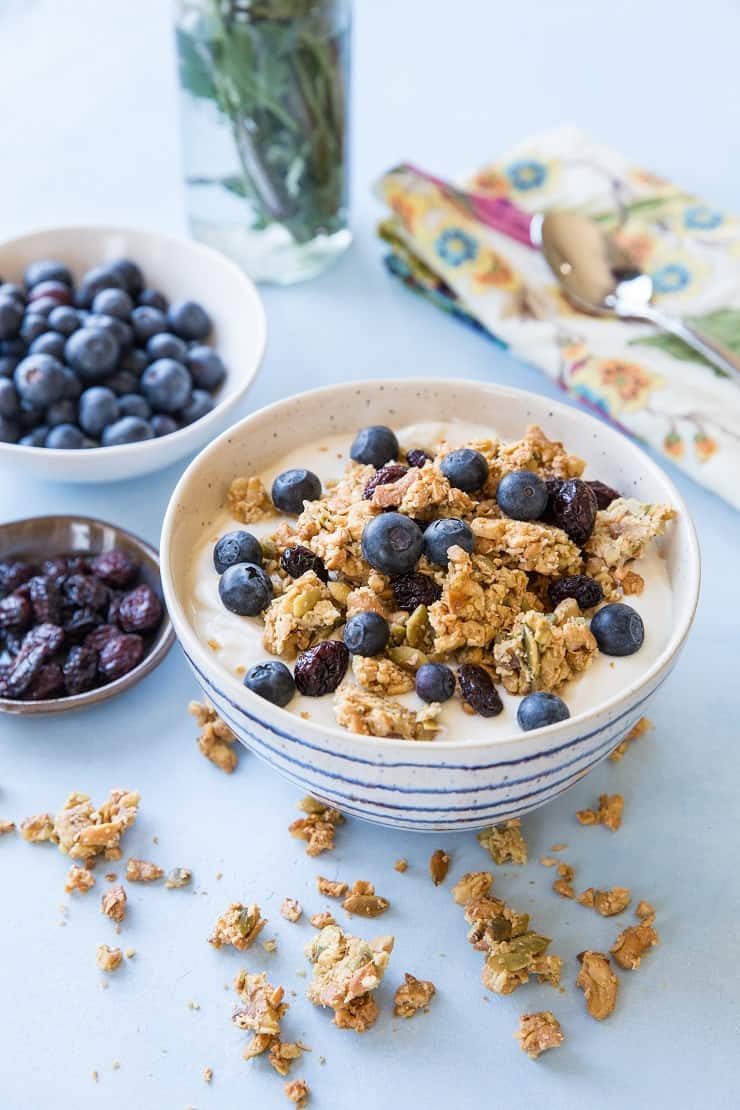 Do you ever get such a massive hankering for something crunchy that it can't be contained, quenched, or satisfied with anything other than granola?
This happens to me regularly.
I go about my business eating my veggies and rice and salmon on a weekly basis, then all of a sudden, BOOM!
Mega need for something hard to chew on.
When these savage cravings occur, I head to the bulk bins at the store and buy up all the nuts and seeds to make my own paleo granola that is free of refined sugar and grains.
I love making homemade paleo granola because I have the ultimate control of how much sugar goes in. Plus, I enjoy experimenting with various nuts, seeds, and flavors.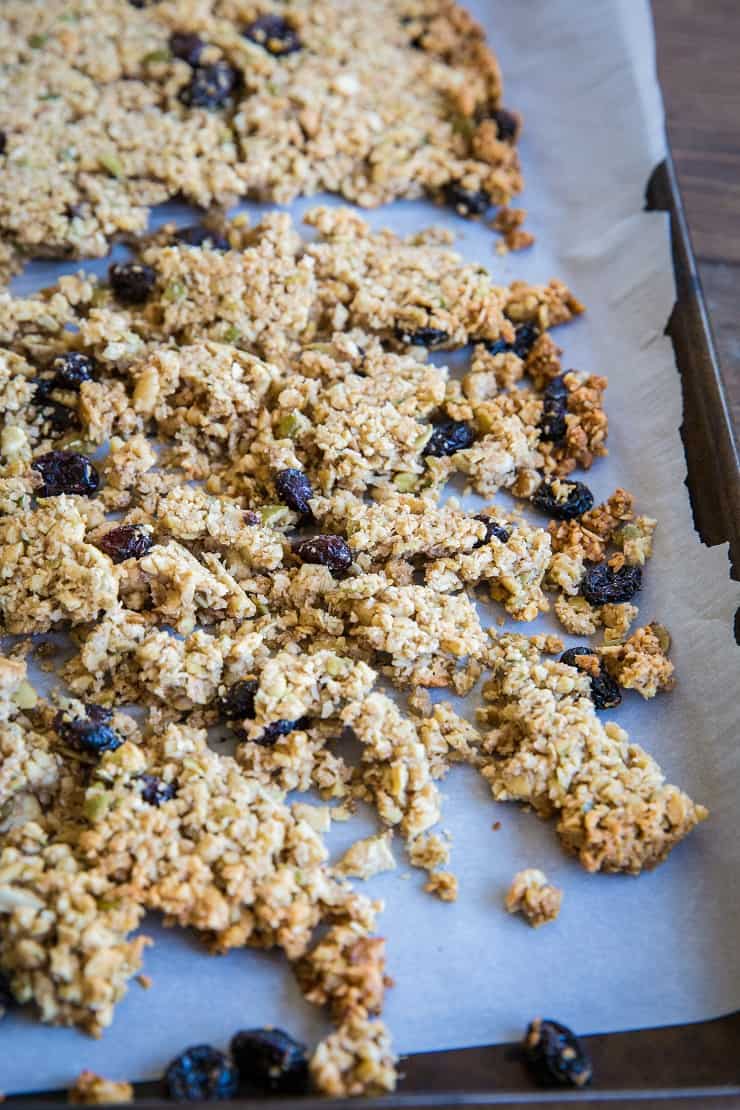 So here's my go-to paleo granola.
It's super straight-forward, incorporating ingredients you can buy in bulk from any grocery store.
I love eating it with a splash of almond milk and fresh seasonal fruit. If you're fine with dairy, this paleo granola makes for an amazing topping to yogurt!
This granola has the perfect crispy crunch, plus you achieve huge granola clusters.
Largely-sized clusters are a major highlight of granola.
Tips For Preparing This Recipe
Use a variety of nuts and seeds. Raw walnuts, cashews, almonds, macadamia nuts, pumpkin seeds, sunflower seeds, flax seed…toss it all in!
Use dried fruit and unsweetened coconut flakes. Both add natural sweetness and flavor without having to add processed sugar. Just be sure to use juice-sweetened dried fruit in order to keep this recipe paleo-friendly.
Give your ingredients a good chop or run through the food processor. This will create itty bitty granola bits that make for great granola-ing.
Use natural sweeteners. I used coconut sugar in my Walnut Granola Cluster recipe, honey in my Walnut & Date Granola recipe (and this one), and have also used pure maple syrup. Natural sweeteners a good granola make.
Use an egg white and water. I know, it sounds strange. But it helps hold all of the ingredients together, and makes for a crispy granola with large clusters. We want the biggest clusters we can get.
How to Make Paleo Granola: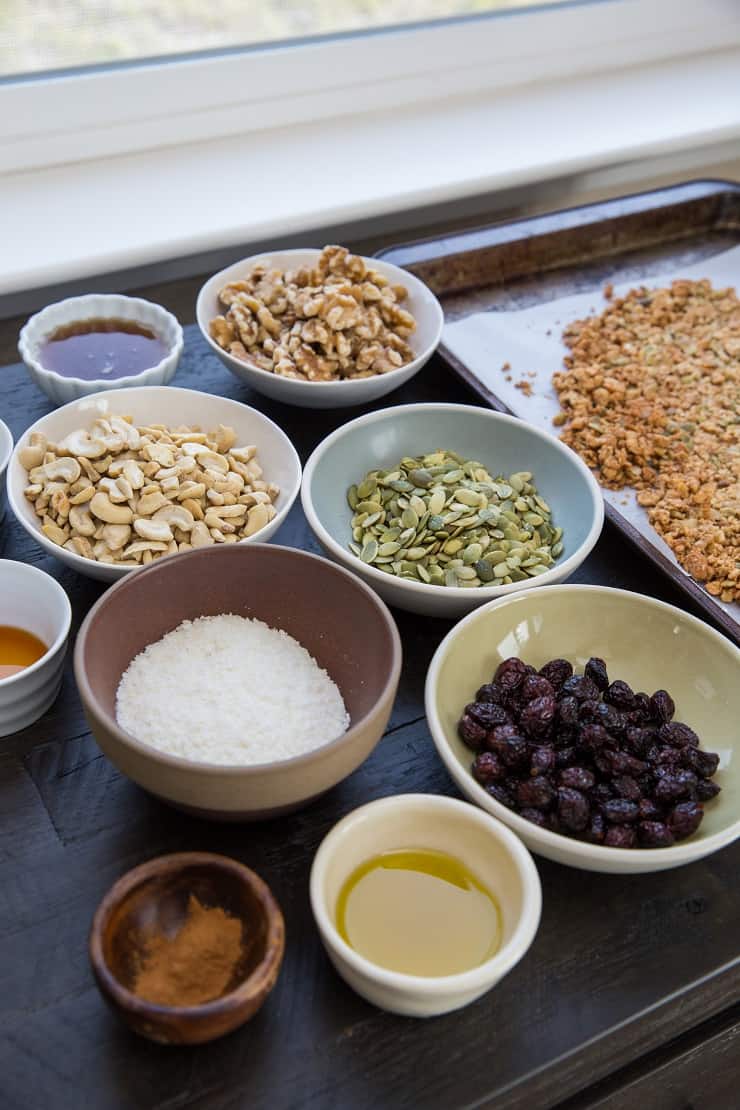 Whisk together the egg white and water in a bowl. Gather your paleo granola ingredients, you granola gathering fool 😉 .
Add the nutty and seedy ingredients to a blender or food processor (I use my Food Processor), and process for just a couple of seconds, grinding some of the nuts finely, and leaving many of the nuts chopped or whole.
Spread this granola mixture out on a parchment-lined baking sheet, creating an even layer, and bake.
Allow the granola to rest at least 30 minutes before breaking it into clusters using a spatula or wooden spoon. Be sure you let the granola sit when it's out of the oven, as this is when the clustering magic happens.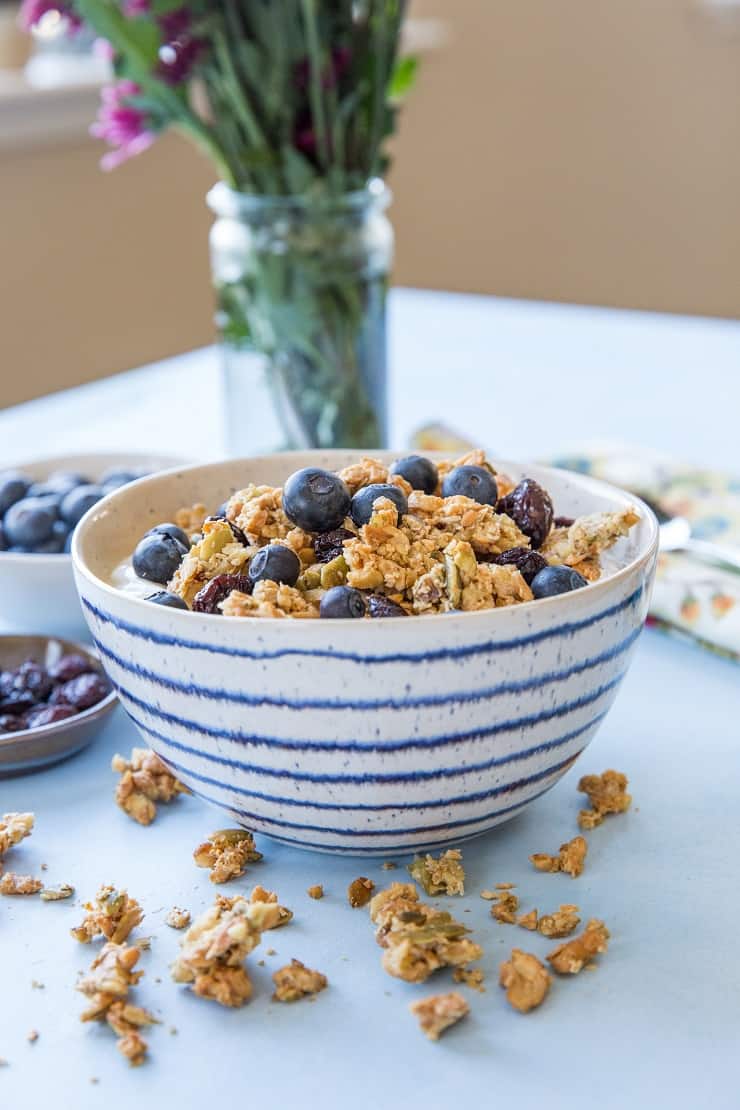 You know the drill. It's crunch time!
My cookbook,
Paleo Power Bowls
, is now available! CLICK HERE to check it out. Thank you for your support!
If you make this gluten-free granola recipe, please feel free to share a photo and tag @The.Roasted.Root on Instagram!
More Healthy Gluten-Free Granola Recipes:
The BEST Paleo Granola
Grain-free paleo granola recipe made refined sugar-free and dairy-free. MEGA huge granola clusters right here!
Instructions
Preheat the oven to 300 degrees F and line a baking sheet with parchment paper.

Whisk together the egg white with the water until bubbly and slightly foamy in a small bowl.

Add all ingredients, including the egg white/water mixture EXCEPT for the cranberries to a food processor. Pulse until well chopped and combined, but leave mixture nice and chunky.

Spread the granola mixture evenly on the parchment-lined baking sheet into an even layer and bake for 20 to 30 minutes or until golden-brown and crispy.

Remove granola from the oven and allow it to sit at least 20 minutes without stirring it – this is where the clustering happens, so be sure to not skip this step!!

Use a spatula or wooden spoon to break the granola into clusters.

Once cool, store the granola in a 2-quart sealable glass jar or zip lock bag.

Eat granola with your favorite non-dairy milk or yogurt and fruit
Notes
*Replace the egg white and water with 1/3 cup unsweetened almond butter to make recipe vegan
**Be sure to use juice-sweetened dried cranberries rather than sugar-sweetened
***You can also use olive oil or coconut oil
****Adjust the amount of sweetener to taste
Keep an eye on the granola while it is baking, as it can go from done to burned quickly. If you use honey instead of pure maple syrup, you will need to bake the granola for closer to 30 minutes to avoid burnage.
Granola can be stored in a zip lock bag or jar in the refrigerator for up to 2 weeks.
Nutrition
Serving:
1
of 16
|
Calories:
330
kcal
|
Carbohydrates:
21
g
|
Protein:
8
g
|
Fat:
24
g
|
Fiber:
3
g
|
Sugar:
13
g