Moist, flavorful, delicious fluffy Paleo Peach Coffee Cake made with coconut flour and sweetened with pure maple syrup. This healthier take on coffee cake is an absolute delight!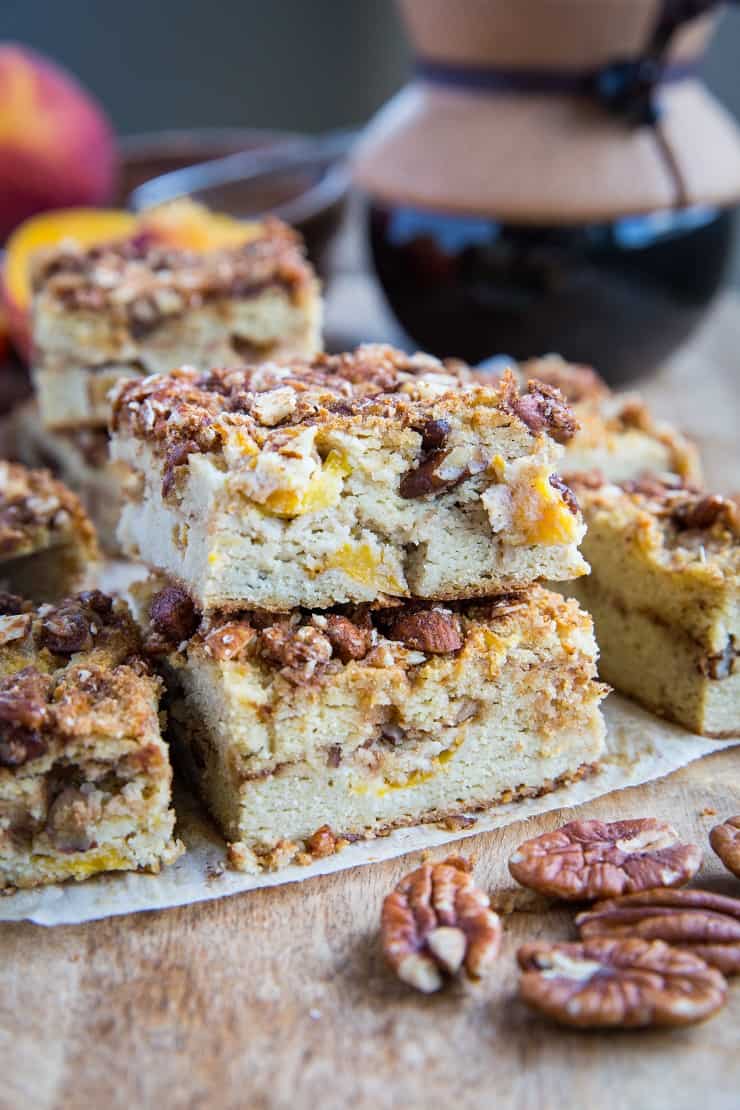 Peach season is short for us here on the West coast, so I try to maximize my peach intake wisely each summer.
Having experienced the absolute glory of ripe, drippy farm-fresh North Carolina and Georgia peaches, our bounty is a sad state of affairs by comparison; but I will say, when baked up into coffee cake, you're looking at a whole other type of delicious.
This isn't our first romp with Paleo Coffee Cake . In fact, we've also taken the Apple Coffee Cake, Paleo Blueberry Coffee Cake and Chai-Spiced Paleo Coffee Cake routes, because let's face it – we're a coffee cake-ing kind of household.
As you can see, we're making Paleo Peach Coffee Cake today with a pecan streusel topping, which is basically the most addicting thing I've laid mouth on in weeks.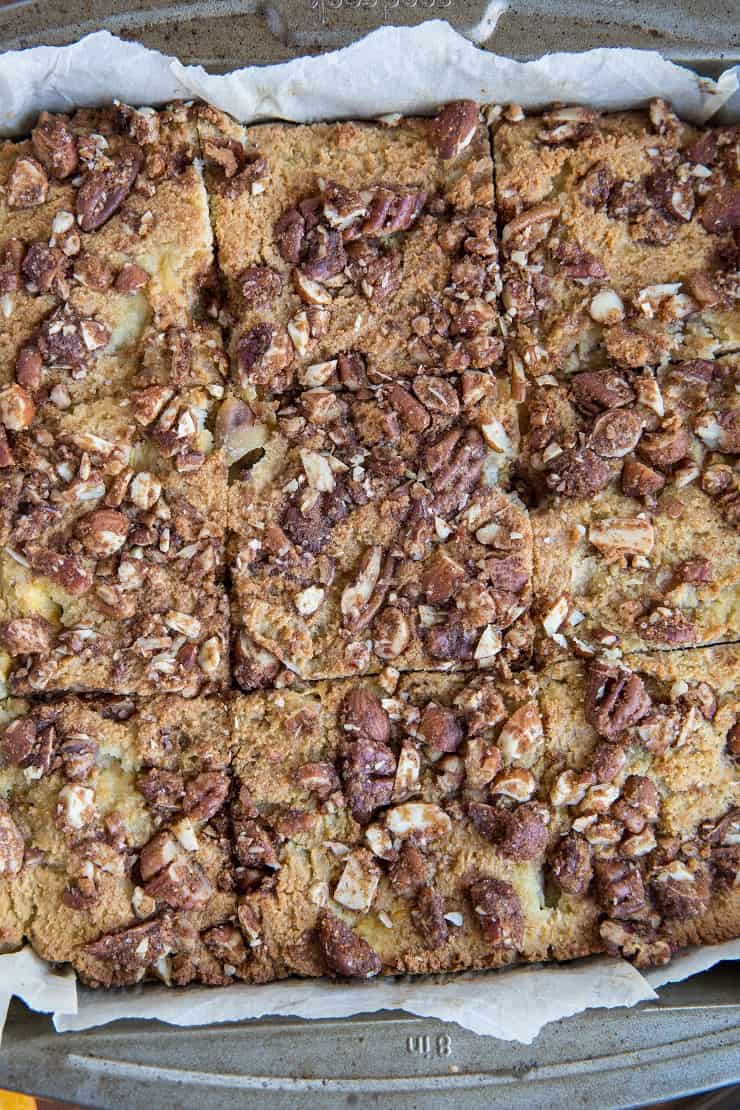 I'd be lying if I said I didn't eat all of the streusel topping off of the entire cake…followed by three pieces of the cake…because if you guys haven't already heard, I'm completely defenseless when it comes to sugar. Major sweet tooth right here…Guilty as charged.
As I was saying…
To dunk or not to dunk…
Do you guys dunk your coffee cake in actual coffee? Personally, I keep distance and separation between the two, but fully respect those who dunk.
Every single time I post a coffee cake recipe, I get asked why there is no coffee listed in the ingredients list. You guys, coffee cake does not include coffee…unless it is intentionally a coffee-flavored coffee cake (which I will definitely make one of these days)…but your average coffee cake is coffee-less. I
t's just called coffee cake because it's one of those traditional treats you eat alongside coffee. Kind of like Russian Tea Cookies. There are no Russians nor tea in Russian Tea Cookies. And Slutty Brownies…there are no…never mind. We cool?
Rad.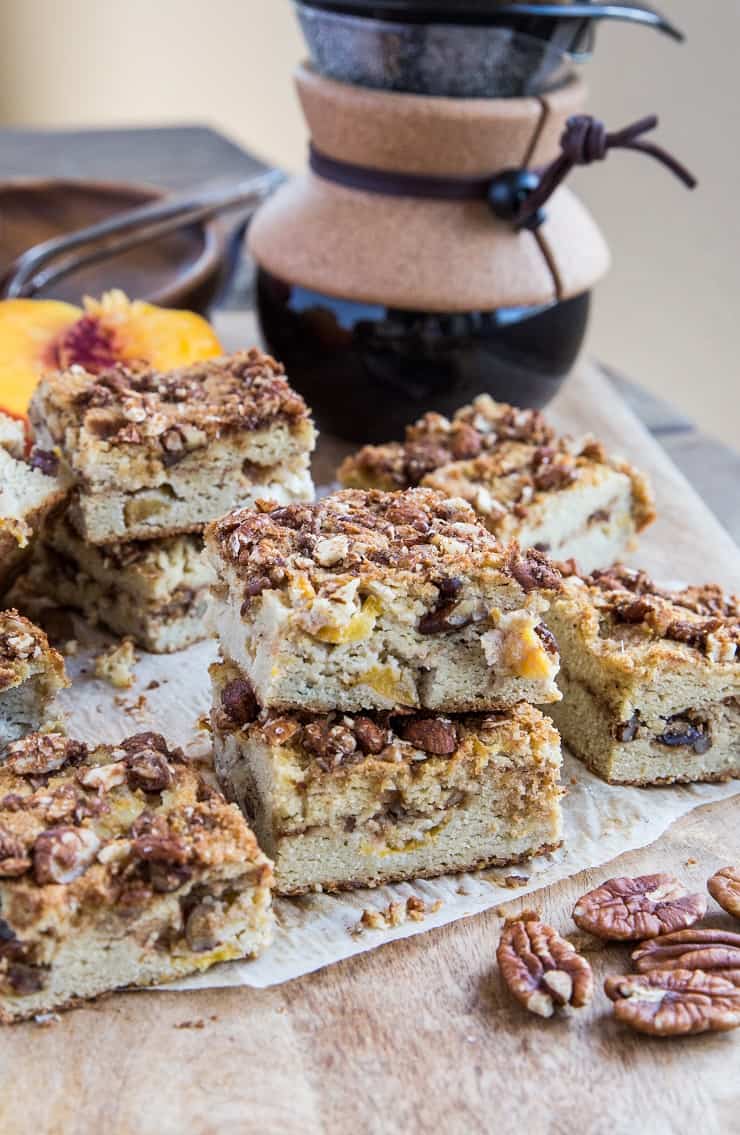 This Paleo Peach Coffee Cake is sinfully delicious. That vein of cinnamon-sugar bliss running through the dead center with the cinnamony sugar bliss up top? It's just so satisfying. This is one of those treats your friends and family will ooh and aah over and request time and again.
Do you brunch? Book club? Stitch and bitch? You should most def make this for the sharing.
As I was saying..
Paleo Peach Coffee Cake
Grain-free peach coffee cake is an amazing breakfast, snack and dessert during peach season!
Instructions
Preheat the oven to 350 degrees F and line an 8" x 8" cake pan with parchment paper.

Add the ingredients for the coffee cake, except for the chopped peach, to a blender. Blend until combined and smooth. Note: the cake batter will be very thick - this is normal. (Note: if you don't own a blender, you can prepare the batter as normal in a mixing bowl with a whisk or electric mixer).

Toss the chopped peach with 1 tsp coconut flour in a small bowl to ensure the chunks won't all sink to the bottom of the coffee cake. Fold the peaches into the coffee cake mixture.

Stir the ingredients for the pecan streusel topping in a small bowl until well-combined.

Pour 1/2 to 2/3 of the cake batter into the prepared cake pan and smooth into an even layer. Evenly spread 1/2 to 2/3 of the pecan topping mixture on top of the cake batter and use a knife to swirl it into the batter. Repeat for remaining cake batter and pecan topping.

Bake on the center rack of the preheated oven 30 to 35 minutes, until set up in the center and the edges are golden-brown. Turn off the oven and allow the cake to sit 5 to 8 minutes longer in the hot oven.

Remove cake from the oven and allow it to cool at least 30 minutes (the longer the better) before cutting into it. Enjoy!
Nutrition
Serving:
1
of 9
|
Calories:
288
kcal
|
Carbohydrates:
20
g
|
Protein:
8
g
|
Fat:
21
g
|
Fiber:
5
g
|
Sugar:
11
g
More Coffee Cake Recipes: