A Paleo Weekly Meal Plan featuring six healthy seasonally-inspired dinner recipes and one dessert! This meal plan is complete with a printable grocery list, and is designed to make cooking convenient and enjoyable!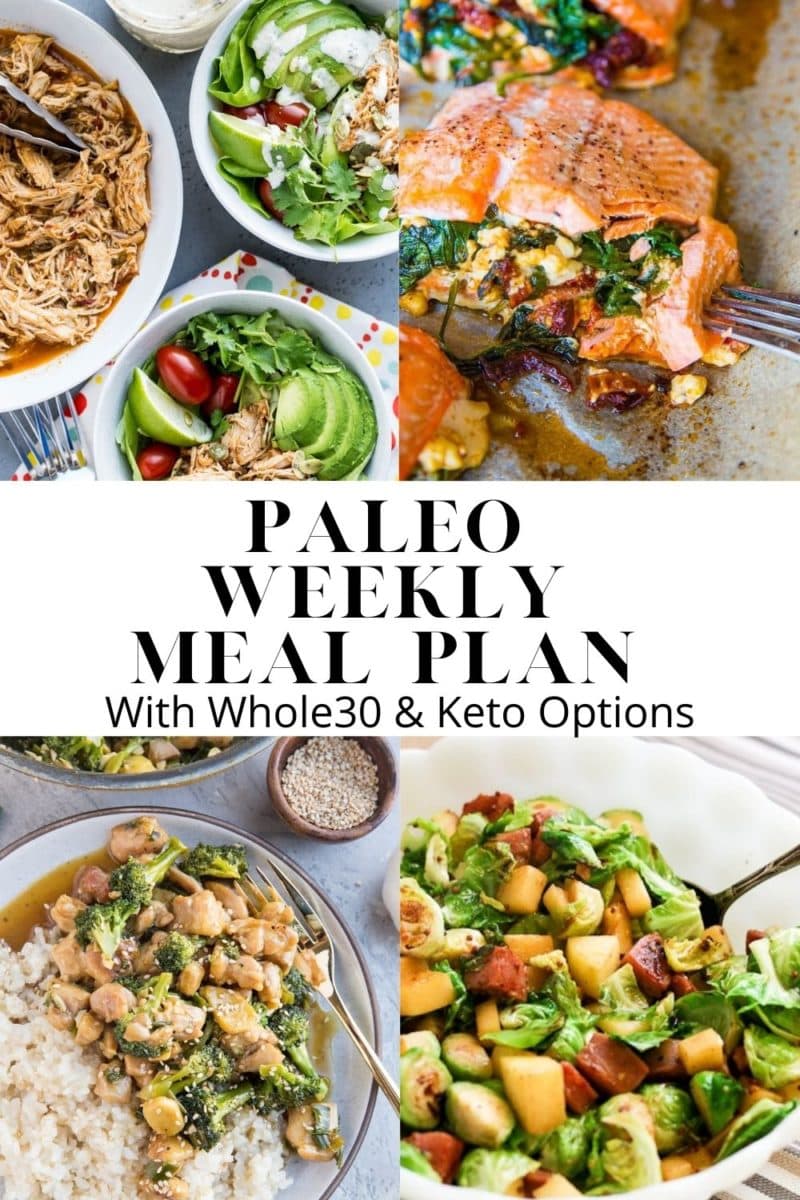 Well hello there!
The weather is starting to warm up here, which is making me crave all the summer activities. Are you enjoying the longer daylight hours? I always do! More daylight means evening walks and more time to shoot food photos during the day.
Let's talk food!
This week's meal plan has SO MUCH VARIETY, I just love it to pieces! From curry to salad to easy stir fry, we have you all set for a delicious and super easy week of healthy eating!
We do have a couple of main entrees only that need side dishes to go with them. You can always serve them with your favorite side dishes. I always enjoy My Easy Go-To Stir Fry Vegetables Recipe or my Crowd-Pleasing Roasted Vegetables. If you're a rice eater like me, try Coconut Rice or Aromatic Turmeric Ginger Rice!
Did you catch my Paleo Carrot Cake Blondies and The BEST Paleo Cheesecake I posted recently? If you're looking for something fun and tasty, both have been big hits
🙂
And now for the food! I hope you enjoy this week's meal plan. As always, let me know if you have any questions or requests.
xo
SUNDAY:
Brussels, Sausage, & Apple Hash – If you need a quick dinner on a weeknight, this Brussels Sprout and Sausage Hash with Apples will feed your hungry tribe in a jiffy.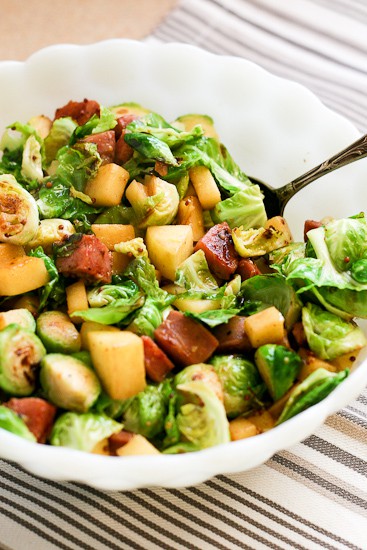 Special Diet: Paleo, Whole30, & low-carb as is.
Prep Ahead: Brussels can be prepped ahead of time.
Substitutions/Notes: Swap out Brussels for another cruciferous vegetable like chopped cabbage, broccoli, or cauliflower.
MONDAY:
30-Minute Mongolian Chicken – Quick and easy 30-Minute Paleo Mongolian Chicken comes together in a flash! This simple recipe is loaded with flavor and can easily be made any night of the week. Make a double or triple batch to meal prep it!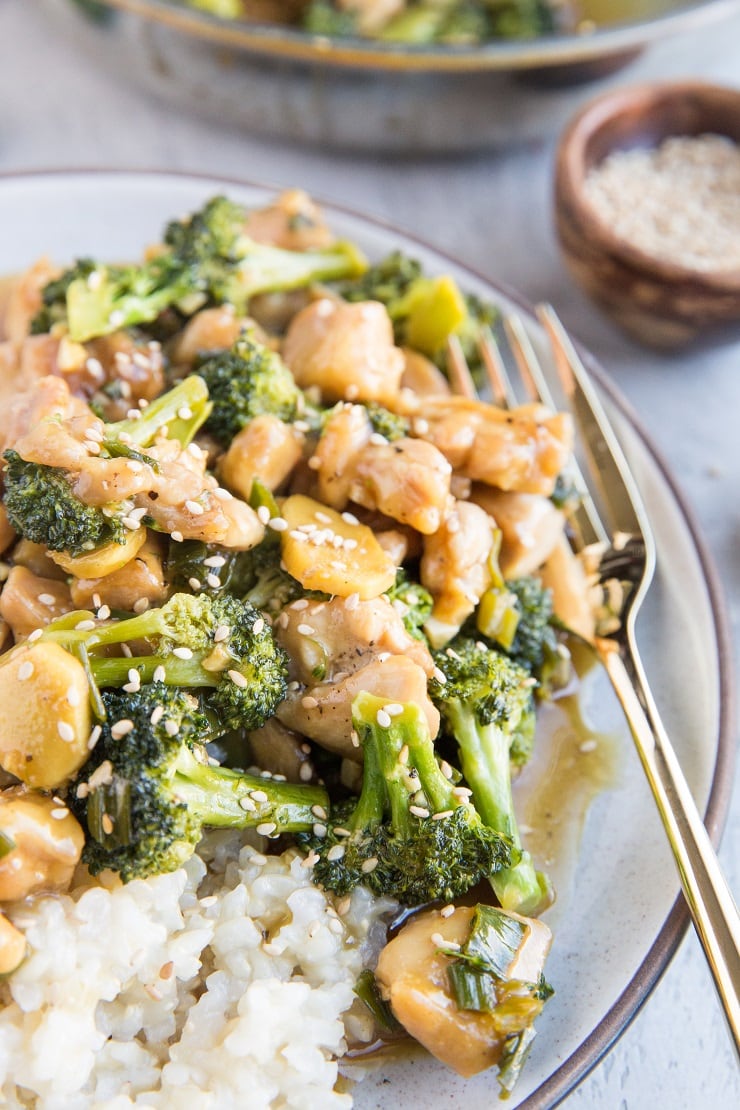 Special Diet Notes: Recipe is paleo. Serve with cauliflower rice to make recipe Whole30. Use liquid aminos instead of coconut aminos for keto and serve with cauliflower rice.
Prep Ahead: No advance prep is needed, as the recipe comes together lightning fast!
Substitutions/Notes: Replace the coconut aminos with liquid aminos, and/or serve the side with choice of steamed rice, cauliflower rice, or vegetable noodles.
TUESDAY:
Egg Curry – Egg Curry is an easy, meatless Indian-style curry! And a great home for some of those Easter eggs after the big hunt is over.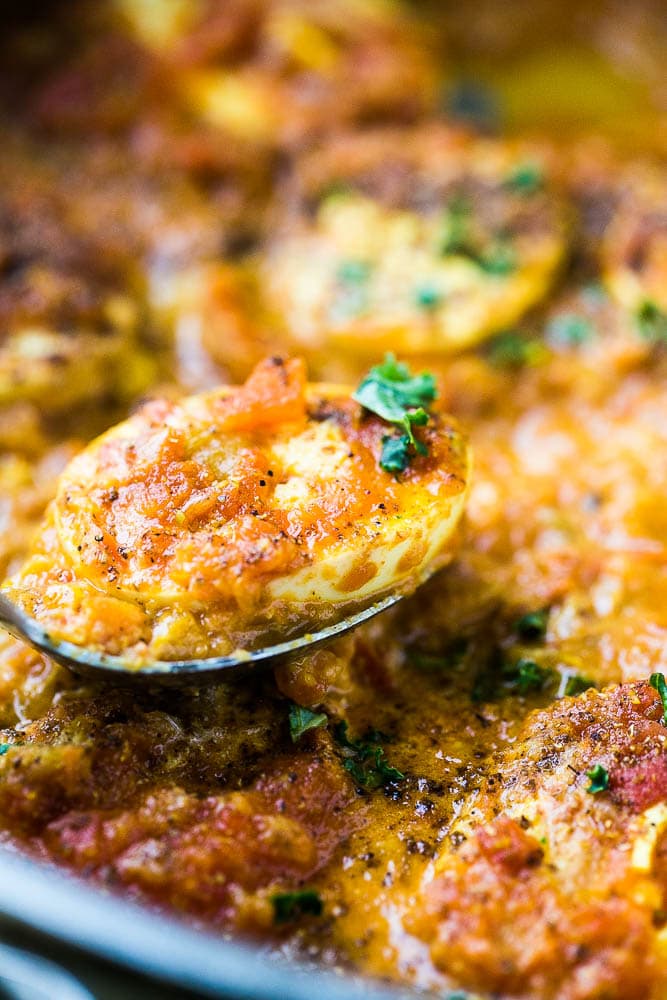 Special Diet Notes: Recipe is paleo & Whole30 friendly.
Prep Ahead: Hard-cook eggs ahead of time.
Substitutions/Notes: Use whatever side you like — cauliflower rice, steamed jasmine rice, or some roasted cauliflower.
WEDNESDAY:
30-Minute Teriyaki Beef Skillet with Vegetables – Teriyaki Beef and Vegetable Skillet made in less than 30 minutes! This flavorful nutritious meal comes together lightning quick, paleo, soy-free, and refined sugar-free.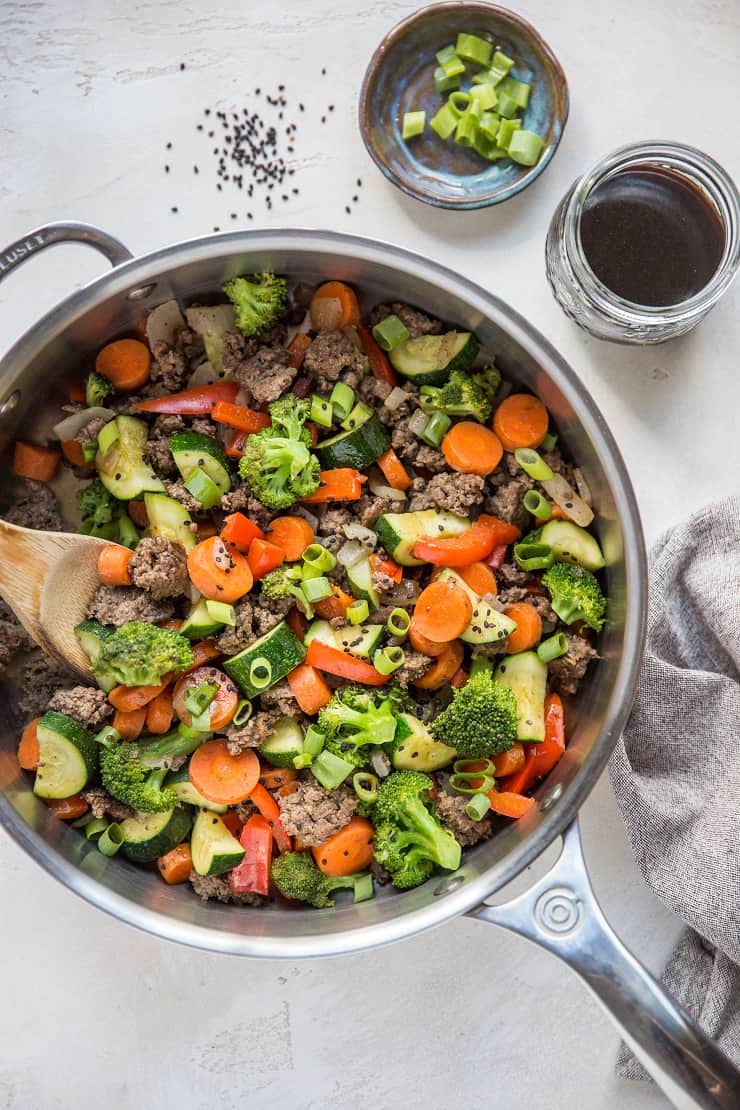 Special Diet Notes: Recipe is Paleo and Whole30. Make it Keto by swapping the teriyaki sauce for liquid aminos or soy sauce.
Prep Ahead: No advance prep is needed, as the recipe comes together in a flash!
Substitutions/Notes: Use your favorite vegetables, and swap the ground beef for your favorite ground meat.
THURSDAY:
Instant Pot Shredded Chicken Salads – Just a few ingredients are needed for this easy chipotle salsa shredded chicken! Taco Tuesday just got even more tasty.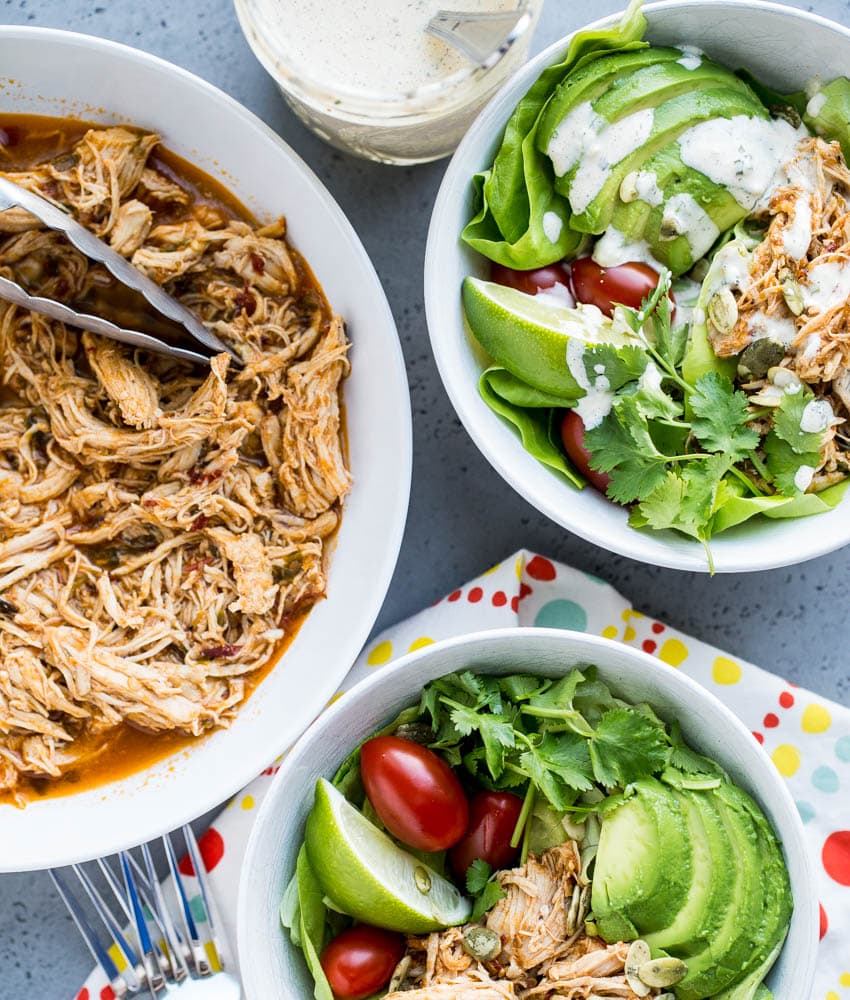 Special Diet Notes: Chicken is paleo and low-carb. Check the ingredients on the chipotles if you're doing Whole30.
Prep Ahead: You can make this chicken 3-4 days in advance and assemble salads when you're ready to eat.
Substitutions/Notes: Use any salad fixings you like.
FRIDAY:
4-Ingredient Mediterranean Stuffed Salmon – Mediterranean Stuffed Salmon with feta, sun-dried tomatoes, and spinach. This quick and easy healthy dinner recipe only requires 4 ingredients (not counting oil and sea salt), and comes together in about 40 minutes.
Special Diet Notes: Recipe is paleo and keto. Make it whole30 by swapping the feta cheese for artichoke hearts.
Prep Ahead: No advance prep is necessary! The recipe comes together quickly.
Substitutions/Notes: Use kale or chard instead of spinach, fresh cherry tomatoes instead of sun-dried tomatoes, and/or add kalamata olives or artichoke hearts.
DESSERT:
Vanilla Custard Cups – A simple, yet elegant and delicious dessert that you can prep completely ahead of time! It's dairy-free and easily made low-carb as well.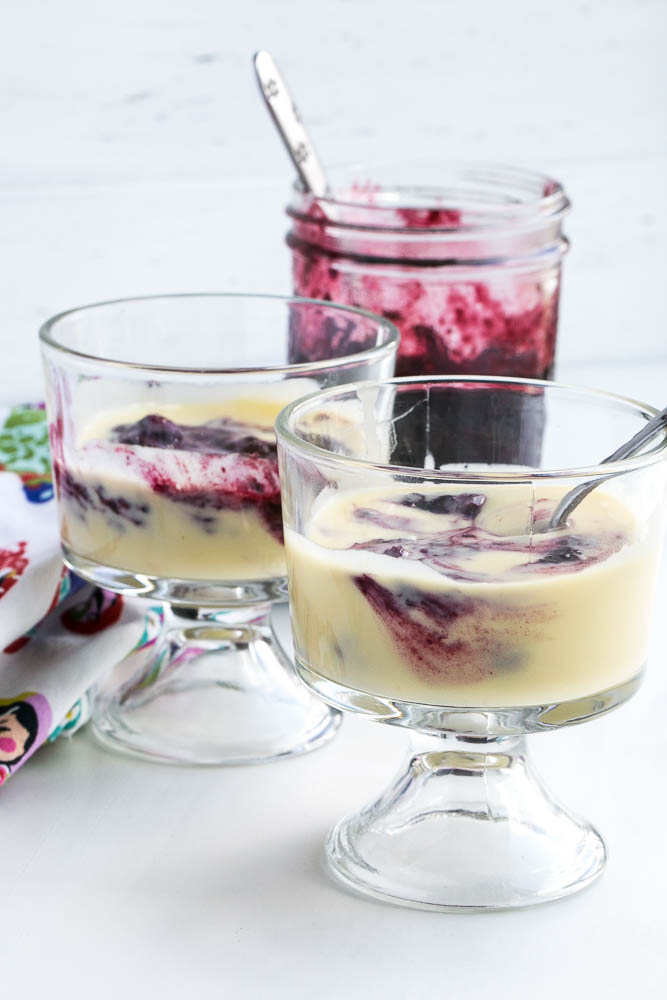 Special Diet Notes: Recipe is paleo. Tapioca flour adds a small amount of carbs in this recipe, but it's relatively low carb as is.
Prep Ahead: Custard needs to chill in the fridge for several hours before serving and can be made up to 5 days in advance. The berry sauce (see recipe link within custard post) can be made a week in advance.
Substitutions/Notes: If you'd rather not make the berry sauce, you can serve the custard with fresh berries or any other spring fruit you like.
GROCERY LIST:
Click HERE to print this week's grocery list!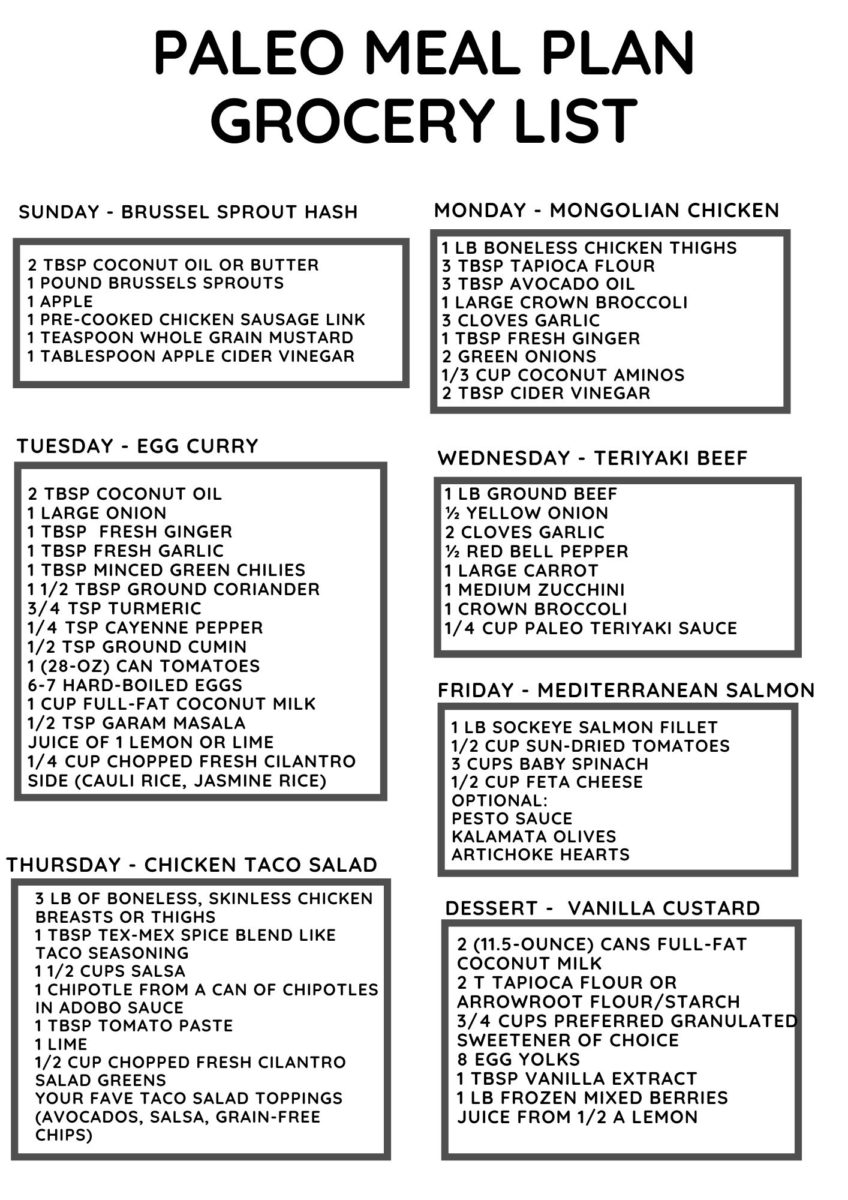 Enjoy!
xo