A healthy Paleo Weekly Meal meal plan to make meal prep super easy for the week. Complete with six nourishing recipes and one healthier dessert. This meal plan includes a printable grocery list and keto and whole30 options.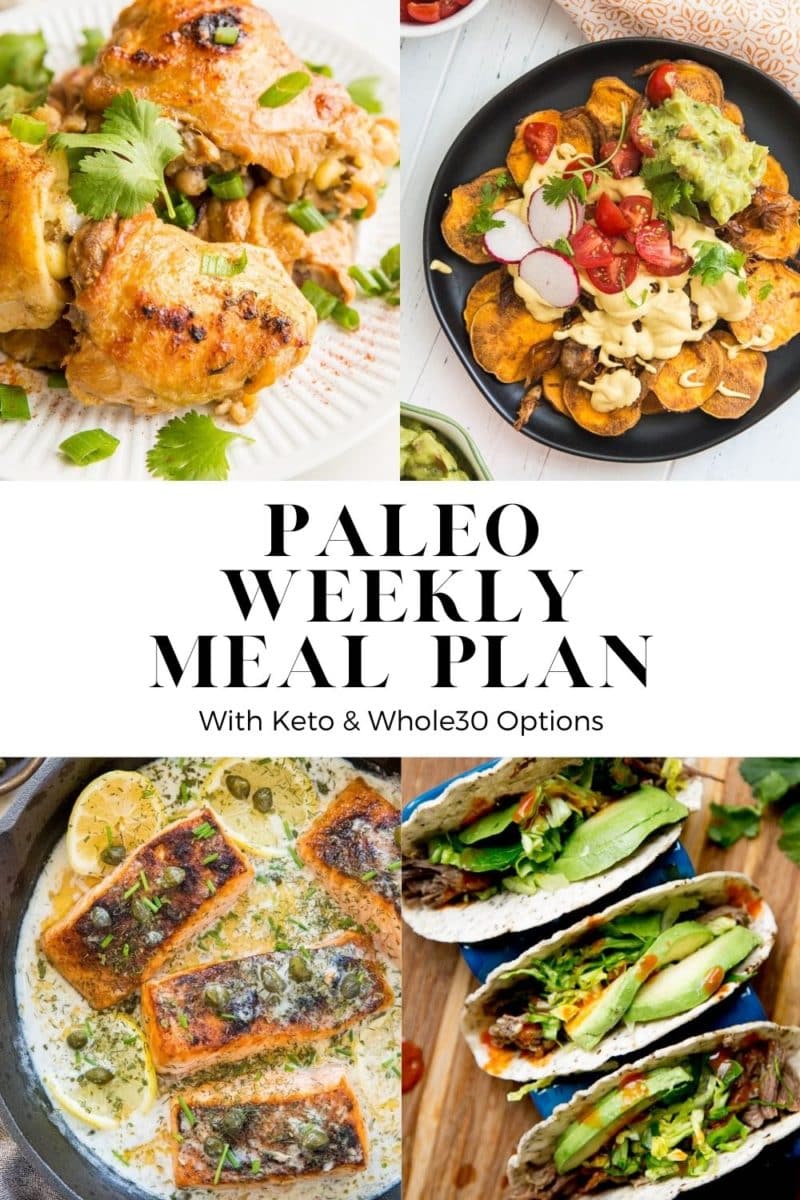 Why, hello there!
As you read this, my partner are on our way to Costa Rica for a 9-day getaway. Not only if this the first major travel for us in over a year, but it is the first big trip we're taking together as a couple!
Send us good travel partner vibes, and we'll send you jungle and beach vibes 😉
This week's meal plan!
I think you're going to love it! It's fresh, fun, and frisky with all sorts of different flavors and colors.
As is typical with these meal plans, we have a couple of main entrees that don't include side dishes within the recipe, so you can pick your favorite sides according to your nutritional needs. I always recommend My Easy Go-To Stir Fry Vegetables Recipe or my Crowd-Pleasing Roasted Vegetables. If you eat low-carb, check out my Jalapeno Ginger Cauliflower Rice, or if you are a rice eater like me, try my Lemon Garlic Rosemary Rice.
Also, if you didn't catch my Paleo Cinnamon Swirl Banana Bread I posted a few days ago, give it a whirl! It has been a hit!
And now for this week's meal plan! As always, let me know if you have any questions or requests.
xo
SUNDAY:
Instant Pot Jamaican Jerk Chicken – Jamaican Jerk Chicken made in the pressure cooker is easy, flavorful, and fall-off-the-bone delicious! This spicy chicken recipe is amazing to prepare in bulk for meal prep. Don't worry – the spice level can easily be adapted to your personal taste. 😉
Special Diet: This recipe is low-carb and Keto. Replace the liquid aminos with coconut aminos to make it paleo or whole30
Prep Ahead: Chicken can be marinated up to 24 hours in advance, but marinating is not necessary 🙂
Substitutions/Notes: Serve with choice of side – steamed rice, fried plantains, cauliflower rice, and/or roasted or sautéed veggies are great!
MONDAY:
Instant Pot Green Chile Shredded Beef – This flavorful, quick-prep shredded beef made in the pressure cooker is filled with green chile flavor! Use it in tacos, salads, and anywhere you need a punch of Latin-flavored meat.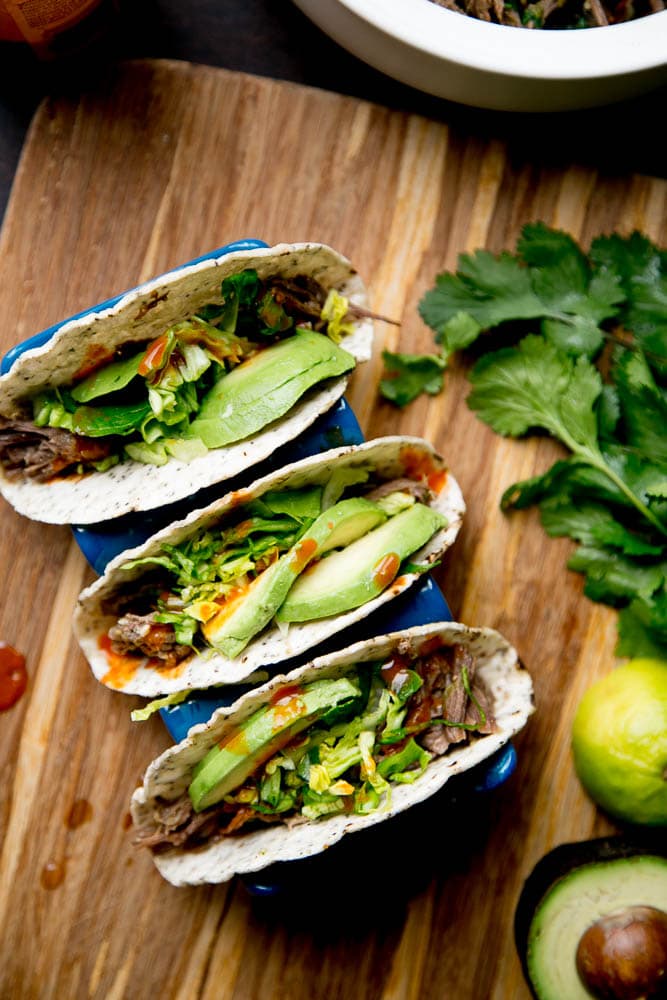 Special Diet Notes: This recipe is paleo, keto, & Whole30 friendly.
Prep Ahead: You can make this beef up to a week in advance. It also makes a big batch so freeze leftovers for easy taco nights later in the month.
Substitutions/Notes: I love to use the jarred 505 Southwestern brand Hatch chiles. If you can't find them, use 2 4-ounce cans of fire-roasted diced green chiles. You can also substitute a pork shoulder roast for the beef roast if you like.
TUESDAY:
Crispy Skillet Salmon with Lemon Dill Caper Sauce – Crispy, Tender Salmon in Lemon Caper Dill Sauce is a fresh and flavorful main entrée that covers all the flavor bases! This easy meal takes less than 30 minutes to prepare.
Special Diet Notes: This recipe is paleo, keto, and whole30! Make it Low-FODMAP by omitting the garlic.
Prep Ahead: No advance prep is needed, as the recipe comes together quickly and is best when served fresh!
Substitutions/Notes: Add in some fresh basil, onion, artichoke hearts, and/or sun-dried tomatoes if you'd like. Swap the salmon for your favorite fish – halibut and cod work great too!
WEDNESDAY:
Chicken & Spinach Curry – This easy, Indian-style Chicken Saag is ready in just 40 minutes! Filled with warm spices and hearty greens, it's the perfect nourishing dinner for any weeknight. Serve it up with choice of cauliflower rice, steamed rice, and/or naan.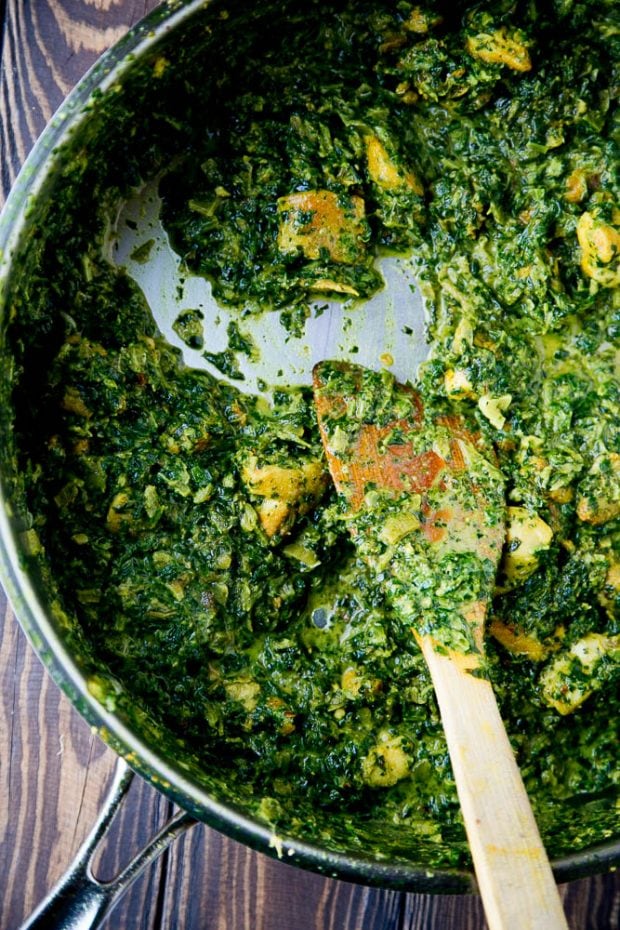 Special Diet Notes: This recipe is paleo, Keto, & Whole30 friendly.
Prep Ahead: This delicious recipe comes together quickly, so no advance prep is needed.
Substitutions/Notes: Use any sturdy frozen greens in place of the spinach, like kale.
THURSDAY:
Sweet Potato Hash – Sweet Potato Hash with Bacon and Spinach makes for an amazing side dish for breakfast (or breakfast for dinner)!! Serve it up with choice of fried eggs, egg scramble, omelette, or frittata for a drool-worthy meal. Only four ingredients needed for this tasty treat!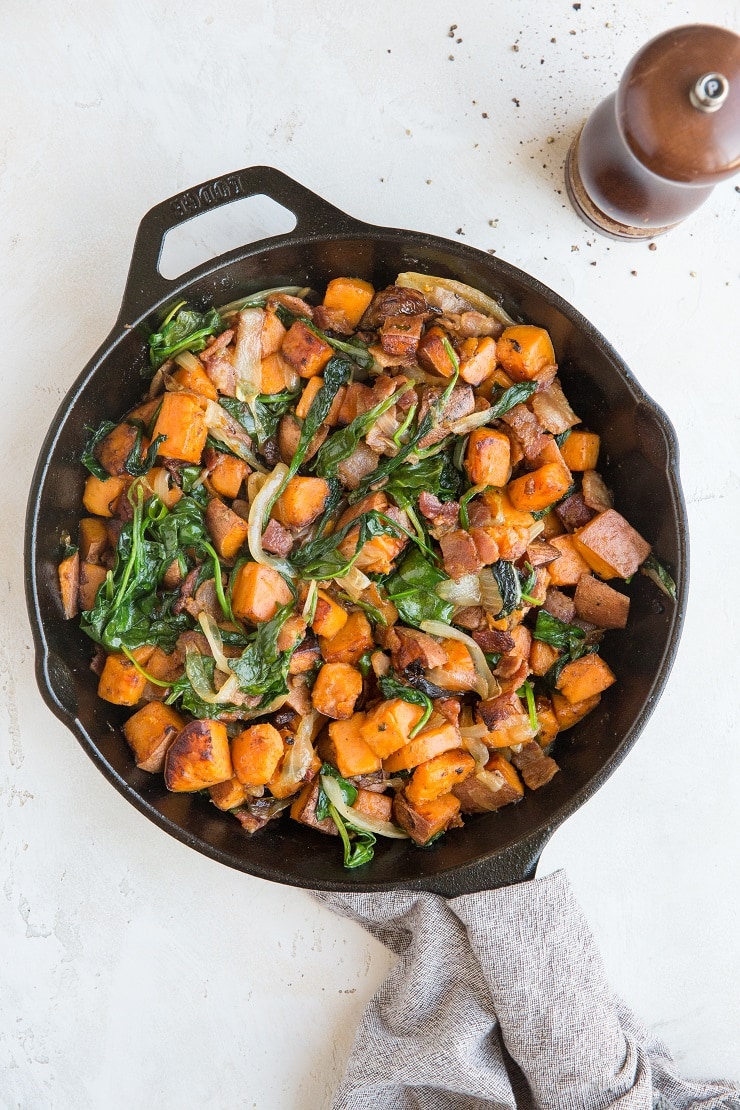 Special Diet Notes: Recipe is paleo and whole30
Prep Ahead: The hash comes together in less than 30 minutes, so no advance prep is needed
Substitutions/Notes: Replace the bacon with breakfast sausage, chorizo, or ham. Add in your favorite veggies, and/or dried or fresh herbs!
FRIDAY:
Paleo Nachos with Vegan Queso – Nacho lover? These healthier nachos incorporate fresh, whole foods for an amazingly flavorful meal. This dairy-free cashew cheese sauce is a snap and makes some seriously delicious paleo nachos or a tasty tex-mex veggie dip!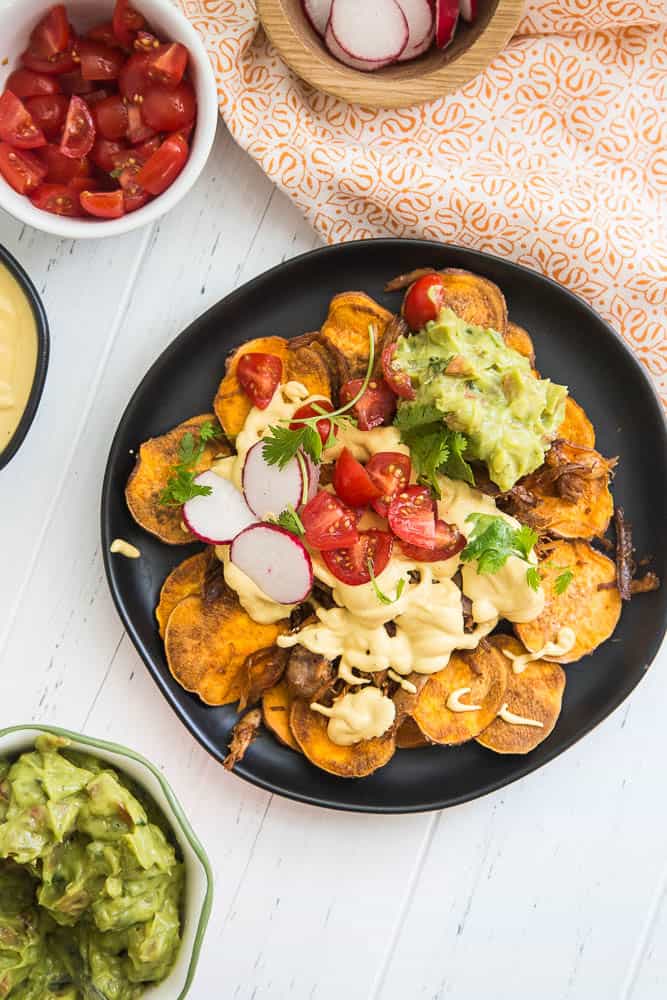 Special Diet Notes: Recipe is paleo.
Prep Ahead: Use leftover Jamaican Jerk Chicken or Green Chile beef from earlier in the week to make these easy to assemble. Make the vegan queso a few hours ahead of time if you like, but be sure to soak the cashews before you do.
Substitutions/Notes: Make some Homemade Sweet Potato Chips or use plantain chips or grain-free tortilla chips for these nachos.
DESSERT:
Paleo Carrot Cake Blondies – Grain-Free Paleo Carrot Cake Blondies made oil-free, dairy-free, and refined sugar-free for a healthier treat. This tasty healthier dessert recipe incorporates all the trappings of carrot cake for a cookie bar meets cake situation.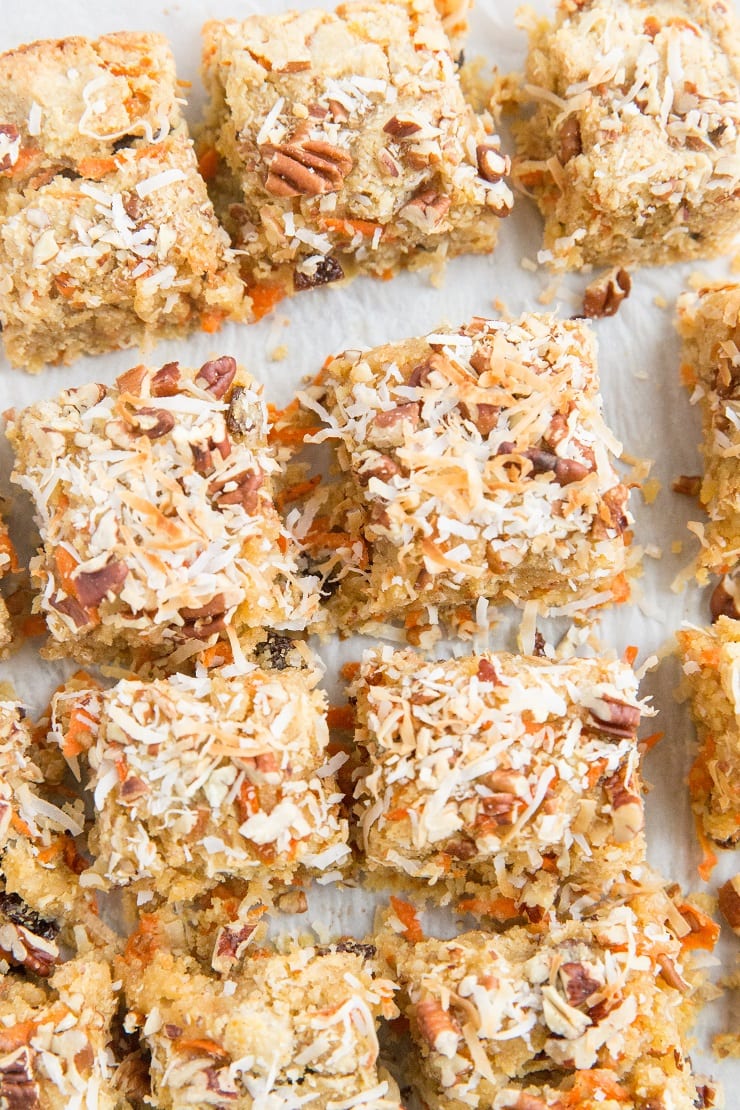 Special Diet Notes: The recipe is paleo!
Prep Ahead: No advance prep is needed
Substitutions/Notes: Use any of your favorite nut or seed butters in place of the tahini
GROCERY LIST:
Click HERE to print this week's grocery list!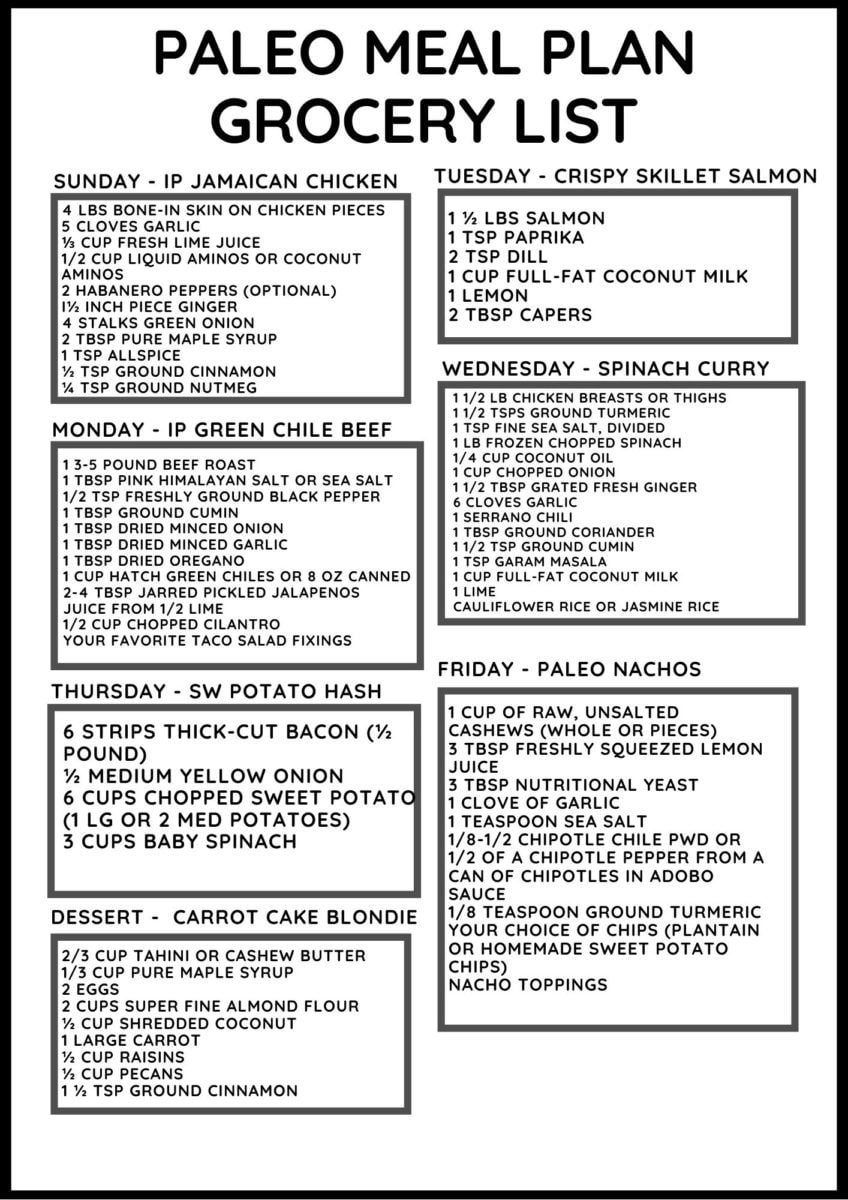 Enjoy!
xo