Paleo Avocado Pancakes made with almond flour, eggs, unsweetened almond milk and avocado are a fluffy, moist, delicious savory pancake! Make them for breakfast, brunch, or dinner!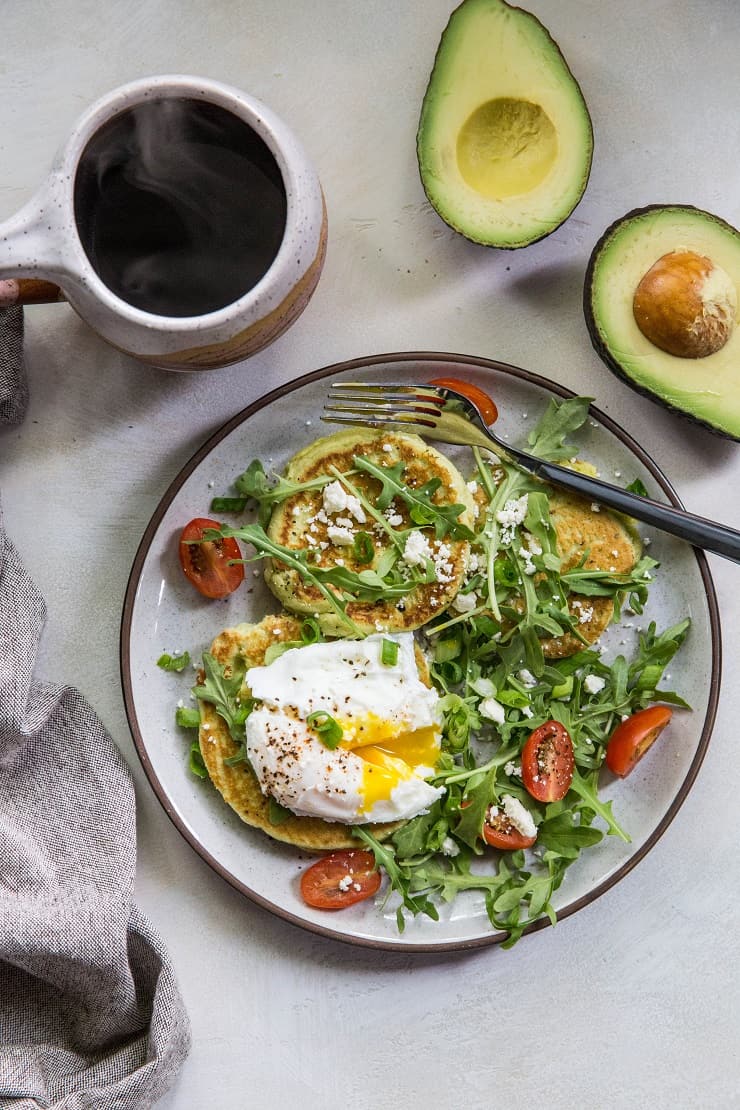 This post is sponsored by the California Avocado Commission.
I know, I know…pancakes made with avocado? What has the world come to?
But hear me out. These amazing grain-free pancakes are ultra fluffy, moist, and have incredible texture – there's no way you'd be able to tell they aren't made with regular all-purpose flour!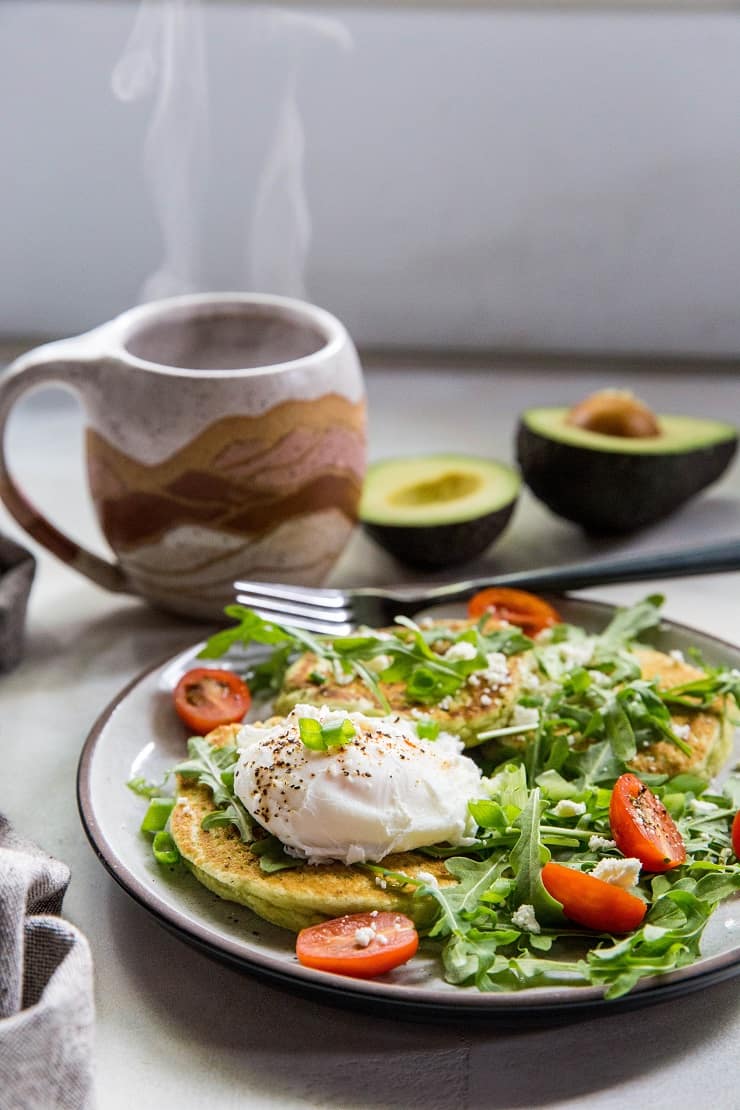 Using almond flour, California Avocado, tapioca flour, and almond milk, you can make one incredibly unique stack of the iconic American breakfast pancake to share with your loved ones.
The California avocado serves three main purposes in this recipe: it acts as a moist-maker for the pancakes, adds healthy fat to the pancakes, and also acts as a binding agent, ensuring the pancakes hold together well. The way I see it, if you have an avocado that is a little past its prime, this is a marvelous use for said avocado!
Let's make them!
How to Make Pancakes with Avocado:
I made this recipe using my classic Almond Flour Pancakes recipe as a base, and made a few miner tweaks to make sure the paleo avocado pancakes turned out nice and fluffy.
I take a very simple approach to pancake prep by adding all the ingredients to a blender. Simply add all ingredients, including the chopped California Avocado to your blender and blend until smooth. I recommend using a ripe avocado (rather than un-ripe) for easy blending purposes.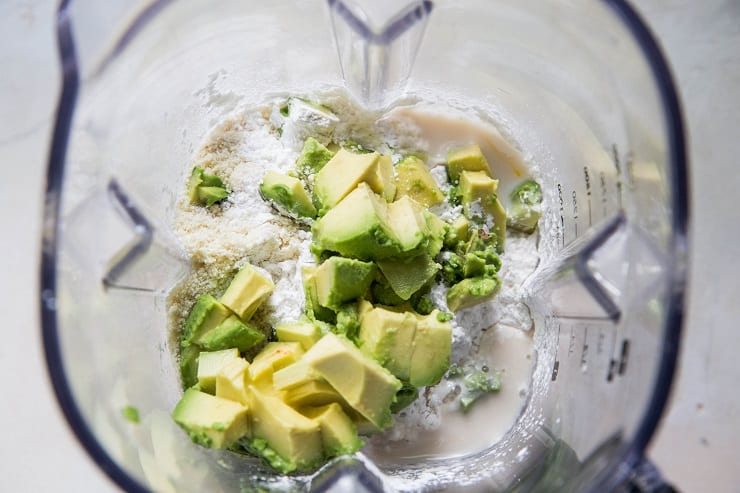 Once the batter is prepared, heat a skillet over medium-low heat with a small amount of coconut oil, avocado oil or your favorite cooking oil.
Measure out ¼ cup of pancake batter and pour onto the hot surface. Allow pancake to cook until the sides begin to set up (note: bubbles will not rise to the top of the pancake the way they do with regular pancakes), about 2 minutes. Carefully flip and continue cooking until pancake is cooked through, about another 1 to 2 minutes.
Repeat for remaining batter.
Top pancakes with your choice of toppings. I like going with a poached egg and a sprinle of feta cheese. You can also try sliced avocado, smoked salmon, ham, scrambled eggs, etc.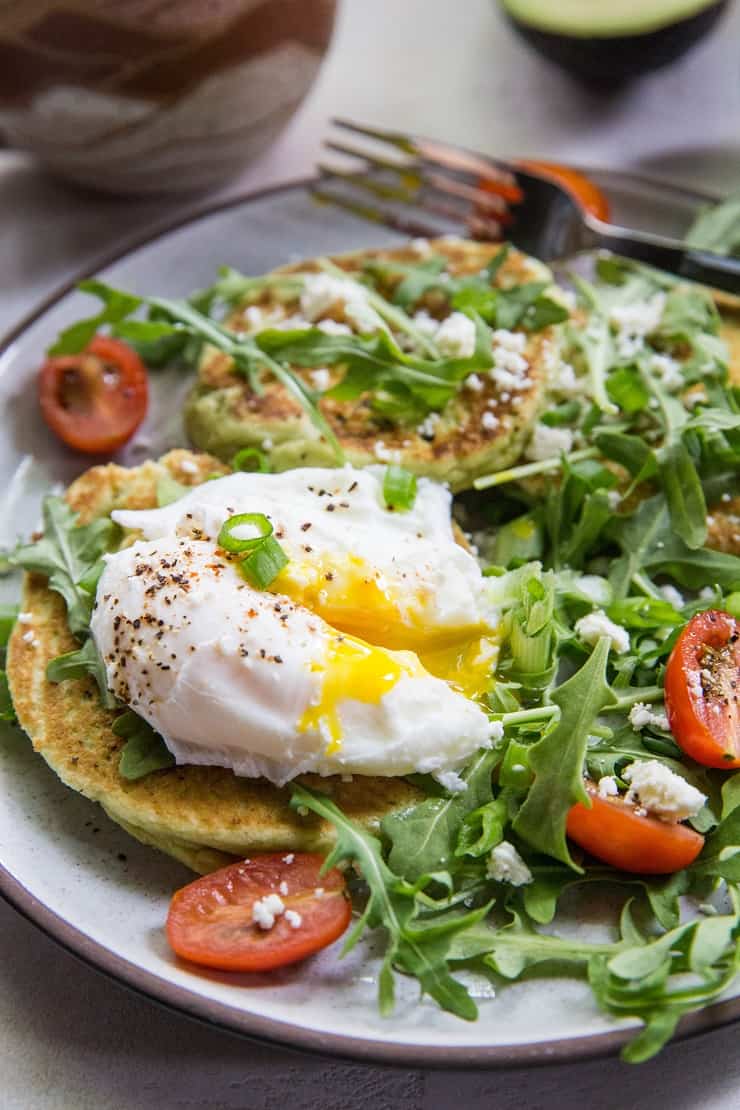 Can You Taste The Avocado in Avocado Pancakes?:
The short answer is yes. But only slightly. Because there is a hint of avocado flavor, I consider these to be a savory pancake requiring savory toppings. You can absolutely switch it to a sweet pancake by adding some sweetener (I'd recommend pure maple syrup or liquid stevia) to the pancake batter and topping with fresh fruit and/or almond butter.
If you want to take the savory pancake concept one step farther, you can add one clove of minced garlic to the batter, and/or ½ cup grated cheese (I'd recommend gouda, gruyere, or mozzarella).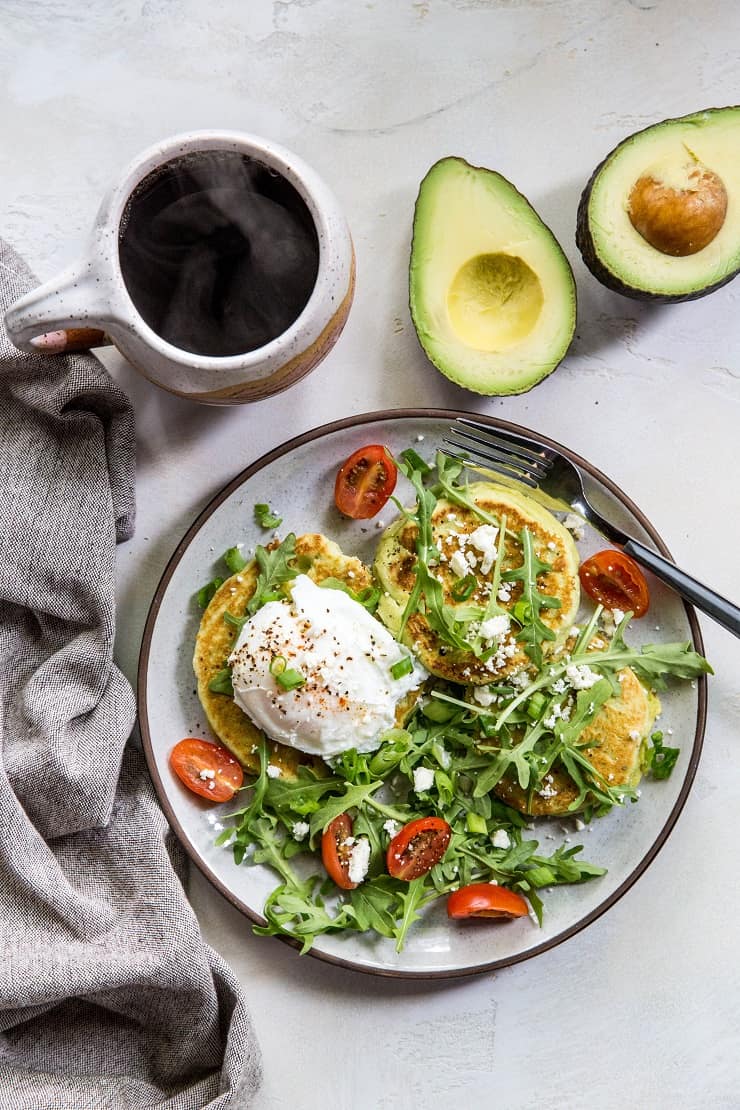 Can I Freeze Paleo Pancakes?
Yes, absolutely!
Simply place any leftover pancakes in a zip lock bag, seal it up, and freeze.
If you think it will be a long time until you thaw the pancakes, wrap them in plastic wrap to protect them from freezer burn before putting them in the zip lock bag.
When you're ready to eat the pancakes, thaw them until they feel soft, then either microwave, heat on the stove top, or in the oven.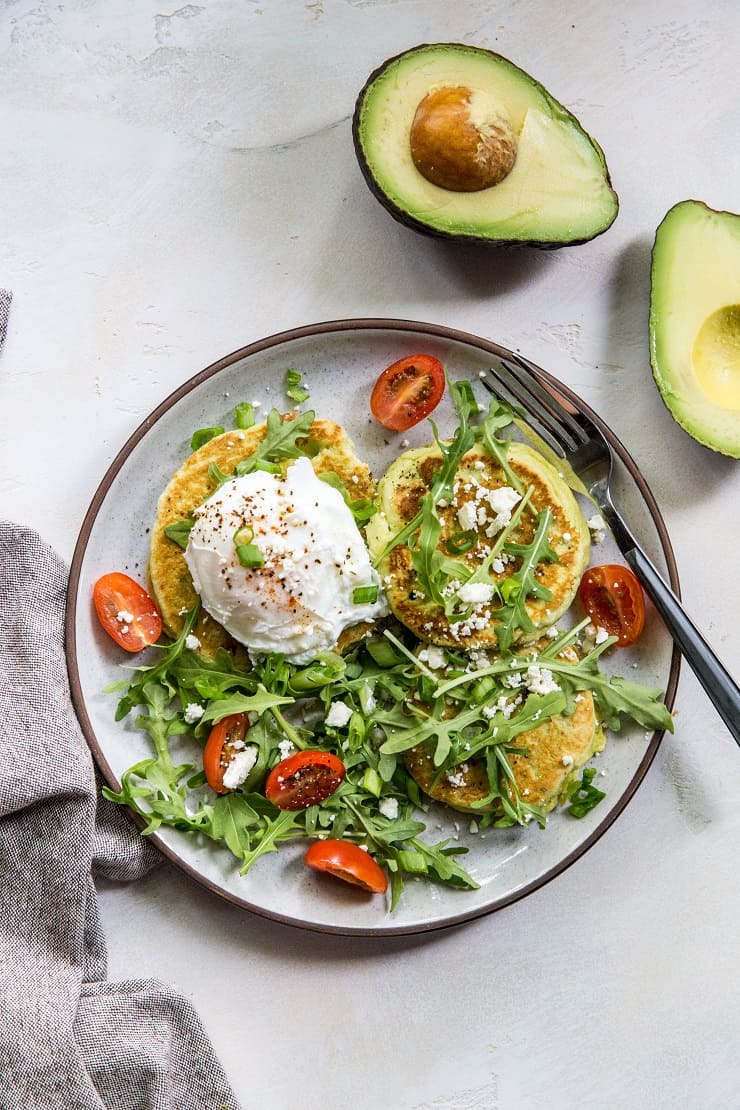 Recipe Adaptations:
Swap the almond flour for hazelnut flour.
Replace the tapioca flour with arrowroot flour.
Add 1 clove of garlic to the pancake batter.
Stir ½ cup of grated cheese of choice into the pancake batter.
Turn this into a sweet pancake recipe by adding 2 Tbsp pure maple syrup and topping with sweet toppings like fruit, jam, honey, or nut butter.
That's it! Enjoy these fluffy, amazing pancakes and report back to tell me what you think!
My cookbook,
Paleo Power Bowls
, is now available! CLICK HERE to check it out. Thank you for your support!
If you make these Paleo Avocado Pancakes, please feel free to share a photo and tag @The.Roasted.Root on Instagram!
Paleo Avocado Pancakes
Grain-Free Avocado Pancakes made with almond flour and avocado. An amazing paleo savory pancake recipe.
Instructions
Add all ingredients to a high-powered blender. Blend until completely smooth. Batter will be very thick - this is normal!

Heat a non-stick skillet or griddle over medium-low heat and add enough cooking oil to coat the surface (I like using coconut oil).

Once the pan is completely hot, measure ¼ cup of pancake batter and pour onto the hot surface. Use your finger to carefully spread the batter into a circular shape.

Cook 2 minutes or until the sides of the pancake begin to firm up. Carefully flip and cook another 2 minutes, or until pancake is cooked through. Repeat for remaining batter.

Serve pancakes with choice of toppings.
Nutrition
Serving:
1
of 9
|
Calories:
216
kcal
|
Carbohydrates:
10
g
|
Protein:
7
g
|
Fat:
18
g
|
Fiber:
3
g
|
Sugar:
2
g