Healthy grain-free paleo double chocolate chip cookies made with almond flour, coconut oil, and pure maple syrup. These easy-to-prepare treats are the perfect healthy snack or dessert to keep in your household at all times.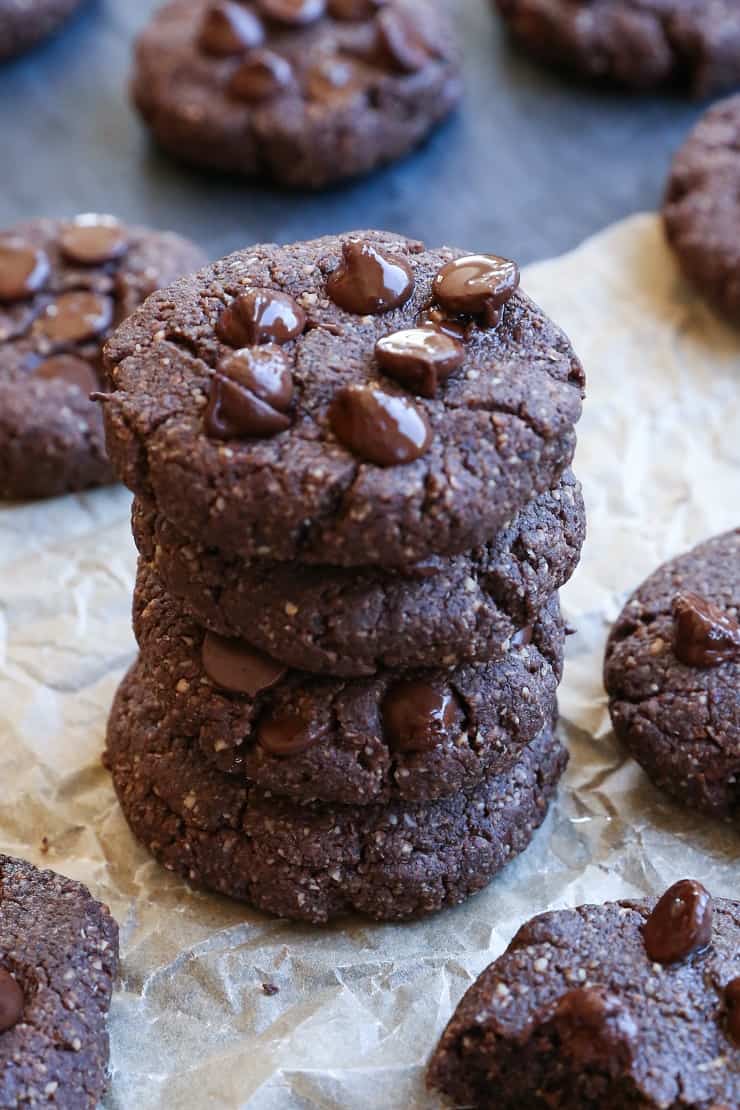 You're looking at a regular staple in my house. Whenever I'm on the verge of (insert gasp) running out of cookies, I get a little anxious until I have the opportunity to make a new batch. I know…it's the firstest first world problem that ever did exist, but I find these paleo double chocolate chip cookies to be an extremely necessary part of my diet.
The honest truth in the blogging world is most of the recipes we post, we only make once, twice, three times…just enough to recipe test and get up on the ol' site. For me, the reason I don't make all the recipes over and over again is obvious: I'm constantly making new ones and can hardly keep up with the amount of food!
There are, however, a few I do make over and over again for my own pleasure, and as I've already spoiler alerted you, this recipe is one of them! (Hint: the Crowd-Pleasing Roasted Vegetables, The Only Grilled Salmon Recipe You'll Ever Need, Paleo Banana Bread, and the Almond Flour Pancakes are some of the others I make all the time).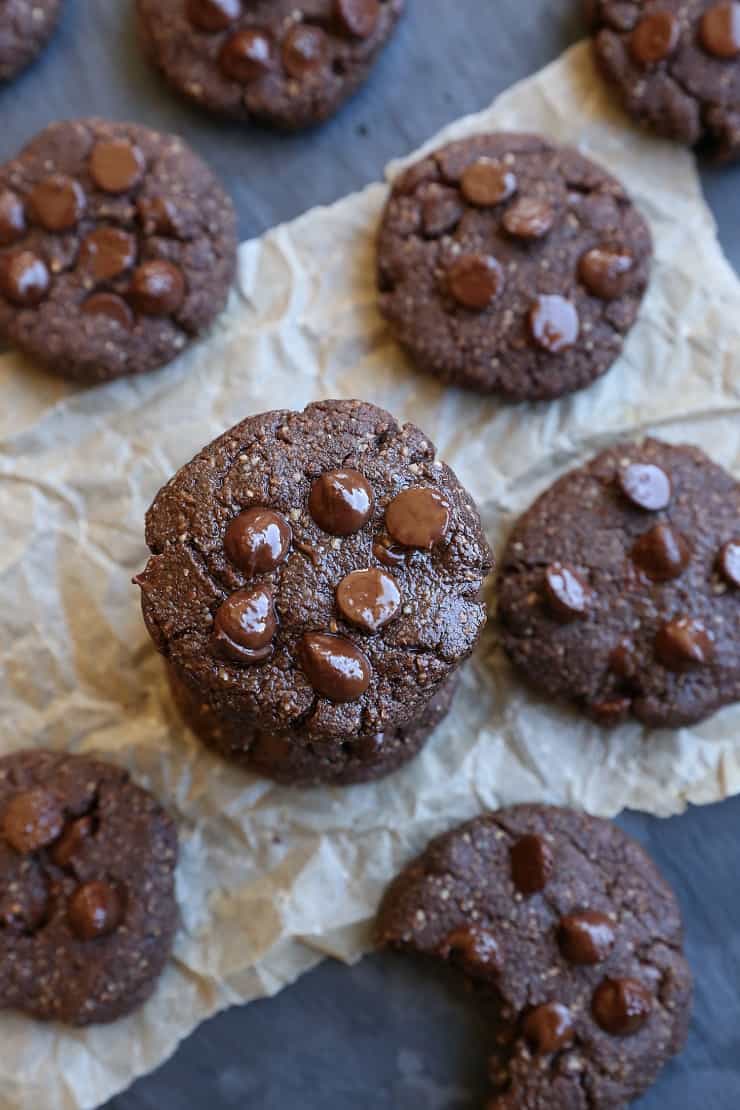 To me, these paleo double chocolate chip cookies serve as healthy snacks. They're like little protein fat bombs (the idea is similar to the Keto Fat Balls I posted a few weeks back), and in addition to an after-dinner treat, I also eat them mid-day to tide me over between meals.
Made very similar to my Paleo Chocolate Chip Cookies with Walnuts, this recipe calls for almond flour, coconut oil, and pure maple syrup. We add raw cacao powder and dark chocolate chips to give the cookies that ultra chocolatey essence. Because if there's anything better than a chocolate chip cookie, in my humble opinion, it's a chocolate chip cookie that doubles or triples up on chocolate… and is made with coconut oil!
I used Wolf Gourmet's Countertop Oven to bake these beauties. If you aren't familiar with the oven, it's pretty trick! First of all, the appearance is impeccable – modern, clean, sophisticated. Secondly, because it's a convection bake oven, the bake time goes quicker – when I roast vegetables in mine, it takes roughly ⅔ the amount of time it usually does. Lastly (and perhaps my favorite part), the oven preheats super quickly, and is incredibly easy to clean.
So now that you're in-the-know, you can do as I do and bake these beauties up on the weekly. 😉
Head over to Wolf Gourmet's blog to get the recipe for these Paleo Double Chocolate Chip Cookies!