Moist, fluffy, ultra chocolaty paleo double chocolate banana bread muffins. These delightful treats are easy to make in your blender, are oil-free, grain-free, dairy-free and made with whole food ingredients for a guiltless pleasure.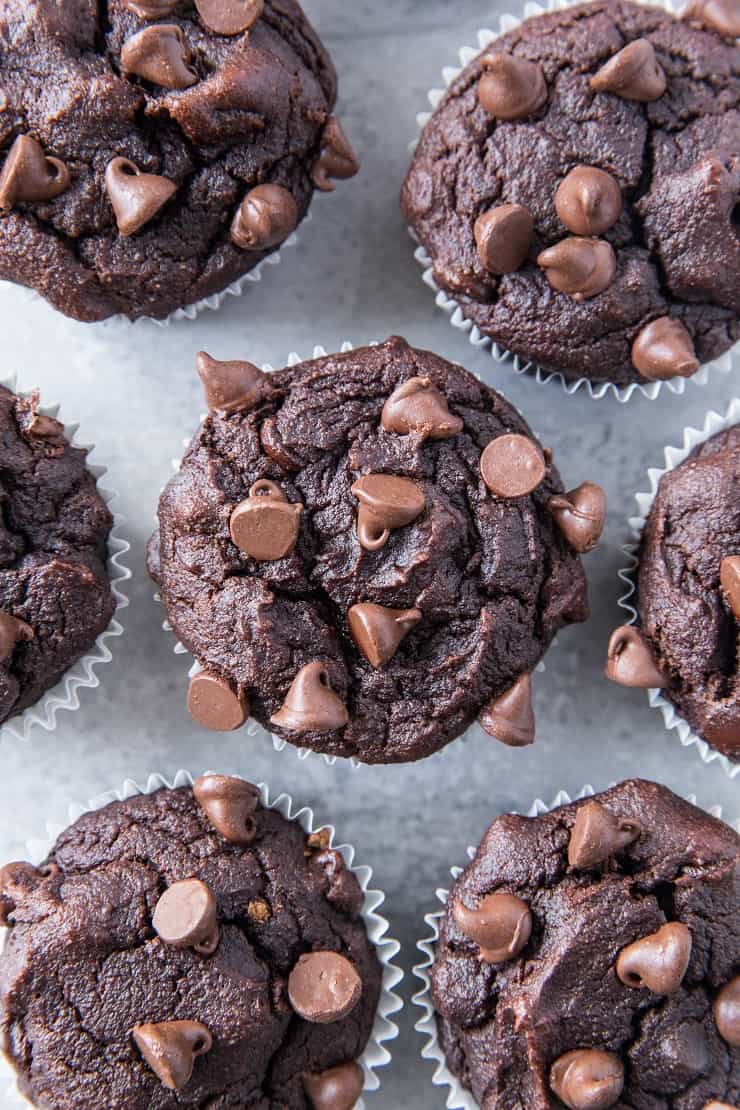 Calling all chocoholics and banana bread lovers!: These muffins may just be your new favorite treat!
A mash up of sultry chocolate cake and banana bread, these double chocolate delights contain a little sumthin sumthin for everyone. It's also a riff off my classic Paleo Banana Bread recipe.
These healthy muffs are mouth-watering enough to be considered dessert, but nutritious enough to be considered snack. Post-workout refuel? Get it!
Made with almond flour, cacao powder, and ripe bananas, these muffins are squeaky clean. They are gluten-free (and grain-free), oil-free, and dairy-free.
Making these double chocolate banana bread muffins is as easy as can be.
How to Make Chocolate Banana Bread Muffins:
All we do to prepare the muffin batter is blend everything except for the chocolate chips in a blender. Once blended, we fold in the chocolate chips, transfer the batter to a muffin tray and bake!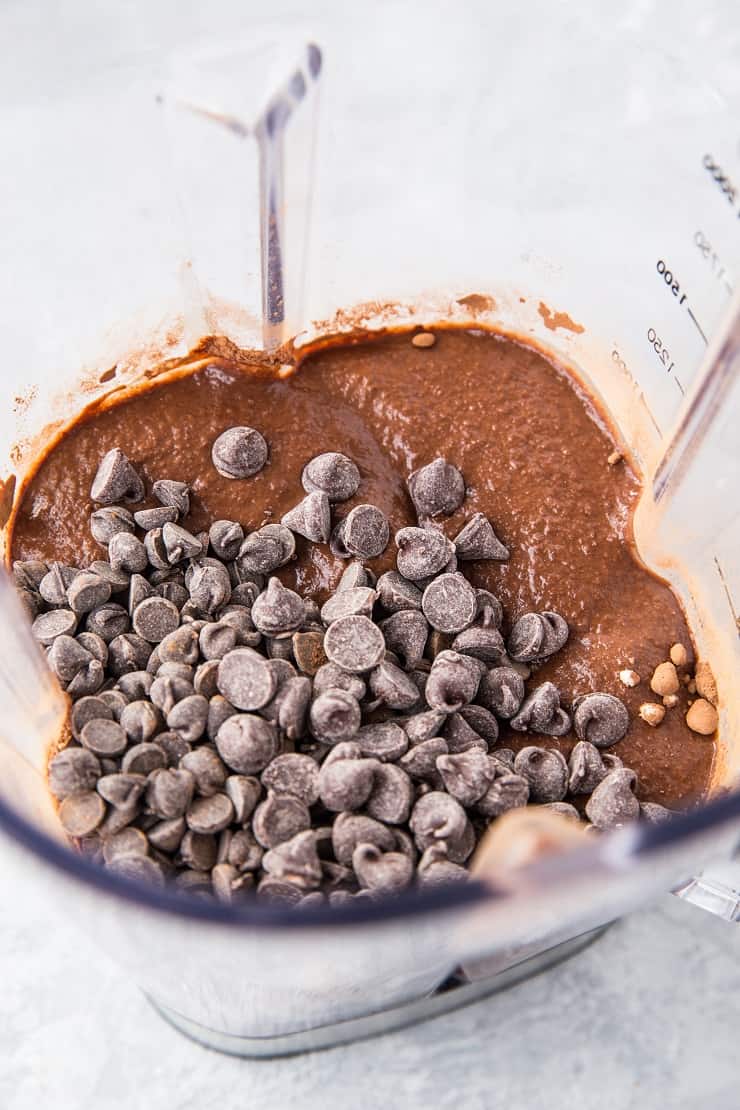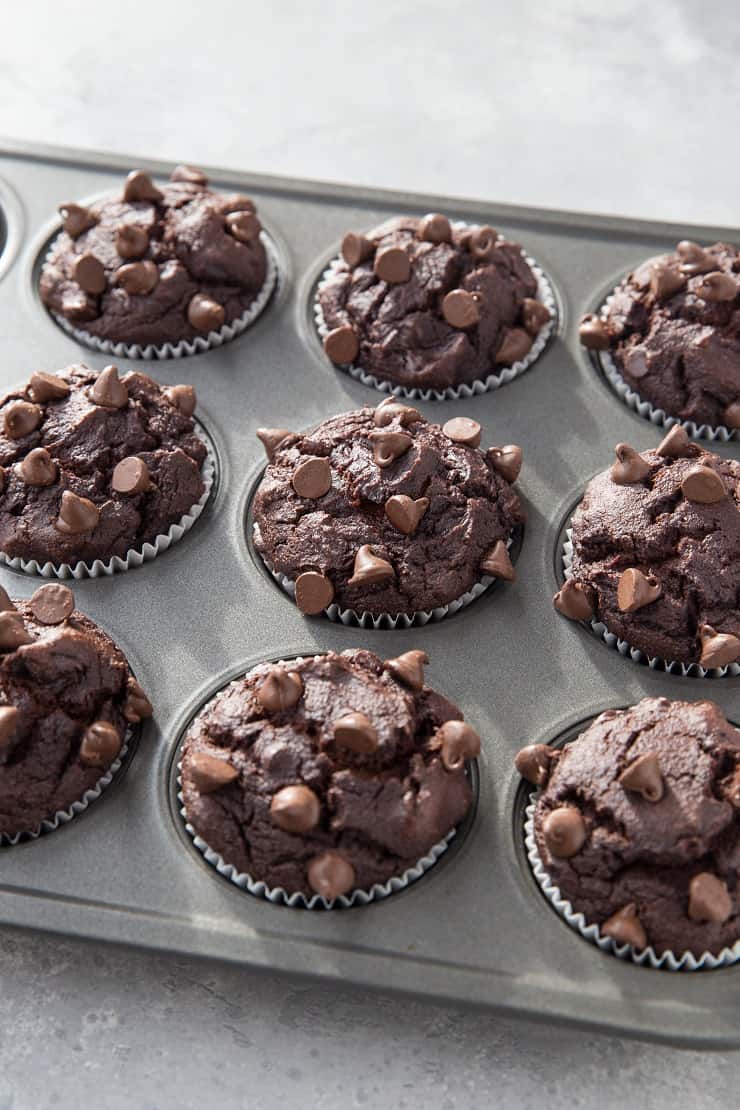 Change it up by added chopped nuts and get wild with your chocolate selection.
Can I Make This Recipe Using Coconut Flour?:
Yes, but no. You can absolutely make chocolate banana bread muffins using coconut flour, but the whole recipe will be different. If you want to make them using coconut flour, follow my recipe for Coconut Flour Banana Bread, but add 1/2 cup of cocoa powder and 1/2 cup chocolate chips. Follow the ingredients on that recipe, but prepare it in a muffin tray and bake for 20 to 30 minutes.
Batches on batches on batches aaaaand GO!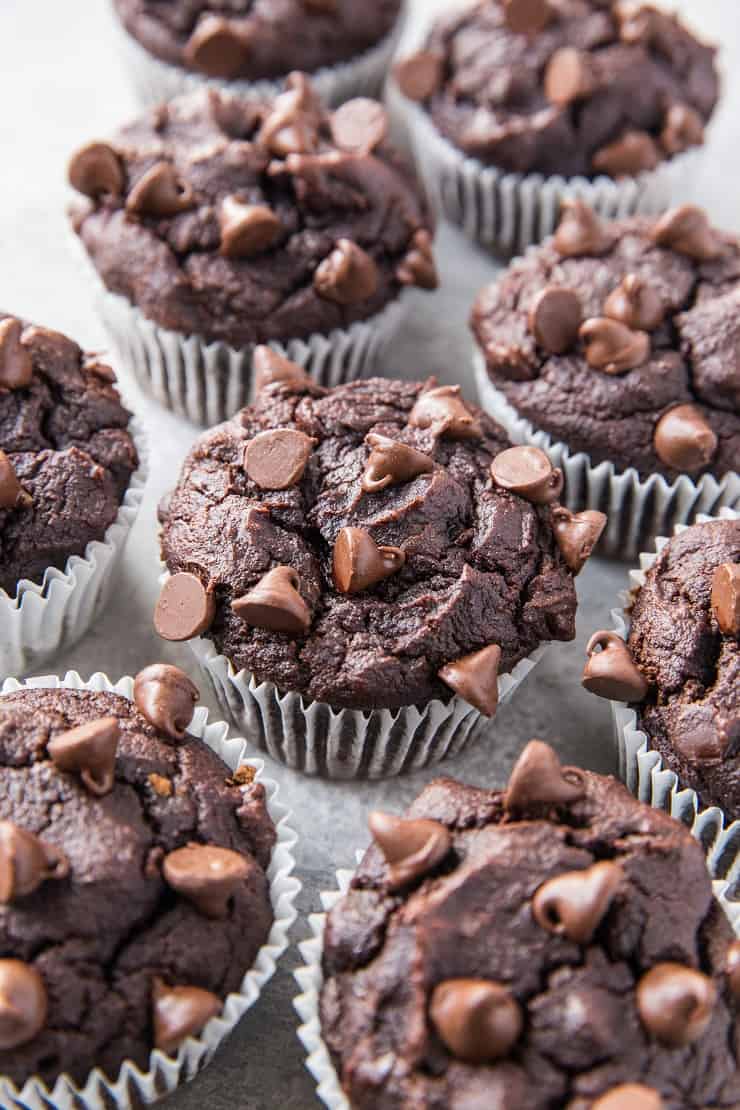 My cookbook,
Paleo Power Bowls
, is now available! CLICK HERE to check it out, and thank you for your support!
For a sultry little treat…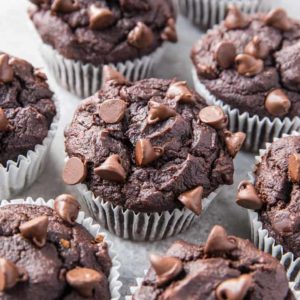 Paleo Double Chocolate Banana Bread Muffins
Print
Instructions
Preheat the oven to 350 degrees F and line a muffin tray with muffin cups.

Add all ingredients except chocolate chips to a blender and blend until smooth (note: you can prepare the muffin batter in a mixing bowl if you'd prefer!). Stir in the chocolate chips.

Transfer batter to the lined muffin pan, filling the holes 3/4 of the way up.

Bake on the center rack of the preheated oven 18 to 22 minutes, or until muffins are puffy and cooked through. Allow muffins to cool at least 40 minutes before peeling the papers off and eating.
Nutrition Facts
Paleo Double Chocolate Banana Bread Muffins
Amount Per Serving (1 of 9)
Calories 251
Calories from Fat 162
% Daily Value*
Fat 18g28%
Carbohydrates 16g5%
Protein 9g18%
* Percent Daily Values are based on a 2000 calorie diet.