Fluffy and delicious gluten-free matcha mug cake only requires a few ingredients and about 5 minutes to make. This naturally sweetened dessert-for-one is a healthier dessert option.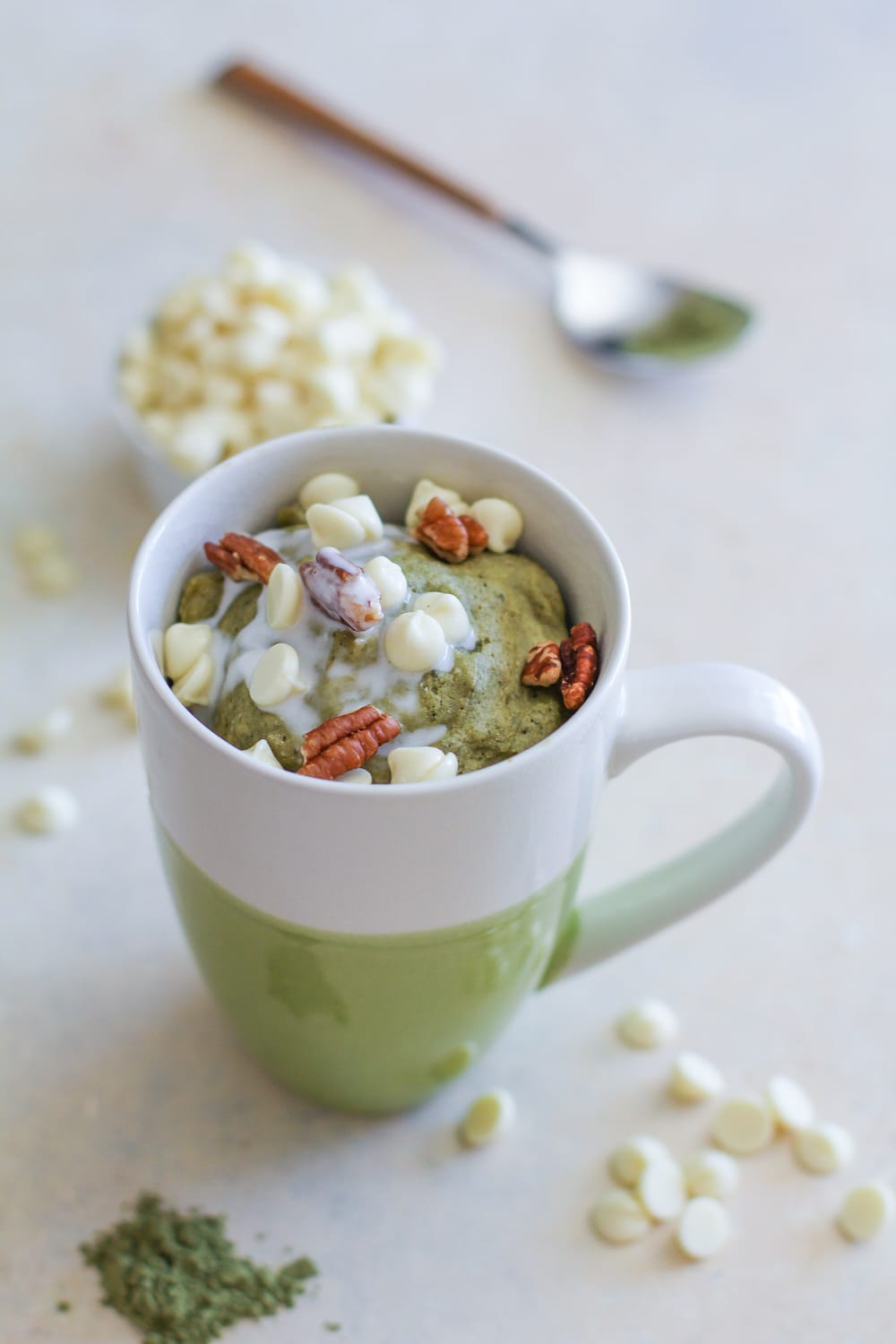 It appears as though matcha can be a very polarizing tea.
Either folks LOVE it fiercely, or they could do without it.
You may guess based on the fact that I drink a Bulletproof Matcha Latte every single morning which camp I fall into.
Additionally, my Green Tea Coconut Milk Ice Cream, Matcha Chia Seed Pudding, and my Grain-Free Matcha Muffins are some of my favorite treats.
Which brings me to my newest matcha preference: Matcha mug cake.
You guys, I just love this mug of unadulterated bliss.
It's easy to prepare when post-dinner dessert craving hits, it's packed with flavor, it is otherworldly with white chocolate chips and pecans…it's just a dream boat.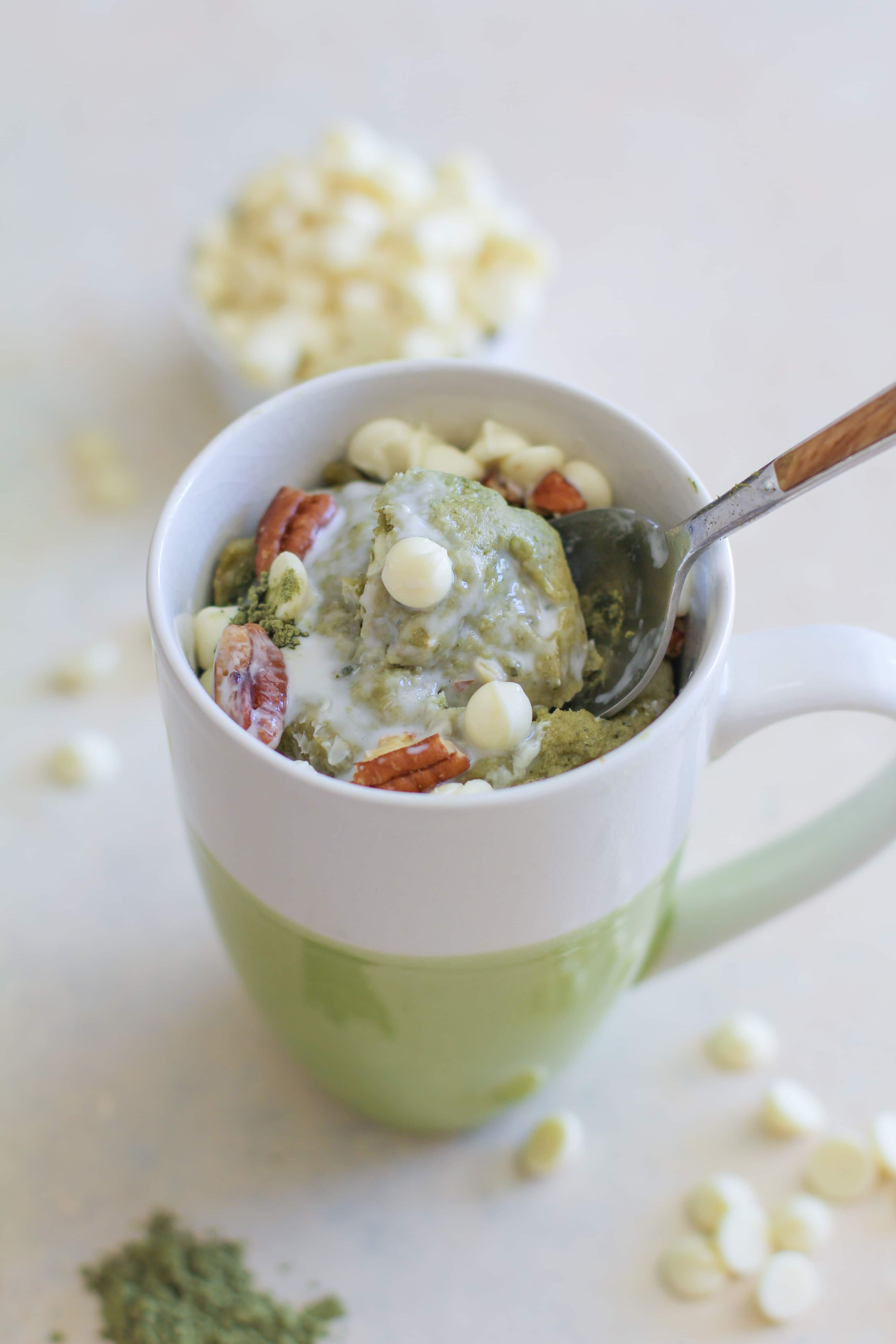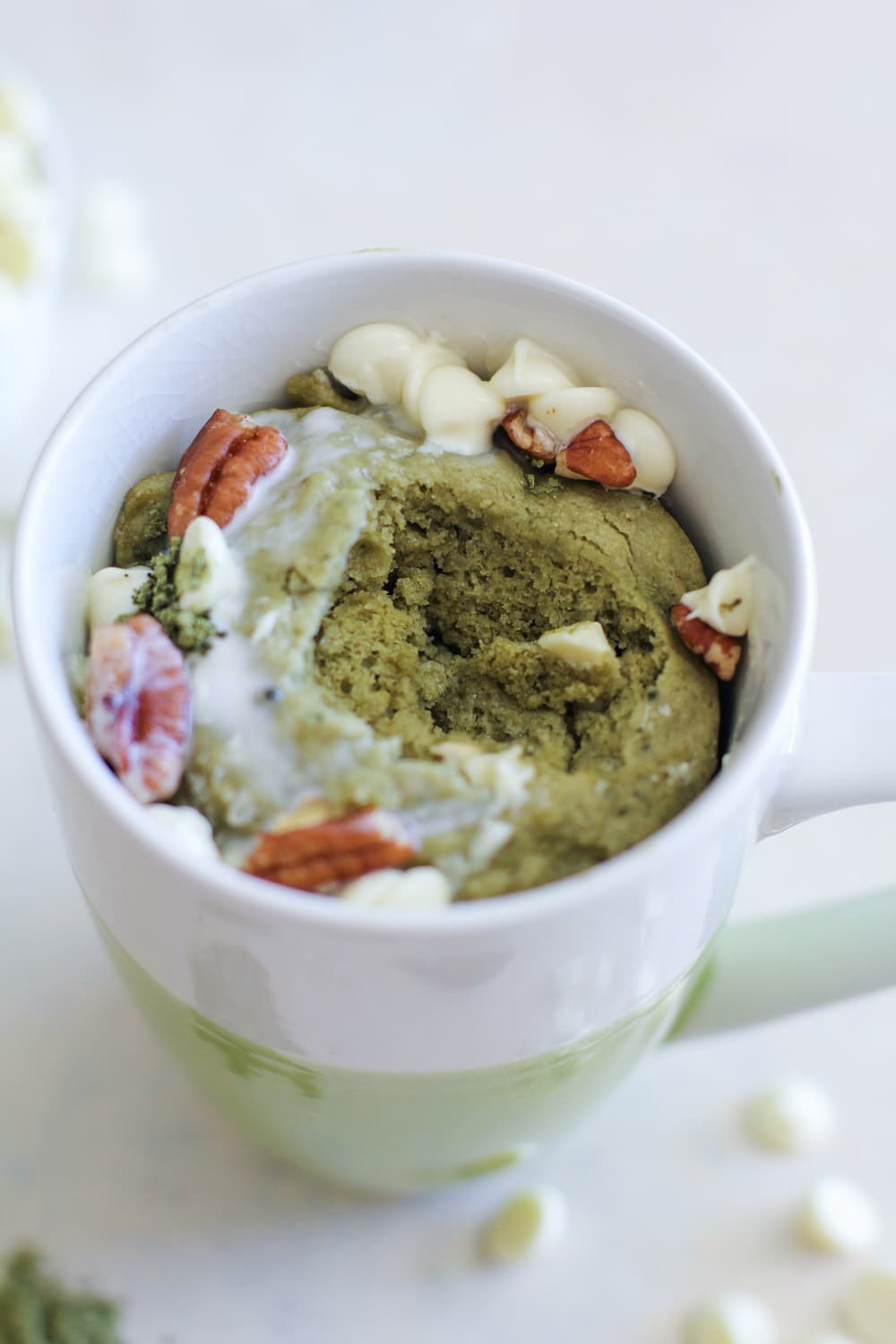 Generally, I'm a big fan of mug cake for a number of reasons:
They take a total of about 5 minutes to make

No leftovers to tempt me into overindulgence

They can easily be made on the healthier end of the cake spectrum with little effort.
This Matacha Mug Cake is just so easy to prepare. Have a look!
How to make Matcha Mug Cake:
Simply stir together the ingredients for this cake in a measuring cup, nuke on high in the microwave for a couple of minutes, top with your goodies, and wait with bated breath as the dang thing cools enough to consume.
Serving options? You can go nuts here. I like the white chocolate chip and pecan combination with a drizzle of full-fat coconut milk on top. You can do fresh fruit, any sort of homemade sauces or whipped cream, granola, whatever's your jam! Consider eating this beauty for breakfast 😉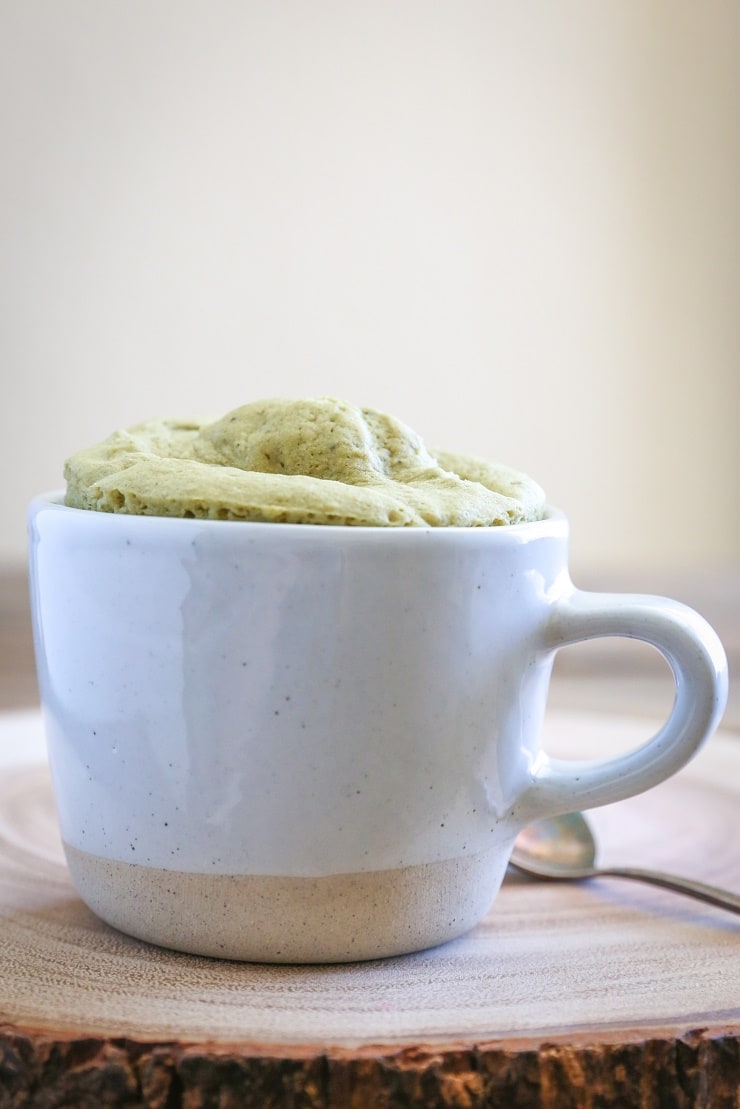 That's it! Get your mug's worth of fluffy cake perfection!
Gluten-Free Matcha Mug Cake
If you enjoy matcha, you'll love this single-serve gluten-free matcha mug cake! Quick, easy, magically unique!
Instructions
Whisk together all of the ingredients for the mug cake in a large mug until the batter is completely smooth.

Microwave on high for 1.5 to 2 minutes, until mug cake has risen and is cooked through.

Garnish with a drizzle of coconut milk, chopped pecans, and white chocolate chips. Allow cake to cool for a few minutes before diving in
Nutrition
Serving:
1
Mug Cake
|
Calories:
540
kcal
|
Carbohydrates:
96
g
|
Protein:
8
g
|
Fat:
15
g
|
Fiber:
3
g
|
Sugar:
58
g