Low-carb single-serve keto mug cake with chocolate chips is a quick healthier dessert option! Grain-free, sugar-free, and super easy to prepare!
All you need is 5 ingredients, a mug and a couple minutes of time to make this beauty happen!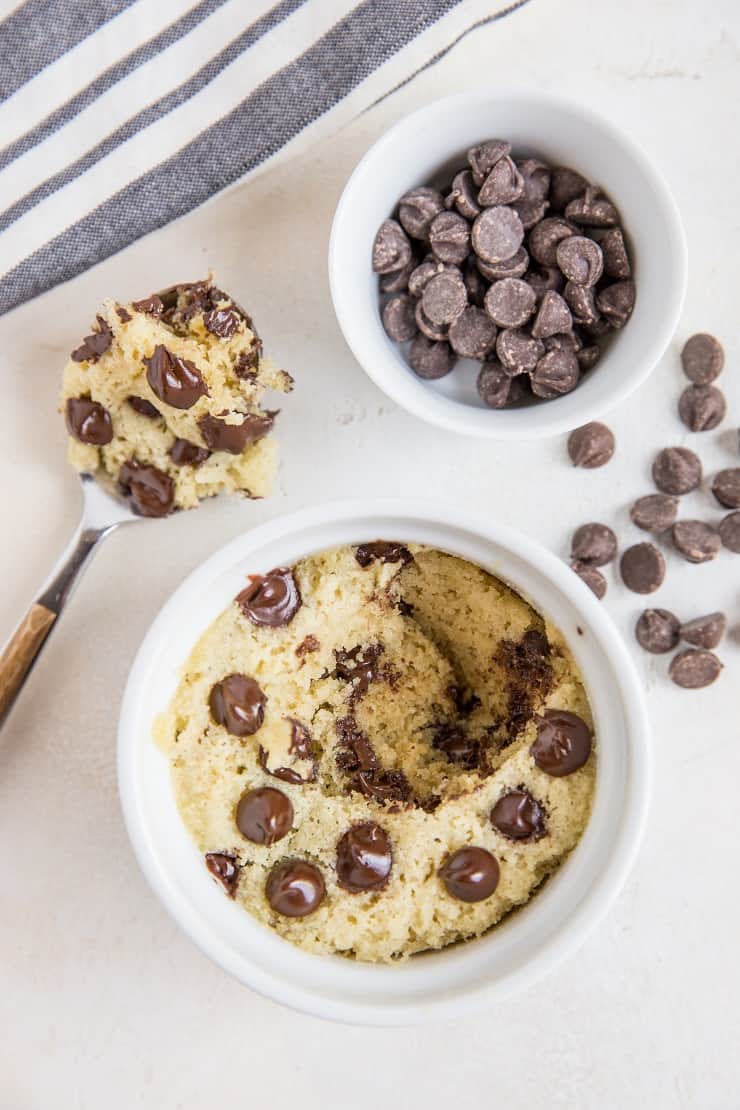 It's the return of the single-serve mug dessert!
…Because we all deserve a bite of cake from time to time, and sometimes we just don't feel like baking the whole shebang.
…Or we don't trust ourselves around the whole shebang.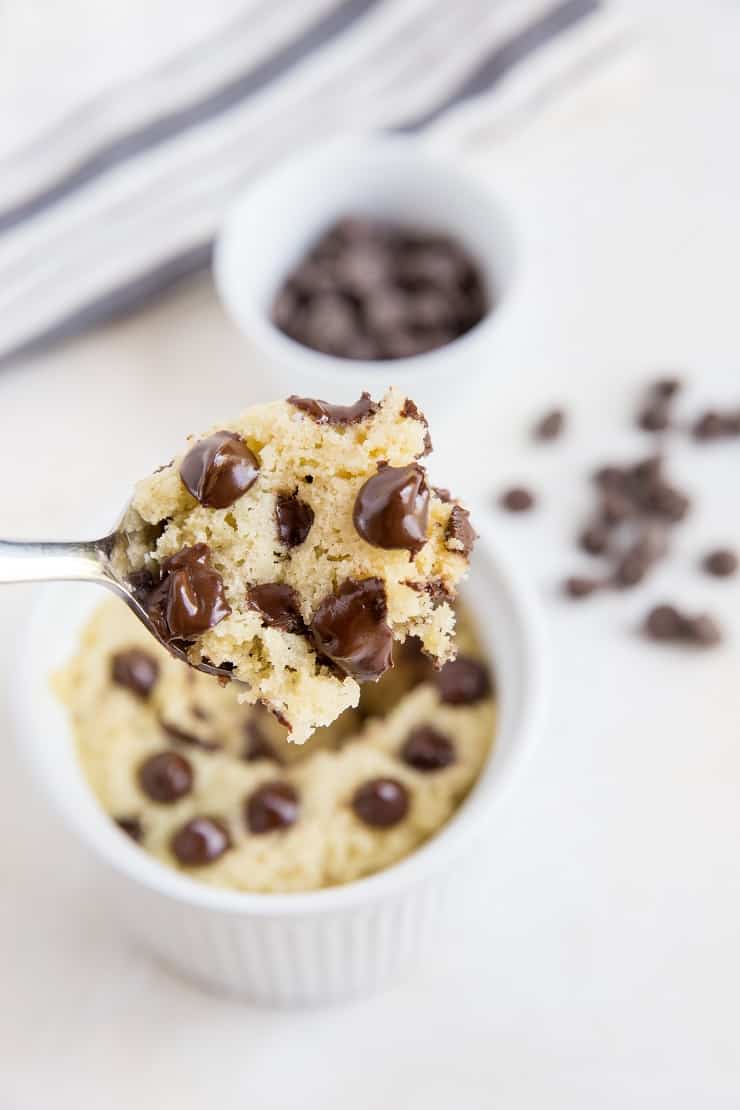 For the latest and greatest mug dessert, we're going keto (or low-carb), using almond flour, sugar-free sweetener, melted butter, egg yolk, a tiny bit of baking soda and a sprinkle of sea salt.
Since we're perma-chocolate inclined, we add chocolate chips, because who knows what tomorrow may bring, right?!
Let's talk details.
Ingredients for Keto Mug Cake:
Super Fine Almond Flour: Almond flour is the base of this cake. It's full of healthy fats, fiber, and makes for a lower-carb treat. I use Super Fine Almond Flour, which makes the cake nice and fluffy with amazing texture.
Sugar-Free Sweetener: Allowing for a sinfully sweet yet sugar-free mug cake, we use a zero calorie, sugar-free granulated sweetener. If you replace the granulated sweetener with a liquid sweetener, note that you'll need to add more flour and the texture will vary. My top three recommendations for sugar-free sweeteners are Swerve, Monk Fruit Sweetener, and Truvia.
Butter/Ghee/Coconut Oil: The fat portion of the mug cake recipe! I recommend melted butter for the best flavor, but you can use ghee to go lactose-free and/or coconut oil to go dairy-free. Be sure the butter is melted but cooled so that when you add the chocolate chips, they don't melt right away.
Egg Yolk: Fat and fluff! The egg yolk helps fluff the cake, while keeping it moist and decadent. Save the egg white for a different use! I add them to a scramble.
Baking Soda & Sea Salt: Leavening and flavor! The baking soda helps with leavening and the sea salt enhances the flavor of the cake, providing a nice counterbalance to the sweetness and rounding out the flavor.
Chocolate Chips (optional): Little studs of chocolate always makes a dessert a million times more enticing for me! If you're in the same boat, toss some in. To keep the cake vanilla, omit the chocolate chips and add ⅛ teaspoon of vanilla extract. In order to keep this recipe low-carb, use sugar-free chocolate chips. Lily's makes great ones!
Optional Add-ins: You can add ⅛ teaspoon of pure vanilla extract for some vanilla flavor, and/or add 2 teaspoons of chopped walnuts or pecans if you're a nut fanatic!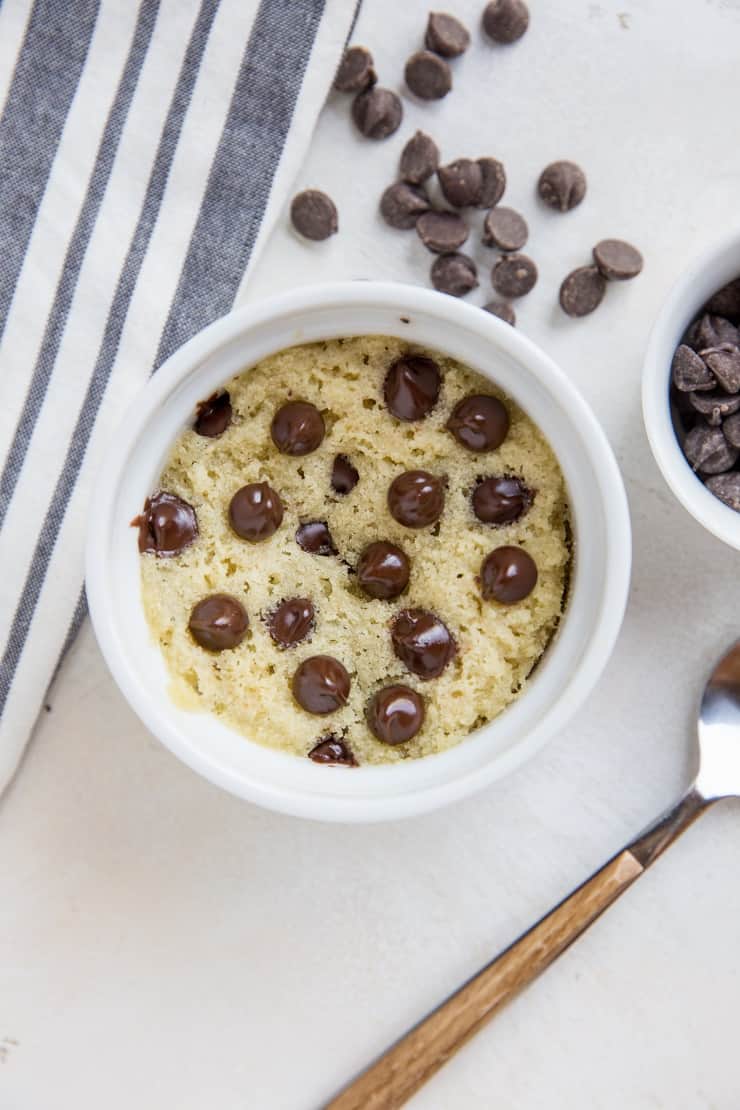 Now that we know what ingredients we're using, let us assemble!
How to Make Keto Mug Cookie:
Add all ingredients to a microwave safe mug and stir until well-combined. Note: make sure your butter has cooled before adding it, or else it will melt the chocolate chips before microwaving.
Microwave on high for 30 to 40 seconds (depending on desired texture). For a gooier cookie consistency, microwave just 30 seconds. For a cake-like consistency, microwave for one minute.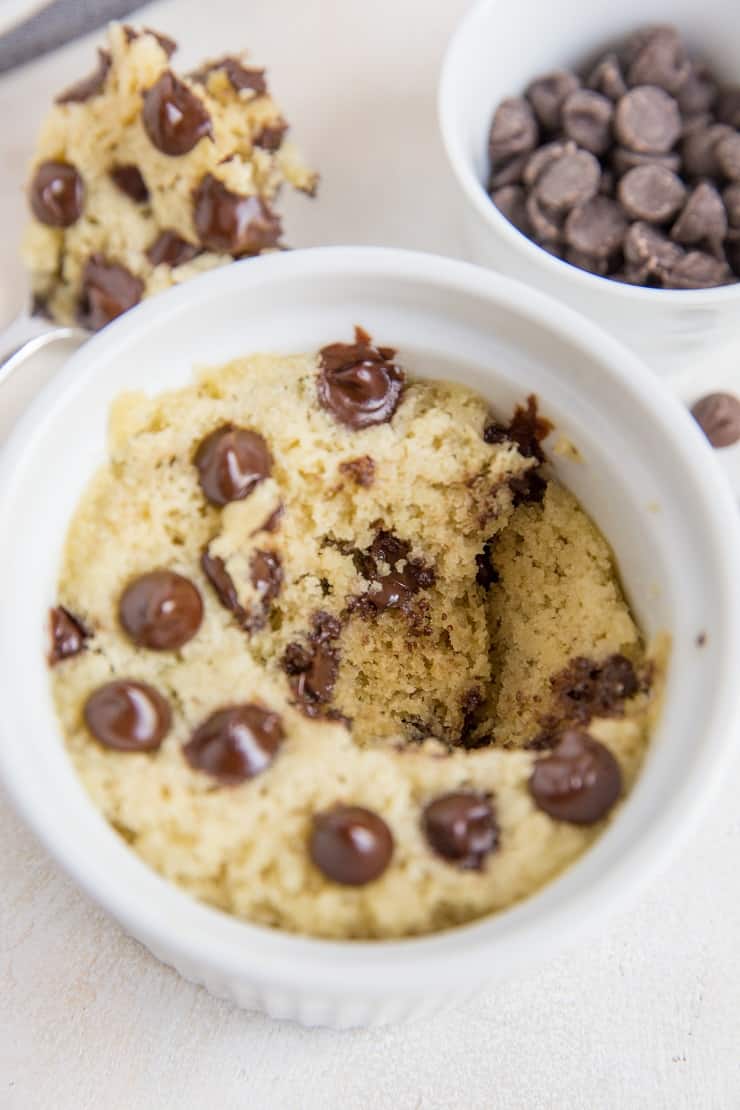 Can I Bake This In the Oven?
If you don't own a microwave, or if you prefer to not use a microwave, no sweat!
You can bake this keto mug cake in the oven. Simply stir up all the ingredients in an oven-safe mug or ramekin, place it on a baking sheet, and bake at 350 degrees F for 20 to 30 minutes.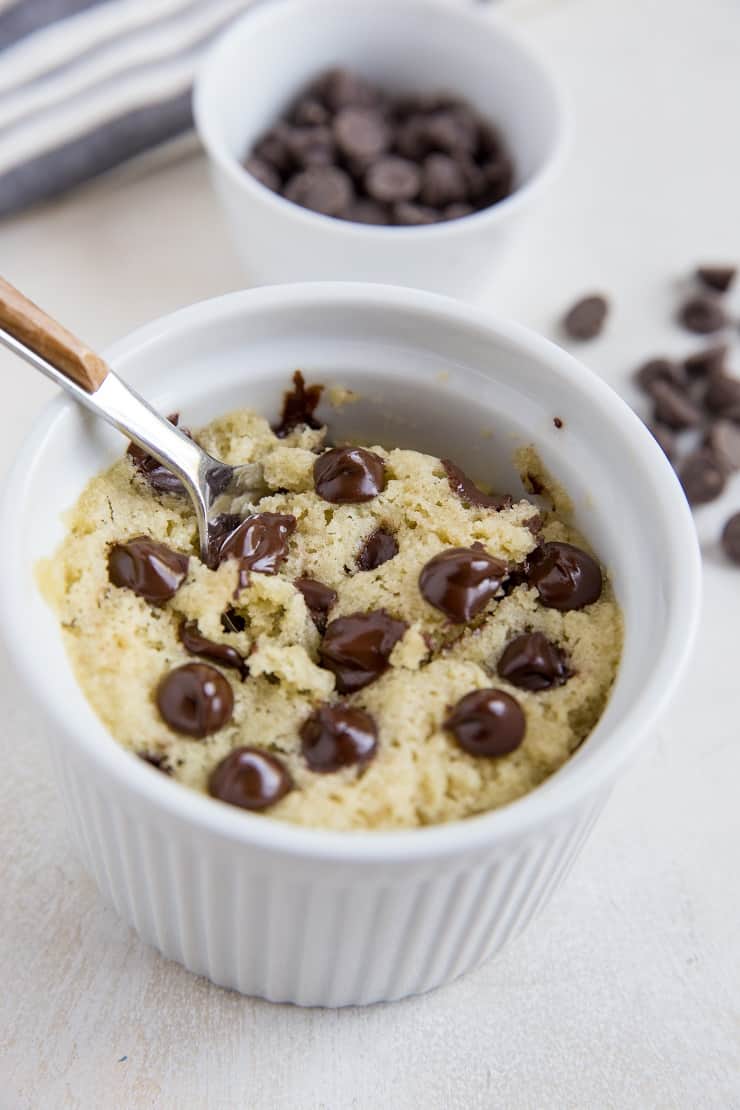 What Type of Sweetener Should I Use?:
To keep the mug cake low-carb, pick your favorite sugar-free sweetener. Swerve is my absolute favorite, but Monk Fruit Sweetener is also a popular choice. You can go with Truvia as well!
If you don't follow a ketogenic or low-carb lifestyle, you can use coconut sugar or brown sugar instead of the sugar-free sweetener. So long as it is granulated, it will work!
That's it! Your ticket to a guilt-free, delicious treat that won't spike your blood sugar.
More Desserts in Mugs:
My cookbook, Paleo Power Bowls, is now available! CLICK HERE to check it out. Thank you for your support!
If you make this recipe, please feel free to share a photo and tag @The.Roasted.Root on Instagram!
Keto Mug Cake
This single-serve low-carb mug cake is the perfect serving for one person! Made grain-free and sugar-free with 5 ingredients, this easy dessert is perfect for those times you don't want leftovers.
Instructions
Add all ingredients to a microwave safe mug and stir until well-combined. Note: make sure your butter has cooled before adding it, or else it will melt the chocolate chips before microwaving.

Microwave on high for 45 to 60 seconds, until cake has risen and has a few air bubbles. Note: for a cookie-like consistency, microwave for 30 to 40 seconds.
Nutrition
Serving:
1
mug cake
|
Calories:
266
kcal
|
Carbohydrates:
5
g
|
Protein:
5
g
|
Fat:
27
g
|
Fiber:
2
g