Meat and Spinach Stuffed Mushrooms with Goat Cheese are an amazing appetizer or dinner! Use baby bella mushrooms or full-sized Portobello mushrooms for stuffing!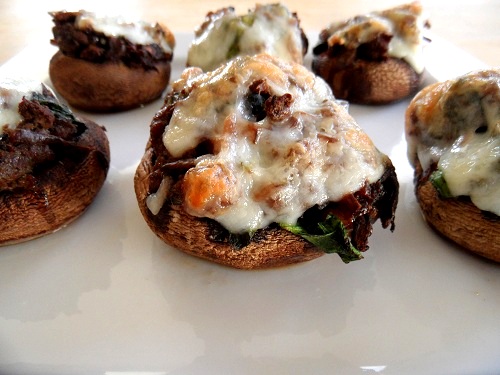 The past twenty-four hours have been all about mushrooms. If you're visiting my page from Truckee, CA no…not that kind of mushroom.
If you're looking for a low-carb, healthy appetizer that is JAM packed with flavor and just the right amount of filling, you've found it, my friend!
These Meat and Spinach Stuffed Mushrooms are everything I love in an appetizer.
And that says a lot, coming from a girl who could go the rest of her life without eating a single appetizer.
Mostly, I just make dinner out of appetizers (don't get me started on tapas) 😉
Small portions make me cagey.
The Inspiration for These Meat and Spinach Stuffed Mushrooms:
Recently I have been in the mood to stuff something…I enjoy a good stuffed eggplant and stuffed bell peppers, but neither of those was really setting off alarms in my head.
Where was this recipe when everyone was whipping up appetizers for the Super Bowl?
It was but a twinkle in my eye. Nevertheless, this recipe is very easy and you can make as few or as many as you want which is a versatility you need for entertaining guests.
These mushrooms are just the right amount of filling without making anyone feel full so your guests are peacefully maintained while waiting for the main course.
One of the wonderful aspects of stuffing anything is you can really get creative with your flavors. I chose the red wine, garlic and goat cheese to be my big flavors, with subtle herby undertones and the next time I make these, I would probably go a bell pepper and cheddar cheese route.
Try them out over the weekend, enjoy and please tell me: What is your favorite "stuffer" and "stuffing?"
More Appetizer Recipes:
Meat & Spinach-Stuffed Mushrooms with Goat Cheese
Meat & Spinach-Stuffed Mushrooms with Cheese
Servings:
6
large stuffed mushrooms
Ingredients
6

medium-sized portabella mushrooms

1

teaspoon

olive oil

½

pound

ground beef

or elk

½

red onion

finely chopped

4

cloves

garlic

minced

3

tablespoons

red wine

or chicken broth

1/4

teaspoon

paprika

1/8

teaspoon

ground thyme

3

ounces

baby spinach leaves

chopped, half a bag

Salt and pepper to taste

6

slices

goat cheese

or cheese of choice, thinly sliced.
Instructions
Preheat oven to 400 degrees. Wash the mushrooms, remove the stems and set the mushroom caps aside.

Chop the mushroom stems, onion and garlic.

Over medium heat, warm the olive oil in a medium-sized skillet. Add the mushroom stems, onion and garlic and sauté. One tablespoon at a time, add the red wine, making sure the wine is absorbed by the ingredients and evaporates before adding the next tablespoon. This process should take roughly 10 to 12 minutes, until onion is soft. Add the paprika, thyme, salt and pepper.

Add the ground elk meat and the chopped spinach at the same time. Cook just until spinach leaves have wilted and the meat is brown but not cooked all the way through. Remove skillet from heat.

Using a spoon, scoop the elk meat mixture into the portabella mushrooms; Mushrooms can be stuffed to overflowing if desired. Place thin slices of goat cheese Over the stuffed mushrooms and bake in the oven for 15 minutes, until the cheese begins to turn golden brown and juices are seeping out of mushrooms. Allow mushrooms to sit a couple of minutes before placing on a platter to serve.
Nutrition
Serving:
1
serving
|
Calories:
97
kcal
|
Carbohydrates:
2
g
|
Protein:
9
g
|
Fat:
6
g
|
Fiber:
1
g
|
Sugar:
1
g