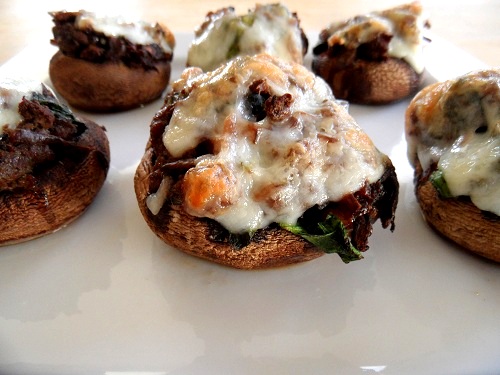 The past twenty-four hours have been all about mushrooms.  If you're visiting my page from Truckee, no…not that kind of mushroom.  A few months ago, Garrett and I started drinking Kombucha like crazy (if you are new to Kombucha, it is a probiotic drink that is made through a fermentation process similar to beer, though the alcohol level of kombucha is minimal).  As you may know, Kombucha can be an expensive habit, so I suggested we start making it ourselves…you know, to save some skrill.  The first two batches turned out great, and we doubled our third batch, which is sitting on a shelf in our closet.
What does that have to do with mushrooms?  Kombucha is a veeeeeeery strange creature.  It starts with water, tea, sugar and a SCOBY (Symbiotic Culture of Bacteria and Yeast), which looks like a gooey undercooked pancake.  The SCOBY (also known as the kombucha mushroom) activates and cultures in the sugary tea and a baby kombucha mushroom begins to form.  You then have the mother and the baby mushrooms, which continue to grow as you make more and more kombucha.  This is just delightful because the more of the actual drink you make, the more SCOBY you end up with.  Pretty soon, we'll be packaging up our SCOBY and giving it out to friends and family before it takes over our house.  The only difficult part about making kombucha is it needs to maintain a certain temperature (like yogurt) for 5 to 7 days in order for the SCOBY to stay active and alive.  Once we got our system down for maintaining temperature, the whole process became a piece of cake.
Coming soon – a HOW TO on making kombucha…but for now, a different type of mushroom – the portabella mushroom. Recently I have been in the mood to stuff something…I enjoy a good stuffed eggplant and stuffed bell peppers, but neither of those was really setting off alarms in my head.  If you are familiar with my recipes, you'll notice that I put baby portabellas in just about everything.  I probably should diversify, but I become ingredient-obsessed.  You may have also noted that I cook with a lot of meat…for me, meat and vegetables are two peas in a pod – a package deal – which worked out very well for this recipe.
Where was this recipe when everyone was whipping up appetizers for the Super Bowl? It was but a twinkle in my eye. Nevertheless, this recipe is very easy and you can make as few or as many as you want which is a versatility you need for entertaining guests.  These mushrooms are just the right amount of filling without making anyone feel full so your guests are peacefully maintained while waiting for the main course.  One of the wonderful aspects of stuffing anything is you can really get creative with your flavors.  I chose the red wine, garlic and goat cheese to be my big flavors, with subtle herby undertones and the next time I make these, I would probably go a bell pepper and cheddar cheese route.  Try them out over the weekend, enjoy and please tell me:  What is your favorite "stuffer" and "stuffing?"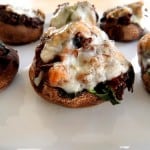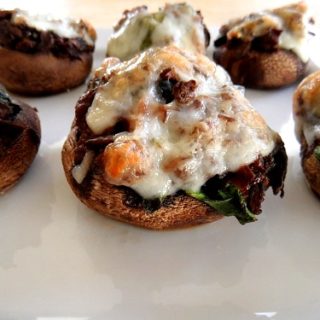 Meat & Spinach-Stuffed Mushrooms with Goat Cheese
Print
Ingredients
6

medium-sized portabella mushrooms

1

teaspoon

olive oil

½

pound

ground elk or ground turkey

½

red onion

finely chopped

4

cloves

garlic

minced

3

tablespoons

red wine (to make this paleo

use chicken stock instead of wine)

1/8

teaspoon

paprika

1/8

teaspoon

ground thyme

3

ounces

baby spinach leaves

chopped, half a bag

Salt and pepper to taste

6

slices

goat cheese

thinly sliced.
Instructions
Preheat oven to 400 degrees. Wash the mushrooms, remove the stems and set the mushroom caps aside.

Chop the mushroom stems, onion and garlic.

Over medium heat, warm the olive oil in a medium-sized skillet. Add the mushroom stems, onion and garlic and sauté. One tablespoon at a time, add the red wine, making sure the wine is absorbed by the ingredients and evaporates before adding the next tablespoon. This process should take roughly 10 to 12 minutes, until onion is soft. Add the paprika, thyme, salt and pepper.

Add the ground elk meat and the chopped spinach at the same time. Cook just until spinach leaves have wilted and the meat is brown but not cooked all the way through. Remove skillet from heat.

Using a spoon, scoop the elk meat mixture into the portabella mushrooms; Mushrooms can be stuffed to overflowing if desired. Place thin slices of goat cheese Over the stuffed mushrooms and bake in the oven for 15 minutes, until the cheese begins to turn golden brown and juices are seeping out of mushrooms. Allow mushrooms to sit a couple of minutes before placing on a platter to serve.