Bacon Wrapped Roasted Pears with Goat Cheese and Honey is an unforgettable unique appetizer for serving guests!
I have some Questions for you.
Goat cheese. Have you ever had it roasted in the oven?
Have you ever wanted to be wrapped in bacon?
Pears. How do you feel about them?
As we all know, I'm not an huge fan of fall/winter fruit, but as it turns out, stuffing the dang things with goat cheese, engulfing them in bacon, roasting them in the oven, then razzle dazzling them with honey is a two thousand percent improvement upon the pear.
So if you're already a pear fan, I can only imagine what these beauties will do to your face trap.
As it turns out, scooping out the core of pears, stuffing them with goat cheese, wrapping them with bacon and roasting them in the oven is a recipe for a miracle.
Every bite it a melt-in-your mouth experience. If you're looking for a fun and unique appetizer recipe, this may just be a great fit!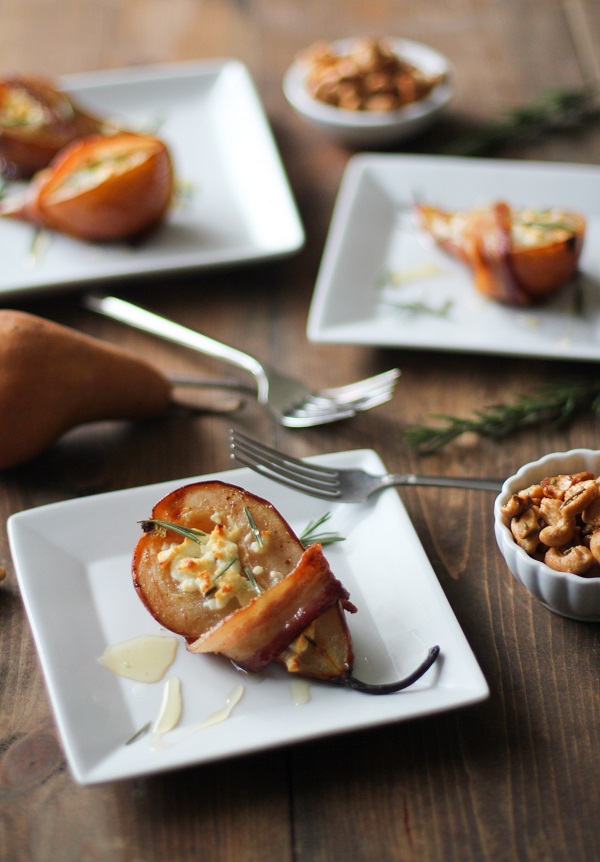 The Inspiration for This Recipe:
Recently, I was faced with the dilemma of having too many slices of bacon and nowhere to put them. You're looking at me like, "Oh, hun…you just put those straight into your mouth." <- I could squeeze you.
BUT I wanted to purpose the bacon for something that could help you out in life, too.
So I sat on the bacon – figuratively, of course – until something jumped out at me that I could share with you.
As fate would have it, I was thumbing through the November issue of Cooking Light and crash landed on a TWO-PAGE spread that was titled, "Bacon." I did a somersault double backflip triple lutz because the spread included 20 some easy recipes that all involved bacon. Options! Marvelous! Just marvelous.
I closed my eyes, pointed to a spot on the page, and whaddya know, I landed on these Bacon-Roasted Pears.
The recipe calls for stuffing the pears with Greek yogurt and goat cheese, and drizzling the thing with balsamic reduction. Delicious.
However, I figured eliminating the Greek yogurt and sticking to the goat cheese would make the thing that much richer, and I was feeling too lazy to reduce balsamic vinegar. SO omit the Greek yogurt, and drizzle the pears with honey I did. Just marvelous!
How do you do with lack of symmetry?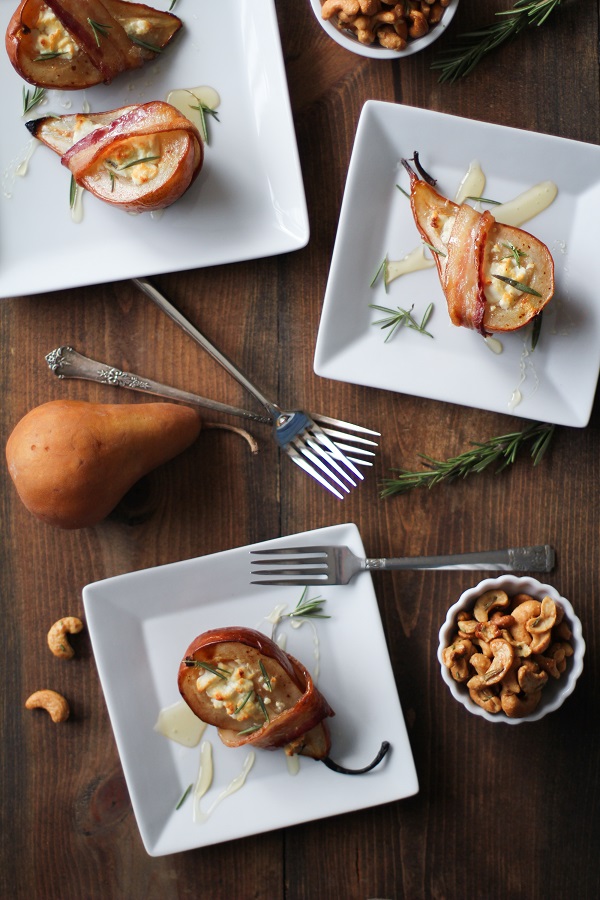 Oh hey, check out the Maple and Rosemary Toasted Cashews photo bombing the photograph!
So what you've got to do with these is make them as an appetizer for any occasion, but particularly for your Thanksgiving hoorah next week!
They take about seven seconds to assemble and they can just hang out in your oven for 40 minutes, since it's already going to be preheated and everything.
Spoiler alert: they perfume your home with bacon scent.
Stuff thy pears!
Bacon Wrapped Roasted Pears with Goat Cheese and Honey
If you're on the prowl for a show-stopping side dish or appetizer, here we are! These goat cheese stuffed pears are incredibly flavorful. Sweet, savory, and delicious!
Ingredients
4

bosc pears

halved and cored

8

tablespoons

goat chevre

8

pieces

thick-cut bacon
Instructions
Line a baking sheet with foil.

Halve the pears and core them.

Stuff each pear half with 1 tablespoon (or desired amount) of goat cheese.

Wrap each pear half with 1 slice bacon, and place on the foil-lined baking sheet.

Place baking sheet in cold oven; bake at 375degrees F for 40 minutes or until bacon is crisp. Turn broiler to high; broil 1 minute.

Sprinkle a little sea salt over the pear halves, drizzle with honey and serve with fresh rosemary.
Nutrition
Serving:
1
Serving
|
Calories:
147
kcal
|
Carbohydrates:
16
g
|
Fat:
8
g
|
Fiber:
3
g
|
Sugar:
10
g