Roasted Sweet Potato Fig Kale Salad with toasted walnuts, cranberries and a cider vinaigrette is a superfood vegan salad recipe.
Roasted sweet potatoes and figs adorn this superfood kale salad. Topped with maple-toasted walnuts, pumpkin seeds and dried cranberries with an easy maple-cinnamon cider vinaigrette, this salad is a beautiful fall-inspired clean meal or side dish.
This salad.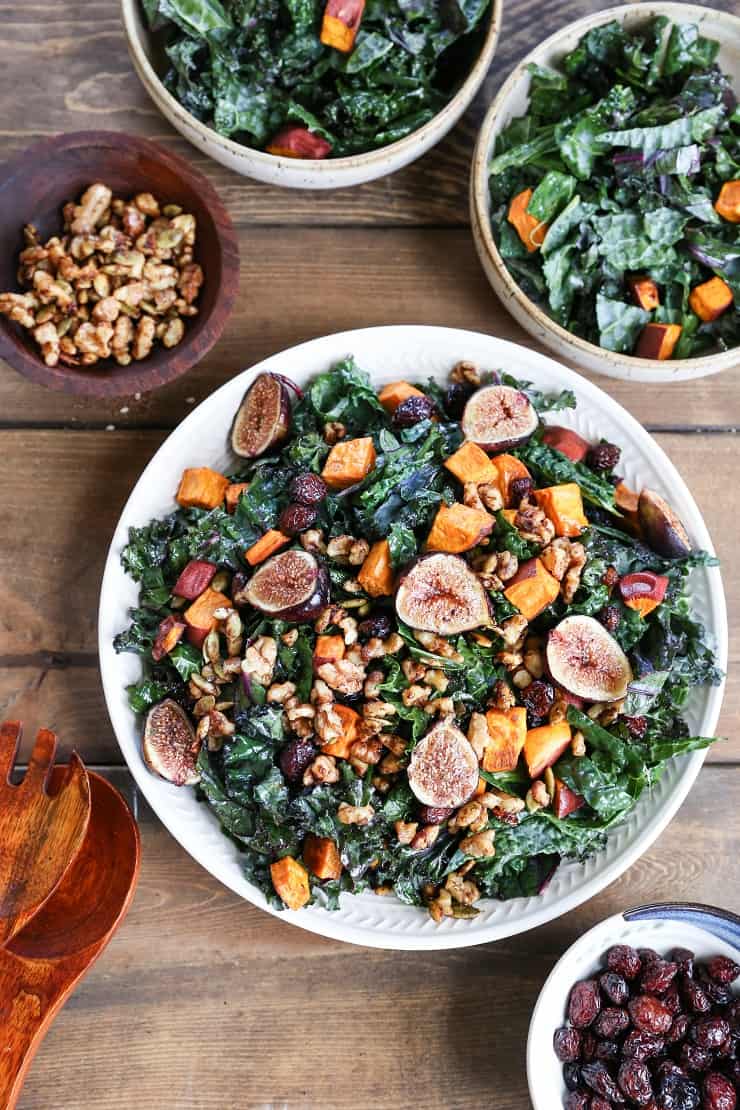 …Also known as the time I ate two heads of kale in one sitting.
It's been a bit of a madhouse in my kitchen lately, with dishes and cooking tools strewn about on every available surface, and every Tupperware container and zip lock bag filled with food.
I've been working on the cookbook (which is the object of all my affections right now…insert all the heart emojis here), and also have some new freelance projects lined up.
Needless to say, I've been cooking up a tornado to ensure everything that needs to be square is squared before the man and I leave for Switzerland in October.
SO! What do we have here?
Two types of kale, roasted sweet potatoes and figs, maple-toasted walnuts and pumpkin seeds, dried cranberries, and an easy peasy lemon squeezy cinnamon-maple cider vinaigrette.
Not to mention my heart and soul, because this salad is basically me in leafy green form. Like if I were a kale salad, this is the one I'd be.
But you guys! Take a gander at this Roasted Sweet Potato Fig Kale Salad!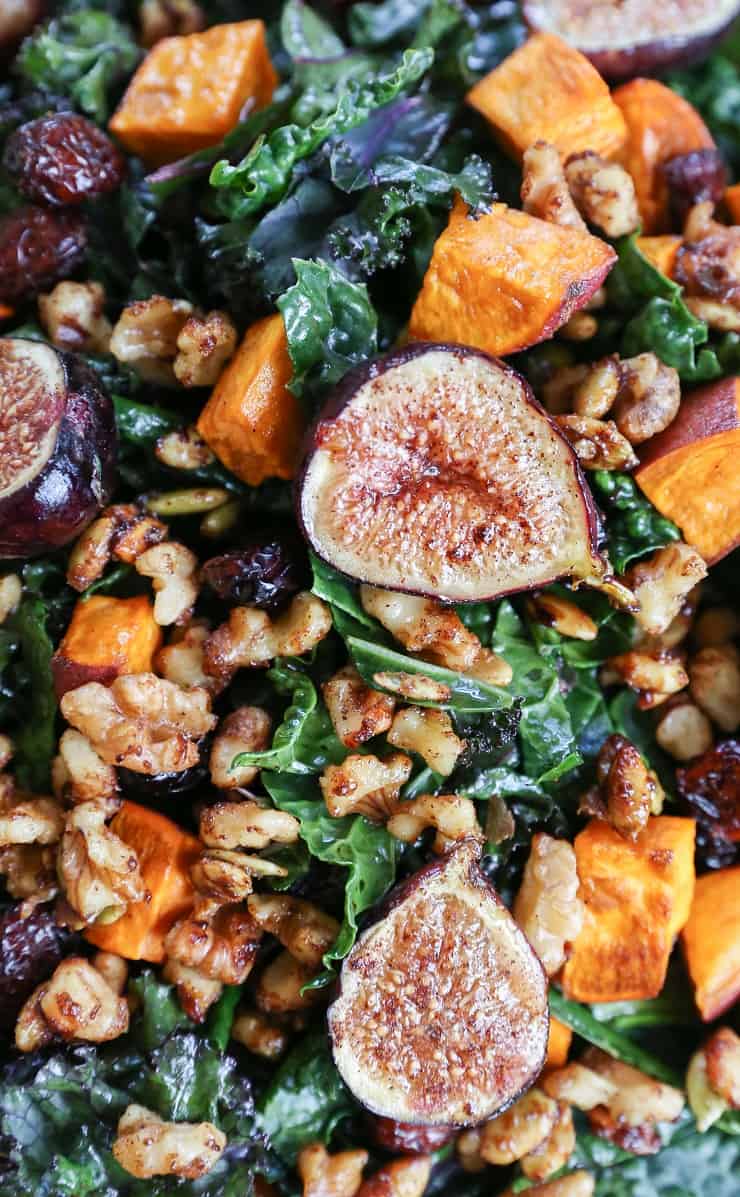 WOW! It's just one of those showstoppers that reels you in and before you know it, you've done consumed a year's worth of kale.
Or if you're me, your daily value of kale.
Needless to say, this salad is addicting.
I know, I know…insert eye roll.
Fair warning: Preparing this thing does take more effort than my typical toss-it-in-a-bowl, douse-it-with-dressing blingity bloom salad.. There are multiple sequences to achieve our cohesive whole.
The good thing is, most of the tasks here can be accomplished while the sweet potatoes and figs are roasting in the oven, so if you're ultra awesome at multi-tasking, this shiz's your jam.
Or, if you're a make-ahead maven, you can prepare the cider vinaigrette and the toasted walnuts and pumpkin seeds in advance. Heck, you can even massage your kale ahead of time, because kale salads last forever (more like 2.5 – 3 days) in the refrigerator!
Toss some grilled chicken or flank steak on there to make it an animal lover's entrée, or add chickpeas to keep it a vegan affair. You can also add roasted beets for an even bigger nutrient boost!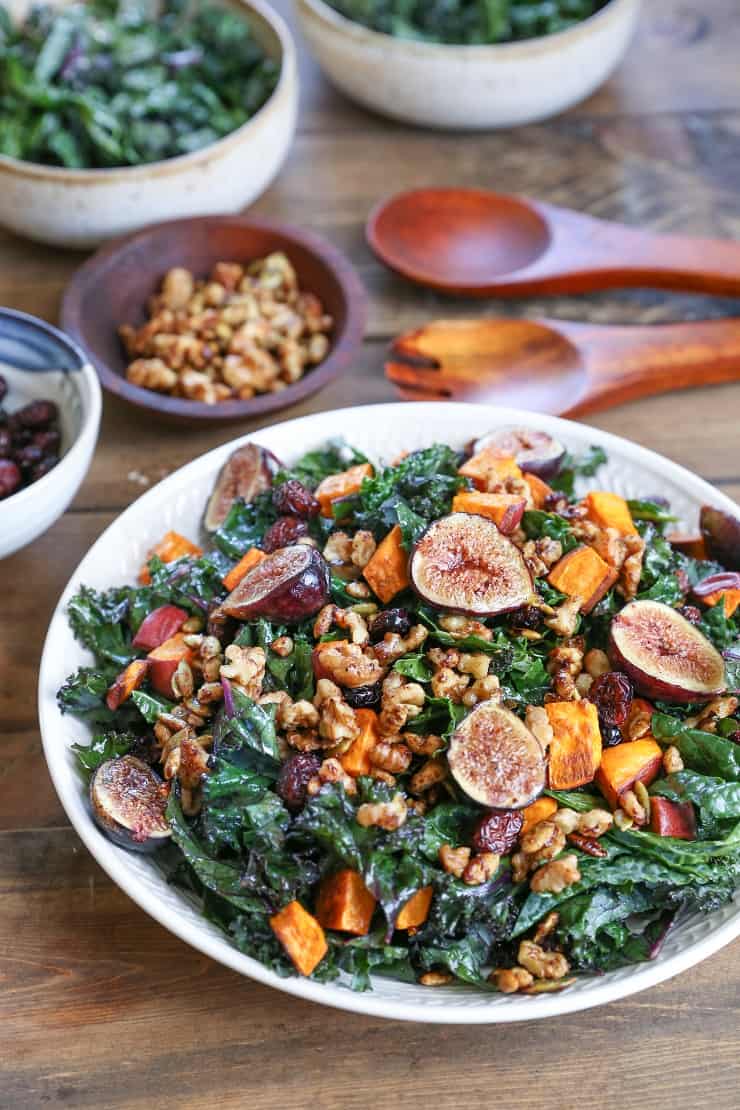 A word about feta: I was a nanosecond away from showering this salad with feta, but I stopped mid-shower and realized it didn't really need it.
There's so much going on from a flavor and texture standpoint, that I found the feta would be unnecessary noise. But then I made this the following day and added feta and was v. exuberant about how it turned out. Case in point: it's your party and you can feta if you want to.
Notorious K A L E !!
More Healthy Salad Recipes:
Roasted Sweet Potato and Fig Kale Salad
Roasted Sweet Potato and Fig Kale Salad with Maple-Toasted Walnuts is a healthy vegan salad recipe perfect for fall
Ingredients
For the Salad:
1

large sweet potato

chopped

6

large figs

halved

1

head lacinato kale

chopped

1

head Russian red kale

chopped

1/3

cup

dried cranberries

see note

1

tablespoon

fresh lemon juice
Maple-Cinnamon Cider Vinaigrette
Instructions
Roast the Sweet Potato and Figs
Preheat the oven to 415 degrees F. Spread the sweet potatoes and figs on a large baking sheet. Drizzle with olive oil and sprinkle with sea salt. Use your hands to coat everything in oil. Roast figs for 10 to 12 minutes, until caramelized, and sweet potatoes for 30 to 35 minutes, until golden-brown and crispy.
Prepare the Cider Vinaigrette
Add the ingredients for the vinaigrette to a small blender, and blend until completely smooth (or whisk vigorously in a bowl until well-combined). Set aside until ready to use.
Toast the Walnuts & Pumpkin Seeds
Heat the olive oil in a small skillet over medium-high heat. Add the walnuts, pumpkin seeds, pure maple syrup, cinnamon, and sea salt. Cook, stirring frequently, until walnuts and pumpkin seeds have absorbed most of the liquid and begin to look sticky, about 5 to 8 minutes. (Note: be careful to keep a close eye on the nuts, as they will burn easily).
Prepare the Salad
Add the chopped kale to a large serving bowl and drizzle with lemon juice. Use your hands to massage the lemon juice into the kale leaves (this process breaks down some of the fibers in the kale and softens it up). Drizzle desired amount of cider vinaigrette over the kale and toss well until coated. Serve salad with dried cranberries, roasted sweet potatoes and figs, and maple-toasted walnuts and pumpkin seeds.
Notes
*use juice-sweetened cranberries rather than sugar-sweetened
Nutrition
Serving:
1
Serving (of 3)
|
Calories:
551
kcal
|
Carbohydrates:
62
g
|
Protein:
15
g
|
Fat:
32
g
|
Fiber:
11
g
|
Sugar:
40
g