There comes a time in a food blogger's life when she puts breakfast in a glass and shows you pictures of it. And that time is now.
There's so much truth in this glass.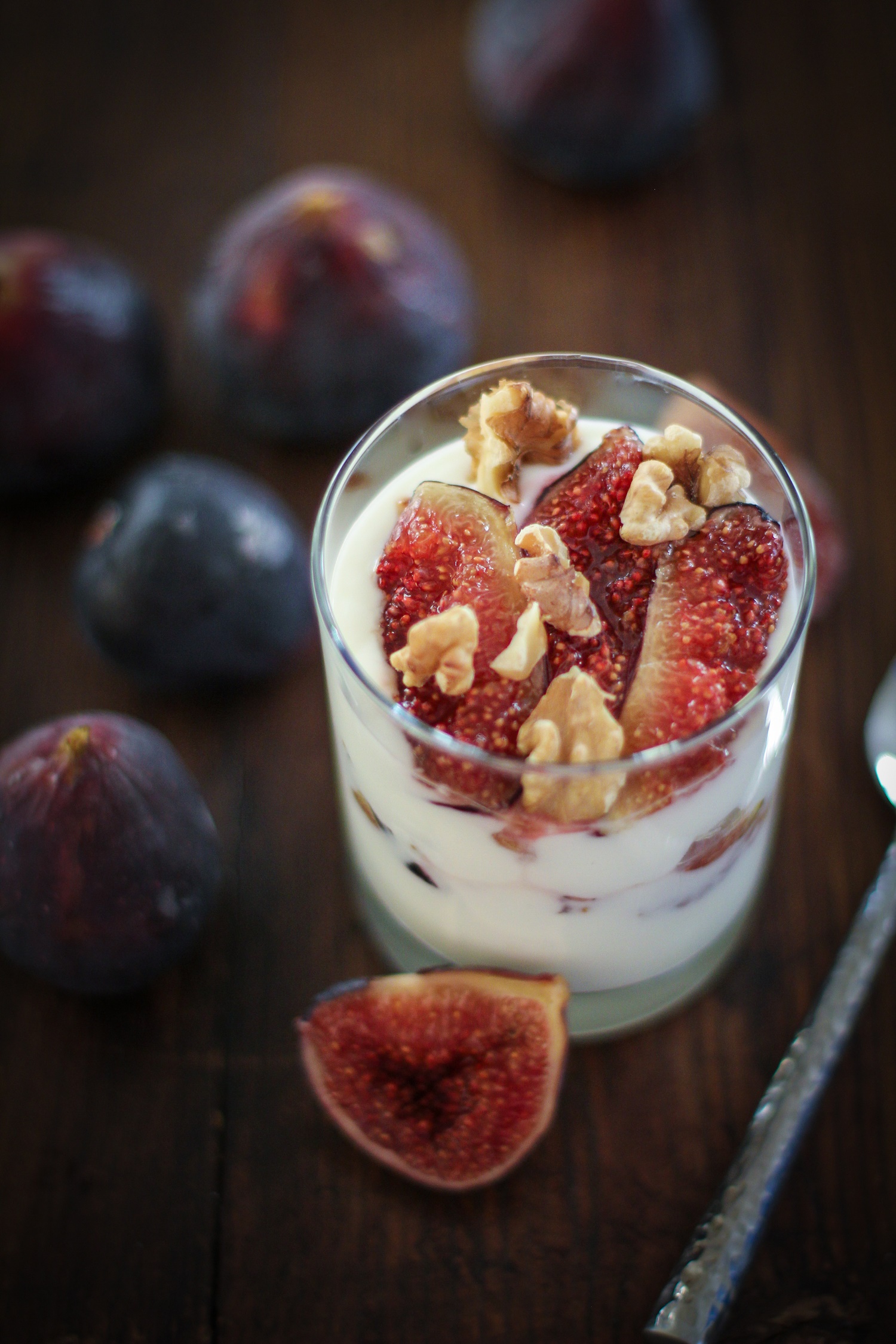 Truth #1: This is the type of breakfast I eat most mornings – fruit, yogurt and walnuts. I wake up earlier than toddlers, brew a pot of coffee, then start tweeting at you, pinning things, sauntee through the ol' fb, and gander at other food blogs. This is social/stalking hour – my favorite hour of the day! Once I'm good and caffeinated, I assemble breakfast. You're looking at it, son!
Truth #2: I miss taking pictures of glasses. Since I submitted Delicious Probiotic Drinks to my editor, I haven't had reason to take photos of glasses…like…at all, so this parfait brought back fond memories. Funny (and also true): prior to writing a cookbook on beverages, I actually loathed taking pictures of glasses. And now I opposite of loathe taking pictures of glasses. Uhhhh huh.
Truth #3: Sometimes girl gets lazy. Or busy. Or both. The majority of the cooking I've been doing lately is for my kale cookbook, so when it's not for the book, it's likely fabulously easy to assemble. Don't you worry – you'll be getting more doses of easy this week. Guarantee it.
Truth #4: I have come into a bounty of figs. SO lucky! I was able to take a bag of these beauties home from work, and I've been roasting the crap out of them in spite of the heat. Because they're SO good roasted!
Truth #5: Meh, 4's all you need.
So really what it comes down to, is you roast yourself some figs and walnuts. Figs get all caramelized, juicy and crisped out when you roast them. It's wuuuuuunderbaaaaaar! You let the figs cool so that they don't burn the roof of your mouth (or make your yogurt hot).
You put yogurt in a glass (uuuuh bowl works just fine too) with the roasted figs and walnuts and drizzle some honey or maple syrup on top. Bangity boom – the greatest truth in life is breakfast's the most important meal of the day.
Don't quote me on that, I just made it up. There are other great truths in life too. Like beer and campfire.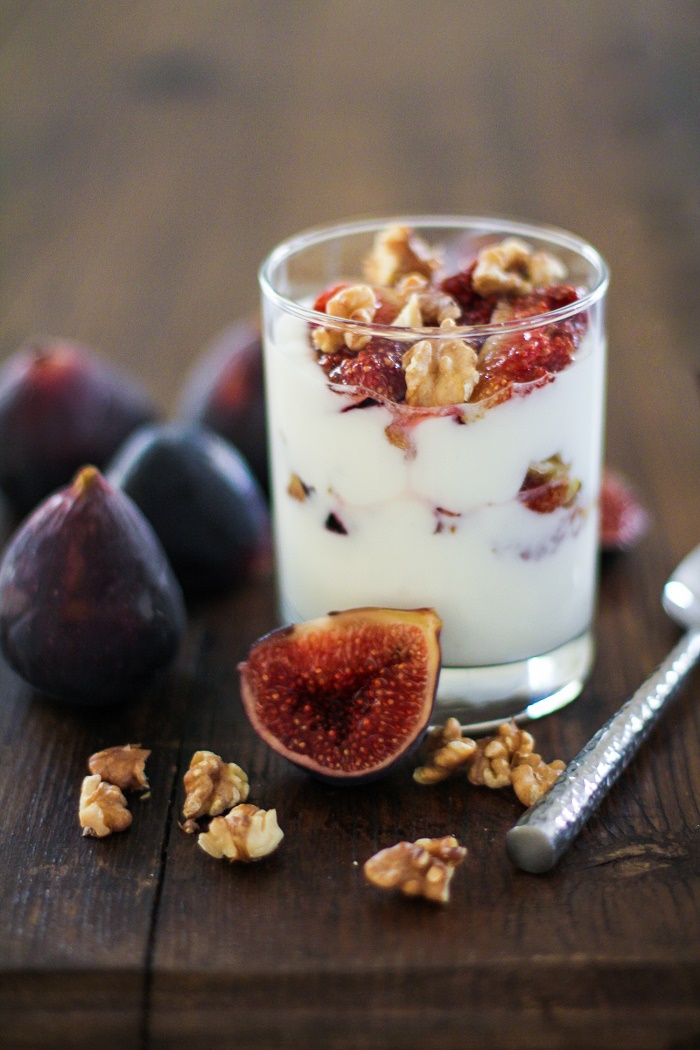 Well then. Now that we've covered all of our bases, it's time to stick a meal in a glass and eat it. So long's it's not a burrito…that's just inconvenient.
Roasted Fig & Walnut Parfait
Take your dessert (and breakfast!) life to a whole new level with these Roasted Fig & Walnut Parfaits!
Ingredients
2

ripe figs

cut into 6ths and roasted

2

tablespoons

walnuts

roasted

1

cup

plain Greek yogurt*

Honey or 100% pure maple syrup
Instructions
Preheat the oven to 375 degrees F.

Chop the figs into quarters or sixths and place them on a baking sheet cut-side up.

Also place the walnuts on the baking sheet

Roast the walnuts for 5 to 8 minutes (until they're toasted and have some color), and the figs for 15 to 20 minutes, or until juices are running out and they are soft when poked. Remove figs from the oven and allow them to cool (to speed up this process, stick them in a bowl and put them in the freezer or refrigerator).

Add a layer of yogurt to a glass, followed by a layer of roasted figs and walnuts plus a drizzle of honey, followed by more yogurt and figs and walnuts and more honey.
Notes
*also try vanilla or maple yogurt.
Nutrition
More perfecto parfaits:
Blueberry Pie Yogurt Parfaits by Family Fresh Cooking
Cherry & Granola Breakfast Parfait by The Messy Baker
Samoas Brownie Parfait with Salted Caramel Sauce by Country Cleaver
Amaretto Strawberry, Hazelnut and Mascarpone Cream Parfait from eCurry
Blueberry Creme Parfait from The Midnight Baker
Peanut Butter Mousse and Jelly Parfait from Dessert for Two
Strawberry Pretzel Parfaits from Dessert for Two
Vanilla Bean Yogurt and Nectarine Parfaits with Candied Nuts from Simply Scratch