Roasted cherry ice cream. Plus booze. Plus chocolate. Plus yum!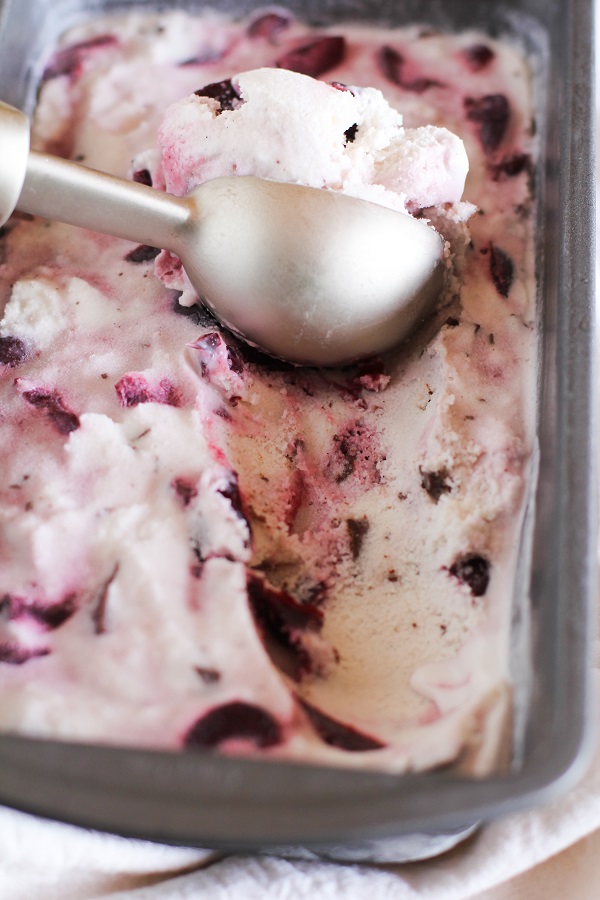 Recently, I learned a valuable lesson about instructions and how you should read them. And then proceed to follow them. True story: Cuisinart sent me their Pure Indulgence 2-Quart Ice Cream Maker, which I've been doting on for the past week.
I have made homemade ice cream several times in the past, but for some reason, receiving this new maker-o-delicious-things got me so in a huff that not only did I bypass the instructions, but I un-learned how to make ice cream entirely.
Lemme elaborate.
There I was, all hot to trot about making roasted cherry ice cream…over-thinking each and every step so that the whole thing would come together into an explosion of magical boozy cherry bliss (plus the chocolate), and I got so caught up in the recipe for the ice cream base, plus the booze/cherry roast (plus the chocolate), that I put all the common sense on hold and tossed every single component to the recipe into the ice cream maker…roasted cherries and all (plus the chocolate).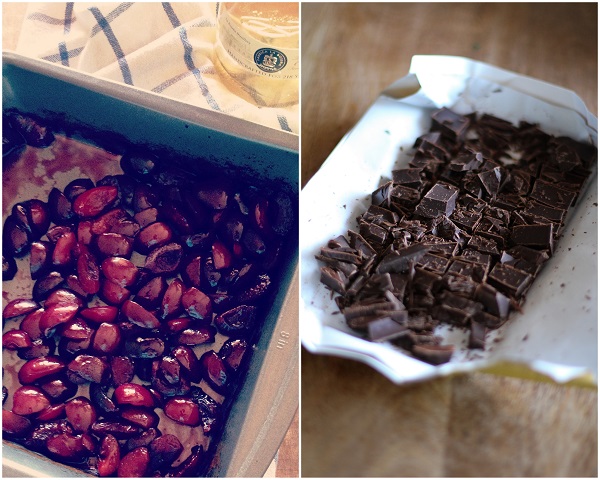 So…if you've ever made ice cream, you're well aware that you make the base in the ice cream maker and mix the goodies in by hand once the ice cream has finished churning. Because ice cream makers don't like solid objects. Nope. They certainly don't. What happens when you put allllll the goodies in the ice cream maker is a whole lot of womp wooooomp. What you end up with is an upset kitchen appliance and no ice cream. An edible slush, maybe. But none of the ice cream.
But because I was deeply confident in the explosion of magical boozy cherry bliss, I let my tarnished ego breathe for a day or two and then started again. Rinse. Churn. Repeat.
The second time around, I had the whit to follow proper protocol and what came out was worthy.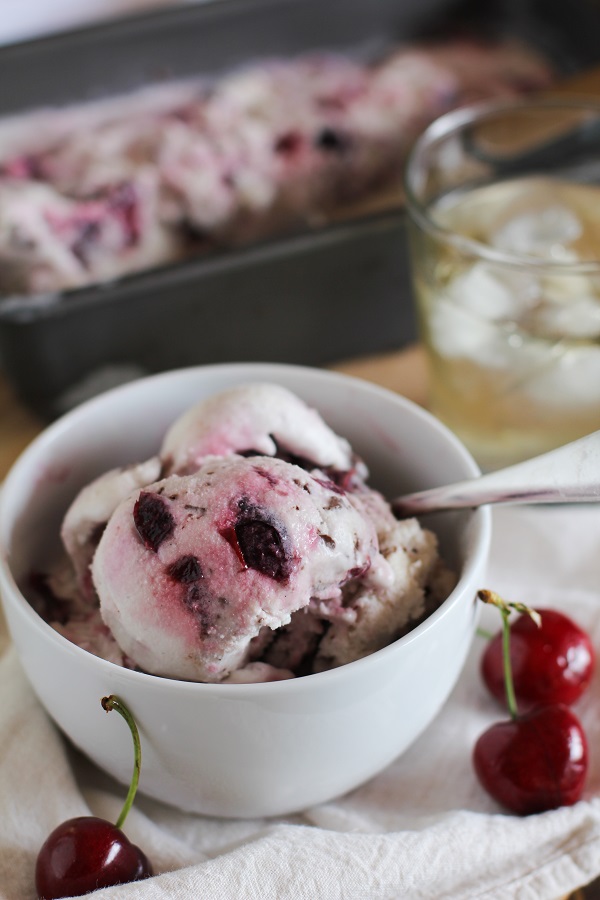 The only thing better than the fact that there are roasted cherries studded all up in this ice cream, is that the cherries are roasted in booze. Did you know liquor helps keep fruit soft when it's frozen? True story. Adding liquor to your ice cream base also helps keep the ice cream soft.
As strange as it may sound, I used tequila for the booze portion of the ice cream, because it's what I had on-hand. I thought the tequila worked very nicely, but you can also use bourbon or brandy. Or anything, really.
I made this ice cream vegan by using two cans of full-fat coconut milk (no egg yolks required!!). Aside from liquor, fat also helps keep ice cream soft and un-ice crystal-y. The first time I made this recipe (as in that time I put all the solid objects in the ice cream maker), I used one can of full-fat coconut milk and one can of lite coconut milk. No dice. It did not a good ice cream (slush) make. I 100% recommend using full-fat coconut milk, lest you end up with a less than stellar ice cream. Ain't nobody got time for less than stellar.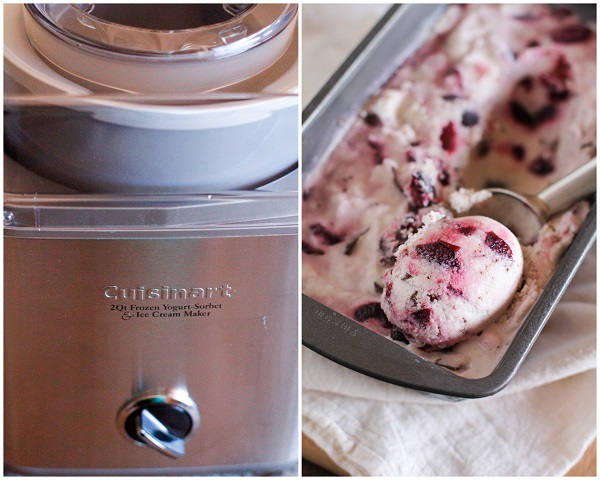 Now it's time to booze.
Recipe inspired by Bojon Gourmet's Roasted Cherry Vanilla Ice Cream.
Boozy Roasted Cherry Dark Chocolate Chunk Ice Cream (vegan)
A rich, unique boozy ice cream recipe that will knock your socks off!
Ingredients
Boozy Vanilla Coconut Milk Ice Cream Base:
2 15-

ounce

cans full-fat coconut milk*

1/4

cup

coconut oil

1/3

cup

pure maple syrup

1

tablespoon

vanilla bean paste**

1/4

teaspoon

kosher salt

3

tablespoons

tequila

or bourbon

1

whole vanilla bean

scraped, or 2 tsp vanilla extract

3

ounces

to 4 dark chocolate

coarsely chopped***
Bourbon Roasted Cherries:
2

cups

fresh cherries

pitted and chopped

1

tablespoon

coconut sugar

3

tablespoons

tequila

divided, or bourbon
Instructions
Roast the Cherries
Preheat the oven to 400 degrees F.

Lay the pitted and chopped cherries in a small baking dish and sprinkle with coconut sugar and one tablespoon of the tequila. Roast in the oven and stir every 5 minutes for 15 minutes, until juices are seeping out. Keep an eye on the cherries for the last 5 minutes so that they don't burn. When they have finished roasting, allow them to cool for a few minutes. Transfer them to a small bowl or jar, add the remaining 2 tablespoons of tequila, and place in the refrigerator to chill completely.
Make the Ice Cream Base:
Add the coconut milk, coconut oil, agave nectar, vanilla bean paste, and salt to a blender. Blend until well-combined. (Note: you want the coconut oil and coconut milk to be in liquid form, so If they are at all solid or chunky, heat them in a saucepan just until the clumps melt. Immediately remove from heat and refrigerate until completely cold.)

Follow the instructions for your specific ice cream maker (mine requires I freeze the bowl overnight before I use it). Pour the coconut ice cream base into the maker's bowl and turn it on. Pour the tequila into the ice cream maker once the liquid is very cold. Allow ice cream to churn until very thick. Mine took about 40 minutes.
Finish the ice cream:
Once the ice cream base is thick, Pour it in a baking pan or freezer-safe container. Stir in the cherries and chocolate. Cover and freeze for at least 4 hours, or overnight.

When ready to serve, allow the ice cream to thaw at least 10 minutes before trying to scoop it. Since it's made with coconut milk, it needs a little more time to thaw.

Serve in abundance and enjoy!
Notes
*I strongly recommend using the Thai brand of coconut milk. I tried this recipe using a different brand and it didn't work because it wasn't thick enough. **You can replace the vanilla bean paste with 1 large vanilla bean, scraped ***To keep this recipe vegan, use vegan chocolate You can also melt the chocolate and swirl it into the ice cream instead of leaving it chunky. You can make this recipe without using an ice cream maker by pouring everything into a freezer safe container, placing in the freezer, and stirring every 20 to 30 minutes for a few hours until the ice cream is thick and frozen.
Nutrition