No-Bake Vegan Key Lime tarts made grain-free, refined sugar-free and dairy-free for paleo dessert recipe! No cooking or baking required!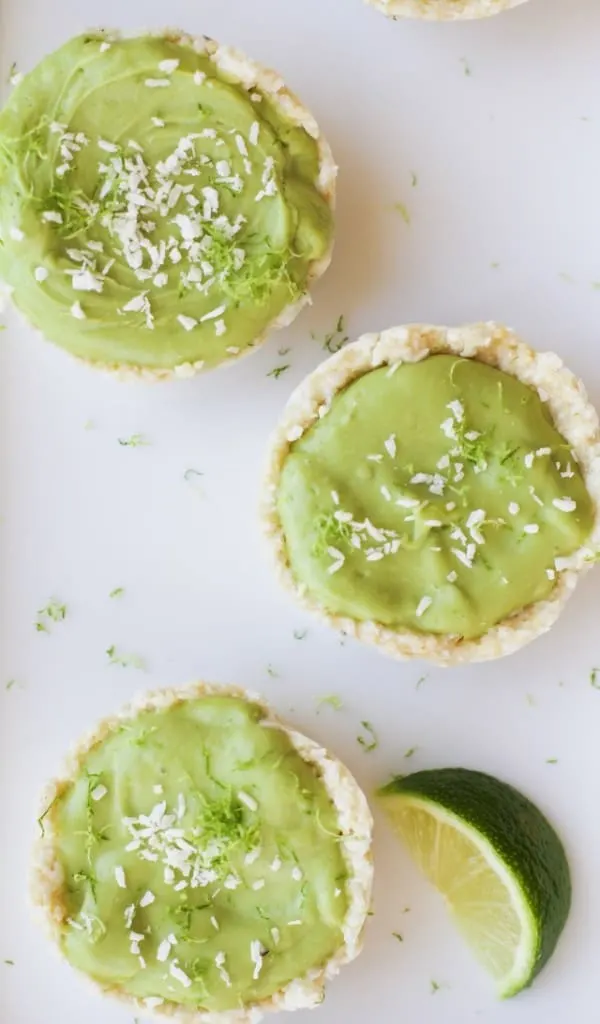 You're not going to believe what these little fat bombs of pure unadulterated energy are made out of!
Spoiler alert: it's avocado. And coconut oil. And pure maple syrup. With an easy peasy no-bake crust made out of almond meal and Hemp Hearts.
The inspiration for these tarts goes way back. Let's take have a whirl in my time machine!
A few summers ago, one of my girlfriends and I took a two-month long road trip across the US. We spent five days in Key West, FL, where we enjoyed all sorts of locally-inspired foods, including key lime everything. Up until the trip, I hadn't paid much attention to key lime because for whatever reason, it isn't a big To Do on the West coast; HOWEVES, I quickly became an addict on the trip.
Not too long after that trip, I visited a raw food restaurant in Nevada City, CA, where I tried just about everything on the menu, including their vegan key lime pie. Blown away by how delicious the pie was in spite of the fact that it was made with all natural whole foods, I knew I needed to make a similar dessert at home.
I'm not sure how the pie is made at the restaurant, but for these tarts, I used avocado and coconut oil as the majority of the filling, and almond meal and Hemp Hearts for the crust. All you need in order to prepare the pie filling is a food processor or blender – the whole thing comes together super easily!
Technically, the crust is not raw since I used almond flour (which was made from blanched almonds), but if you follow a strict raw food diet, you can easily grind your own nuts for the crust. In addition to the almond flour, I added Hemp Hearts to the crust for a boost of vegan Omega-3 and Omega-6 fatty acids. I also love the flavor of hemp products and find they work marvelously in no-bake applications.
I used Manitoba Harvest Hemp Hearts for the recipe, and have also been adding them to my smoothies and oatmeal for extra nutrients. Just 3 tablespoons of hemp seeds awards you 10 grams of protein and 10 grams of Omega 3 and Omega 6 fatty acids, higher than what you get out of flax seeds and chia seeds.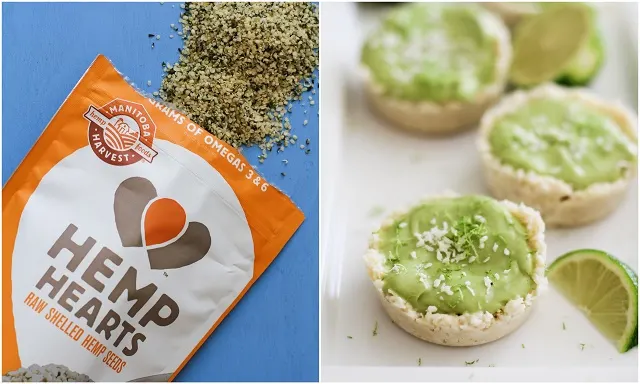 Combining the healthy fat and protein from the almond flour, hemp seeds, avocado, and coconut oil, you're awarded a guilt-free dessert that provides a boost of high octane clean energy.
These tarts make for the perfect dessert-for-breakfast or post workout snack situation, as they provide sustained energy that can be utilized throughout the day. Made gluten-free, grain-free, refined sugar-free, dairy-free, and paleo friendly, they're great for serving to all your friends and family who have a variety of food restrictions.
In order to keep these tarts individually-sized, I used a muffin tray.
You can also use 2-½-inch tart pans, or one 10-inch springform pan if you'd like to make a full pie out of the recipe.
I will say, if you use a muffin tray, the tarts are a tad difficult to remove – I ran a pairing knife between the tart crust and the pan in order to pop them out, but using a spring form pan will be an easier option.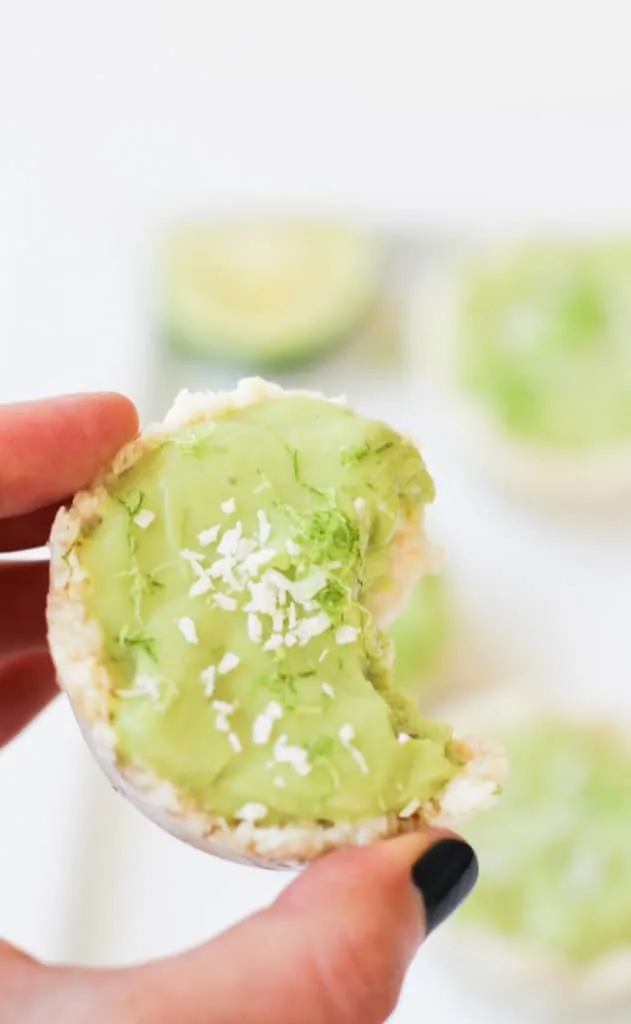 More No-Bake Dessert Recipes:
My cookbook,
Paleo Power Bowls
, is now available! CLICK HERE to check it out. Thank you for your support!
If you make this recipe, please feel free to share a photo and tag @TheRoastedRoot on Instagram!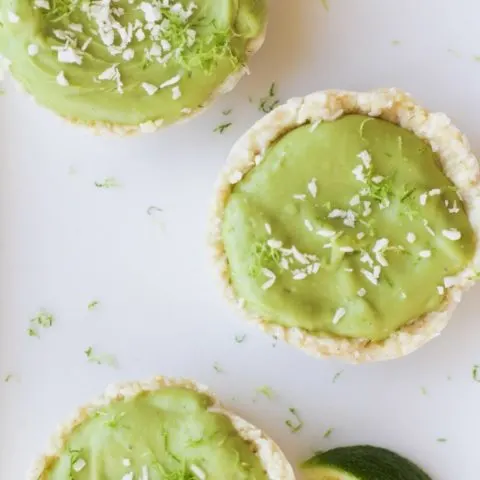 Vegan Key Lime Tarts
Key lime tarts made grain-free, refined sugar-free and dairy-free for a vegan and paleo dessert recipe!
Ingredients
For the Crust
Tart Filling:
2 ripe avocados, peeled and pitted
Instructions
Prepare the Crust:
Add all of the ingredients for the tart crust to a mixing bowl and stir until a sticky ball forms.
Distribute crust mixture among a 12-hole muffin pan and press firmly into the bottoms and sides of the holes, creating thick tart crusts (Note: You can also use ten 2-1/2 inch tart pans or one 10-inch spring form pan). Place muffin tray in the refrigerator while you're preparing the pie filling.
Prepare the Tarts:
Add all of the ingredients for the pie filling to a blender or food processor. Blend until completely smooth.
Pour the key lime pie filling into the prepared muffin pan and use a knife to smooth out the mixture. Freeze for 30 minutes or refrigerate for at least 2 hours. If using a muffin tray, run a paring knife along the edge of the crust and the muffin pan in order to release the tarts. Serve with unsweetened shredded coconut and lime zest.
Nutrition Information
Yield

12
Serving Size

1 grams
Amount Per Serving
Unsaturated Fat

0g
Disclosure: This post is sponsored by
Manitoba Harvest Hemp Foods
. As always, all opinions are 100% my own, and I thank you for supporting the brands that make this site possible.