Savory quinoa breakfast bowls with sauteed bell peppers, onion, and kale, topped with a runny egg and avocado – a well-rounded superfood paleo breakfast to keep you energized and on track throughout the day.
This post is sponsored by Thrive® Culinary Algae Oil.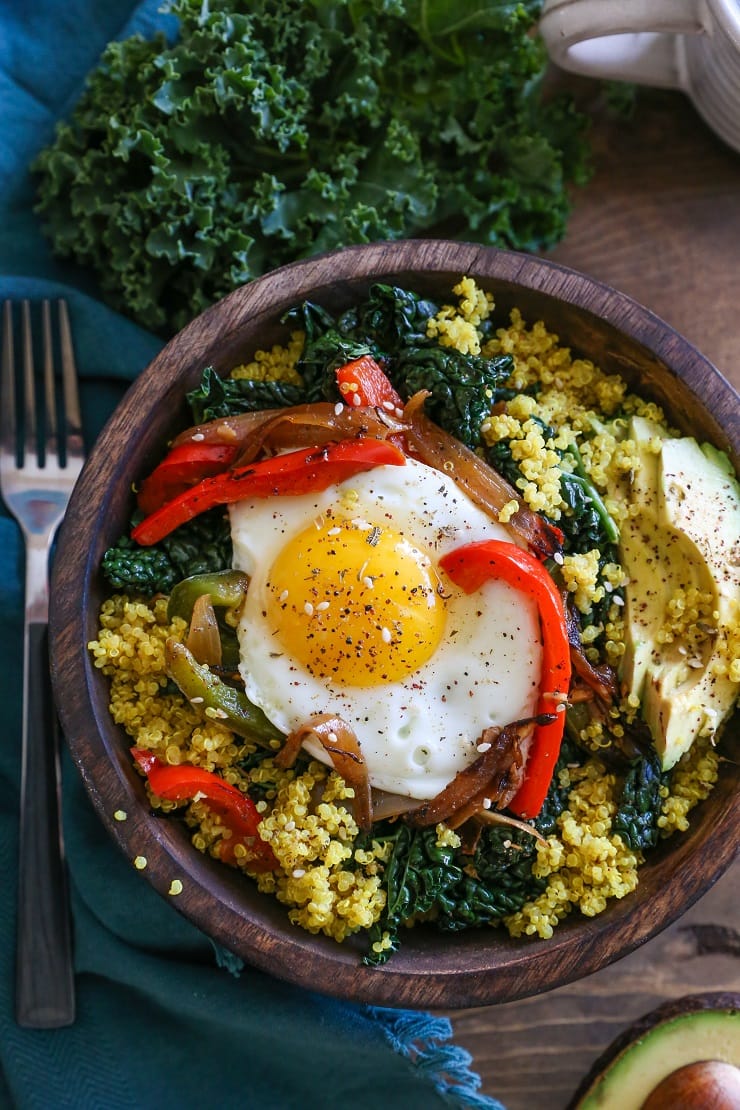 In the five years I've been blogging, I've watched various products and types of foods go in and out of fashion (goodbye cookie butter, red velvet everything, and cake pops; hello chia seeds, turmeric, and matcha) including the subset of oil. Within the health and nutrition world, the jury on oil has been pretty convoluted within the last few years.
When I first began blogging, the country was just drizzling a little olive oil on it, much like the father from My Big Fat Greek Wedding was spraying everything with Windex. The olive oil craze moved to grapeseed oil, moved to coconut oil, and now the health community is saying, "ixnay on the oilay!" altogether, as high amounts of saturated fat have been linked with colon cancer and heart disease. As is true with most topics in our country, we're very much all or nothing people, then we kick ourselves later for going to such extremes.
The upside to the madness is we're paying more attention to our food intake than ever before, and we're cognizant of the effect said food has on our bodies. When it comes to oil, everyone has their immediate go-tos…either for health reasons, convenience, or affordability. I, for one, go in the direction of health regardless of price tag or level of convenience. Which brings me to the topic of this blog post: algae oil.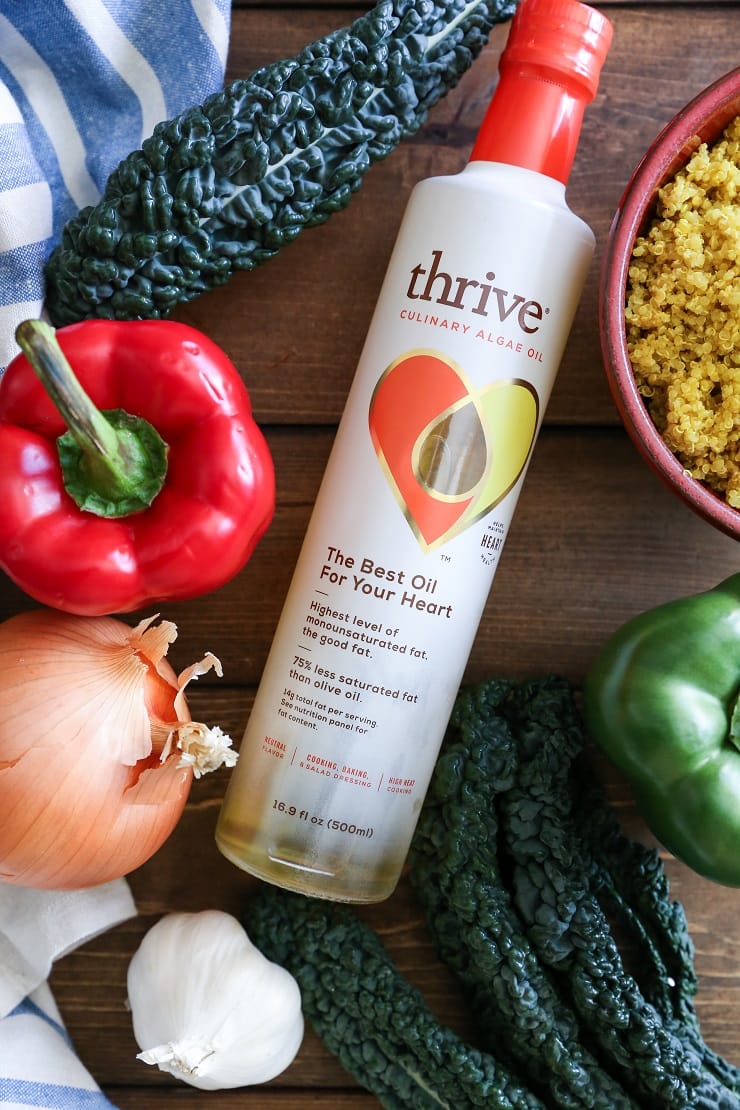 Have you heard of it? Lettuce have a discussion!
Thrive® Algae Oil is the first ever algae oil for cooking. Thrive® Algae Oil has 75% less saturated fat than olive oil, and is high in monounsaturated fat (the good kind of fat). Thrive® Algae Oil also has the lowest percentage of saturated fat of any cooking oil, making it a better alternative for your heart. It contains 90% MUFAs, whereas olive oil contains 70%. You can learn more about Thrive® Algae Oil and why all of this matters here.
Thrive® Algae Oil comes from one of the world's most sustainable food sources: algae. It has a higher smoke point (485 degrees Fahrenheit) compared to other oils, which means it is great for frying, searing, and roasting at high temperatures as well as cooking at low or no heat.
What does Thrive® Algae Oil taste like, you ask? It has a very light, neutral taste. It's very subtle, which I love because it doesn't overpower the ingredients, allowing the true flavors of the food to shine through. Plus, the oil is super versatile. You can use it for cooking, frying, baking, sauces, and dressings.
Let's talk quinoa. I added some ground turmeric and fresh ginger to the pot while the quinoa was steaming to infuse some health benefits and flavor into the mix. One of my secrets to achieving the ultimate fluffy quinoa is adding oil during the cooking process. So in this case, I added some Thrive® Algae Oil to ensure the quinoa turned out nice and tender with tasty flavor. Once it was finished cooking, I added some nutritional yeast to boost the flavor – if you don't have any on-hand, no big deal..the quinoa will still be great without it. You can always add cheese if you don't eat a vegan diet.
Side note #1: turn this into a savory breakfast porridge by cooking the quinoa in 3 cups of vegetable broth versus 2 and/or drizzling warm coconut milk over the quinoa just before serving.
Side note #2: if quinoa doesn't sit pretty with your digestive system, you can make this recipe using your favorite type of rice (or grain like barley or farro if you aren't gluten-intolerant).
Topping this quinoa is a sauteed onion, pepper, and kale situation with a sunny side up egg (or poached or fried) for protein, and some avocado for yum. All things combined awards you a well-rounded breakfast that will keep you satisfied for days…okay, hours.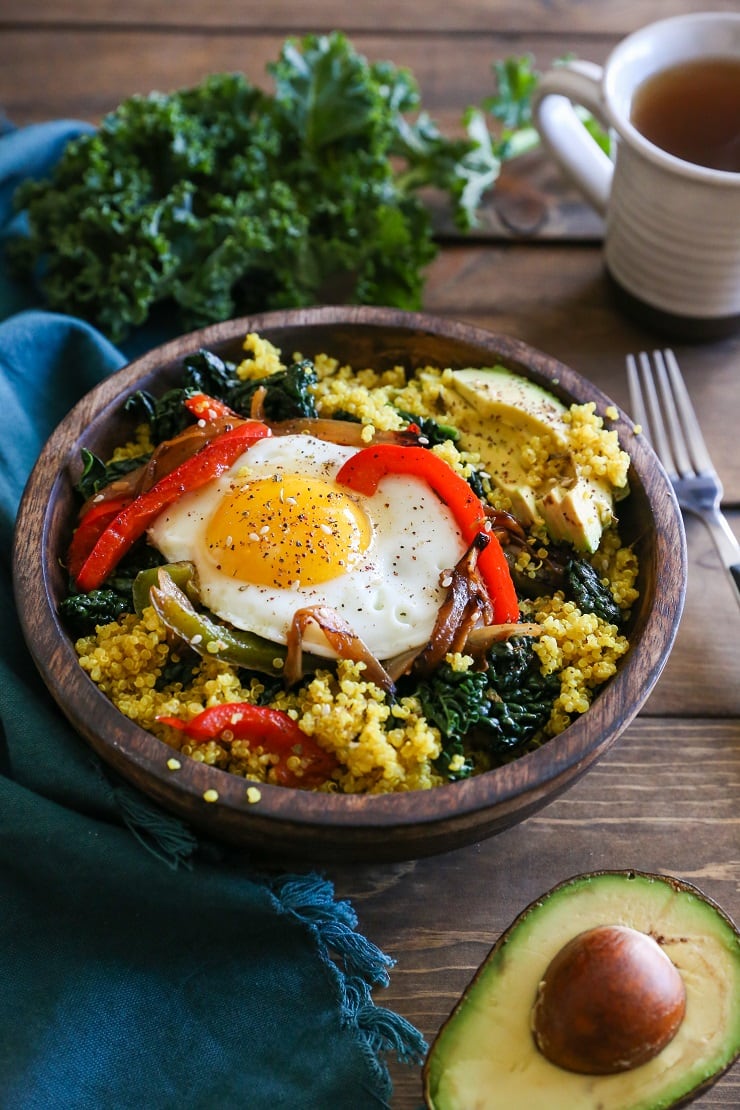 The best part of waking up is… nutritious food in your breakfast bowl <- just bowl with it…I mean roll with it…I mean…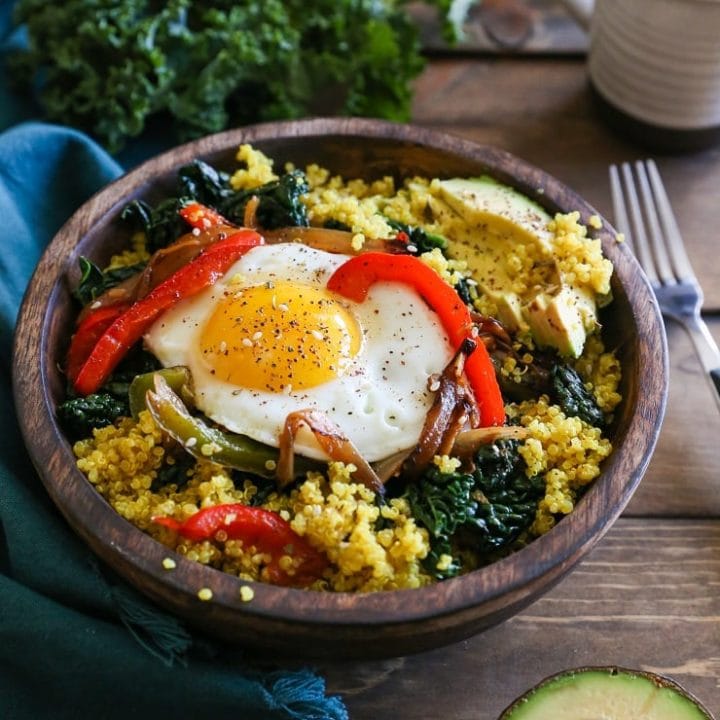 Savory Quinoa Breakfast Bowls with Peppers and Kale
Savory breakfast quinoa with peppers, eggs, and avocado is a lovely way to start the day!
Ingredients
For the Quinoa:
2 cups vegetable broth, see note*
1 cup uncooked quinoa
1/4 teaspoon ground turmeric
2 teaspoons fresh ginger, peeled and grated
Zest of 1 lemon
Toppings:
1 small yellow onion, sliced
1 red bell pepper, cut into matchsticks
1 green bell pepper, cut into matchsticks
1 head lacinato kale, chopped
2 eggs, sunnyside up
1/2 large avocado, sliced
Instructions
Prepare the Quinoa:
Bring 2 cups of vegetable broth (or water) to a boil. Add the quinoa, algae oil, turmeric, ginger, lemon zest, and sea salt and return to a boil. Reduce the heat, cover, and simmer until most of the liquid evaporates, about 12 to 15 minutes. Fluff quinoa with a fork, cover and allow it to sit another 5 minutes. Add the nutritional yeast and stir well. Taste quinoa for flavor and add sea salt and/or a drizzle of lemon juice to taste.
Prepare the Toppings:
Heat the algae oil in a skillet over medium-high heat. Add the onions and saute, stirring occasionally, until the onions begin to turn translucent, about 3 minutes. Add the peppers and continue sauteeing, stirring frequently, until the vegetables have softened but are still al dente, about 5 to 8 minutes.
Reduce the heat to medium-low and add the chopped kale leaves to the skillet and cover. Cook until kale has wilted, about 2 minutes.
Prepare the breakfast bowls by dividing the quinoa between two bowls, followed by the sauteed onions, peppers, and kale. Top each bowl with 1 to 2 sunnyside up (or fried) eggs, along with a few slices of avocado. Serve and enjoy!
Notes
*You can also use water or chicken broth instead of vegetable broth
Make this a low FODMAP meal by omitting the onion
Nutrition Information
Serving Size

1 g
Amount Per Serving
Unsaturated Fat

0g