Mashed chickpea sandwiches with hummus spread, avocado, red onion, mixed greens, and tomato make for a delicious well-balanced plant-based lunch.
This post is sponsored by Sabra. All opinions are my own, and I thank you for supporting the brands that help make this site possible.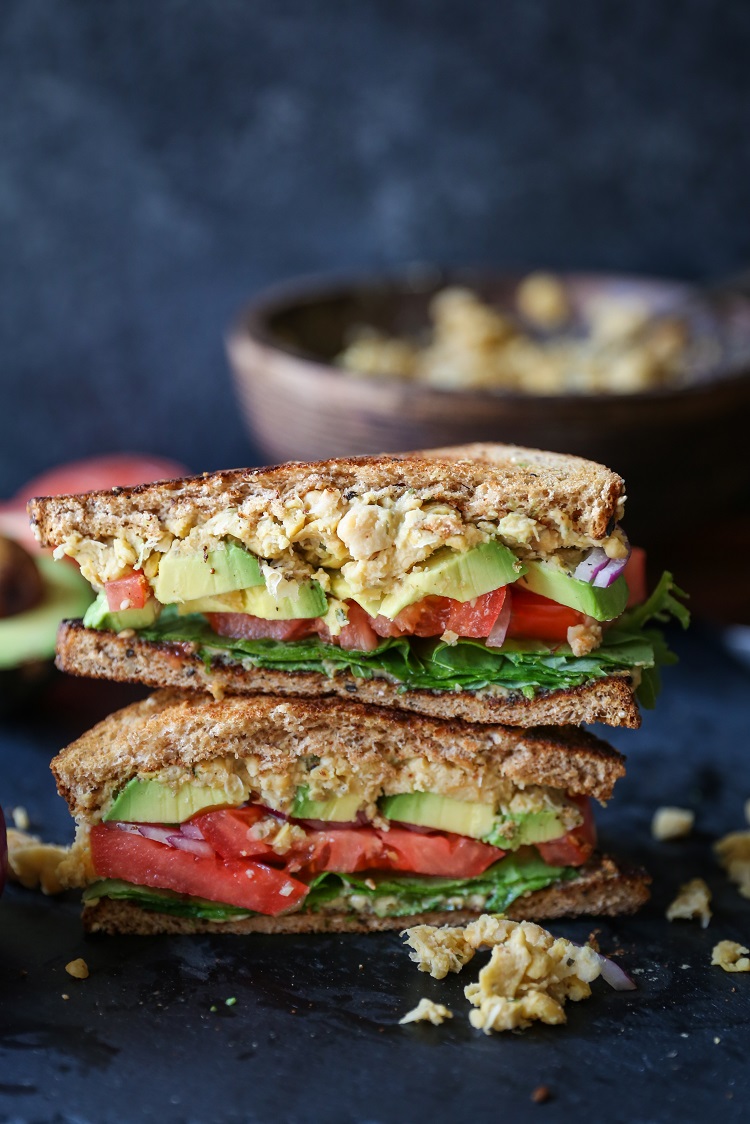 When was the last time you sandwiched? With whom, where, why, and most importantly, was it good for you?
True story: the man of my life space eats a sandwich every single day, whereas I'm more of a pack-it-with-and-take-it-to-go for hikes and day trips out in the wild wild woods kind of sandwich eater. The man of my life space? Total mayonnaise monger. Me? Won't touch the stuff with a 10-foot pole. Because I fly mayo-free, I've had to come up with ways of keeping the spark alive. For me, some sort of spread or sauce is essential for a.) holding the sandwich together, b.) adding spunk and flavor, and c.) ensuring the bread doesn't taste dry and stick to the roof of my mouth.
Which brings me to my next point…
Spoiler alert: hummus lovers, this is going to blow your mind!
I have a brand new way for you to get your hummus fix! Sabra just released a new line of Hummus Sandwich Spreads, which will take your lunches to the next level. The spreads come in three super tasty flavors – Garlic Herb, Sea Salt & Cracked Pepper, and Honey Mustard. Not only do these spreads have 75% less fat than mayonnaise, but they're all vegan, gluten-free, have 0 cholesterol and trans fat, and come in super convenient squeeze bottles. These new spreads can be found in the Deli section of your grocery stores.
As soon as I got my hands on the three spreads, I already knew all of them would taste great on any plant-based sandwich and go super well with my turkey-avocado-cheese regiment as well. Plus, ham & swiss with the Honey Mustard? Don't mind if I do!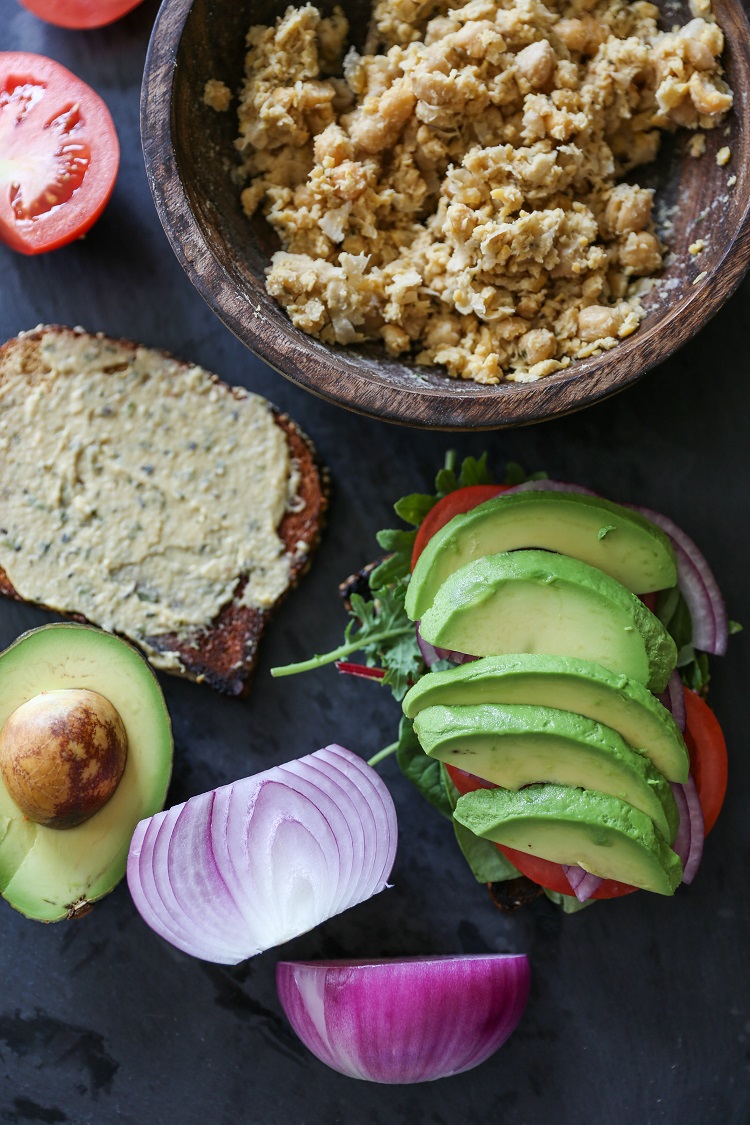 For these mashed chickpea sandwiches, I simply combined a can of garbanzo beans with a few tablespoons of the Garlic Herb spread. I then toasted up some bread, smeared more spread on each piece, then loaded up a sammie with the mashed chickpea concoction, avocado, tomato, mixed greens, and red onion. The end result – a protein-packed, nutritious lunch. The way I see it, you can double or triple the mashed chickpea "recipe" so that you can bring this sandwich to work multiple times during the week.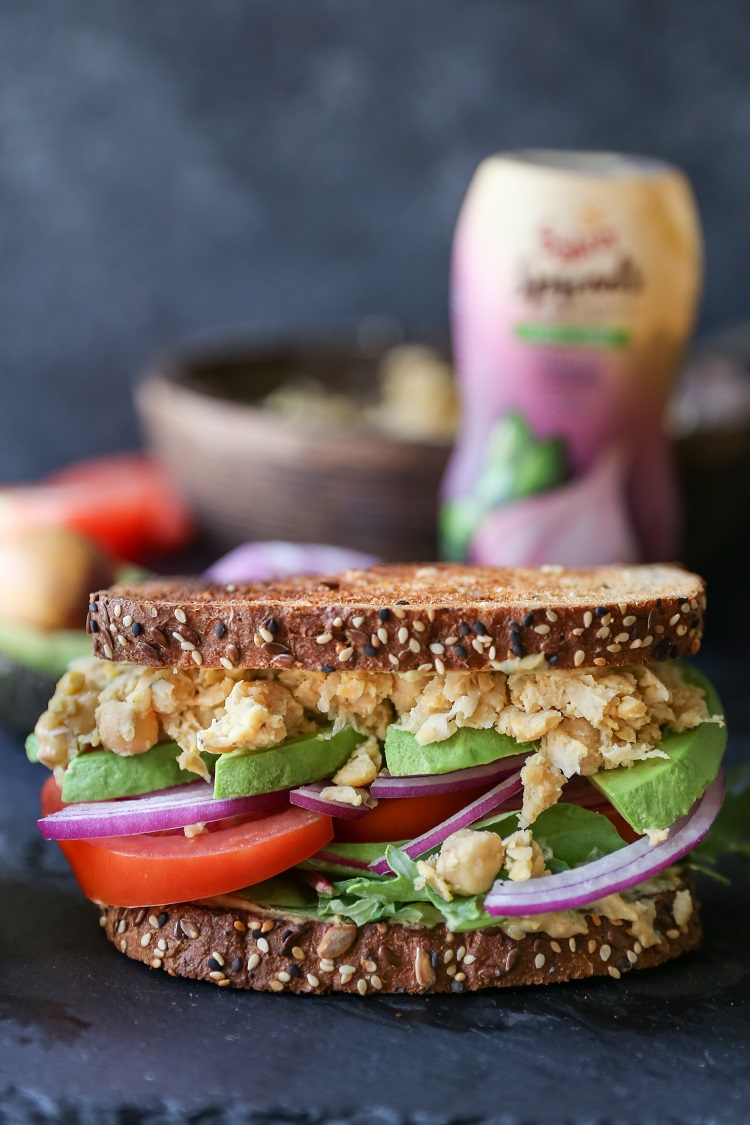 Whatever sandwich flavor profile you gravitate towards, Sabra's got you covered for livening up your lunch.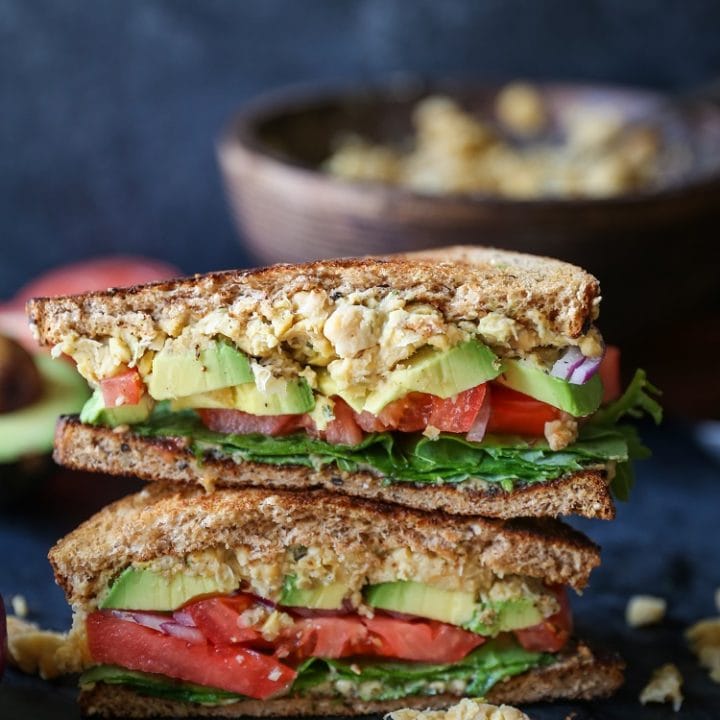 Hummus Mashed Chickpea Sandwiches
Step up your lunch game with these easy and filling Hummus Mashed Chickpea Sandwiches!
Ingredients
Hummus Mashed Chickpea Sandwich Filling:
1 ounce can chickpeas, drained and rinsed, 14-
3 tablespoons Sabra Garlic Herb Spread + more for serving
sea salt
Sandwiches:
6 slices to 8 gluten-free bread, toasted
1 ripe avocado, peeled and sliced
1 large vine-ripened tomato, sliced
2 handfuls mixed greens or spinach
1/4 red onion, thinly sliced
Instructions
Prepare Mashed Chickpeas:
Add the ingredients for the mashed chickpeas to a bowl. Mash using a sturdy fork or potato masher until mixture reaches desired consistency. Taste the mixture for flavor and add sea salt and/or more hummus to taste.
Prepare the Sandwiches:
Toast 6 to 8 slices of whole grain or gluten-free bread and spread desired amount of Sabra's Garlic Herb spread over each piece. Layer the greens, avocado, red onion, tomato and mashed chickpeas over half of the slices of toasted bread, and top with the remaining slices. Cut sandwiches in half, serve, and enjoy!
Nutrition Information:
Yield:

3
Serving Size:

1 grams
Amount Per Serving:
Unsaturated Fat:

0g
More Sandwich Recipes: