A delicious grilled cheese sandwich recipe using turkey, pesto sauce, havarti cheese, and avocado – a perfect lunch! Make it gluten-free by using gluten-free sandwich bread!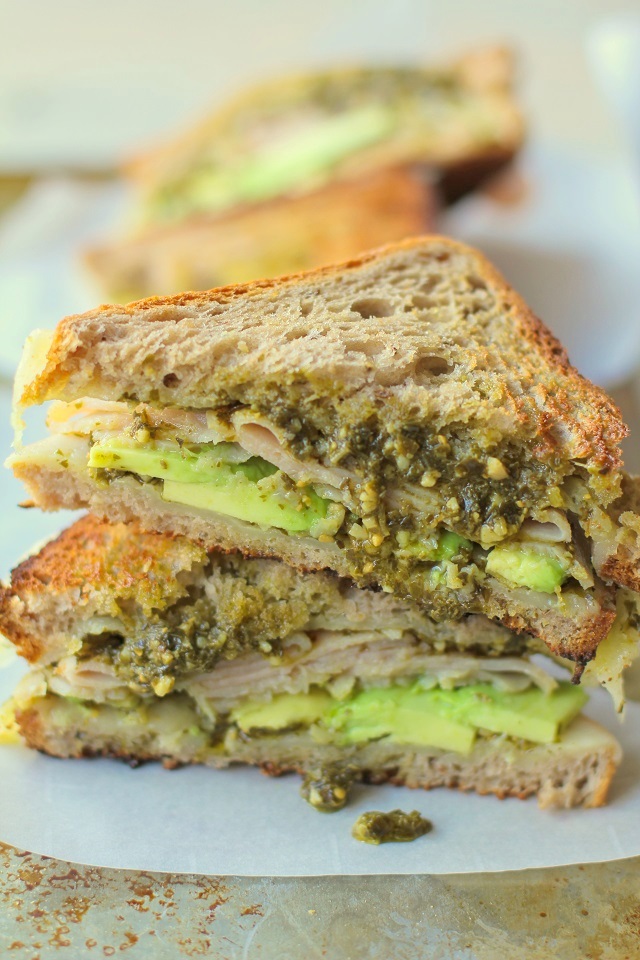 Deciding on what to eat for lunch is a daily conundrum for me. Do salad for the umpteenth day in a row? Am I feeling bloated and in need of a superfood anti-inflammatory smoothie? Do I dare eat gluten-free cake or brownie batter from a recipe I'm testing?
Ay, it's a hard knock life when facing the lunch decision…But when the hankering for a fresh n' messy sandwich arises, the answer is clear. The turkey//pesto//avocado combo. Nothing revolutionary, but you guys it's so magically delicious I can hardly justify eating any other sammie. Unless it's made out of Fruit Loops, in which case, a heated internal debate would ensue.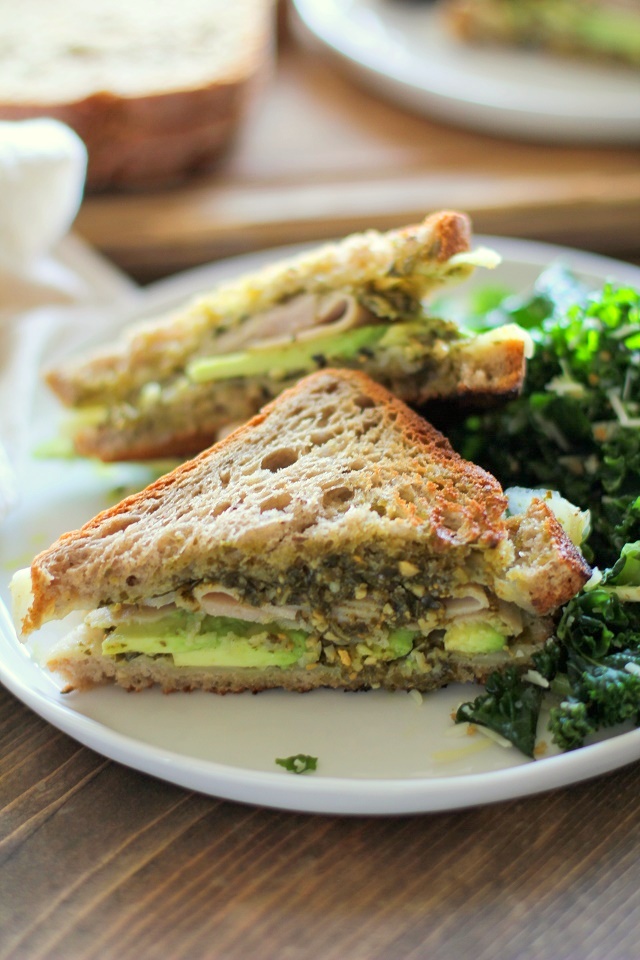 There are pesto options galore for this bad boy. A classic basil pesto is always a choice option, or a vegan superfood kale pesto, roasted beet pesto, or even beet hummus are stellar selections. When under a time crunch, a store-bought pesto is always bangarang.
Now for the cheese discussion. I used Havarti, but you can also go provolone, mozzarella, or even aged white cheddar. Smoked gouda? Any or all of the cheeses? Get on wichyo bad self!
And the elephant in the room for those who eat gluten-free – das sammie bread. We all have preferences. I used Udi's Gluten-Free Rye style bread, which has a subtle yet oh-so-inviting rye flavor, and makes a fantastic sandwich bread. I like that the bread slices are small so I can resist the temptation to over-eat and stuff myself silly on the sammie sitch.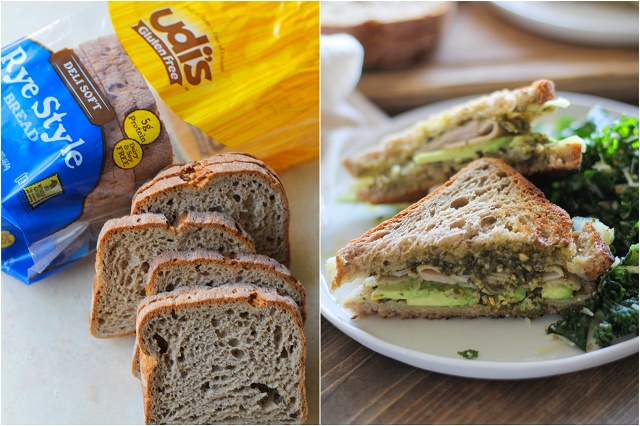 When it comes to sandwiching goods, I like my bread to have a nice crisp on the outside, so I'm all about the pre-toast and cheese melt. I don't own a toaster, so I just stick the bread under the oven broiler for about 1.5 minutes until it's nice and golden-brown. I then flip the bread over, add the slices of cheese, and put it back under the broiler until melted. BOOM! Crisp.
Sinking your teeth into this beautiful mess is a dreamscape. Don't skimp on the cheese nor the pesto, you hear?!
Follow Udi's on Facebook for more gluten-free recipes and inspiration!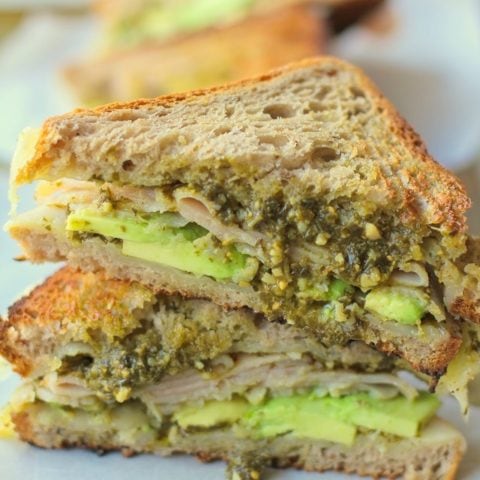 Turkey Pesto Avocado Sandwich
Turkey Pesto Avocado Sandwich makes the most amazing, delicious lunch! Your co-workers will be jealous!
Ingredients
2 slices Udi's Gluten-Free Bread
2 slices havarti cheese
3 tablespoons basil pesto sauce
3 slices turkey deli meat
1/4 avocado, sliced
Instructions
Turn the oven on the high broil setting (or turn on the toaster oven if you have one)
Place bread on a baking sheet and lace baking sheet on the top rack in the oven. Broil for 1 to 2 minutes, or until the bread is golden-brown and crispy.
Remove bread from oven, flip it over, and add cheese slices to each piece. Place sheet back in the oven and heat until melted, about 1 to 2 minutes.
Spread pesto sauce over each piece of bread, then layer with turkey and avocado. Cut sandwich in half and enjoy!
Nutrition Information
Serving Size

1 grams
Amount Per Serving
Unsaturated Fat

0g
This is a sponsored conversation written by me on behalf of Udi's Gluten Free. The opinions and text are all mine.