A vegan version of pulled pork sandwiches using jackfruit and homemade peach bourbon barbecue sauce. Serve with avocado and an easy cabbage slaw for a real good time.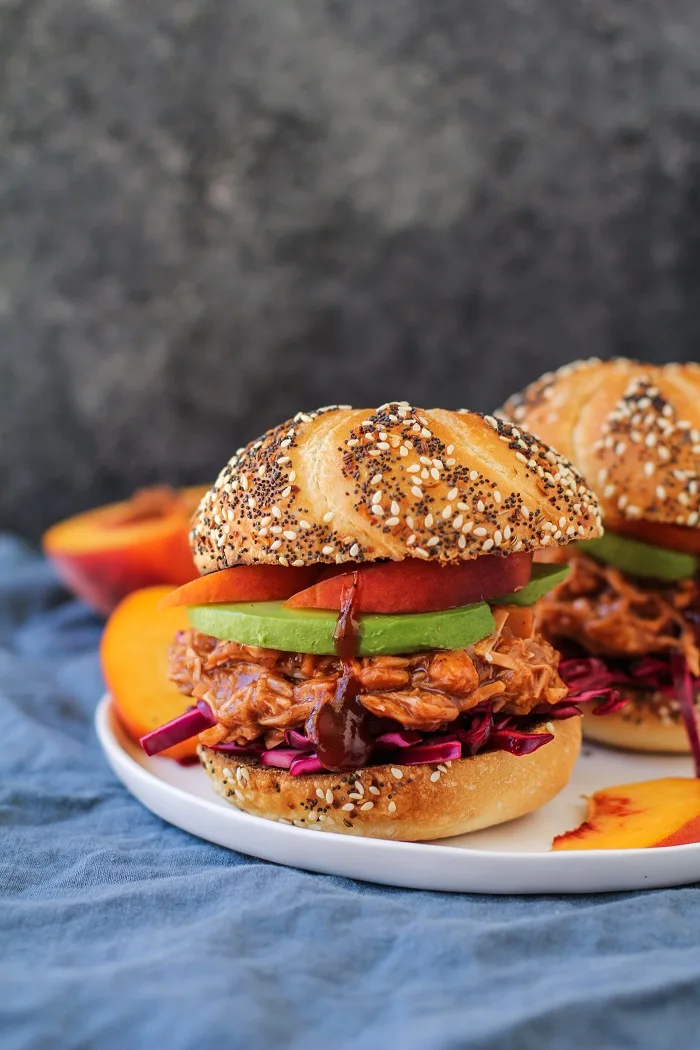 Have you heard of or tried jackfruit? It's simply the craziest thing. Jackfruit comes from a tree that's related to fig and mulberry trees, is native to Southeast Asia, and has been a part of Asian and Indian cuisine for centuries. Jackfruit is encapsulated in a pod that looks a lot like a green spiky mango. Jackfruit comes raw canned or pre-marinated and packaged. To me, jackfruit fresh from the can resembles an extraterrestrial version of artichoke hearts, all tentically and alien-like.
When you pull apart the little tendrils, jackfruit resembles the look and texture of pulled pork. Because the fruit itself is mild/briny in flavor, it can easily be spiced or sauced to fit your palate. Jackfruit is an awesome vegan meat replacer for any meatless meal. As we all know, I'm a carnivorous being, but I can get fresh n' funky with some jackfruit, yes'm I can. You can also use jackfruit for mock "tuna" salads, add it to soup, roast it, and/or use it in any of the same ways you would use pulled pork, or shredded chicken or beef.
My favorite part about jackfruit is it not only contains potassium and Vitamin B6, but it also contains protein, making an all-natural grain-free, gluten-free, legume-free method of getting vegan protein. Insert fist bump emoji here. If you're interested in learning more about jackfruit, check out this great article I found on NPR.
You can pick up cans of jackfruit in the natural food section of your grocery store, or find it pre-marinated in sealed packages. I buy cases of jackfruit on Amazon because I go through it pretty quickly.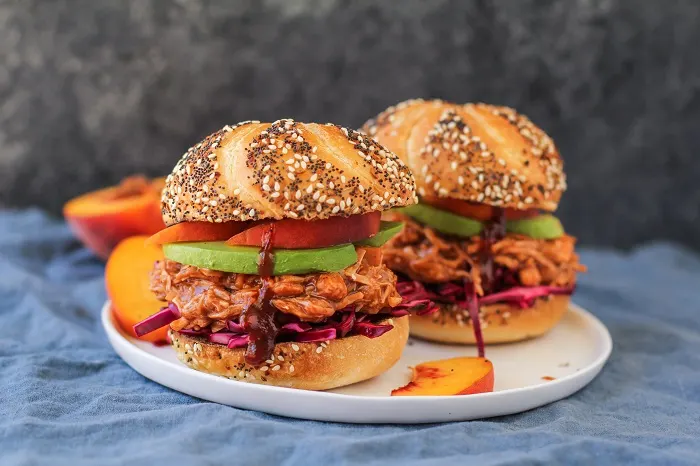 These BBQ pulled jackfruit sandwiches are a spinoff of – you guessed it – BBQ pulled pork sandwiches. I whipped up some homemade Peach Bourbon BBQ sauce for these sammies, based off of the Maple Bourbon Barbecue Sauce I posted last year If there's a super special homemade Q sauce in your life, you can use that instead. Or even store-bought. You do you and you Q how you want to Q, mmkay? Generally, I use ⅓ cup of BBQ sauce for every 14-ounce can of jackfruit – you can adjust up or down as needed.
The BBQ sauce can be made a few days ahead of time, as can the cabbage slaw. To lighten the prep load for this recipe, make the sauce and slaw ahead of time. The barbecue sauce will last 2 to 3 weeks in your refrigerator, so long as it is properly sealed in a jar.
I dolloped the BBQ jackfruit on top of toasted multi-grain buns (you can go for GF buns) with fresh slices of peach, avocado, and a simple cabbage slaw. You can 200% use the BBQ jackfruit in burritos, bowls, or on top of a green salad. It's versatile, my friends!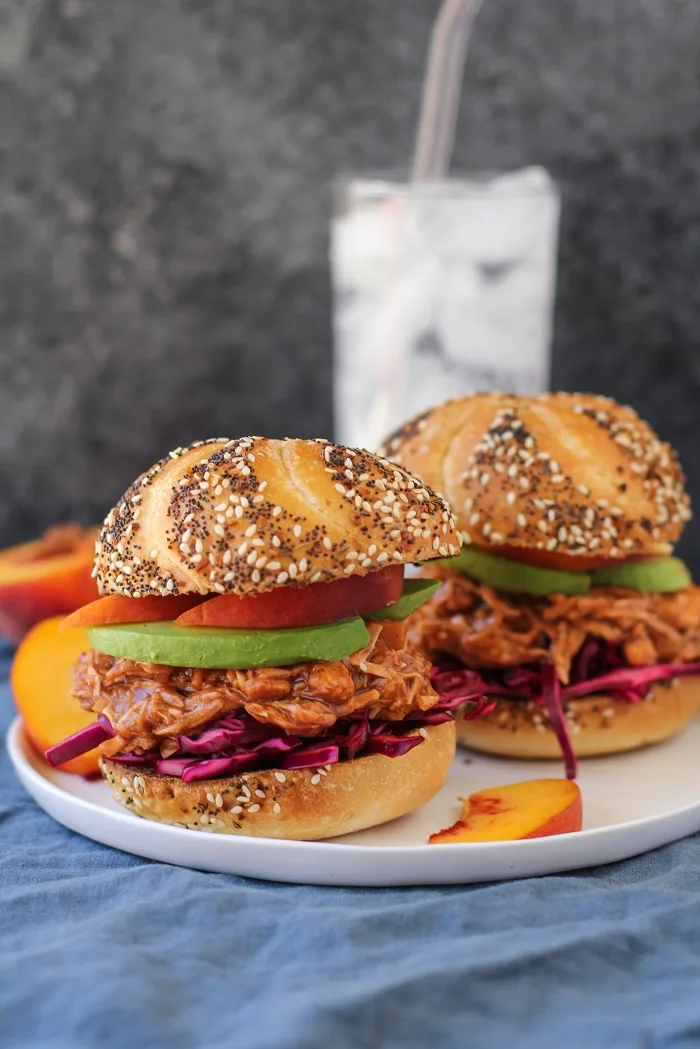 E'ery body get jacked!

Tools I Used to Prepare This Recipe: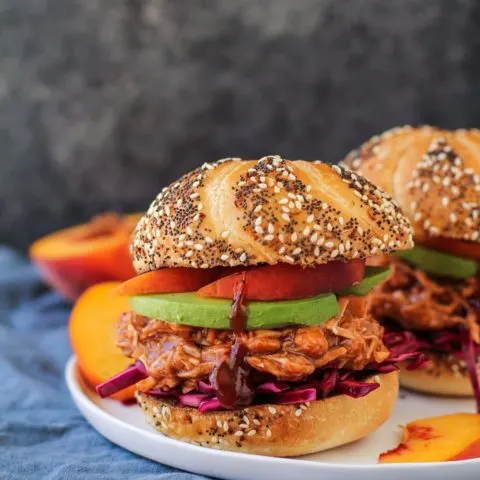 Pulled Jackfruit Sandwiches with Peach Bourbon BBQ Sauce
Total Time:
1 hour
15 minutes
Pulled Jackfruit Sandwiches with Peach Bourbon BBQ Sauce are a great plant-based lunch or dinner.
Ingredients
Peach Bourbon BBQ Sauce:
2 tablespoons olive oil
1 yellow onion, finely chopped
4 cloves garlic, minced
1-½ cups fresh ripe peaches, peeled and chopped
2 ounce cans tomato sauce, 8-
1/4 cup tomato paste
¼ cup apple cider vinegar
3 tablespoons spicy brown mustard
¼ cup molasses
3 tablespoons pure maple syrup or honey
¼ cup Worcestershire sauce
2 teaspoons liquid smoke
1-½ teaspoons paprika
½ teaspoon ground cumin
1/4 teaspoon ground cayenne pepper, optional
¼ cup bourbon
Pulled Jackfruit Sandwiches:
2 (14-ounce) cans jackfruit, drained, rinsed, and pulled
2/3 cup peach bourbon barbecue sauce *, recipe above
3 cups cabbage, thinly sliced
3 tablespoons lime juice
3 tablespoons olive oil
1 clove large garlic, minced
¼ teaspoon sea salt
4 multi-grain buns, toasted
1 large ripe peach, pitted and sliced
1 large avocado, pitted and sliced
Instructions
Prepare the Peach Bourbon BBQ Sauce:
Heat the olive oil over medium-high heat in a skillet. Add onion and saute until it begins turning brown, about 10 to 15 minutes. Add the garlic and saute until fragrant, about 2 minutes. Add the remaining ingredients for the sauce and bring to a full boil. Reduce the heat to a simmer and cook un-covered for 20 to 30 minutes, until sauce has thickened. Transfer sauce to a blender and blend until smooth. As the sauce sits, it will thicken more. Transfer to a large jar and refrigerate until ready to use.
Prepare Jackfruit Sandwiches:
Drain and rinse the cans of jackfruit. Use a fork to "pull" it like pulled pork, removing and discarding any dark or hard pieces and the small "bulbs" that look like garlic.
Heat a small skillet to medium and add enough olive oil to generously coat the surface. Transfer the jackfruit to the hot skillet and cook 2 to 3 minutes, stirring occasionally, until jackfruit is somewhat crispy. Add the barbecue sauce and bring the mixture to a gentle boil. Reduce the heat and simmer and cook 10 minutes, adding more sauce if necessary. Taste the mixture for flavor and add more sauce and/or sea salt to taste.
Add the cabbage, lime juice, olive oil, garlic, and sea salt to a mixing bowl. Stir well to combine so that all of the cabbage is coated in olive oil and lime juice. Set aside until ready to use (Note: this part of the recipe can be prepared up to 2 days ahead of time).
Toast the buns and add desired amount of BBQ jackfruit, cabbage slaw, avocado, and sliced peaches. Serve alongside your favorite side dish(es).
Notes
*You can use any barbecue sauce you'd like
Nutrition Information
Serving Size

1 grams
Amount Per Serving
Unsaturated Fat

0g