Creamy tahini spaghetti squash with kale, broccoli, zucchini, and pumpkin seeds. This clean and cozy meal is paleo, vegan, low-FODMAP, and so satisfying!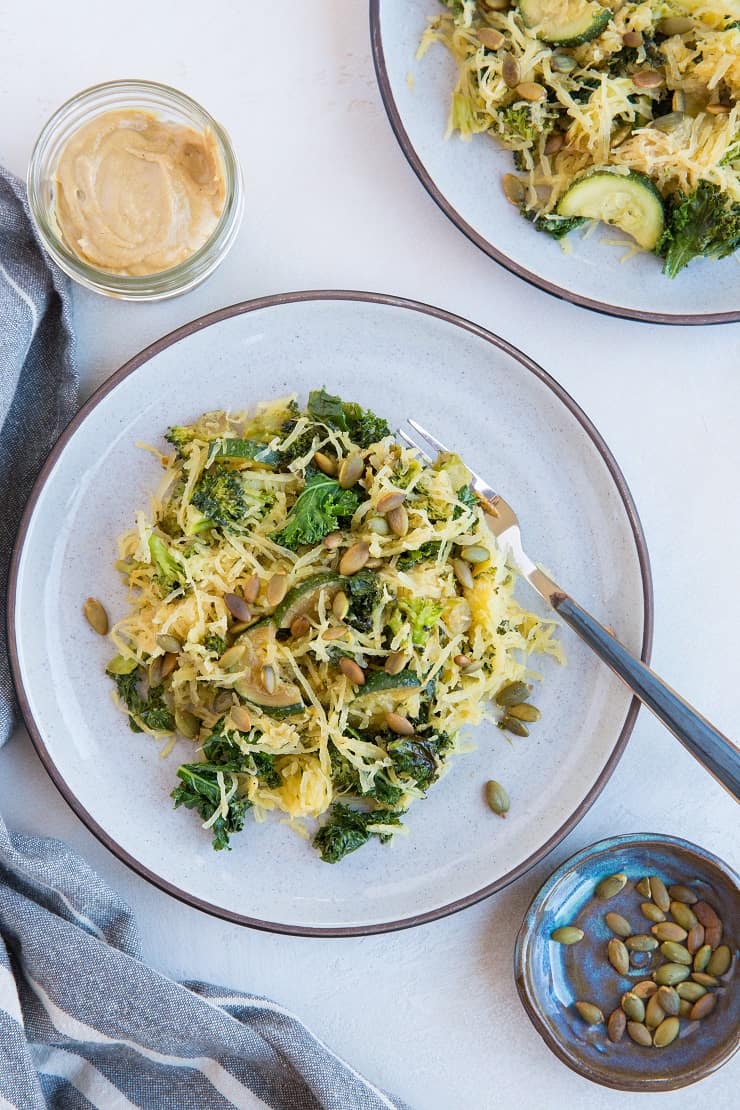 I was raised under a carb-loving roof with the mindset that there just had to be something starchy with every meal or else it was considered more of a snack.
When I started eating paleo over seven years ago, my way of easing out of that mindset was through replacing bread, pasta, and white potatoes, with more nutritious sources like root vegetables and winter squash. For me, spaghetti squash has that cozy essence while being fairly low in carbohydrate, and it makes a paleo meal feel more complete.
Plus, it is crazy-versatile (just take a gander through my spaghetti squash archives for all sorts of recipe inspiration).
In addition to the Crispy Salmon Bowls with Pesto Spaghetti Squash I showed you a few weeks ago, this creamy tahini spaghetti squash of the meals I put on repeat. I typically make it for lunches when I'm not overly hungry and don't feel a burning desire for animal protein.
This clean yet filling meal is nutritious, easy to whip up any night of the week, but also excellent for meal prep.
Not to mention, you can absolutely you-ify it by customizing it to your heart's delight (see recipe adaptations below).
Here's how this whole thing shakes out:
Recipe Prep
We roast a spaghetti squash
While the squash is roasting, we prepare the creamy tahini sauce (which takes about 3 seconds) and sauté the vegetables.
Once the squash has finished roasted and is cool enough to handle, we string it and toss everything together.
We fill up our bowls (or plates) and enjoy a good clean meal!
Recipe Adaptations:
Add your favorite seasonal vegetables – cauliflower, bell pepper, mushrooms, tomatoes, bok choy, carrots, cabbage, etc.

Swap out the kale for spinach

Incorporate your favorite animal protein – chicken, shrimp, or salmon would be great!

If you don't follow a low-FODMAP diet, incorporate a few cloves of garlic into the sautéed vegetables, or add 1 small clove of garlic to the creamy tahini sauce.
Meal Prep:
Make the tahini sauce up to 10 days ahead of time and keep in a sealed container in the refrigerator until ready to use.

Cook the spaghetti squash up to 5 days in advance.

Sauté or roast vegetables to mix into the creamy tahini spaghetti squash up to 3 days in advance.
Enjoy!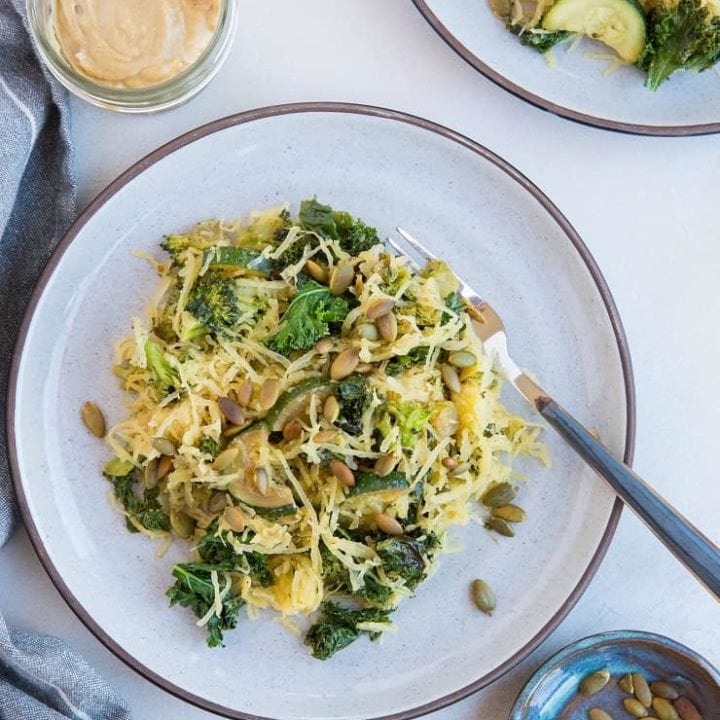 Creamy Tahini Spaghetti Squash
Total Time:
1 hour
15 minutes
Incredibly nutrient-dense plant-based meal loaded with flavor and appeal!
Ingredients
1 large crown broccoli, chopped into florets
1 medium zucchini, chopped
4 large kale leaves, chopped
1/3 cup pumpkin seeds, roasted
Creamy Tahini Sauce:
Instructions
Roast the spaghetti squash (follow these instructions if you're new to roasting spaghetti squash).
When the spaghetti squash is almost finished roasting, saute the vegetables and prepare the creamy tahini sauce (instructions below). To do so, heat the avocado oil in a large cast iron skillet (or skillet of choice) over medium heat. Add the broccoli, stir, and cover. Cook until broccoli turns bright green and begins to soften, about 3 minutes.
Add the zucchini, stir, and cover again. Cook until zucchini has softened but is still al dente, about 2 to 3 minutes. Add the kale leaves, stir, and cover. Cook until kale has wilted, about 1 to 2 minutes.
Once the spaghetti squash has finished roasting, allow it to cool enough to handle, then use a fork to release the "spaghetti" strands. Add the spaghetti squash to the skillet with the vegetables, along with your desired amount of sauce. Stir everything well to combine and continue cooking until any excess water has burned off. Taste for flavor and season with sea salt.
Serve creamy tahini spaghetti squash with roasted pumpkin seeds.
Make Creamy Tahini Sauce:
Add all ingredients for the sauce to a small blender and blend until combined. Set aside until ready to use. The sauce will thicken as it sits, so if necessary, add some water to thin it out before using it.
Nutrition Information
Serving Size

1 grams
Amount Per Serving
Unsaturated Fat

0g