A clean and easy dinner recipe that happens to be whole30, vegan, paleo, and low-FODMAP. This spaghetti squash with roasted pecan pesto is a nutritious and super palate-pleasing meal for your busy weeknights.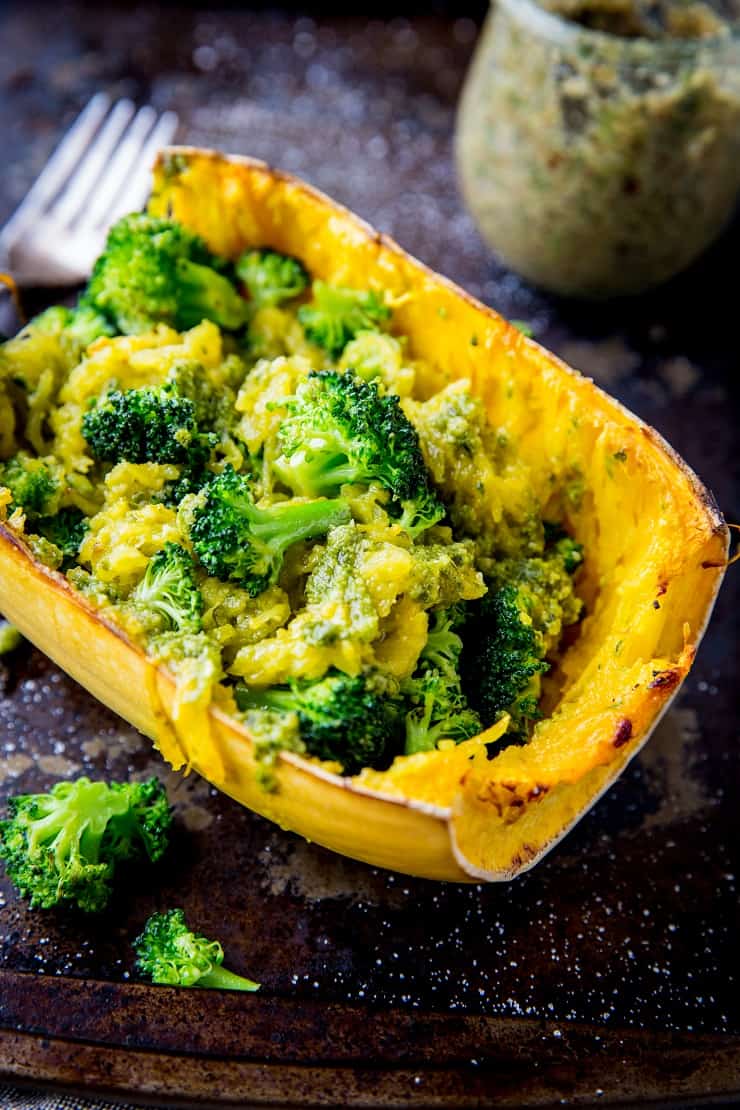 You're looking at one of those embarrassingly simple recipes that I make far more frequently than I'd like to admit..
But you guys, I believe you need this.
What we have here is an ultra simple dish involving only seven ingredients. The recipe is crazy easy to prepare and is one of those household staples you'll return to time and again.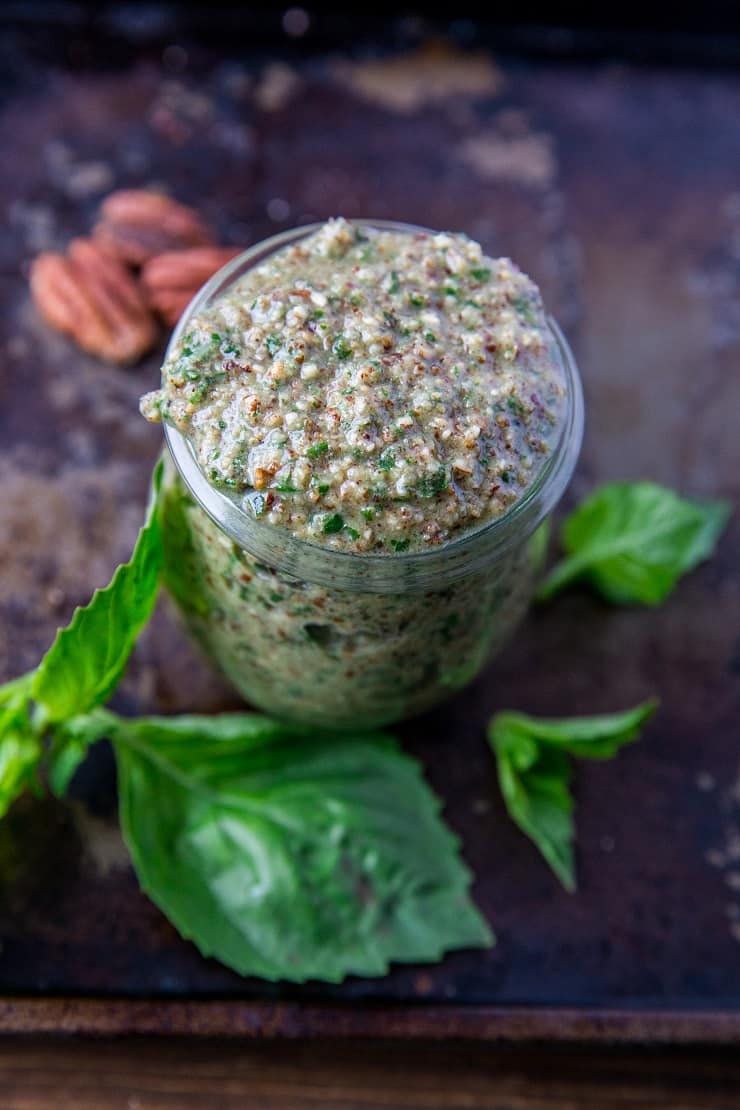 Do you enjoy making homemade pesto sauce? These days, I always go homemade using whatever ingredients I'm feeling. I'll often use fresh herbs like basil and parsley, but have also been known to use kale, beet greens, and carrot tops. Nothing beats a refreshing pesto!
I make the roasted pecan pesto without garlic or parmesan cheese (I'm sensitive to both high-FODMAP foods and dairy), and still love the way the flavor turns out – fresh and nutty!
How to Prepare this Recipe:
Start by roasting the spaghetti squash. If you have never roasted a spaghetti squash, check out my tutorial on How to Roast Spaghetti Squash.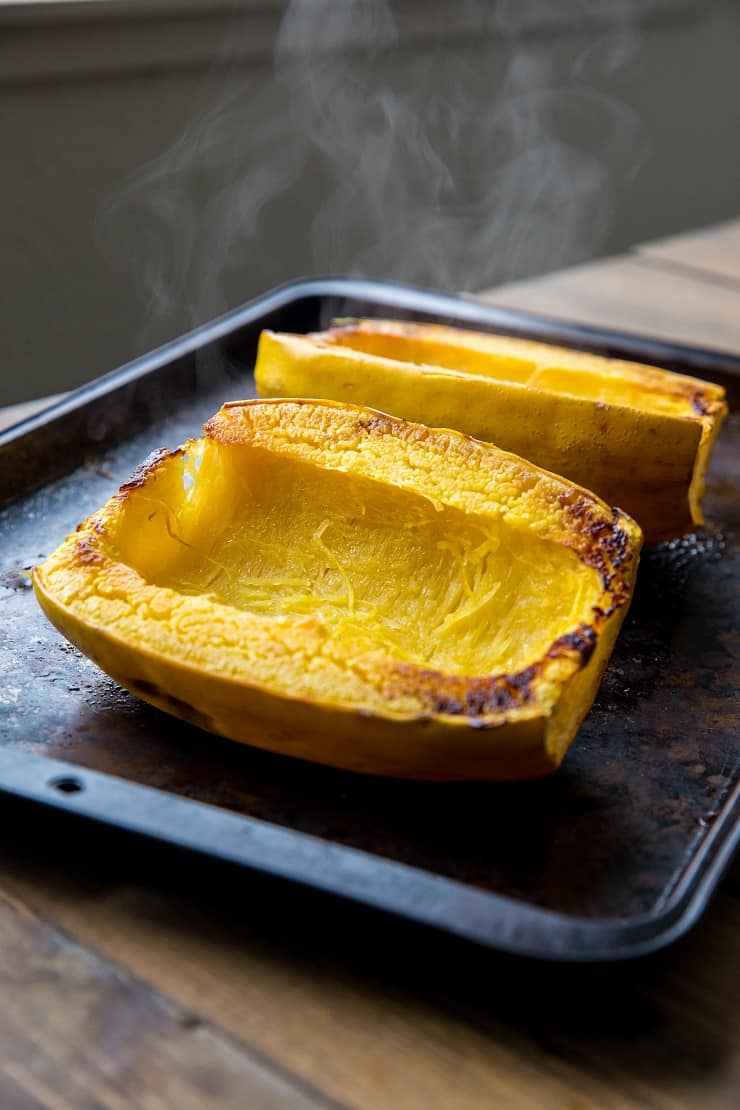 While the spaghetti squash is roasting, prepare the pesto sauce and saute (or roast the broccoli). Simply roast up some pecans then add all the ingredients for the pesto to a food processor.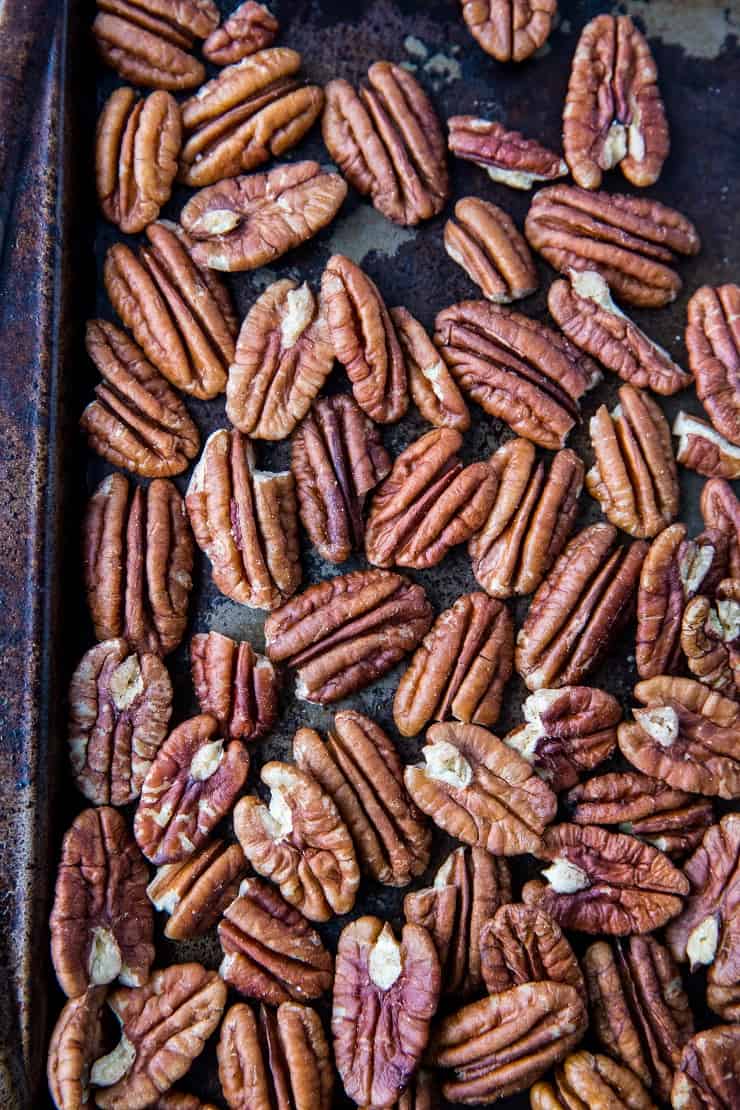 Pulse until the ingredients are roughly chopped.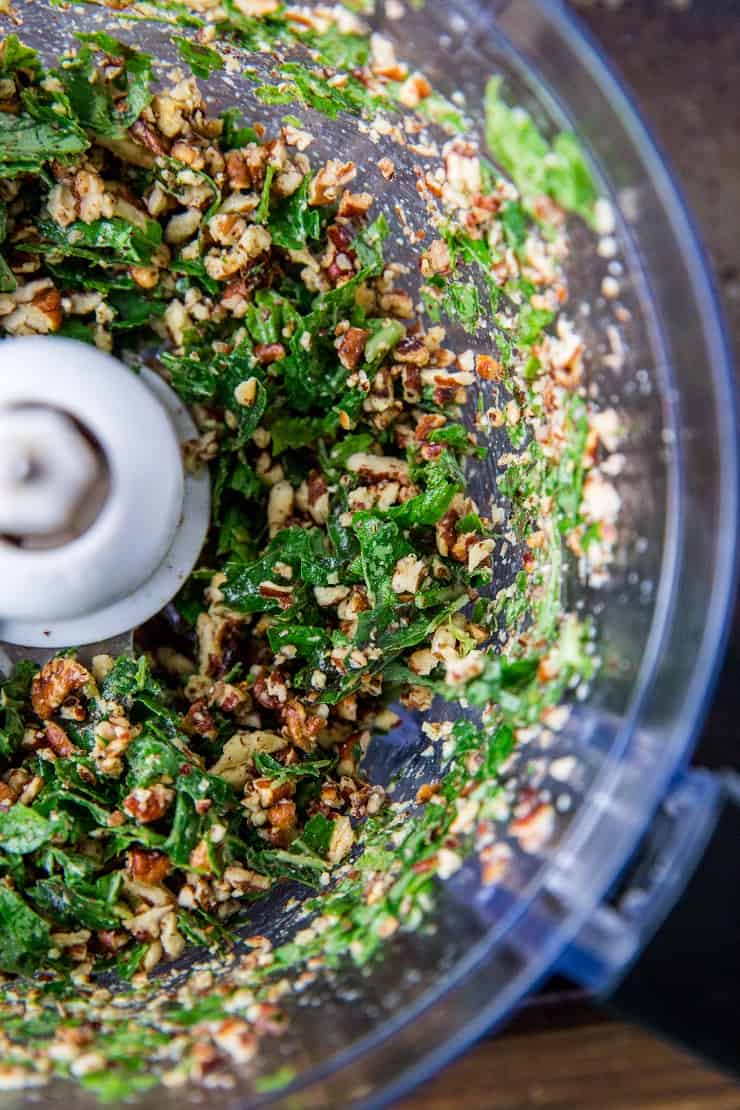 Leave the food processor on and stream the oil through the top.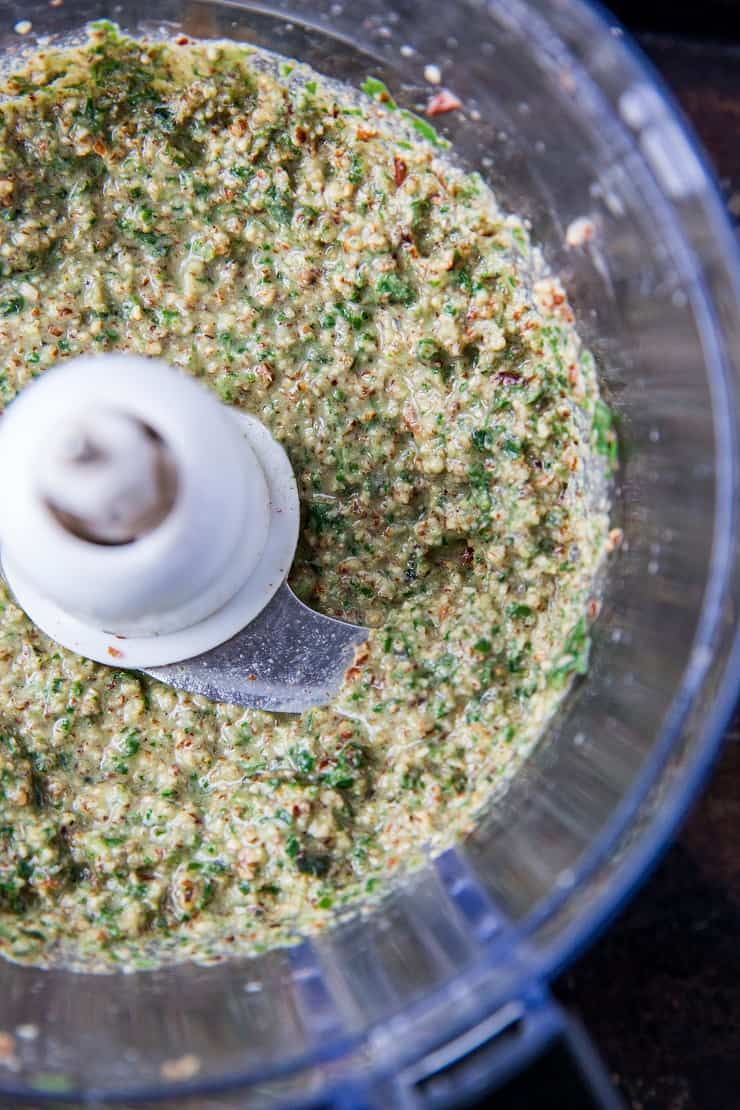 Once you have your roasted pecan pesto sauce, you can add your desired amount to the spaghetti squash and enjoy! You can sprinkle some roasted nuts or seeds on top for added texture, or if you do the dairy, feel free to grate some parmesan on top.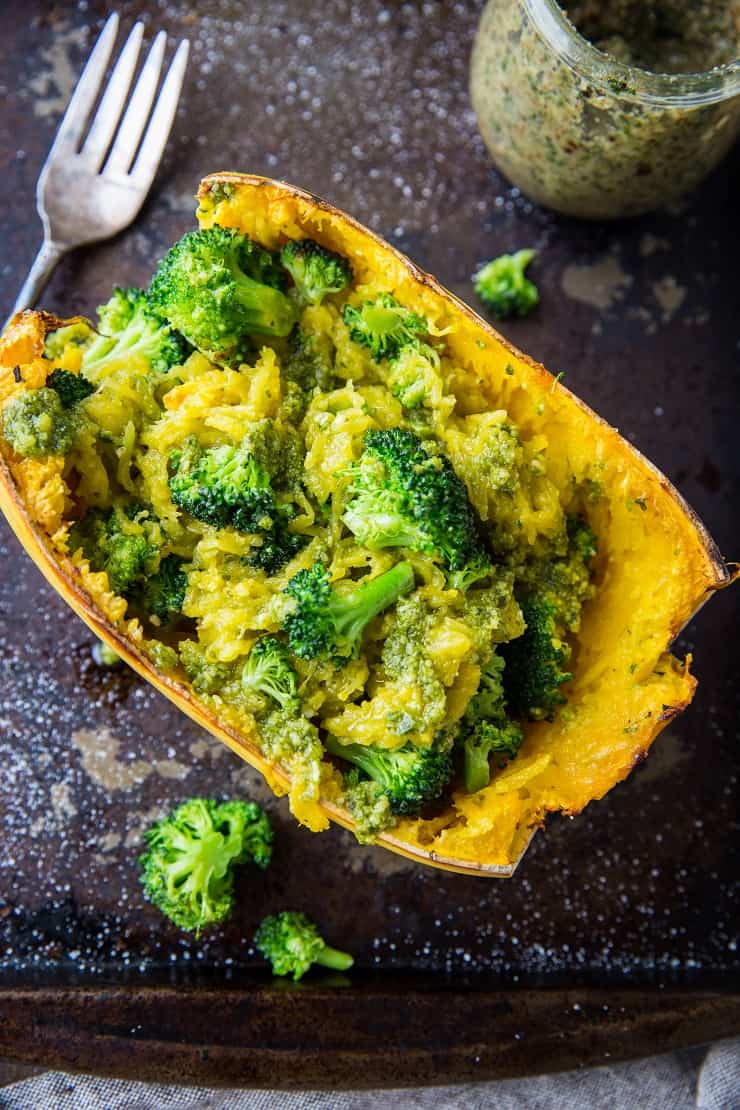 I eat this dish as is when I'm not super hungry, or when I am super hungry, I roast up some salmon or chicken to go with it, and sometimes saute some vegetables (like carrots and broccoli) as well. You can add as necessary!
Meal Prep:
Roast the spaghetti squash up to 5 days in advance.

Make the pesto up to 5 days in advance.
Recipe adaptations:
If you're okay with dairy, add ½ cup grated parmesan cheese to the pesto sauce.

If you don't follow a Low-FODMAP diet and handle garlic well, add 1 clove of garlic to the pesto sauce.

Swap the roasted pecans for roasted walnuts, pine nuts, or almonds.
Enjoy!
xx
Spaghetti Squash with Roasted Pecan Pesto
A delicious and nutritious vegan dinner recipe perfect for putting on repeat!
Instructions
Roast the spaghetti squash according to these instructions. While the spaghetti squash is roasting, prepare the pesto sauce and saute the broccoli.

Spread the pecans over a large baking sheet and roast in the oven with the spaghetti squash 4 to 6 minutes, until golden-brown and crispy.

Transfer the roasted pecans to a food processor along with the basil, vinegar and sea salt. Pulse until coarsely chopped. Leaving the food processor on, stream the oil through the opening in the top. Process the sauce to desired consistency.

Saute the broccoli in 1 tablespoon avocado oil over medium-high heat for 5 to 8 minutes, until it reaches desired doneness.

When ready to serve, drizzle desired amount of pesto over the spaghetti squash and serve with sauteed broccoli. Add sea salt to taste.
Nutrition