Crispy, crunchy avocado toast made three ways with hearty winter vegetables for an all-things satisfying and healthy experience.
This post is sponsored by Wholly Guacamole.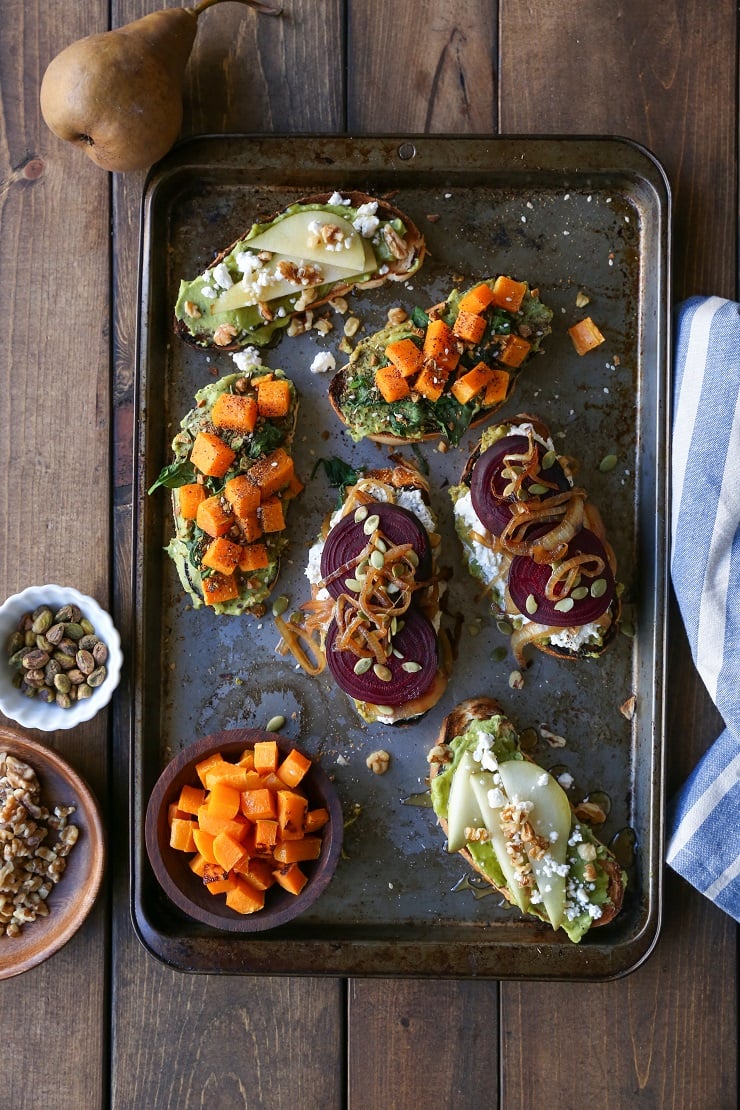 It's official: it's winter. Sure, there are two days until the winter equinox, but there's frost on the windshield, snow for the playing, fewer daylight hours, and a splash of whisky in the coffee. Jacket-or-vest-required weather is my absolute favorite. It means getting cozy in layers, it means I can go to bed early without getting as much flack from my hooligan friends for being an old fuddy duddy, it means I don't need constantly check on what condition my abs are in, it means: toast.
We're all craving carbs like we're trying to win the ice age, which is where toast has a pretty epic stance on our menu. It's carby without sending us into sugar coma overdrive, and it can easily be made delicious yet healthful. Way I see it? Winter = comfort food. Comfort food = toast. YOLO = fancy toast.
These equations I easily compute.
And the only thing better than aaaah slice of fancy toast is…
Three slices of fancy toast!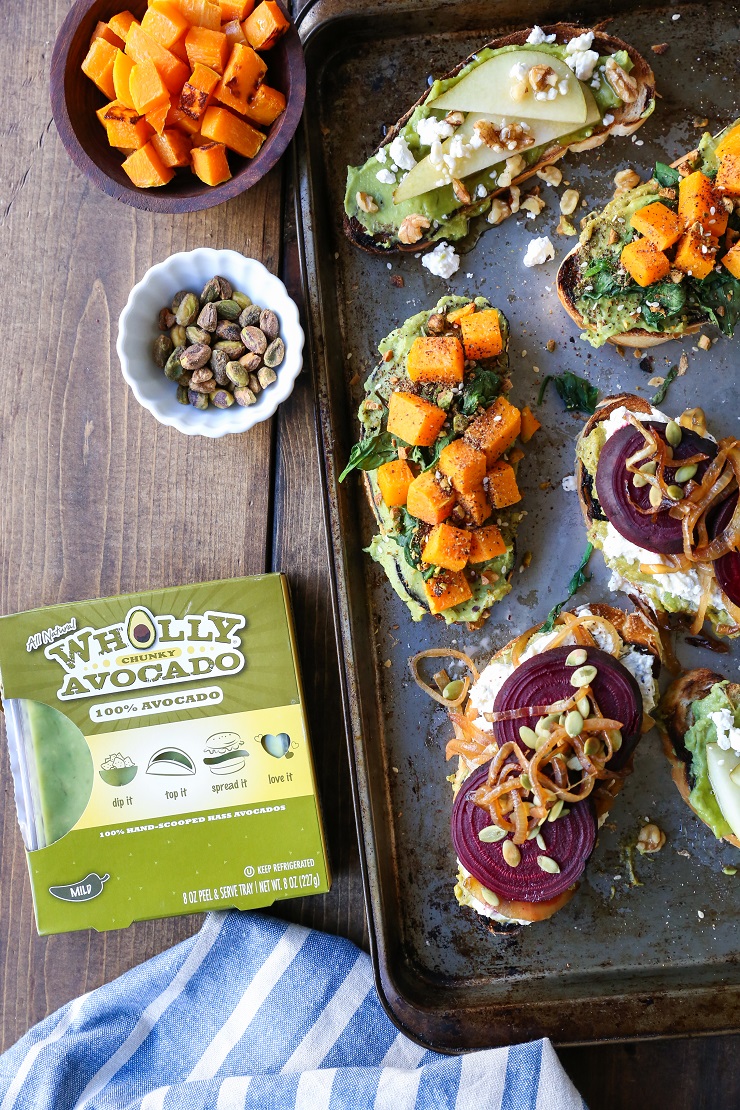 I partnered with Wholly Guacamole to bring you three winter-inspired veggie-centric toast recipes to keep your bread intake fancy and flavorful. Wholly Guacamole is made with real, fresh ingredients like fresh hand-scooped Hass avocados, and contains no preservatives or artificial ingredients). This simple, convenient, hassle-free guacamole tastes like you made it in your own kitchen, yet all the prep work is already done for you!
Wholly Guacamole comes in a great deal of flavor varieties (check them out here). For these toasts, I used the Wholly Avocado, which is made with 100% Haas avocados, and the Classic Guacamole. You can get creative with your avocado flavor profiles here!
Let's talk toast as it pertains to the avocado. For me, avocado, or guacamole, lends that creamy intrigue without the need for butter, and getting creative with toppings is just one of those things we do to make life fun. Like punking our co-worker or significant other…it's the little things like a smartly assembled toast flavor profile, that keep life interesting.
Let's talk toast as it pertains to life. Way I see this business playing out, winter toasts can be applied to your breakfast, lunch, or snack regimen. They can be applied to your holiday gathering to tide folks over, or for brunch. Making these toasts a full meal? Just add protein, like egg, bacon, ham, leftover turkey, etc., etc. Wherever there's a place for food, there's a place for toast <- just nod your head and roll with it.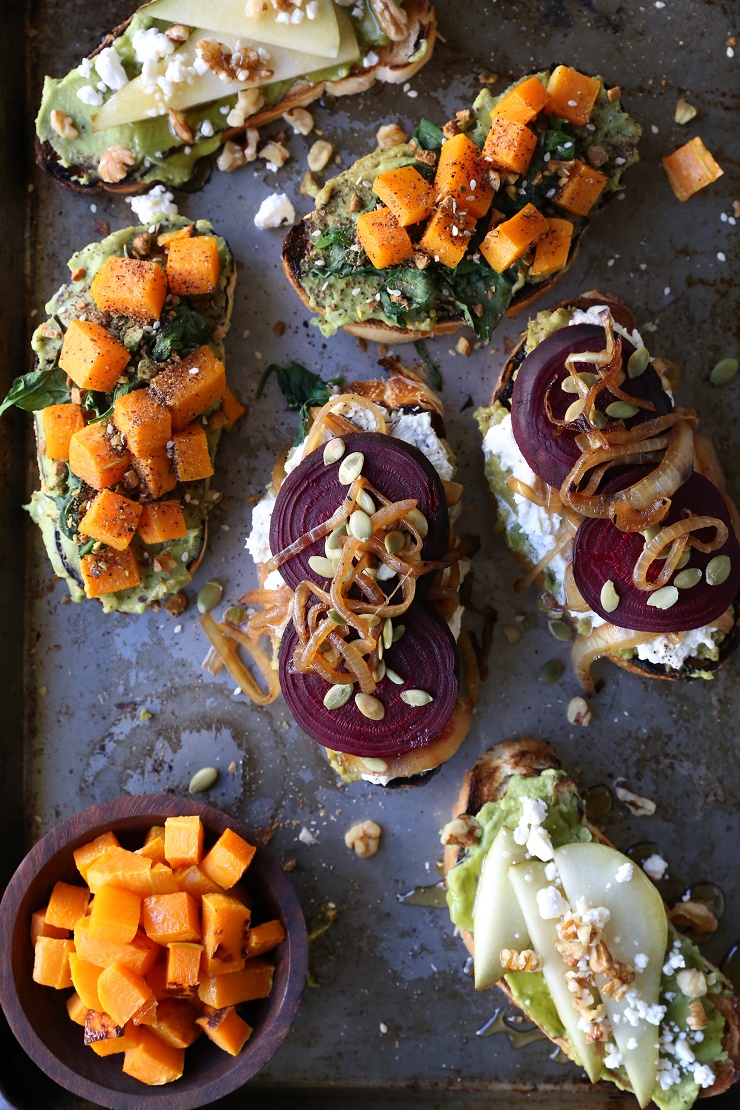 Here are our three healthy winter toasts!:
Herbed Ricotta, Beet, and Caramelized Onion

Roasted Butternut Squash, Greens, and Pistachio Dukkah

Pear, Goat Cheese, Roasted Walnuts, and Honey
You can mix and match, substitute, omit, wash, rinse, repeat, throw it all in the air and see where it all lands. Muster up all that inspo and winter toast the crap out of it! Below are all three recipes, along with descriptions of what we're getting into here.
Without further adieu, let's toast our faces off!
Cheers!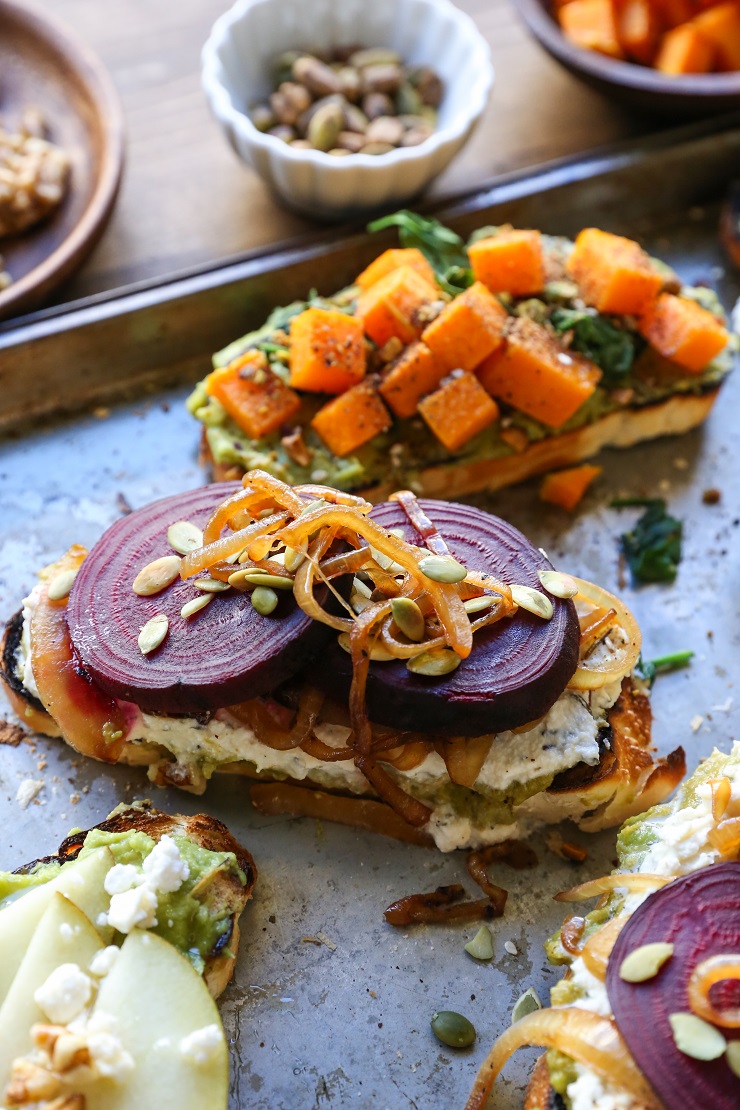 Herbed Ricotta, Beet, and Caramelized Onion
This toast incorporates all of my favorite things: creamy avocado, herby cheese, roasted beets, and caramelized onions. While all of the ingredients may sound odd together, this recipe strangely works! I was concerned the avocado spread and the ricotta wouldn't jive together, but lo and behold, it actually works! These toasts do require a bit of time to assemble, but the good news is, it can be prepared in parts. If you're taking the make-ahead approach to these toasts, the roasted beets, caramelized onion, and herbed ricotta can all be made ahead of time.
Ingredients:
1 (8-ounce) container Wholly Guacamole Classic Guacamole

2 medium-sized beets, scrubed and sliced into ¼"-thick rounds

1 large yellow onion, sliced

2 tablespoons olive oil

1 cup ricotta (whole milk recommended)

2 tablespoons honey

1-½ teaspoons Herbs de Provence

Pinch sea salt

Pumpkin seeds
Instructions:
Preheat the oven to 400 degrees F.

Place the sliced beets on a large piece of foil, then fold over the edges, creating a foil packet. Place foil packed on a baking sheet and roast for 40 minutes.

While beets are roasting, caramelize the onion. Add the olive oil to a skillet and heat to medium-high. Add the onions and saute, stirring frequently, until they begin to brown, about 15 minutes. Reduce heat to medium-low and continue cooking, stirring occasionally, until onions have fully browned and begin sticking to the pan, about 25 to 30 minutes.

Add the ingredients for the herbed ricotta to a bowl and stir until well-combined. Refrigerate until ready to use.

When beets have finished roasting, allow foil packet to cool before opening. Sprinkle beets with sea salt.

Toast bread/sliced baguette, then spread with Wholly Avocado, followed by herbed ricotta. Top with caramelized onions, roasted beets, and pumpkin seeds (Note: there is no salt added to the Wholly Avocado, so if you like your food salty, give the spread a little sprinkle of sea salt once you spread it on the bread).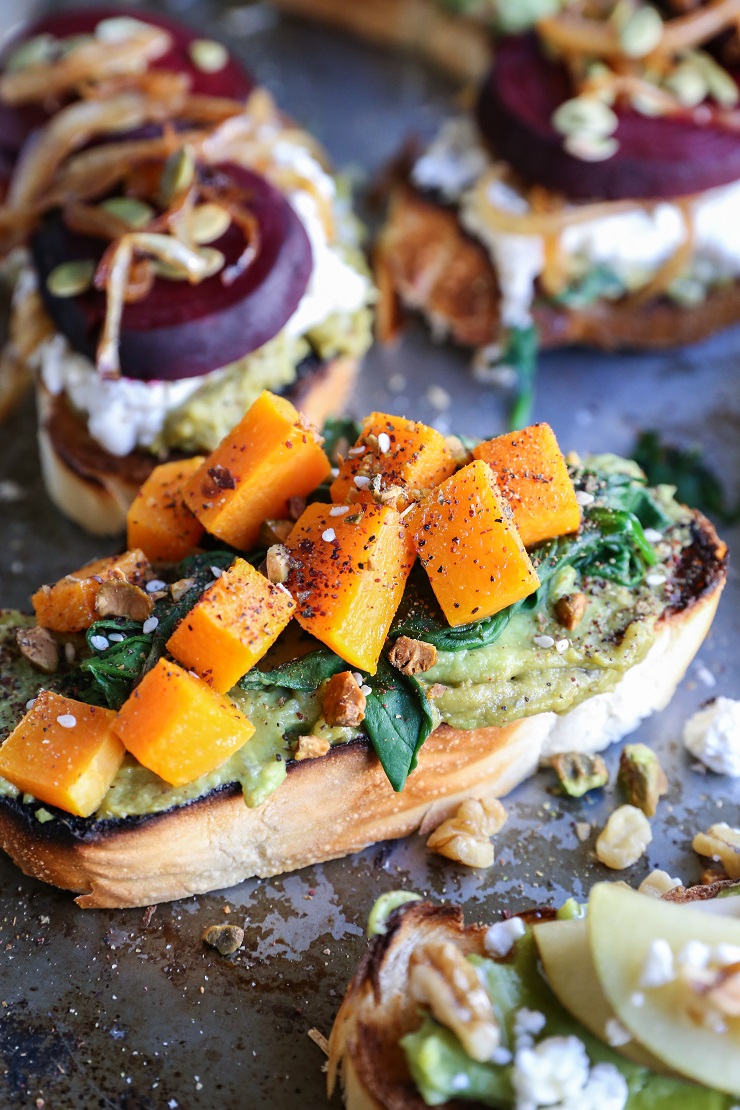 Roasted Butternut Squash, Greens, and Pistachio Dukkah
Roasted butternut squash, healthy sauteed spinach, and a nutty spice blend with classic guacamole makes for a simple, healthful, super flavorful toast nugget. For those of you who aren't familiar with Dukkah, it's a traditional Egyptian spice blend, usually containing toasted nuts and seeds (most commonly, hazelnuts). For the pistachio Dukkah, I made a simple concoction of cumin, coriander, sesame seeds, sea salt, and pistachios. I only made a small amount of Dukkah to accommodate these toasts, so feel free to double or triple the recipe if you'd like more of the spice blend on hand.
Ingredients:
1 (8-ounce) container Wholly Guacamole Classic Guacamole

2 cups butternut squash, peeled and cubed

3 tablespoons olive oil, separated

5 ounces spinach

Sea salt to taste
Pistachio Dukkah:
¼ cup shelled pistachios, chopped

1 teaspoon ground cumin

1 teaspoon ground coriander

1 teaspoon sesame seeds

Pinch sea salt
Instructions:
Preheat the oven to 400 degrees F.

Spread the chopped butternut squash on a baking sheet and drizzle with olive oil and sprinkle with salt. Use your hands to toss the squash to be sure it's well coated. Roast in the preheated oven for 25 to 30 minutes, until golden-brown and cooked through.

While the squash is roasting, saute the spinach in a small amount of olive oil until wilted.

Prepare the Dukkah spice blend by combining all of the ingredients in a small bowl and stir well.

Toast your bread or baguette slices and spread with Classic Guacamole. Top with sauteed spinach, roasted butternut squash, and sprinkle with sea salt and Dukkah.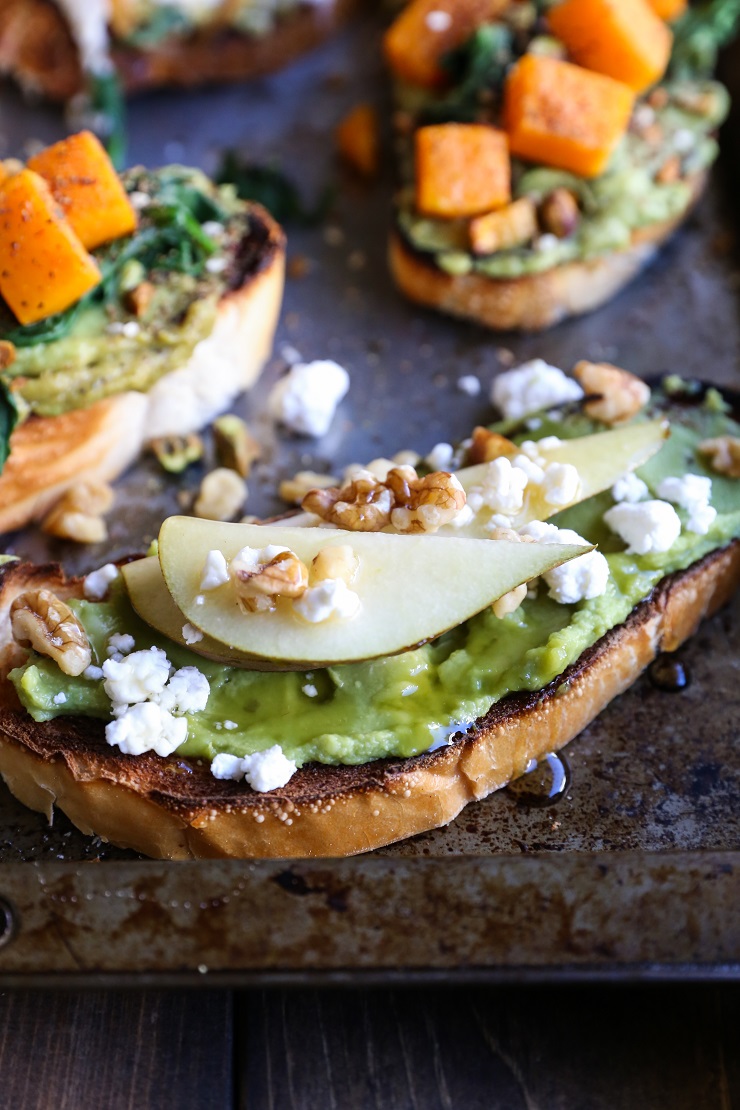 Pear, Goat Cheese, Roasted Walnuts, and Honey
This may be the easiest of the three winter toast recipes, but it's certainly not lacking in flavor. The simple combination of mashed avocado (Wholly Guacamole's Wholly Avocado), sliced pear, goat cheese (you can use blue cheese if it's your jam), roasted walnuts, and honey lends that salty, sweet, crunchy, creamy, all-things flavorful and texturally pleasing pizzaz. If you have some extra time and want to take this up a notch, you can caramelize the pear in a skillet, and add a dash of cinnamon to the whole ordeal.
Ingredients:
1 (8-ounce) container Wholly Avocado (100% avocado)

1 to 2 large ripe bosc pear, thinly sliced

¼ cup goat cheese crumbles

¼ cup walnuts, roasted

Honey for drizzling
Instructions:
Toast the bread and spread with Wholly Avocado. Top with sliced pears, goat cheese crumbles, roasted walnuts, and drizzle with honey.
Enjoy!
xo