Huevos rancheros-style hummus toast with soft boiled egg, bacon, salsa, and green onion. This simple breakfast is an epic drool fest!
This post is sponsored by Sabra.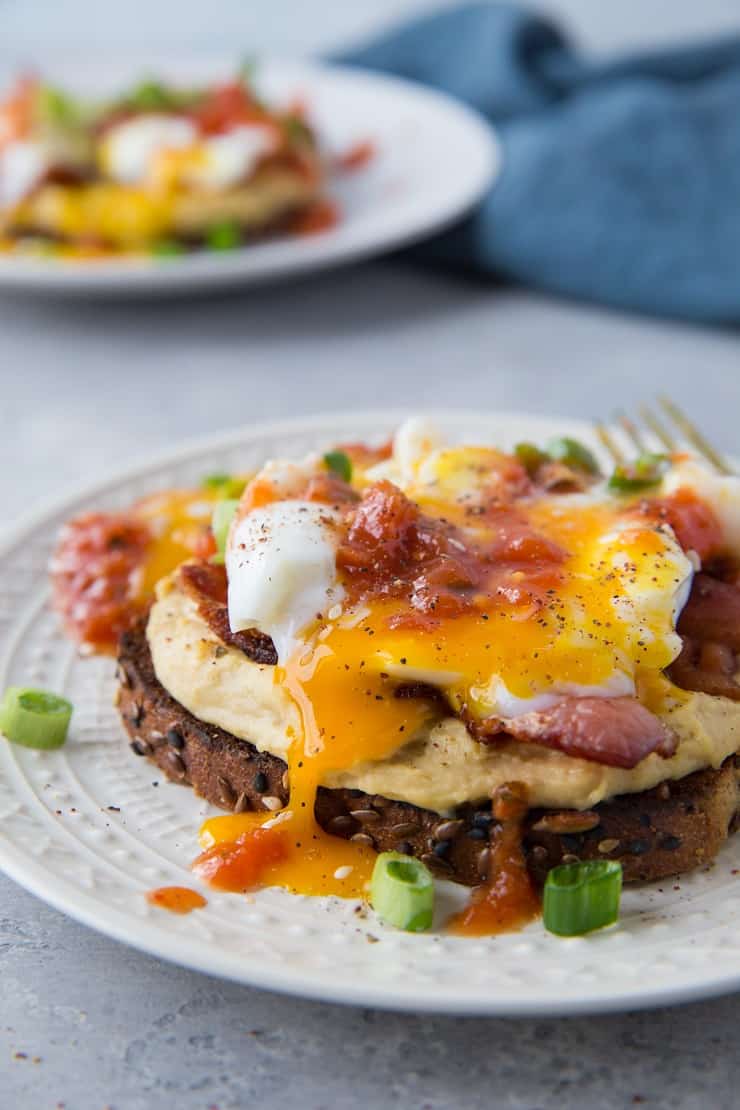 How's your relationship with toast these days? Holding strong? On again, off again? Take it or leave it?
I personally go through phases when it comes to breakfast toast – I can go on a several months'-long kick, followed by a dry spell, followed by a re-ignition of the torrid toast flame. My toppings of choice? I always, always put an egg on it, and the remaining ingredients tend to evolve with the changing seasons.
If you've been a major toast advocate, I'm willing to bet you've dabbled in the avocado toast intermittently or for some of you, forcefully. WELL. I'm popping in to tell you hummus toast is the new latest and greatest. Spread that ish like wild fire!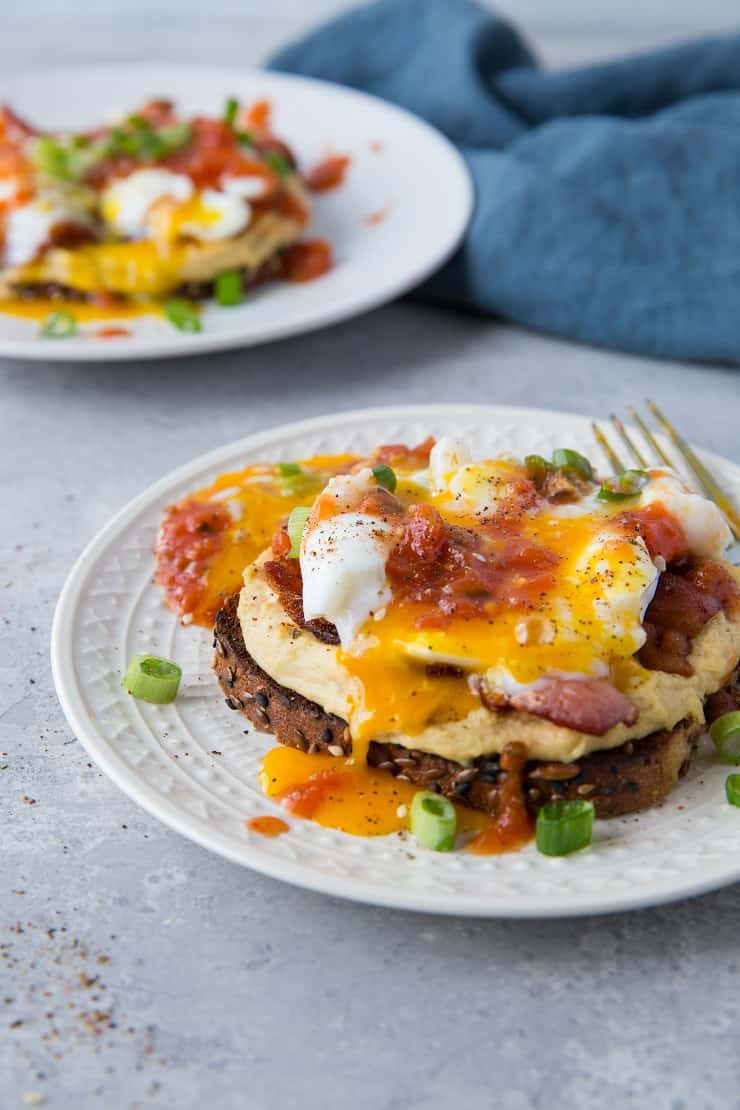 As you can see, we're toasting with hummus as the main spread and topping multi-grain bread (for me, it's gluten-free) with crispy bacon, a soft-boiled egg, salsa, and green onion. This lovely combination yields that huevos rancheros feel, replacing the classic tortilla with toasted bread and the refried/black beans with hummus.
This is one of those situations that is simply so good, you'll wonder why you haven't been doing it since the beginning of time.
Let's talk egg.
Runny yolk lovers, where you at?
I go with soft-boiled eggs, which I boil for 6 minutes to leave the yolk nice and creamy. If you're under a time crunch, you can absolutely go with a fried egg or sunny side up. Or even scrambled…acceptable.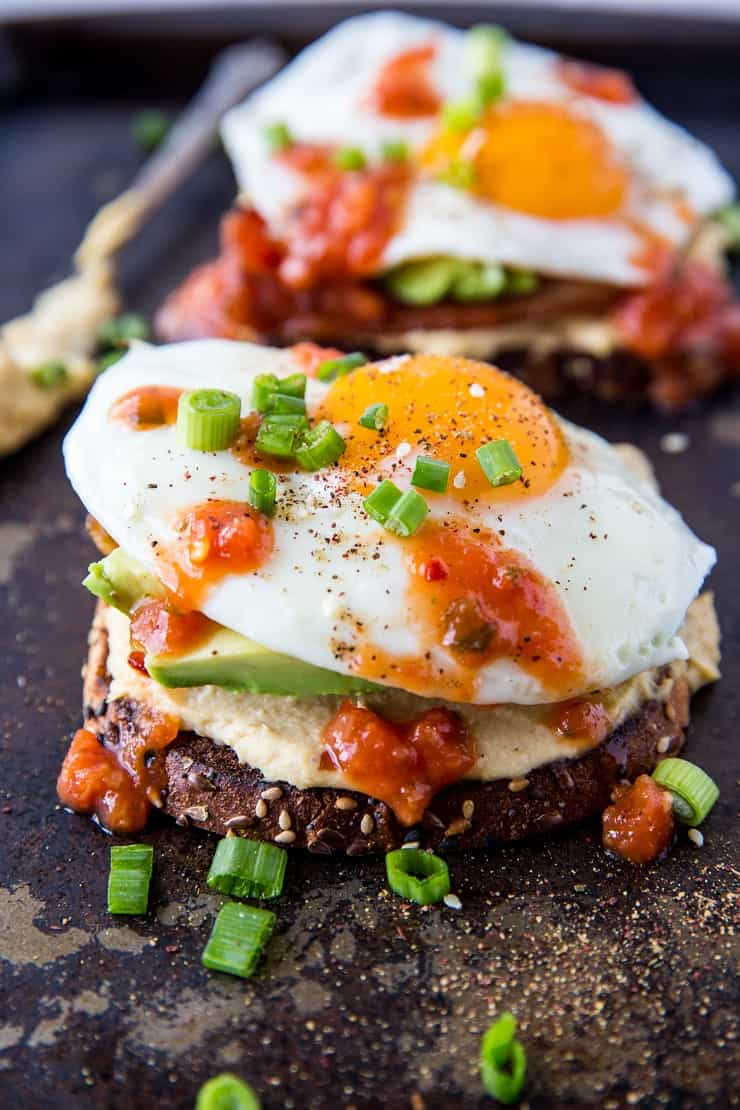 I've been known to add avocado slices to the hummus toast, but if that's too much stimulating, the hummus'll do you well. Hummus flavor? I keep it classic with Sabra's classic hummus, but you can absolutely let your imagination wander on this one. I'm willing to bet a spicy version would go super well with our huevos rancheros theme.
So next time you're in the mood for crunchy toast for your morning breakfast, consider the hummus situation. I do solemnly swear, you won't regret it!
Huevos Rancheros Hummus Toast
Step up your breakfast game with huevos rancheros hummus toast!
Ingredients
4

slices

multi-grain bread

toasted

10

ounces

hummus

4

large eggs

4

slices

bacon

1/3

cup

salsa

2

stalks green onion

sliced
Instructions
Bring a pot of water to a full boil. Carefully transfer the eggs to the hot water using a slotted spoon. Cook eggs for 6 minutes, then immediately use a slotted spoon to remove eggs from water and transfer to an ice water bath. Allow eggs to chill at least 15 minutes.

Cook bacon to desired crisp.

Toast bread according to desired level of crisp. Spread 1/4 of the hummus over each slice of toasted bread. Top with crispy bacon, soft boiled eggs, salsa, and green onion.
Nutrition