This easy Mango Avocado Salsa recipe is made with 5 fresh ingredients for an absolute explosion of delicious flavor! The best salsa for tacos, grilled chicken, baked salmon, and more, this mango salsa is versatile and such a simple recipe to prepare.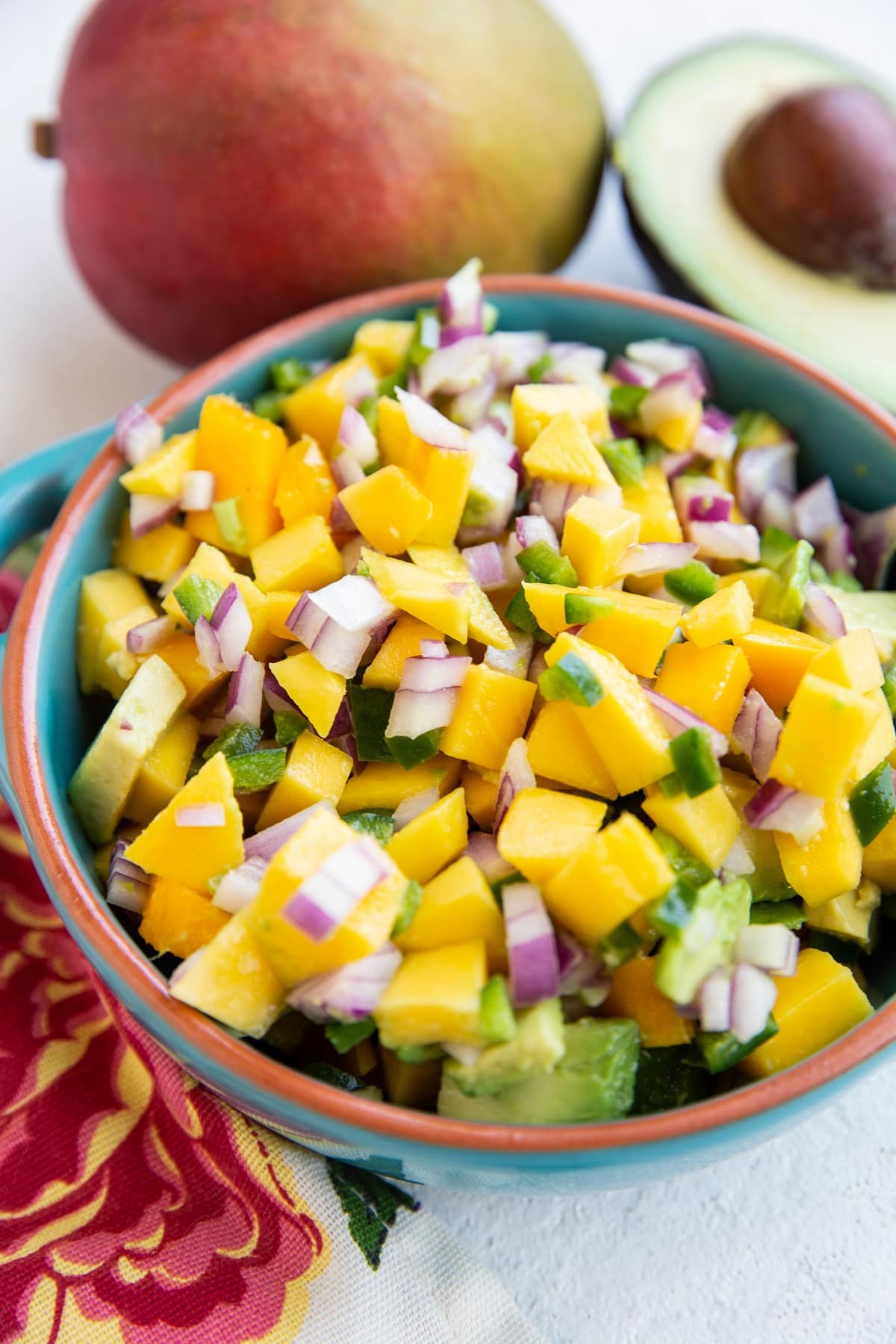 This easy mango salsa recipe is just in time for mango season!
It'll tickle your taste buds in the best way, as it is the perfect combination of fresh produce for an amazing fresh fruit salsa.
The condiment I've made more than any other is – you guessed it – mango salsa.
The perfect topping for any type of taco, a lovely condiment for chicken, fish, steak, and delicious burrito bowls, I find the versatility to be quite impressive.
While I've shared many recipes over the years that contain mango salsa, I've never shared a recipe that can live on its own so that folks can return to it over and over.
You may have tried my Fish Tacos with Mango Salsa, Stuffed Grilled Avocados with Shrimp and Mango Salsa, Grilled Chicken Tacos with Mango Salsa, Cuban Shrimp Bowls with Coconut Rice Mango Salsa and Fried Plantains or my Seared Ahi Tacos with Mango Avocado Salsa.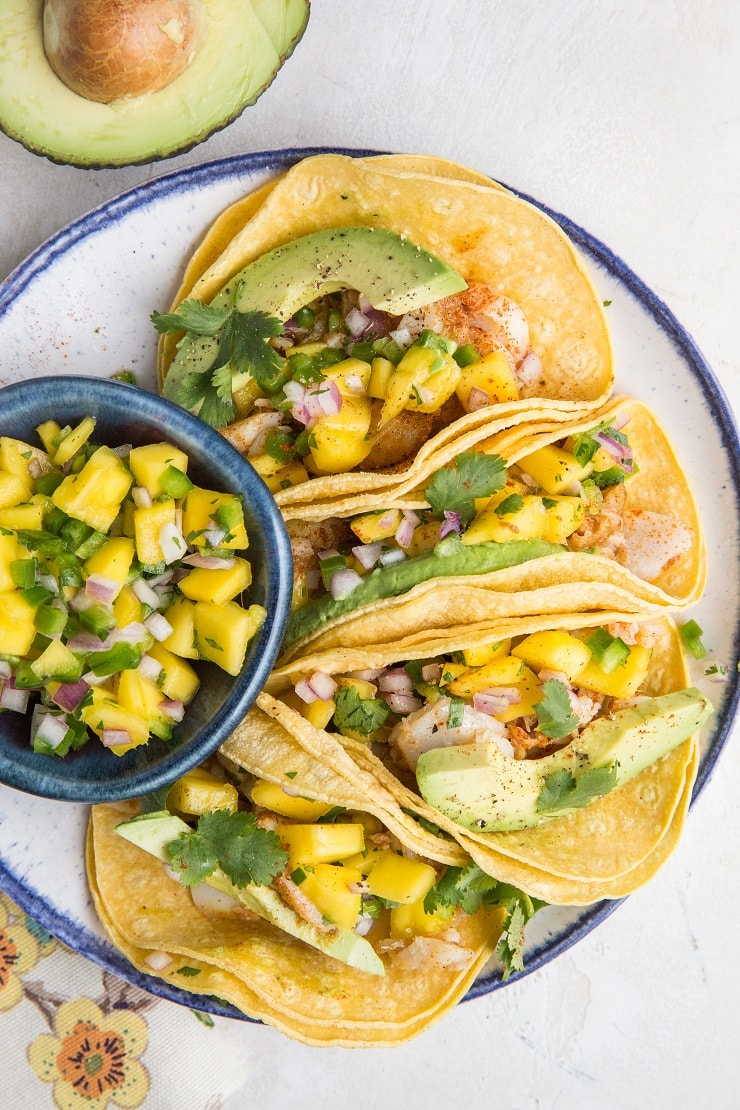 These lovely meals are an incredible display of the deliciousness of everyone's favorite salsa.
The way I see it, this sweet salsa can be enjoyed obsessively during the summer months, adding a pop of color and spunk to anything it touches.
All we need is five basic ingredients to make this homemade salsa recipe. For those of you who like to tweak recipes, I have included all sorts of options to change it up for optimal customization.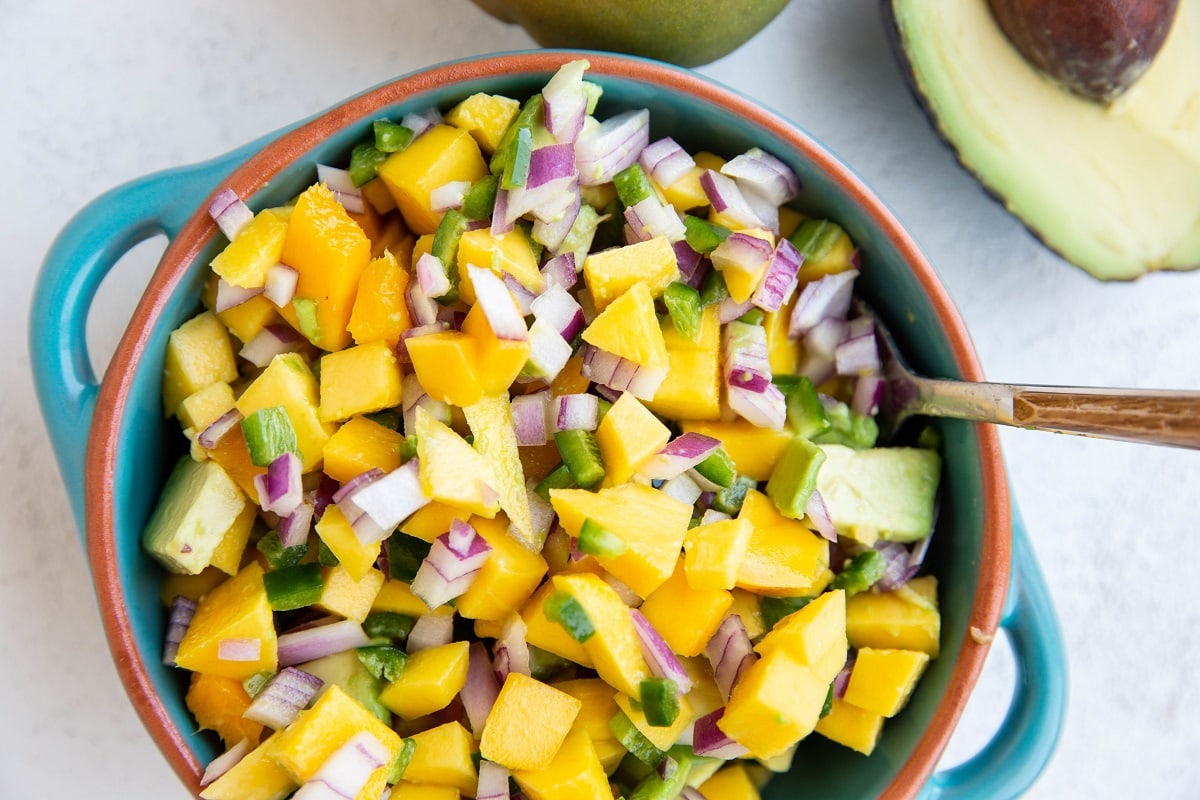 Let's discuss the amazing simple ingredients for mango avocado salsa!
Ingredients for Mango Salsa:
Fresh Mangoes: Ripe mangoes are the star of the show here! For the best results, pick up a large fresh mango that feels soft to the touch. This signifies it is ripe and will likely be a ripe juicy mango with plenty of sweetness.
Hard mangos tend to lack as much flavor and are not as sweet.
If your grocery store sells pre-chopped fruit like pineapple or mango, feel free to go this route instead of peeling and chopping a whole mango.
Ripe Avocado: While avocado is entirely optional, it pairs famously with mango! There's something about juicy sweet mangoes combined with fatty ripe avocados that compliment each other so phenomenally!
Red Onion: Finely chopped red onion brings a nice zing of flavor to the salsa, reminding us we're eating something savory. You can swap it out for white onion, yellow onion, or green onions if you prefer.
Jalapeño Pepper: One jalapeno brings that iconic salsa essence to the dish. For spicy salsa, leave the jalapeno seeds in and for mild salsa, remove all of the seeds and insides before finely chopping the jalapeno.
Fresh Lime Juice: A burst of citrus flavor brings the acidity we all love in a fresh salsa recipe. You can swap it for lemon juice or vinegar if you prefer.
Salt: Add a little salt to your personal taste.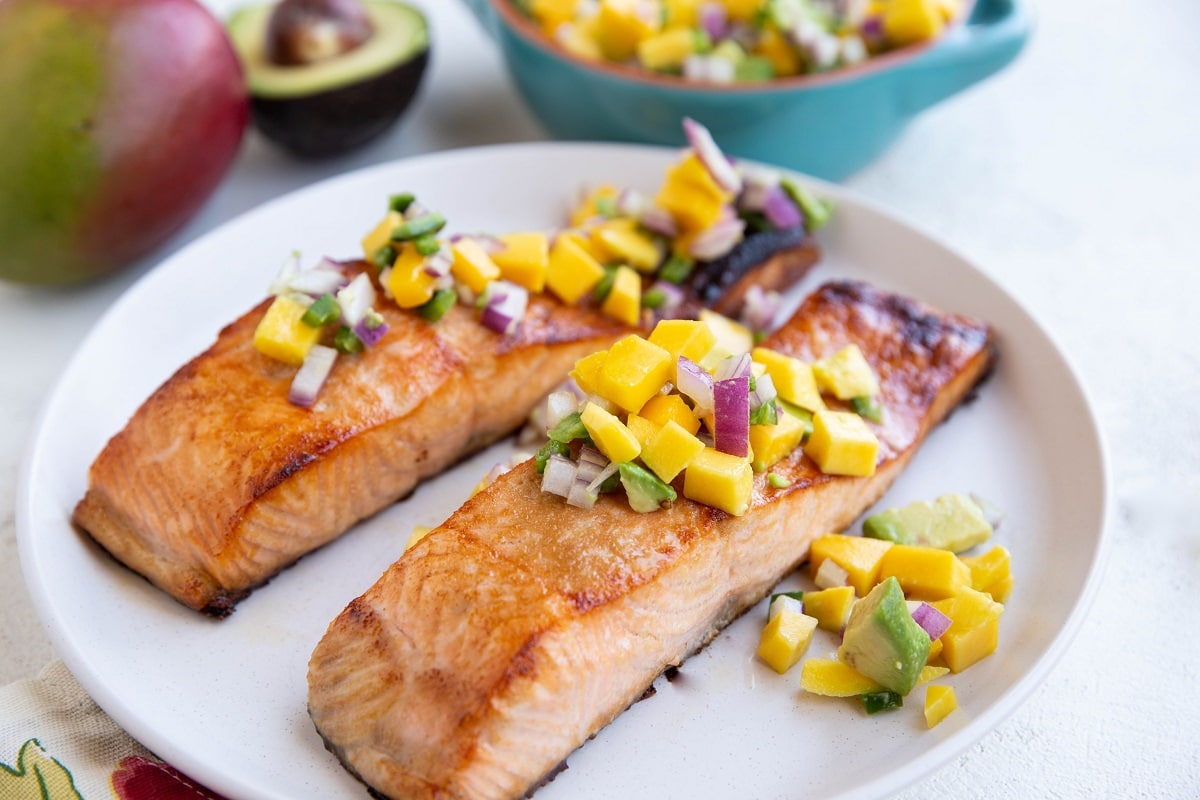 I rarely make the same homemade mango salsa recipe twice, so here are some of my favorite ways of customizing it.
Recipe Adaptations:
If you're feeding more than three individuals, I recommend doubling or tripling the recipe because everyone loves mango salsa!
Omit the avocado and/or add more mango if you'd like.
Add ¼ cup to ½ cup fresh chopped fresh cilantro if you're a cilantro lover.
Swap the mango for fresh chopped pineapple to make pineapple salsa.
Use 2 cups of fresh blueberries or chopped strawberries to make blueberry salsa or strawberry salsa.
Substitute the jalapeno for 1 to 2 habaneros or serranoes for much spicier salsa.
This recipe is a chunky mango salsa recipe but you can also blend the ingredients in a blender or food processor with one large ripe tomato for a smoother consistency.
Replace the jalapeno pepper with one red bell pepper, or add it in addition to the other ingredients.
Poblano peppers are a great addition for a savory mango salsa, as they have a sort of smoky flavor.
Add one cup of diced cherry tomatoes or roma tomatoes.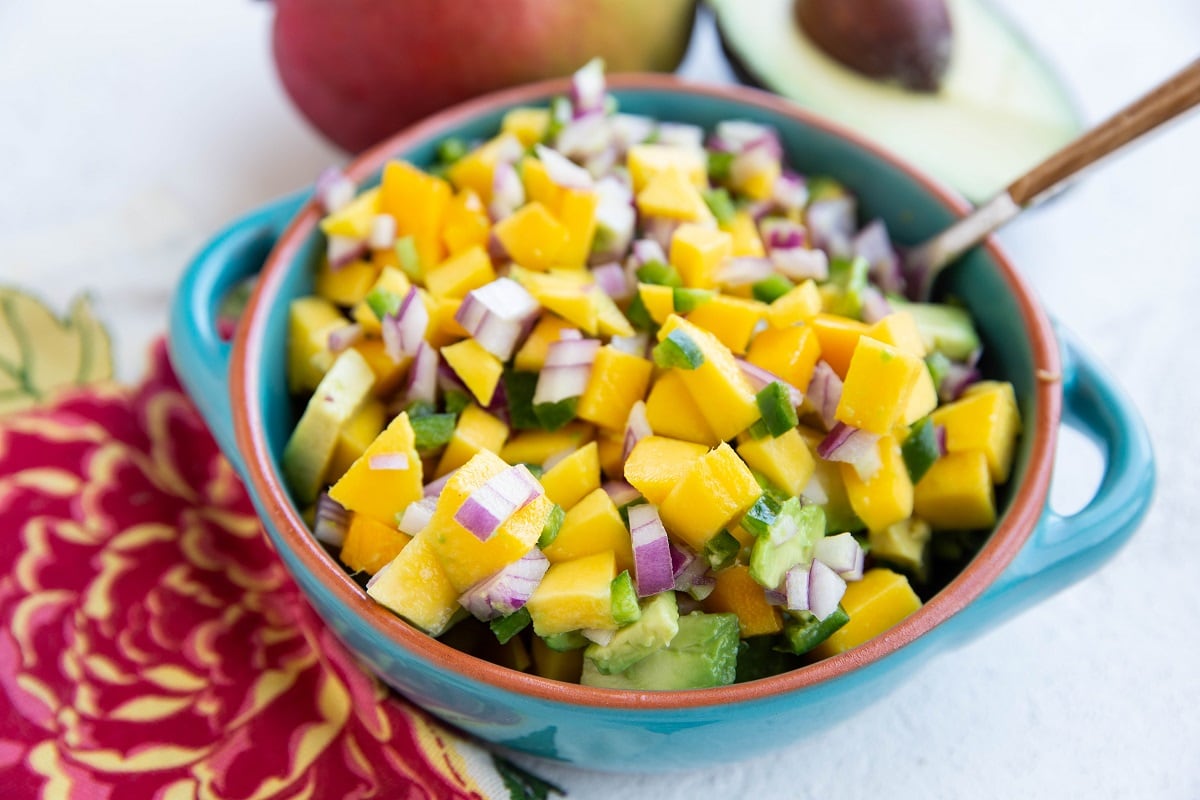 Now that we know the ingredients list and some potential customizations, let's whip up some delicious mango salsa!
How to Make Mango Salsa:
Use a sharp knife to peel and chop the mango and the avocado into bite-sized chunks. Transfer chopped mango and chopped avocado to a mixing bowl.
Note: if you've never chopped a mango, you can watch this video on YouTube on How to Cut and Dice a Mango.
Similarly, finely chop the red onion and the jalapeno. Be sure to remove the seeds from the jalapeno for mild salsa.
Add in the finely chopped red onion, jalapeno, lime juice and sea salt.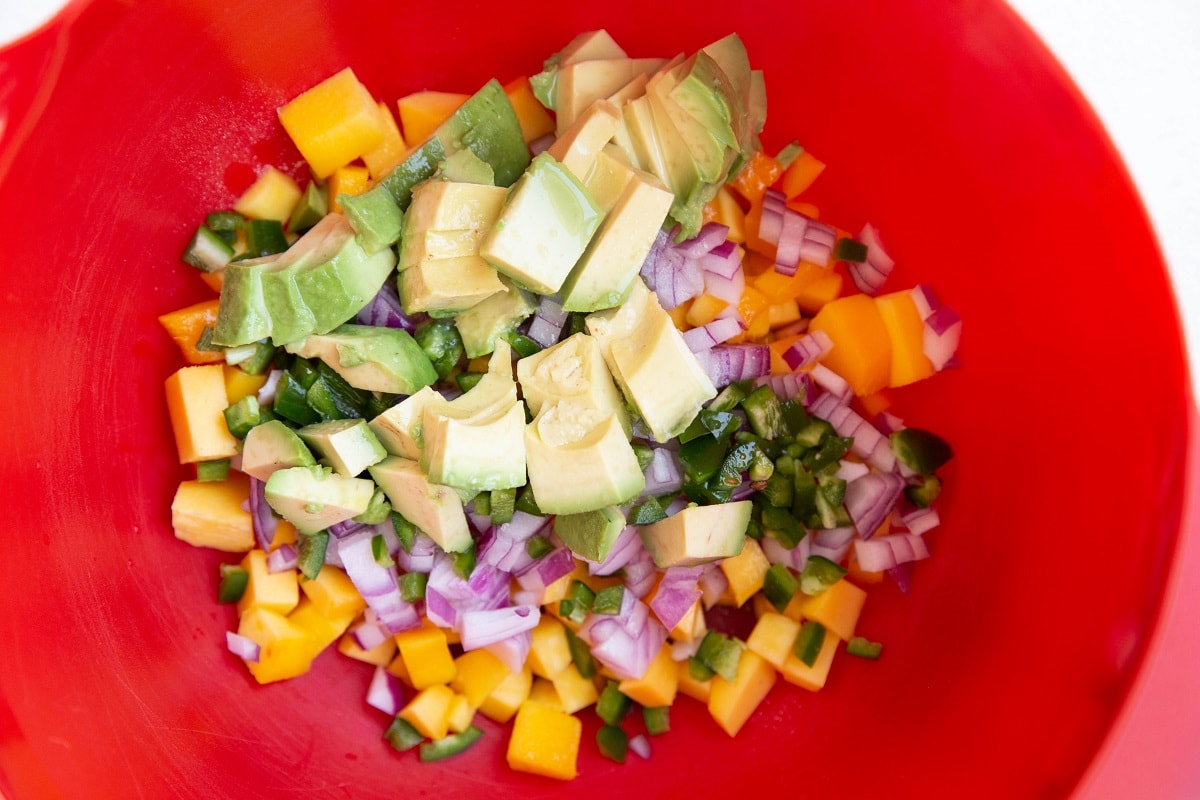 Mix everything together until it's well combined. Taste the salsa for flavor and add more sea salt or another squeeze of lime juice to taste.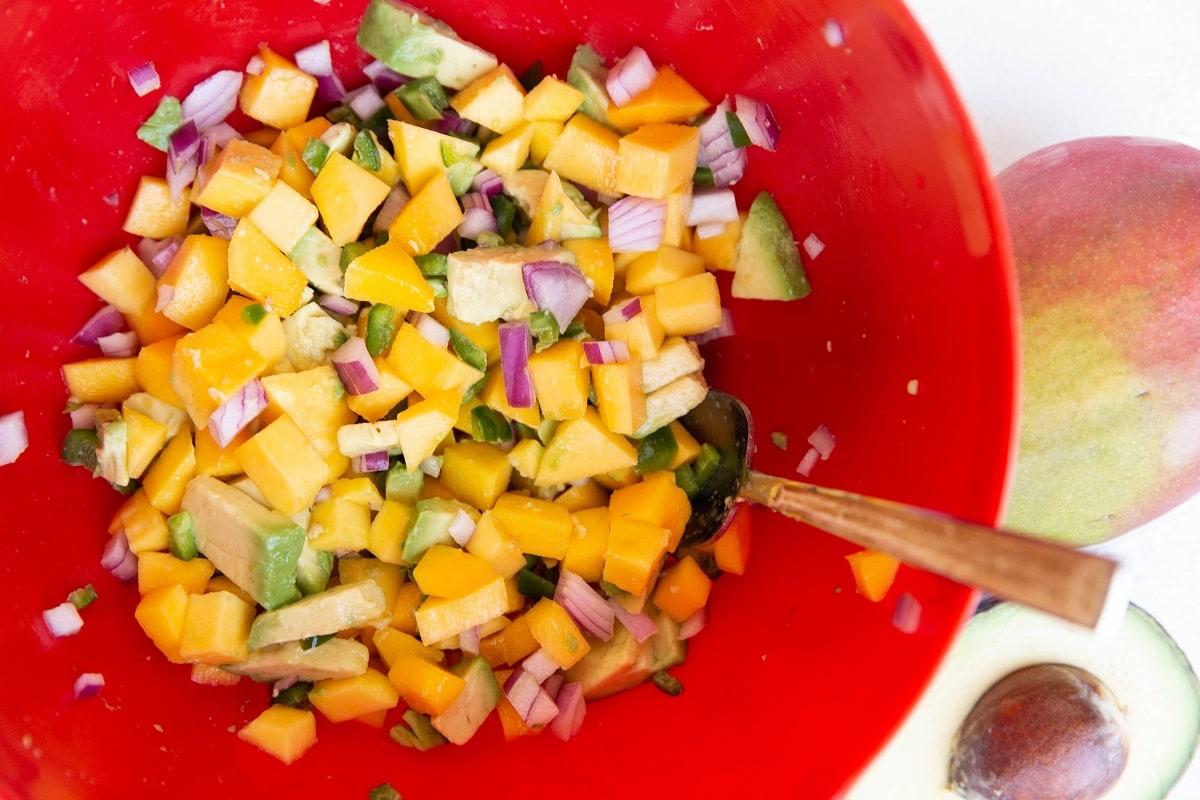 Use mango salsa as a dip for chips and dip for a great appetizer, or for tacos, burrito bowls, and more! It can go on so many of your favorite recipes!
Add it to my Shrimp Tacos with Chipotle Lime Sauce for an unforgettable meal.
Store leftover mango salsa in an airtight container in the refrigerator for up to 4 days. If you make the salsa without the avocado, it will last for upwards of 10 days.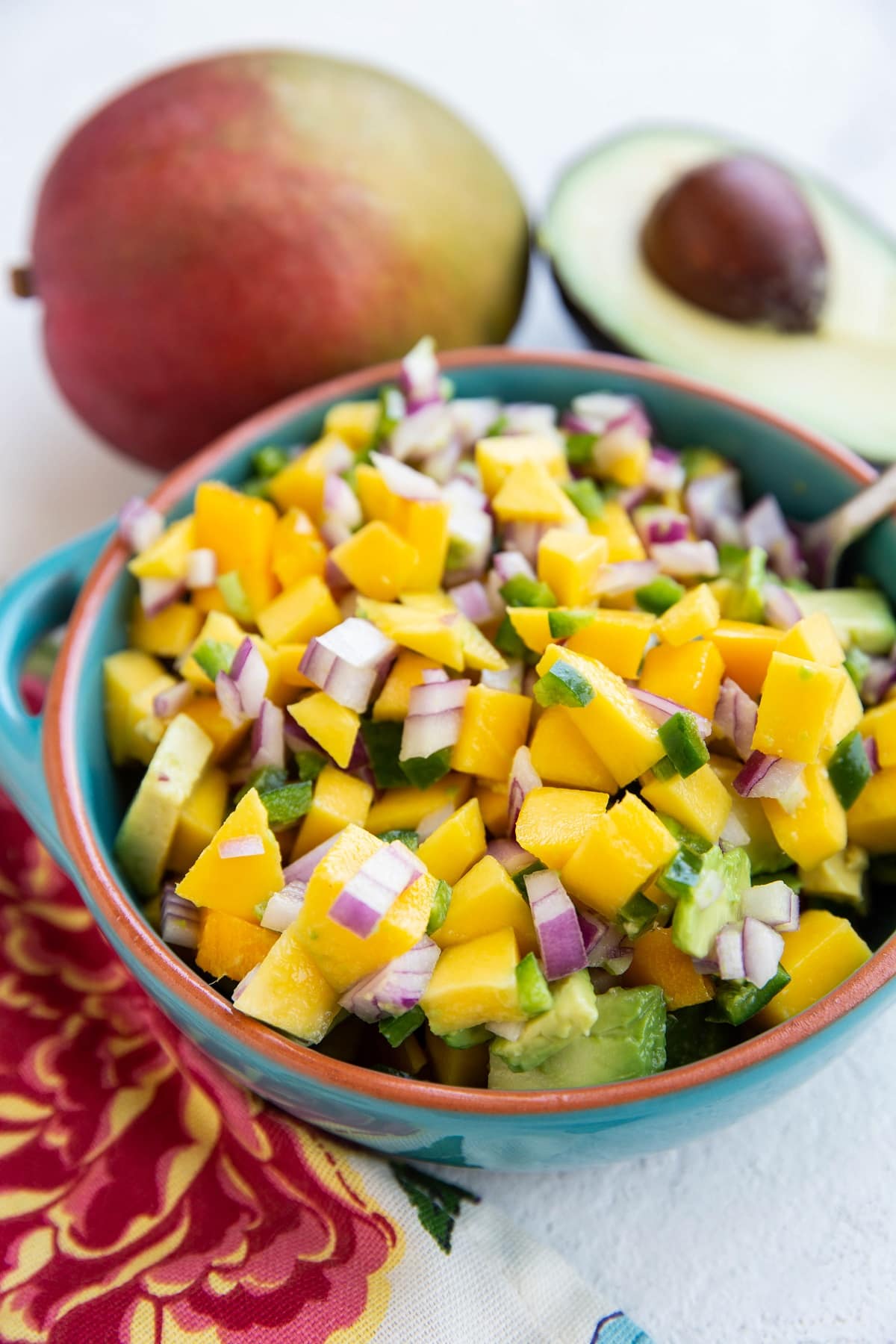 Any time Mexican food is on the menu, be sure to add mango salsa to the menu! It doesn't take much extra time to prepare and it adds so much spunk to a meal that it is well worth it!
Colorful mango salsa is the perfect accompaniment to grilled chicken breasts as a great way to liven them up.
If you're salsa obsessed like me, be sure to try my Red Chili Tomato Salsa and my Easy Salsa Verde.
Let me know how you use this fresh mango salsa recipe!
Homemade Mango Salsa
A fresh and inviting condiment to any main dish, this easy homemade mango avocado salsa adds a pop of color and explosion of flavor to everything it touches! Make it during the warm summer months to take advantage of mango season!
Ingredients
1

large ripe mango

peeled and finely chopped (about 1.5 cups)

1

large ripe avocado

¼

cup

finely chopped red onion

1

large jalapeno

seeded and finely chopped*

3

Tbsp

fresh lime juice

1

pinch

sea salt

to taste
Instructions
Use a sharp knife to peel and chop the mango and the avocado into bite-sized chunks. If you've never chopped a mango, watch this YouTube video on How to Cut and Dice a Mango. Transfer chopped mango and chopped avocado to a mixing bowl.

Similarly, finely chop the red onion and the jalapeno. Be sure to remove the seeds from the jalapeno for mild salsa.
Notes
*Leave the seeds in for spicy salsa