Greek Hummus Pizza with bell pepper, spinach, olives and pine nuts is a delicious healthy pizza recipe! This vegan pizza recipe couldn't be easier to make.
We're going tailgating! Bring your green hat!
I know, I know…we're eyeballs deep in holiday cheer and we're baking up every Christmas cookie known to Betty Crocker, but we're still tailgating! There's so much football food to be had yet.
Go 9ers!
Time for an easy peasy pizza pie recipe to ward off pantry pirates (a.k.a. friends who come over to watch football and raid your pantry. All your almonds: POOF gone).
They mean well, but you have cereal to protect, so when your buds come over for a game of #KaepernicksArms, you must be prepared, you just MUST! Therefore, whipping up an easy yet scrumptious pizza is truly your ticket to pantry safety.
When I think of gatherings, I think of hummus. I think of 18-layer hummus dip with everything you can put on a nacho. I think of burgers or chicken sandwiches shmeared with a zesty hummus sauce. I think of people eating hummus off of pita chips, carrots, celery, spoons, cheese, you name it, I think of hummus.
I teamed up with Sabra to bring you this tasty greek hummus pizza to share with your tailgating buds. I used their roasted garlic hummus, but any of their flavors would be dreamy. Roasted red pepper, sun dried tomato, or olive tapenade anyone? Seriously good stuff. If you're going legit tailgating, you can pack this pie up, take it with you, and be the talk of the tailgate.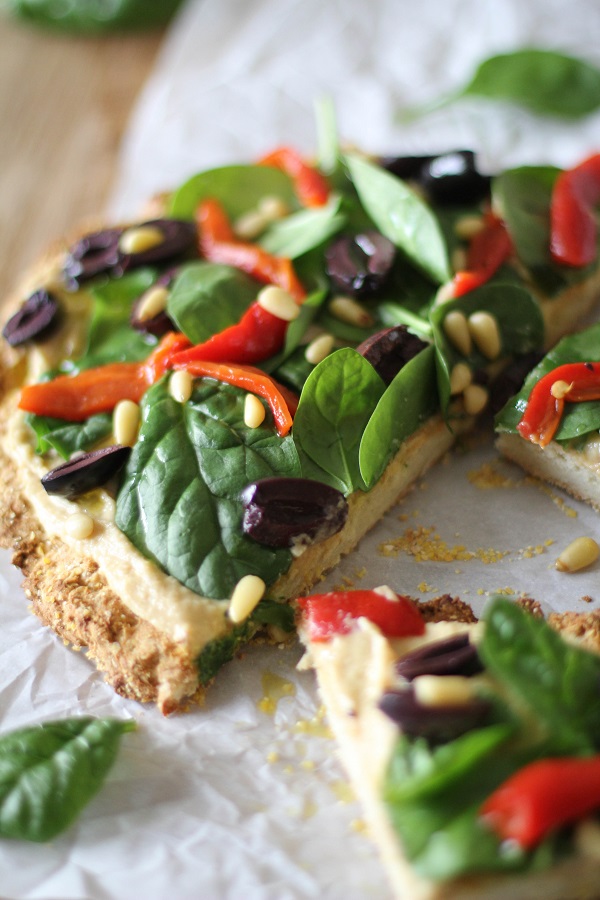 The best part about replacing pizza sauce with hummus, other than the creamy delicious flavor, is the fact that you put zero effort into making sauce.
All you do is bake up your pizza pie crust, shmear it with hummus, and top it with your favorite Greek toppings, like kalamata olives, roasted red peppers, spinach, and pine nuts.
You can also throw sun dried tomatoes, feta, and/or artichoke hearts on this love train. For the pizza crust, I use my favorite gluten-free mix, but you can also use store-bought prepared dough or your favorite homemade dough.
Think hummus.
Greek Hummus Pizza
Greek Hummus Pizza with spinach is a healthy vegan pizza recipe that comes together in a FLASH!
Ingredients
1

pound

prepared pizza dough

1

ounce

container Sabra Roasted Garlic Hummus

10-, or flavor of choice

Handful baby spinach

¼

cup

pitted kalamata olives

pitted and halved

1

roasted red bell pepper

sliced

2

tablespoons

pine nuts
Instructions
Preheat the oven to 425 degrees F.

Sprinkle corn meal or flour onto a baking sheet. Roll out your prepared pizza dough, and place it on the prepared baking sheet. Bake for 22 to 35 minutes, or until the crust is golden-brown on the edges and reaches desired crisp. Note: You're only baking the pizza crust once, so you want it fully cooked when it comes out of the oven.

Allow crust to cool, then add desired amount of hummus (I load it up with gobs of hummus), baby spinach, kalamata olives, pine nuts, and roasted red bell pepper.

Serve large slices and enjoy!
Nutrition
This post is sponsored by Sabra, and as always all thoughts, feelings, and opinions are my own. Thank you for supporting the brands that support me!