Easy baked chicken that requires only 7 ingredients (or less! to prepare). This recipe turns out perfectly crispy on the outside and moist and tender on the inside. This simple quick approach to baked chicken yields mouth-watering chicken each and every time!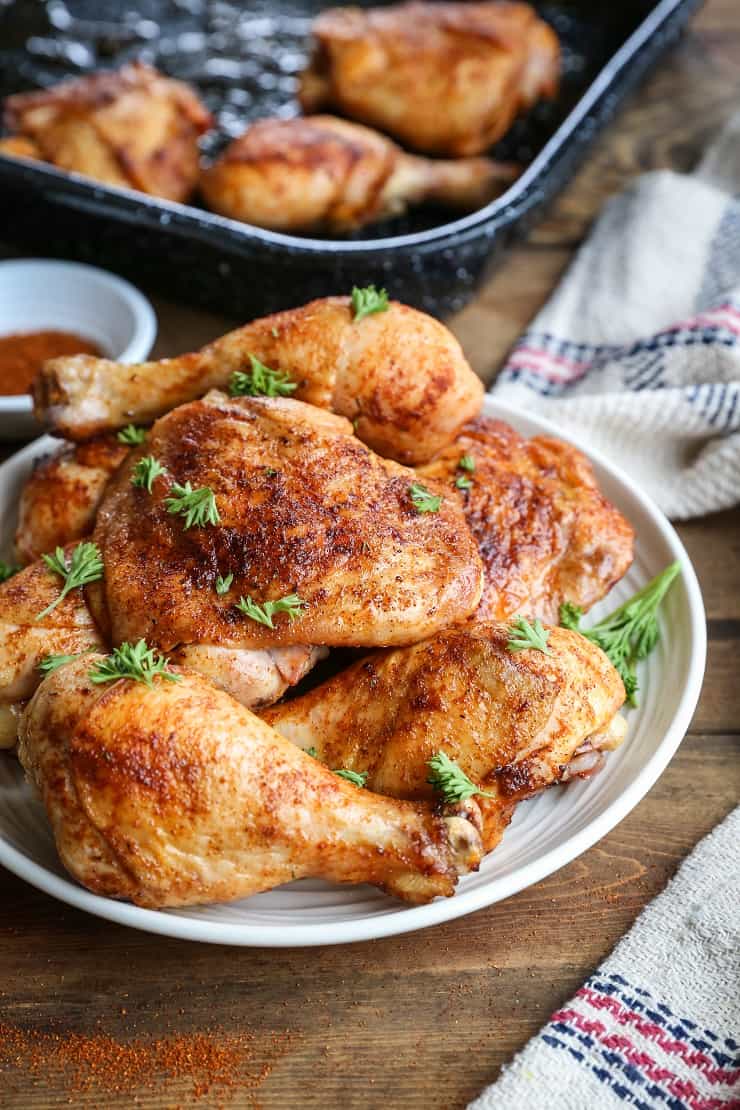 We're talking thighs again today, guys.
I know…shocker.
Seriously though, sometimes nothing beats a perfectly tender thigh and don't even get me started on drums.
This Easy Baked Chicken recipe is everything you need to make perfectly crispy on the outside, tender on the inside chicken that wins each and every time!
I'm going to give it to you straight: I love bone-in chicken pieces far deeper than I do boneless. It's just my personal preference.
I have a feeling some of you feel the same, so I thought we'd go bone-in. If you're looking for a recipe for perfectly baked chicken breasts, follow the chicken portion of my Baked Chicken Spinach Salad recipe.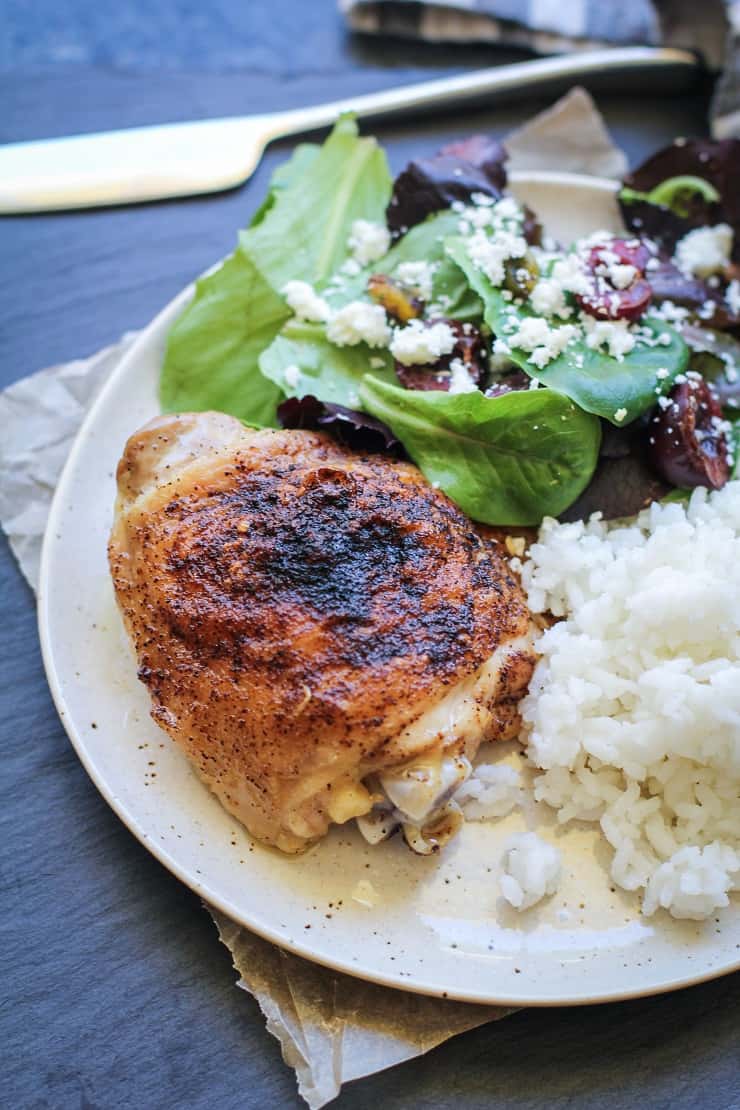 All things considered, these baked chicken thighs are:
Perfectly crispy on the outside and moist and tender on the inside.

Quick and easy.

Requires only a few basic ingredients (my approach calls for 7, but you can cut out some of the spices)

The perfect entrée to make on any given weeknight, which can be paired with a myriad of side dishes.

CHEAP!

Paleo, keto, low-carb, nutritious!
So let's talk about this bone-in situation.
I typically use a dry rub because it requires almost zero forethought or time to prepare. You can make your own dry rub using your favorite spices and herbs, or you can use a store-bought spice blend, such as Jamaican Jerk seasoning, Cajun seasoning, a chicken-specific rub, etc.
If you're looking for an extra succulent thigh, you can whip up a homemade marinade and marinate the chicken for 1 to 8 hours.
Here is my 3-step process that makes the best dang chicken thighs each and every time.
How to Make Easy Baked Chicken:
1.) Preheat the oven.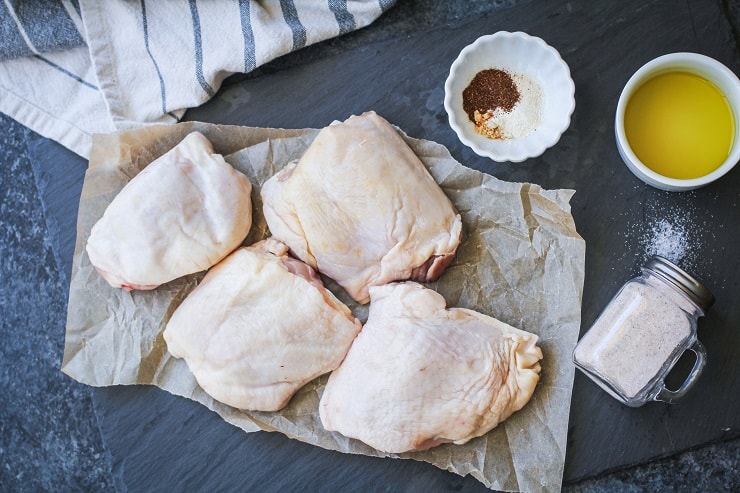 2.) While the oven is preheating, lightly oil a casserole dish. Mix together your spices and sprinkle them over the chicken.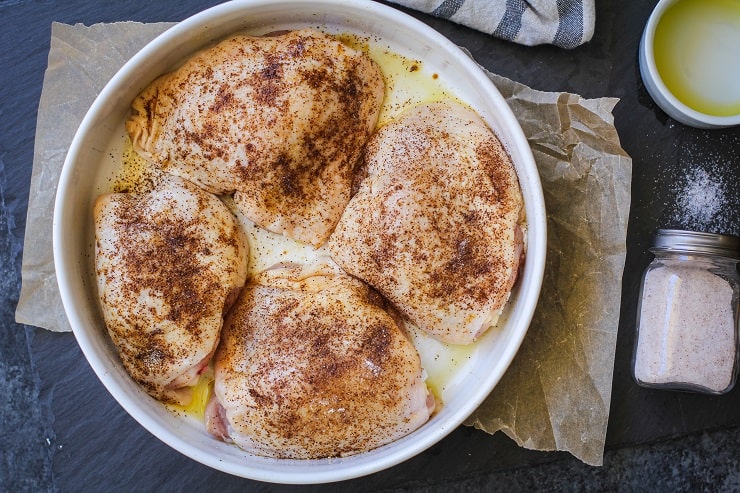 3.) BAKE.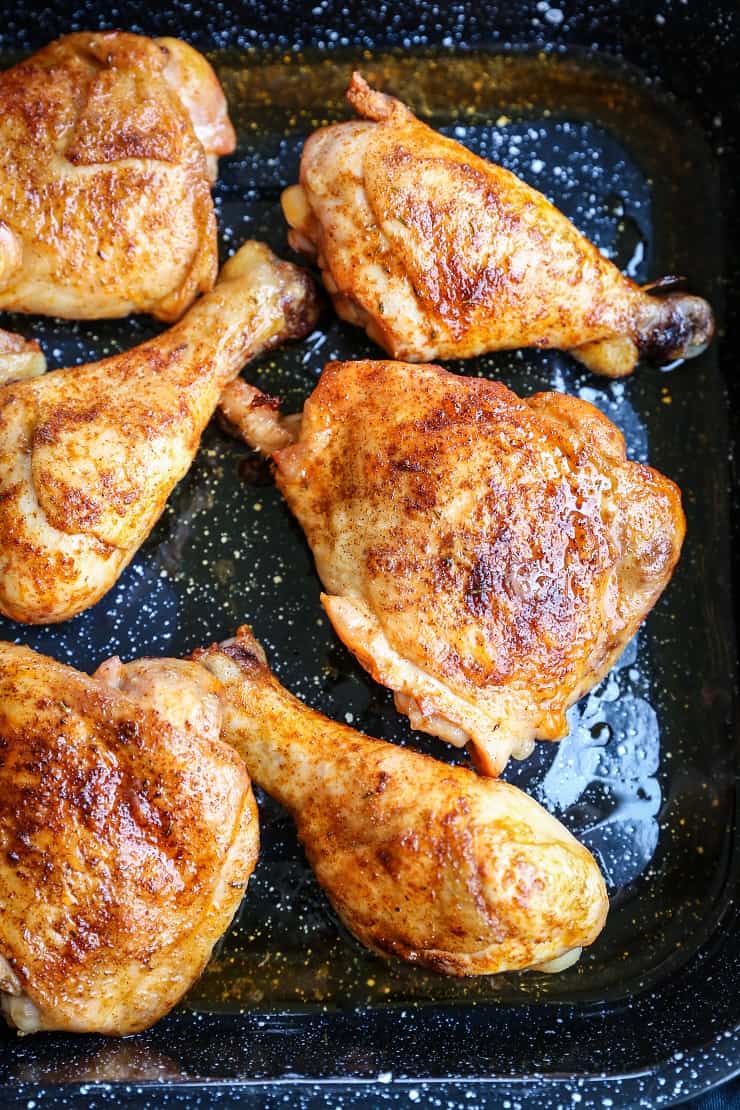 Once the chicken is cooked through, you can broil it for 3 to 8 minutes under the high broil setting to achieve crispy skin.
This is not a mandatory step, but I highly recommend it for an ultra mouth-watering experience.
And that is all! Serve the baked chicken up with your favorite side dishes, and you're all set for a stress-free, easy meal that you can easily put on repeat.
Can I Make This with Chicken Breasts?:
You can easily turn this into a baked chicken breast recipe by swapping the bone-in pieces for 1.5 to 2.5 pounds boneless skinless chicken breasts. Use the same ingredients and follow the same instructions, but bake for 35 minutes at 350 degrees F, or until the chicken is cooked through.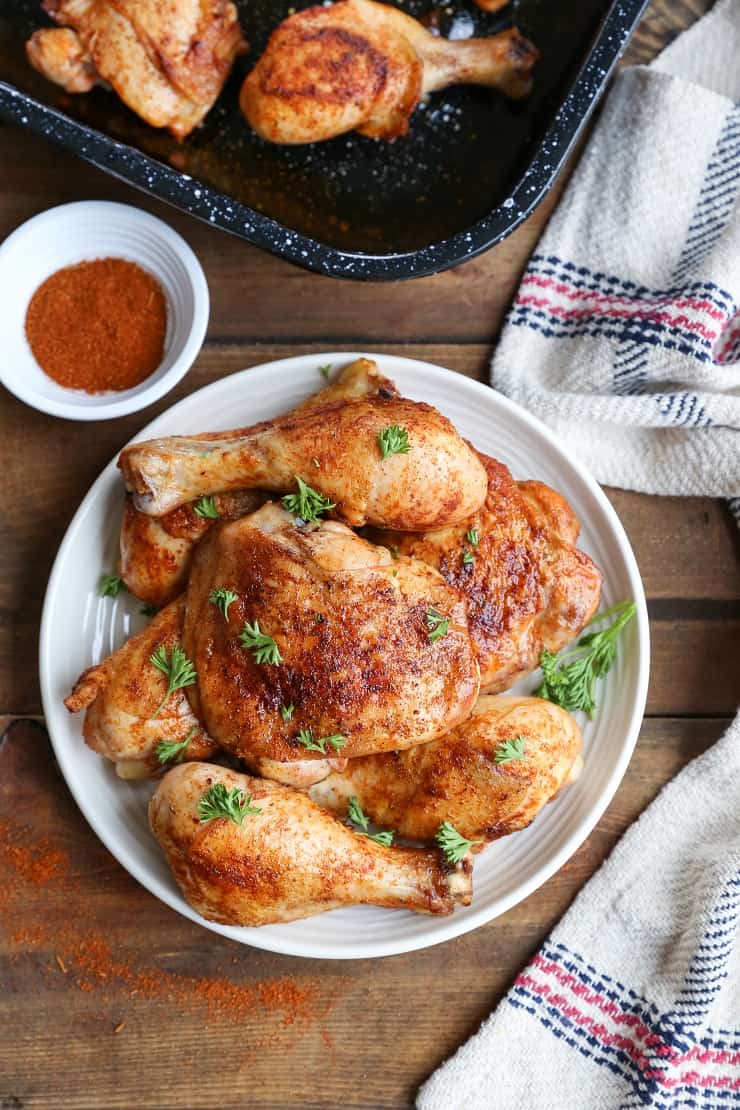 Recipe Adaptations:
Use your favorite spices or spice blends. Dried oregano, rosemary, cumin, coriander, curry powder, garam masala, lemon pepper, etc. are great!
Swap the olive oil for avocado oil.
Suggested Side Dishes:
Some of my favorite side dishes for pairing with baked chicken are:
My cookbook,
Paleo Power Bowls
, is now available! CLICK HERE to check it out. Thank you for your support!
If you make this recipe, please feel free to share a photo and tag @The.Roasted.Root on Instagram!
Easy Baked Chicken
Quick and easy baked chicken that only requires a few basic ingredients
Servings:
6
to 8 servings
Ingredients
Instructions
Preheat the oven to 375 degrees F. Lightly oil a casserole dish and stir together the spices. Place chicken in the casserole dish and drizzle with olive oil. Use your hands to coat the full surface of the flesh with oil. Sprinkle both sides of each piece of chicken with the spice blend.

Bake on the center rack of the preheated oven 35 to 45 minutes, or until chicken is cooked through and has reached an internal temperature of 165 degrees F. For crispy skin, place oven on the high broil setting and move the chicken one shelf up. Broil for 3 to 8 minutes, or until chicken skin reaches desired level of crisp.

Remove chicken from the oven and allow it to rest 10 minutes before serving. This process helps distribute the juices throughout the chicken for the moistest and tenderest result.

Serve with your favorite side dishes!
Notes
*Omit the onion powder and garlic powder for Low-FODMAP. Replace with dried oregano, cumin, or more paprika if desired.
Nutrition
Serving:
1
Serving
|
Calories:
310
kcal
|
Carbohydrates:
7
g
|
Protein:
36
g
|
Fat:
18
g