Nutrient-packed Curried Lentil Chickpea Salad with Citrus Dressing with kale and warmly spiced with curry powder and studded with dried cranberries, citrus fruit, and feta. This well-rounded salad makes for an excellent side dish, or even a meal!
This post is sponsored by USA Pulses & Pulse Canada.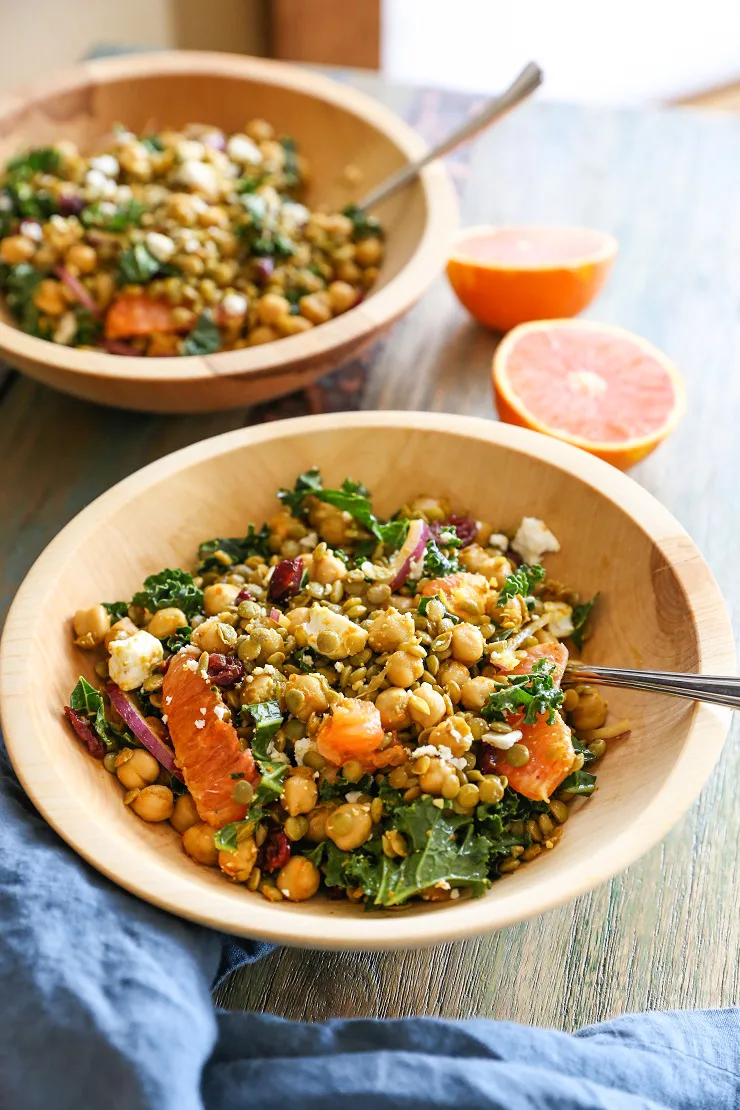 In certain ways, I'm a creature of habit. For instance, every single morning must begin with a large, steamy mug of bulletproof coffee, life doesn't seem quite right without a couple squares (slash full bar) of dark chocolate after dinner each night, and there are certain books I can read over and over (The Alchemist, The Giver, Atlas Shrugged).
But, true to my Gemini nature, the flip side of my much coveted day-to-day habits is I crave variety fiercely. I need to venture, to explore, need new terrain, and by golly, lots of color and flavor.
When it comes to salad in any form (greens, legumes, or grains), I'm all about many types of textures and flavors to keep things super crunchy, munch-worthy, and interesting. I guess you could say I'm in the habit of never eating the same salad twice.
And check out all the goodies in this lentil salad!
This particular adventure is packed with pulses for a healthful dish filled with plant-based protein.
For those of you who are unfamiliar with pulses, here's the skinny: pulses include dry peas, chickpeas, lentils, and beans.
They're a sustainable protein source, and as you probably already know, they're super tasty! Pulses are easy and versatile to use in your regular meals and can be added to just about any recipe to ramp up the nutrient profile.
I'm a big fan of pulses over here, as they've made their way into every type of recipe on this site, from dessert (yes, dessert!) to side dishes, soups, breakfast, and main dishes.
If you're looking for some pulse inspiration, just let my Double Chocolate Chickpea or Black Bean Brownies, Rustic Minestrone Soup, Thai Lentil Vegan Meatloaf, Ultimate Healthy Breakfast Bowls, and Roasted Butternut Squash and Pear Salad with Lentils show you the way.
1 cup of cooked lentils or beans contains 18 grams of protein. Pulses are also low in fat, high in fiber, and are easy to keep in your pantry for regular use.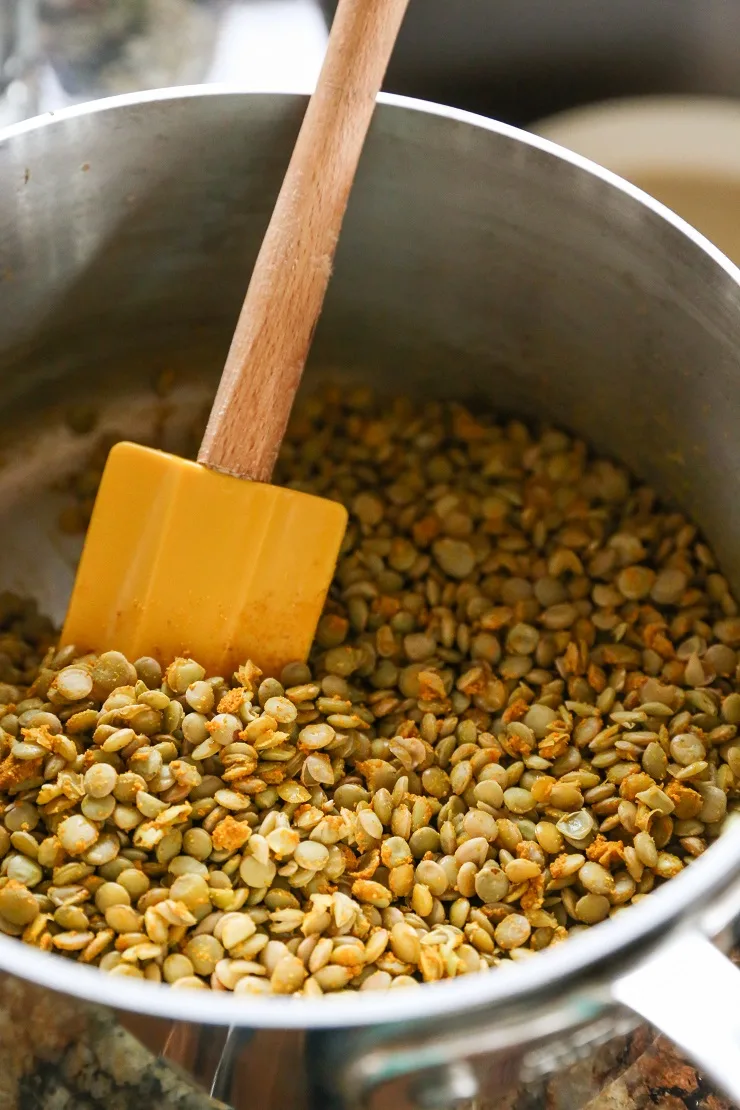 Every time I make a salad using lentils, I wonder why I don't do it more often given how healthful, easy to prepare, and cost effective they are. I love the way this one turned out – the curry flavors with the citrusy dressing, dried cranberries, and feta all game together rather seamlessly. It's that perfect salad to throw together any time of year to enjoy for lunch throughout the week, and is awesome to pack and take with you on any outdoor adventure slash road trip.
Recipe Adaptations:
Add raw or roasted nuts or seeds, such as walnuts, almonds, pumpkin seeds, sunflower seeds, or pine nuts.

Omit the feta to make this vegan

Not a fan of curry? It's okay, man, we can get through this. Simply use a different spice blend, such as garam masala, Jamaican Jerk seasoning, or even chili powder (start with about 1 to 2 teaspoons if you go this route, then add more to taste). Alternatively, give this salad an Italian flair by incorporating dried oregano, thyme, and/or basil.

Use any pulse you have on hand for this salad – black beans, and/or peas would work great!

This salad stores very well – you can make it ahead of time and store it in a sealed container for up to 1 week.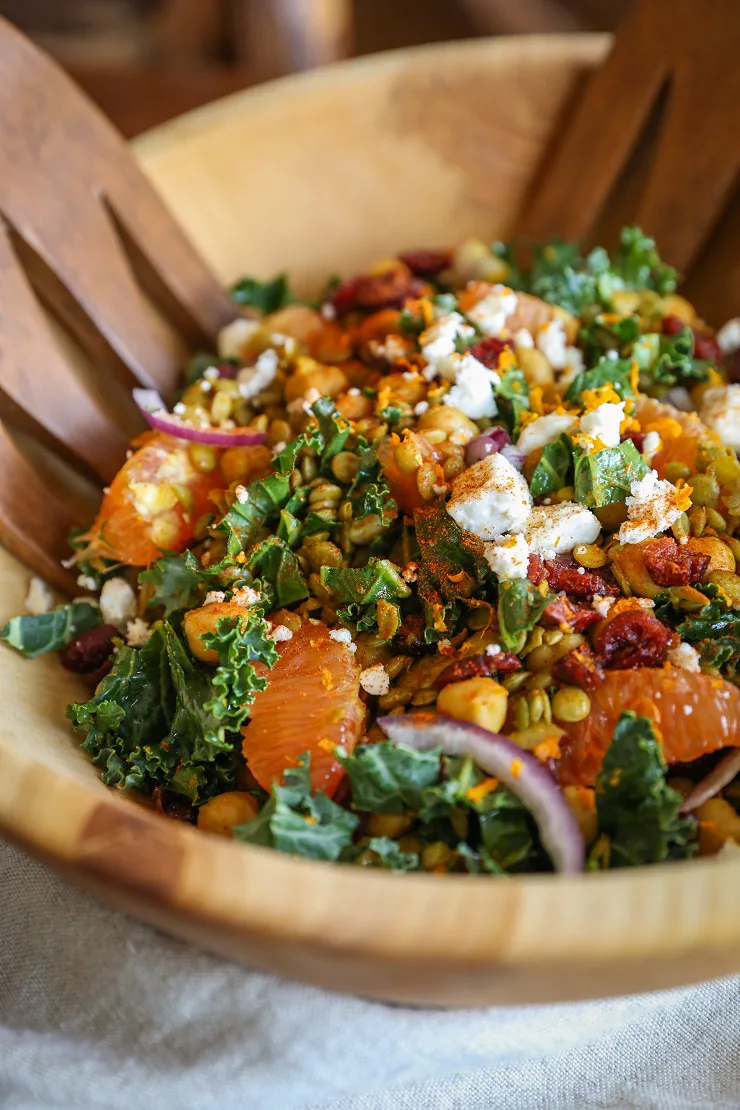 Enjoy this Lentil Chickpea Salad as a healthy side dish to any main entrée!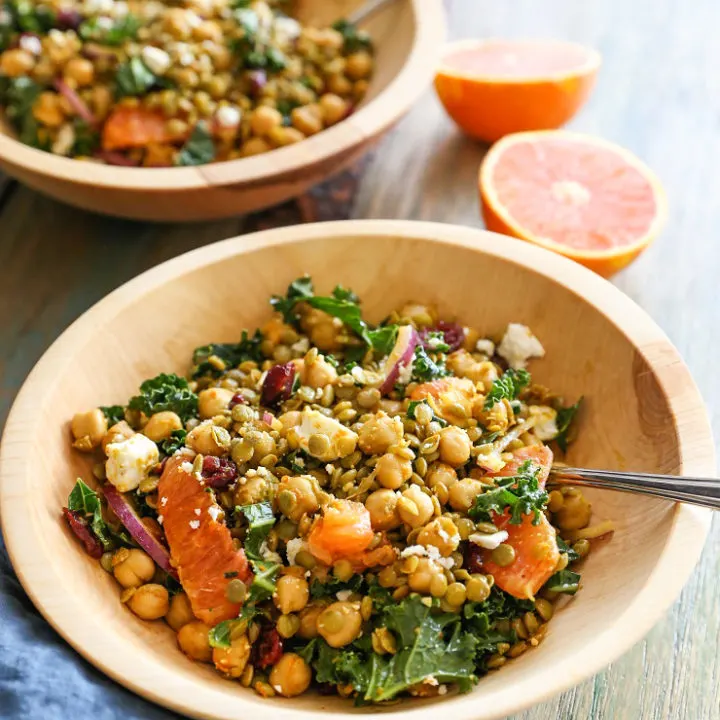 Curried Lentil Chickpea Salad
Chickpea and lentil salad spiced with curry powder is flavorful and loaded with plant-based protein.
Ingredients
1 cup dry lentils
3 large leaves kale, , chopped
1 tablespoon yellow curry powder, to taste
1 tablespoon fresh lemon juice
1 clove garlic, , minced
1 navel orange, , zested and peeled into sections
1/3 cup feta cheese
1/4 red onion, thinly sliced
Instructions
Add lentils to a pot and cover with 2 inches of water. Cover and bring to a full boil. Reduce heat and simmer, covered, until lentils have softened, but are still al dente, about 10 to 15 minutes. Drain any excess water and transfer lentils to a mixing bowl.
Add the chickpeas and kale to the mixing bowl with the lentils. Add in the curry powder, sea salt, olive oil, lemon juice, and garlic, and orange zest. Toss well until everything is well-combined.
Toss in the peeled orange, dried cranberries, feta, and red onion. Add sea salt and/or additional curry powder to taste. Serve alongside your favorite entree, or enjoy as a meal.
Notes
*If using dry chickpeas, you're looking for just under 2 cups of cooked chickpeas
Nutrition Information
Yield

4
Serving Size

1 g
Amount Per Serving
Unsaturated Fat

0g