Gluten-free, flourless healthy Black Bean Brownies packed with nutrients for an equal-parts delicious yet healthful dessert. This easy dairy-free, refined sugar-free dessert recipe only requires a few minutes of prep time and is made conveniently in your blender! You can make these with chickpeas too!
There are two types of people: those who have tried chickpea or black bean brownies and have made them 50 gazillion times as a result, and those who have never tried chickpea or black bean brownies.
If you fall into the latter category, I'm here to help!
I'm willing to bet if you give them a shot, you'll be compelled to make them time and again.
My guess is you already have every single ingredient you need right there in your pantry in order to make either chickpea or black bean brownies.
For me, this recipe is an oldie but a goody – it has been revised many times over the years, and has been a staple in my home ever since I tried them for the first time 5 years ago.
Our first go at garbanzo bean brownies was back in 2012, when – I daresay – the world was not yet ready for them; however, with the introduction of black bean brownies about a year later, you all took to the bean brownie like white on rice.
Now that we've had time to marinate on the idea of a healthy brownie made from the very ingredient we like to use in our chili, I thought I'd revisit the subject.
This classic recipe works for both chickpeas and black beans.
You can easily double it if you're looking to serve more than 9 people (or if you're a mega fan of dessert leftovers).
You can also add all sorts of your favorite brownie add-ins, such as chopped walnuts, some peppermint extract and/or orange extract + orange zest if you're going for a different flavor altogether…you can even add booze, my friends.
Cointreau, for instance, is quite the brownie companion.
So let's hop to it!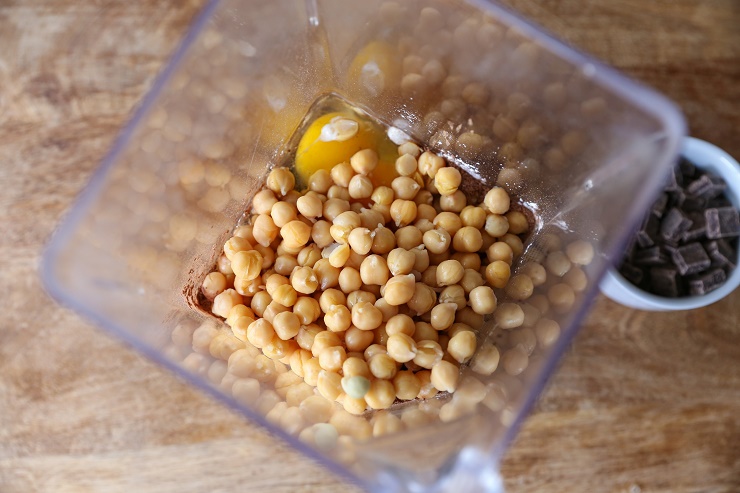 How to Make Black Bean Brownies:
All you need is one 14-ounce can of the bean of your choice.
Drain and rinse the beans in a colander, then add them to your blender along with the rest of the ingredients, save for the chocolate chips.
Blend it up to make your batter, stir in the chocolate chips, then proceed as normal.
Pour into a small baking sheet, bake for only 25-ish minutes, pull them out of the oven, then play the waiting game.
It is imperative you allow these brownies to sit at least 1 hour before cutting into them, or else they'll fall apart very easily. If you're doing a spoon brownie slash brownie sundae type of situation, the fall-apartedness shouldn't matter and you can dig right in.
If you don't have coconut sugar on-hand, you can replace it with equal-parts cane sugar. I like using coconut sugar because it is considered a natural sweetener, is lower on the glycemic index than cane sugar, and contains minerals. You can also substitute the olive oil in this recipe with melted coconut oil, grapeseed oil, avocado oil, etc.
Options for serving:
And that's it! Pour, blend, bake, repeat!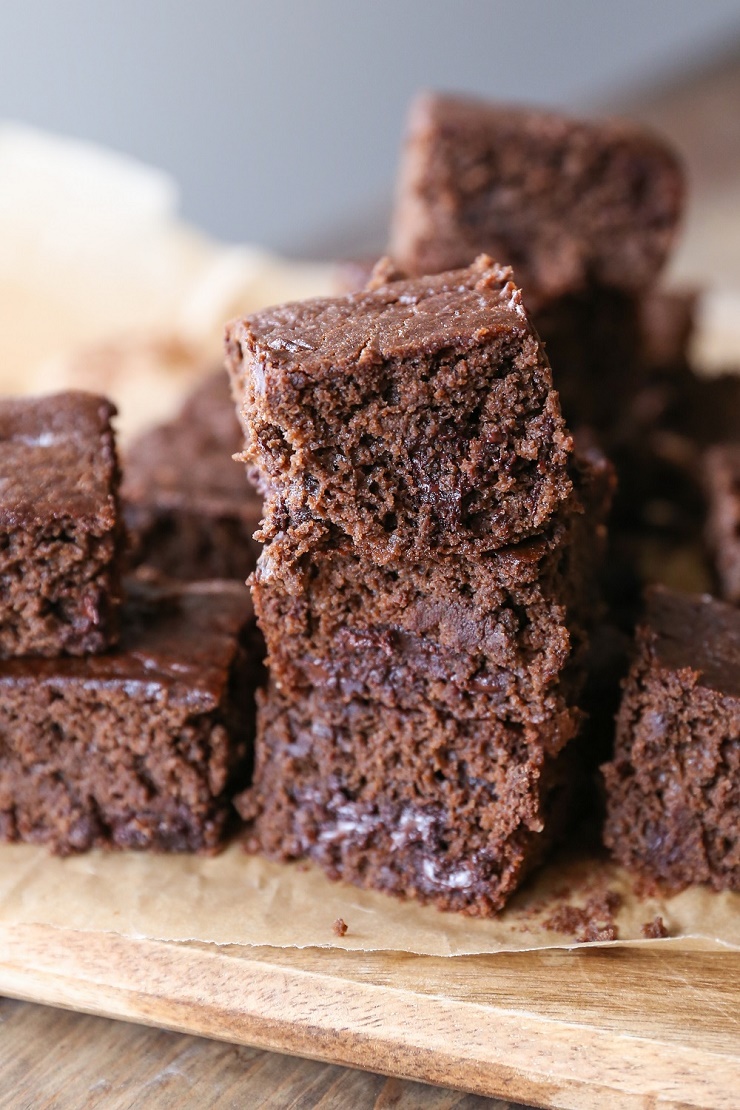 If you make these black bean brownies, feel free to snap a photo and share it on Instagram, tagging me at @The.Roasted.Root!
Double Chocolate Black Bean Brownies
Double Chocolate Chickpea or Black Bean Brownies are rich, amazingly moist brownies made with your favorite bean.
Instructions
Preheat the oven to 350 degrees Fahrenheit. Lightly oil an 8" x 8" baking pan, and line the pan with parchment paper.

Drain and rinse the chickpeas (or black beans). Add them to a blender along with the rest of the ingredients, except for the chocolate chips. Blend well until a thick, smooth batter results.

Stir the chocolate chips into the batter

Transfer the batter to the prepared baking dish and spread into an even layer. Bake on the center rack of the preheated oven for 24 to 18 minutes, until the center of the brownies have set up. Note: The center of the brownies will not test clean when poked with a tooth pick - this is normal.

Remove brownies from the oven and allow them to rest 1 hour before cutting and serving.
Notes
*You can also use garbanzo beans
**Substitute the coconut sugar for regular cane sugar if its all you have on hand
**Use olive oil or melted coconut oil if you'd like
Nutrition
Serving:
1
of 12
|
Calories:
172
kcal
|
Carbohydrates:
26
g
|
Protein:
4
g
|
Fat:
7
g
|
Cholesterol:
31
mg
|
Fiber:
3
g
|
Sugar:
19
g