The citrus-y sage-y vinaigrette, though!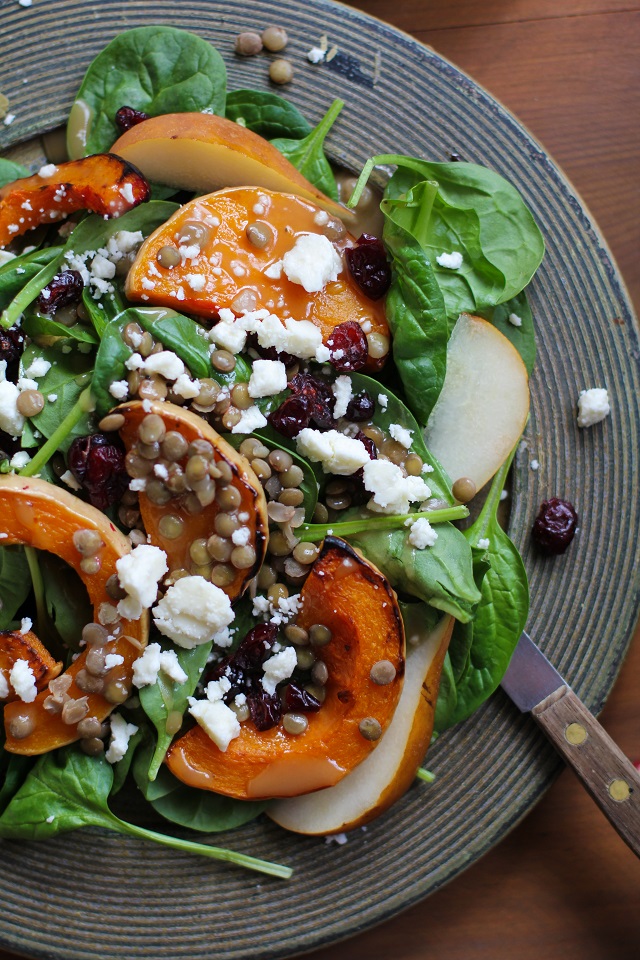 This won't come as a shocker, but sometimes I feel like my life wouldn't be right without spell check, fuzzy socks, or ginormous plates of greens. After this cake, these muffins, and this pudding, I was feeling like my nutrient equation needs a little balancing. And by "a little," I mean I needed to go find my soul in a pile of superfood. Before my blood sugar got carried away, started its own glycemic commune in my mind fibers, held my body hostage forEVAH, and words and actions transpired that couldn't be undone or unstated.
What can I say? I'm sensitive to the sultry, addictive ways of sugar – unrefined or otherwise. Can't stop, won't stop until I take it one (to one thousand) carb(s) too far.
But looky here, I found it! My soul-balance, that is. Somewhere underneath a hearty slice of roasted butternut squash and next to a stash of lentils, I got that ish! Typically, somewhere between bite three and the finish of a plate like this, I begin to feel like there is justice in this life. Can you relate? Tell me you crave spinach!
This time of year, I'm all about the raw//cooked hybrid salads. I love roasted fall vegetables on a bed of fresh raw greens, with some sort of warmly-spiced vinaigrette, along with all sorts of cheese, nuts, and dried fruit.
I'm a sucker for varying flavors and textures, and am all about a nice fresh salad. For those times you're in the mood for a pile of greens AND want to feel full to the brim, this salad's your jam.
The hearty carby butternut squash and lentils add substance and make the salad filling without putting you in a food coma. The cranberries add a nice sweet and tang, and that citrusy, sage-y balsamic vinaigrette puts a unique spin on the whole thing. Feta (or perchance goat cheese)? Always a good thing!
Eating recommendation: Consume using a knife. It just kicks the whole experience up a notch!
Additions/substitutions? Options aplenty. You can replace the butternut squash with any ol' squash, or sweet potato. Sub out the lentils, sub in brown rice. Use blue cheese or goat cheese instead of feta. Walnuts, pistachios, sunflower seeds in place of pecans. By golly, you can add chicken, or do as I do when I'm lazy and in need of protein and #putaneggonit.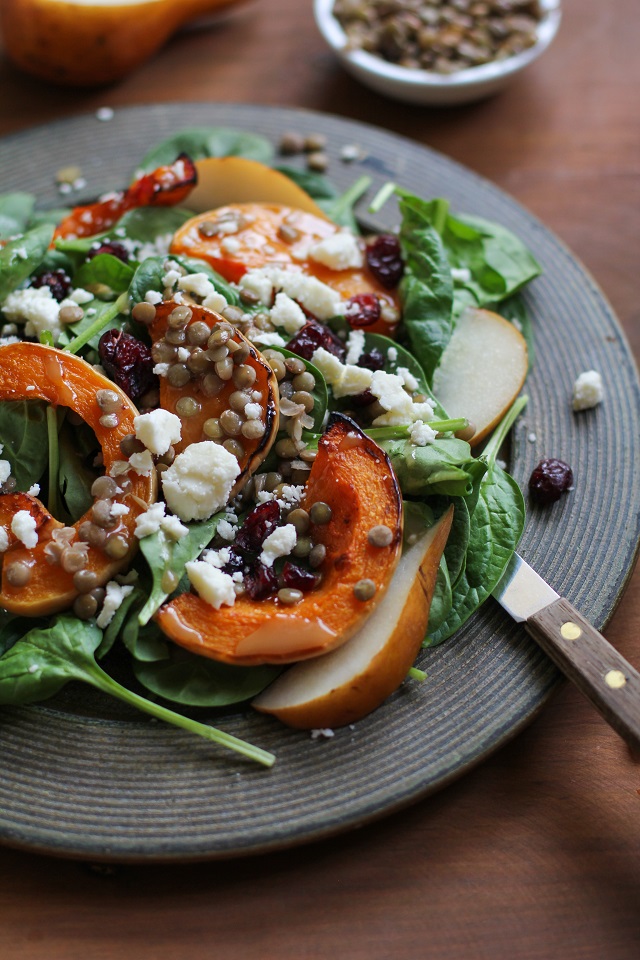 Fall salad for your soul!
Roasted Butternut Squash and Pear Salad with Lentils
Roasted Butternut Squash and Pear Salad with Lentils is a filling vegetarian dinner recipe or side dish!
Ingredients
Spinach Salad:
1

small

butternut squash

peeled and chopped into 1/2-inch slices

5

ounces

baby spinach

1

large bosc pear

sliced

1/3

cup

dried cranberries

1/3

cup

feta cheese

1

cup

cooked lentils

or more for serving
Maple-Orange-Sage Dressing:
1

teaspoon

orange zest

1/4

cup

fresh orange juice

3

tablespoons

balsamic vinegar

2

teaspoons

pure maple syrup

1/3

cup

olive oil

2

leaves

sage

finely chopped

¼

teaspoon

ground cinnamon

1/8

teaspoon

salt

to taste
Instructions
Add all of the ingredients for the dressing to a small blender. Blend until completely smooth and creamy. Refrigerate until ready to use.

Preheat the oven to 375 degrees F.

Coat the butternut squash slices with olive oil and place on a baking sheet. Roast for 20 to 25 minutes, flipping half-way through, or until butternut squash is cooked through and browned.

Add the spinach, pear, dried cranberries, feta, and lentils to a serving bowl. Drizzle in desired amount of vinaigrette and toss until everything is coated. Serve salad on plates or bowls, along with slices of roasted butternut squash.
Nutrition