Use your homemade leftover cranberry sauce for this Cranberry Bourbon Cocktail! All you need is three ingredients: cranberry sauce, bourbon, and ginger beer.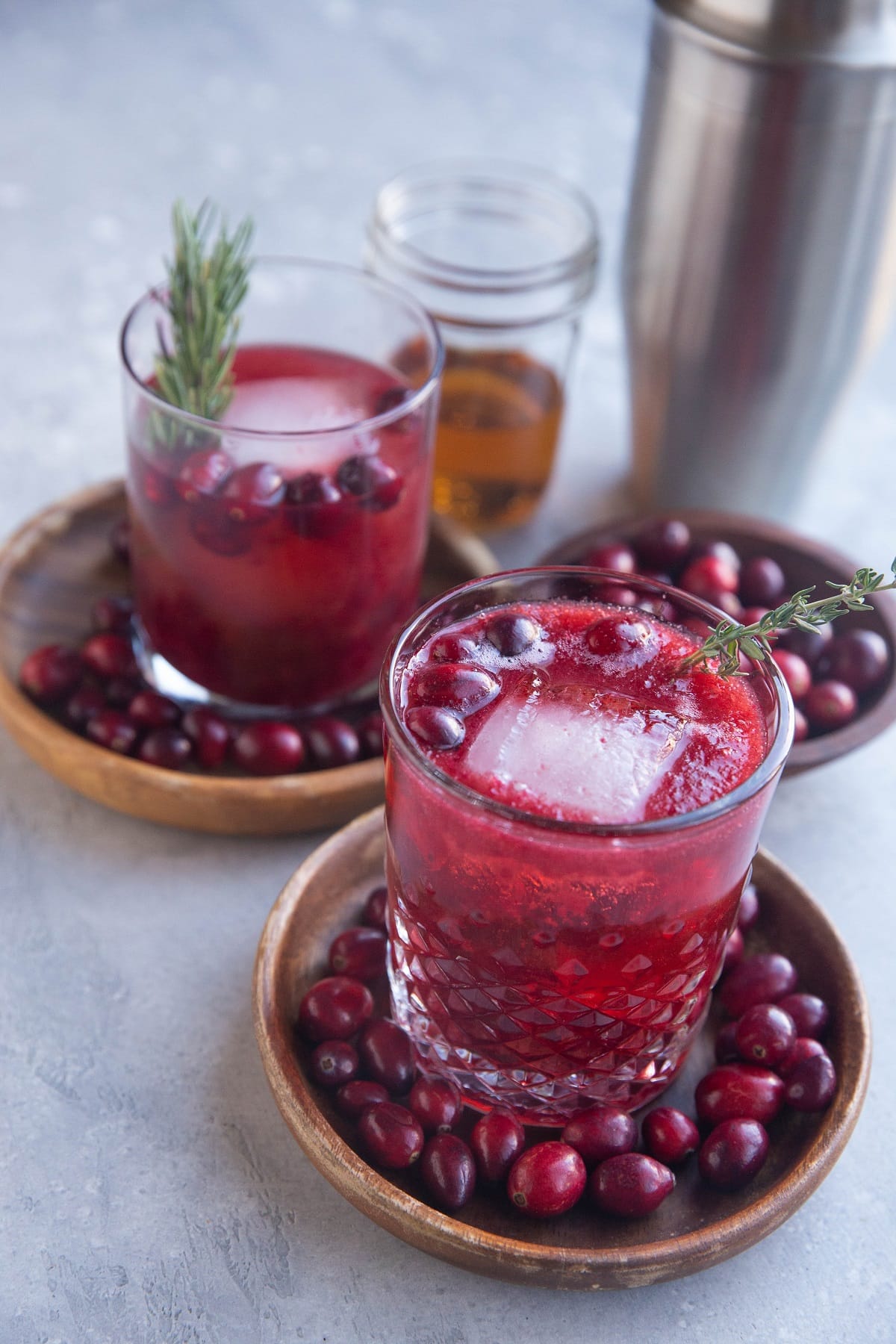 If you're in hot pursuit of a festive cranberry cocktail recipe featuring fresh cranberries, you've struck gold!
All of the hard work is already done for you with this simple cranberry bourbon cocktail.
We're simply using homemade cranberry sauce to generate a frisky spicy little beverage to keep your guests thoroughly entertained.
My family is always left with plenty of Thanksgiving leftovers each year, and as a self-proclaimed lover of leftovers, you can imagine I enjoy getting creative with them.
One of the things I love about this healthier cocktail recipe is it is lower in added sweetener. The homemade cranberry sauce and the ginger beer give it just the right amount of sweetness for a tangy yet delicious beverage that goes down almost too easily.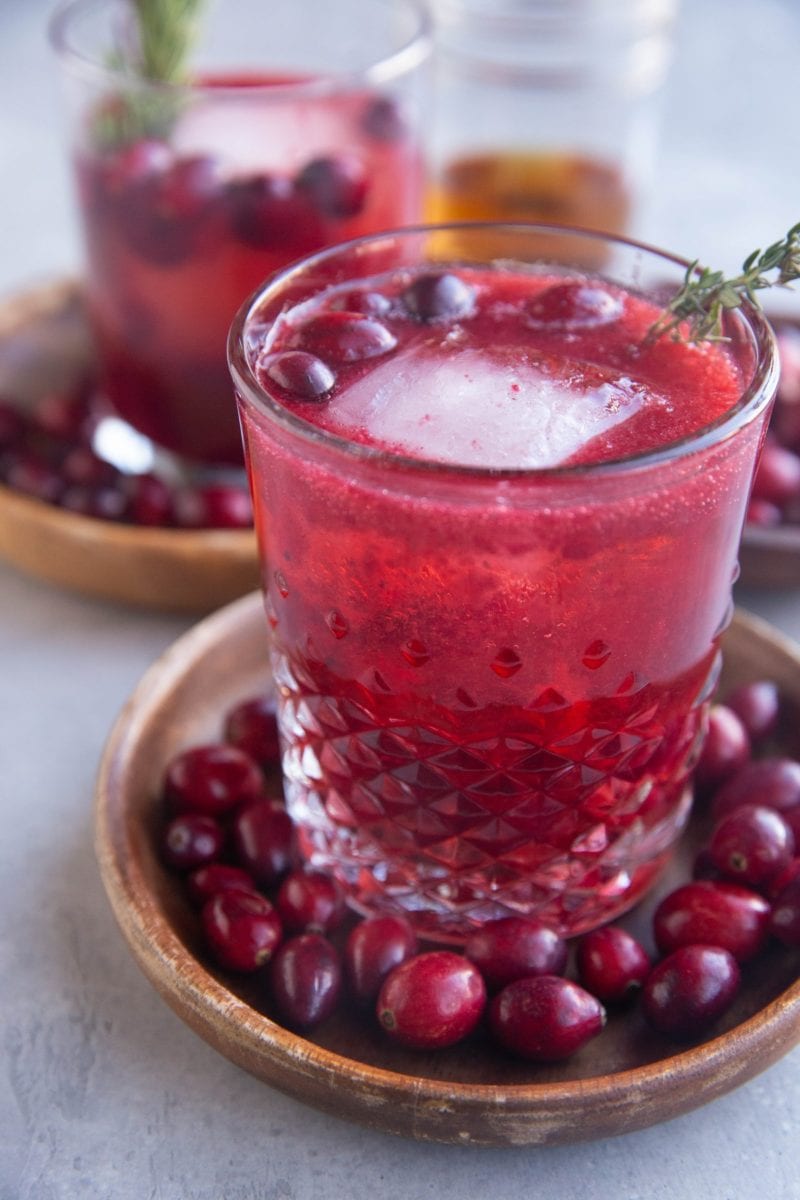 This easy cocktail recipe only requires three basic ingredients. Let's discuss!
Ingredients for Cranberry Sauce Bourbon Cocktail:
Homemade Cranberry Sauce: For the best result, use homemade cranberry sauce from fresh cranberries. While store-bought cranberry sauce will work too, I love the fresh flavor and texture of the homemade version.
Every year, I make either my Cranberry Sauce with Ginger and Maple or my Instant Pot Cranberry Sauce which yields a ton of sauce and results in leftovers.
Bourbon: The star of the show here! You'll be mixing one to two shots of bourbon with your cranberry sauce, then topping it off with ginger beer and club soda. You can adjust the amount of liquor depending on how strong you like your cocktails.
Ginger Beer: Bringing sweetness and fizz to the cocktail, ginger beer gives this delicious adult beverage spunky spicy flavor and also the perfect level of sweetness. You can use club soda or soda water if you prefer!
Pure Maple Syrup (optional): Taste the cocktail before adding any sweetener. If it isn't sweet enough for you, add a little pure maple syrup until it reaches your desired level of sweetness. About 1 to 3 teaspoons should work great.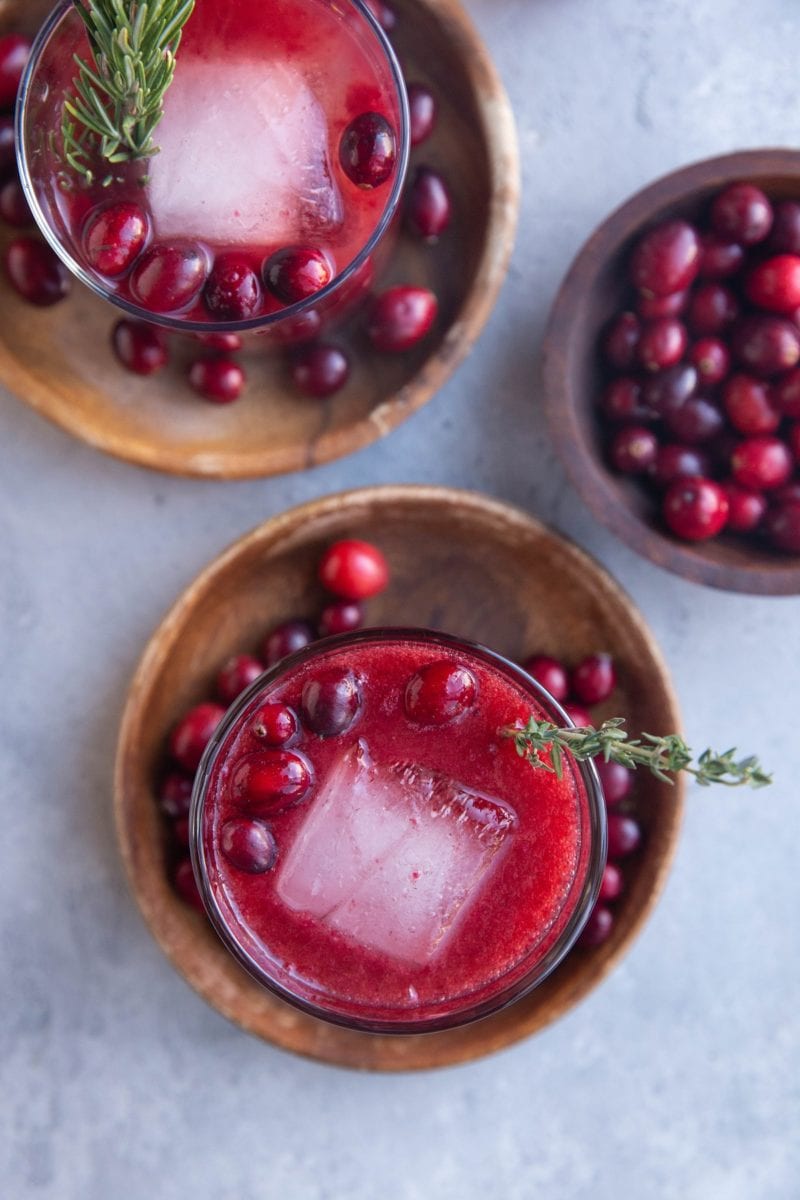 If your Thanksgiving feast resembled my family's, you have about 12 trillion pounds of leftovers and are looking for places to stash them.
Check out my 50 Thanksgiving Leftover Recipes to re-purpose those leftovers, giving you options for excess turkey, mashed potatoes, stuffing, and cranberry sauce.
In addition to this cocktail, I like to make my Vegan Cranberry Crumb Bars and Cranberry Sauce Pancakes with leftover cranberry sauce.
Back in 2014, I went the beverage route for the first time with this recipe by mixing some of the leftover sauce with Bourbon.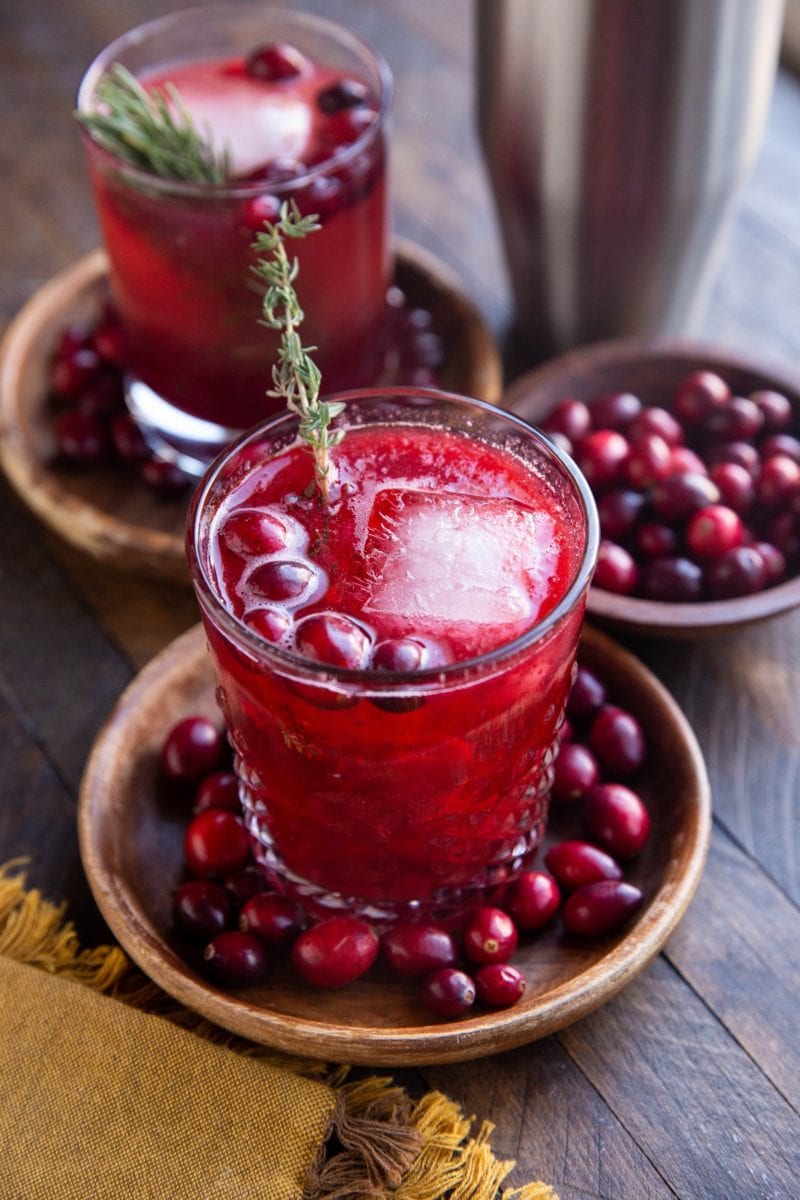 If you like yourself a cocktail, I highly recommend you try this!
The warmly-spiced flavorful sauce goes really well with the liquor, and because the cranberry sauce is cane-sugar free (sweetened only with maple syrup) it adds natural sweetness to the drink without being overly sweet.
Let's make it!
How to Make Cranberry Sauce Bourbon Cocktail:
Transfer 2 to 3 tablespoons of cranberry sauce to a glass and stir in the bourbon until well-combined.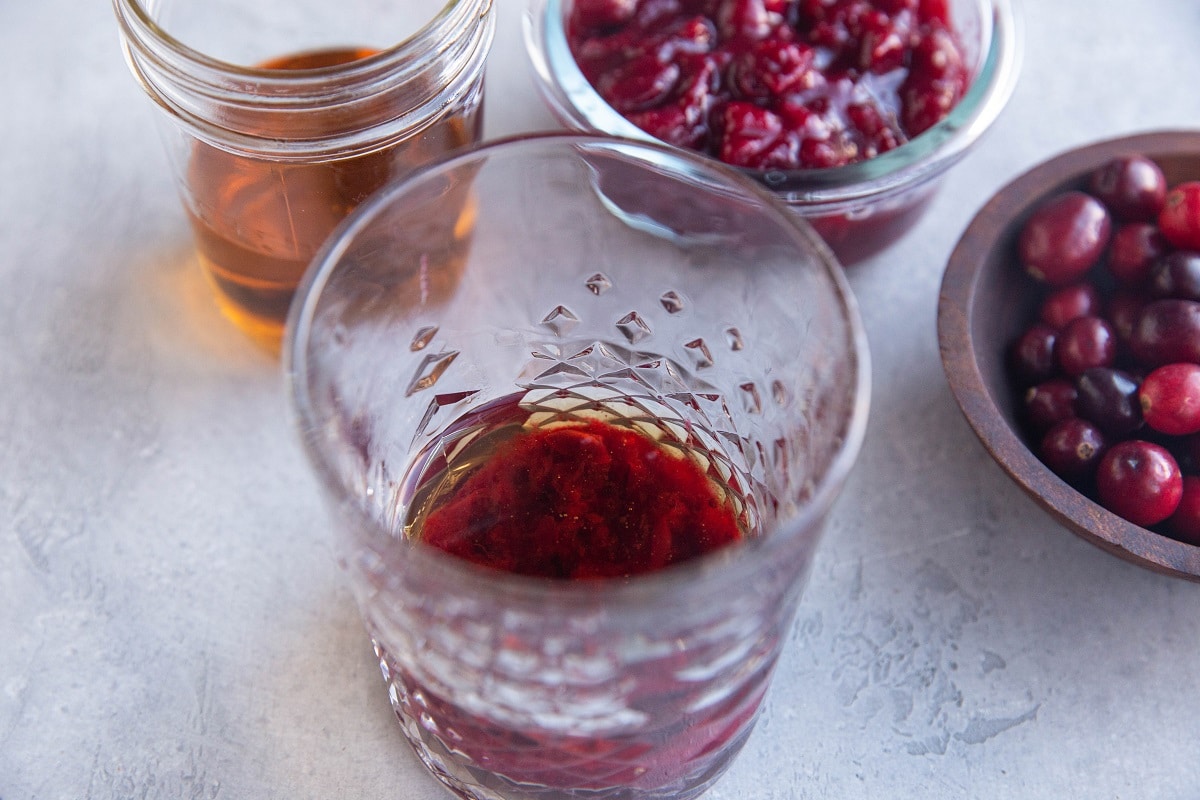 Add your desired amount of ice. I get real fancy and use one enormous ice cube per cocktail which I make using a large ice cube mold.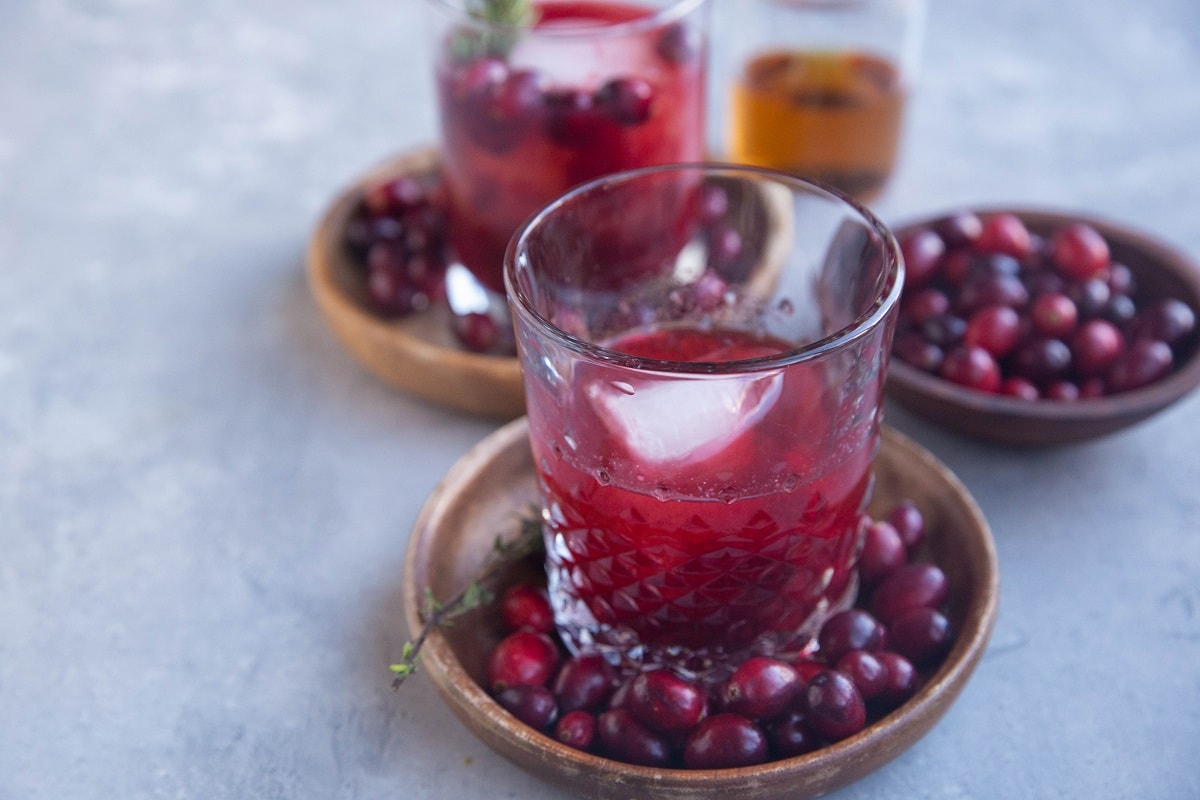 Top off the cocktail with ginger beer or soda water and give it a stir. Apple cider also works well here!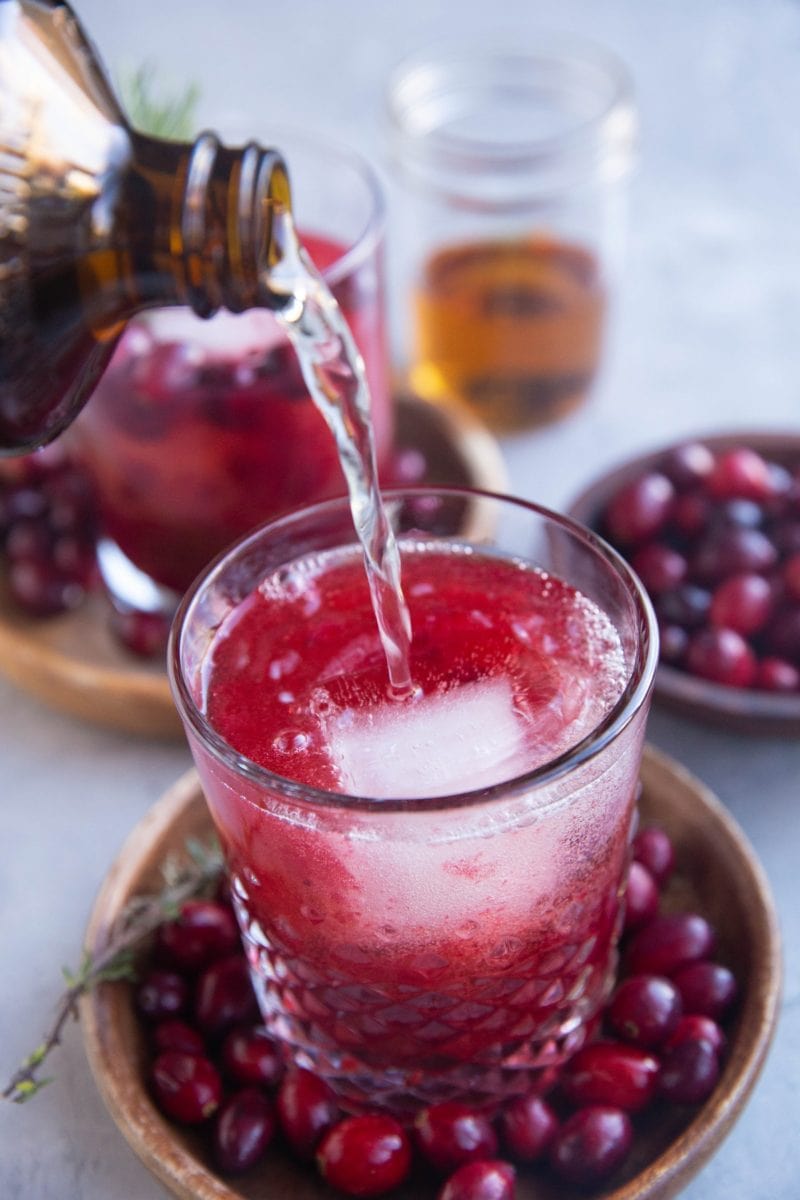 Taste the cocktail for flavor and if desired, add 1 to 3 teaspoons of pure maple syrup to make it sweeter.
Enjoy!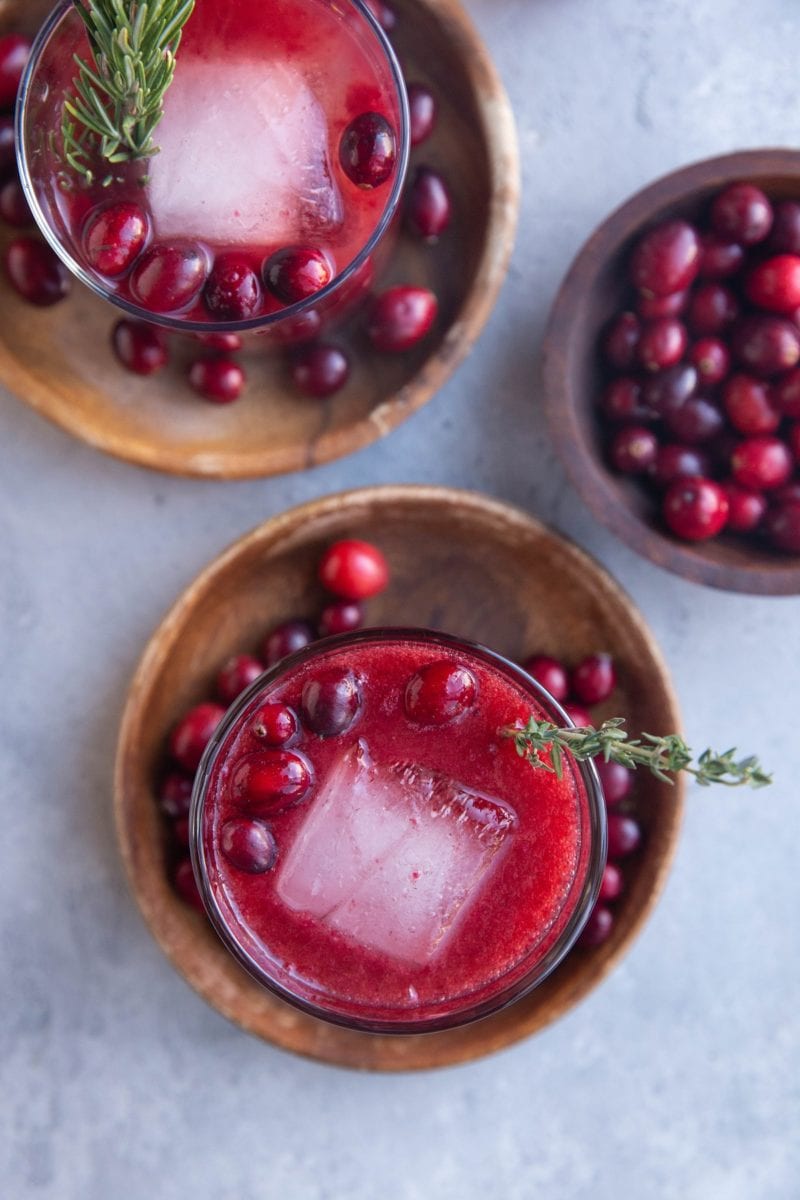 And now I will address the elephant in the room: chunks in your cocktail. Can you hack it?
I wasn't sure how I'd feel about my bourbon hanging out with hunks of cranberries, but I loved it. I drank it with a spoon.
If you're anti texture, you can make a daiquiri slash slush situation by blending these cocktails up in your blender.
My favorite part of the cocktail was eating the cranberries that had been soaking in bourbon at the bottom of the glass…so there is that to consider.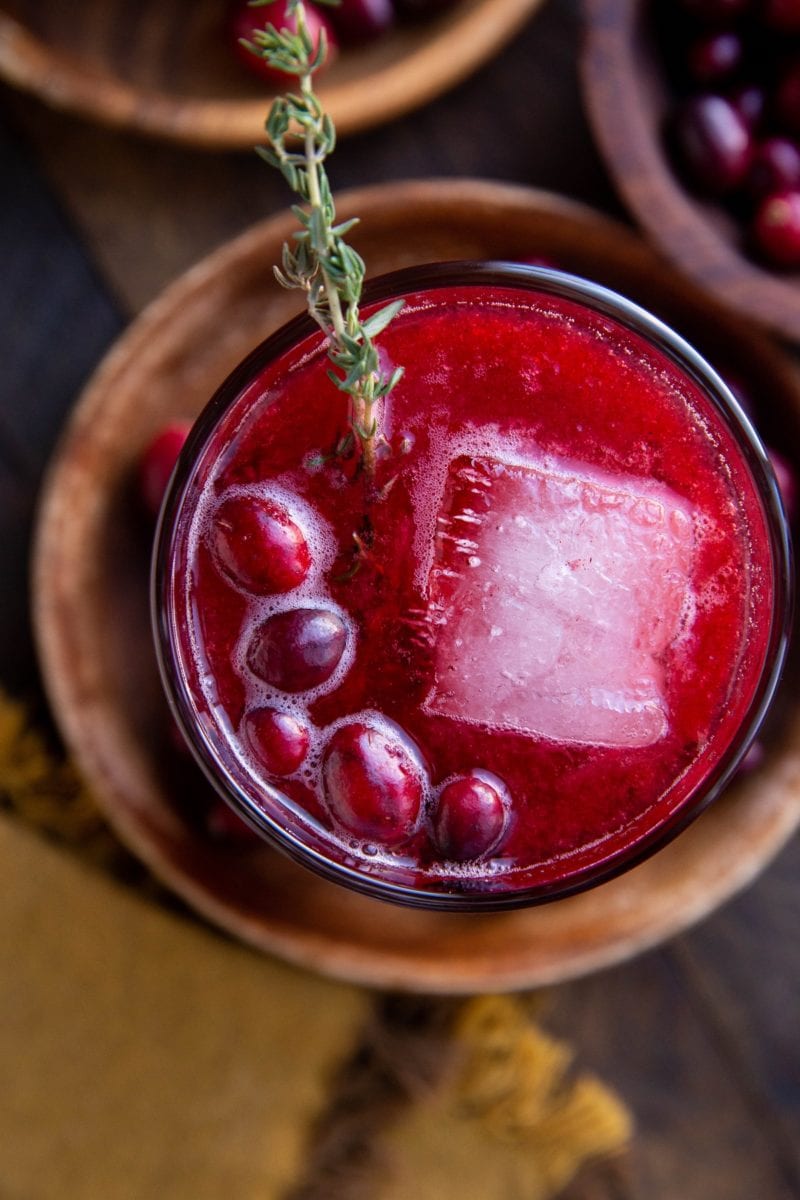 I hope you all had a wonderful and meaningful Thanksgiving, and enjoy all the repurposed Thanksgiving leftovers!
And that's it! The perfect cocktail for entertaining guests during the holidays or any time we're graced with the presence of cranberry sauce.
If you're looking for more festive cocktail recipes, also try my Hot Buttered Rum with Cider, Keto Eggnog, or my Lemon Thyme Bourbon Cocktail.
Cheers!
Cranberry Sauce Bourbon Cocktail
A delicious cocktail perfect for using up leftover homemade cranberry sauce!
Ingredients
2

tablespoons

homemade or store-bought cranberry sauce

1 to 2

shots bourbon

Ginger beer or club soda*

1

lemon wedge
Instructions
Add the cranberry sauce to the bottom of a glass along with the bourbon.

Add ice, then fill the remainder of the glass with ginger beer (or club soda)

Squeeze a lemon wedge into the drink and stir well.

Bottoms up!
Notes
*You can also use soda water or apple cider.
For a sweeter cocktail, add 1 to 3 teaspoons of pure maple syrup, or to your personal taste.
Nutrition
Serving:
1
cocktail
|
Calories:
195
kcal
|
Carbohydrates:
13
g
|
Fiber:
1
g
|
Sugar:
11
g
This post contains affiliate links, which means I make a small commission off items you purchase at no additional cost to you.
I originally posted this cranberry cocktail recipe on November 28, 2014. I updated the photos and some of the copy, but the recipe itself remains the same.