Hot Buttered Rum with just three ingredients! Made paleo-friendly, this is a unique spin on the classic and is a warm and inviting cocktail, perfect for holiday season!
The refined sugar-free hot buttered rum code has been broken! Can you guess the key? Spoiler alert: apple cider's the answer!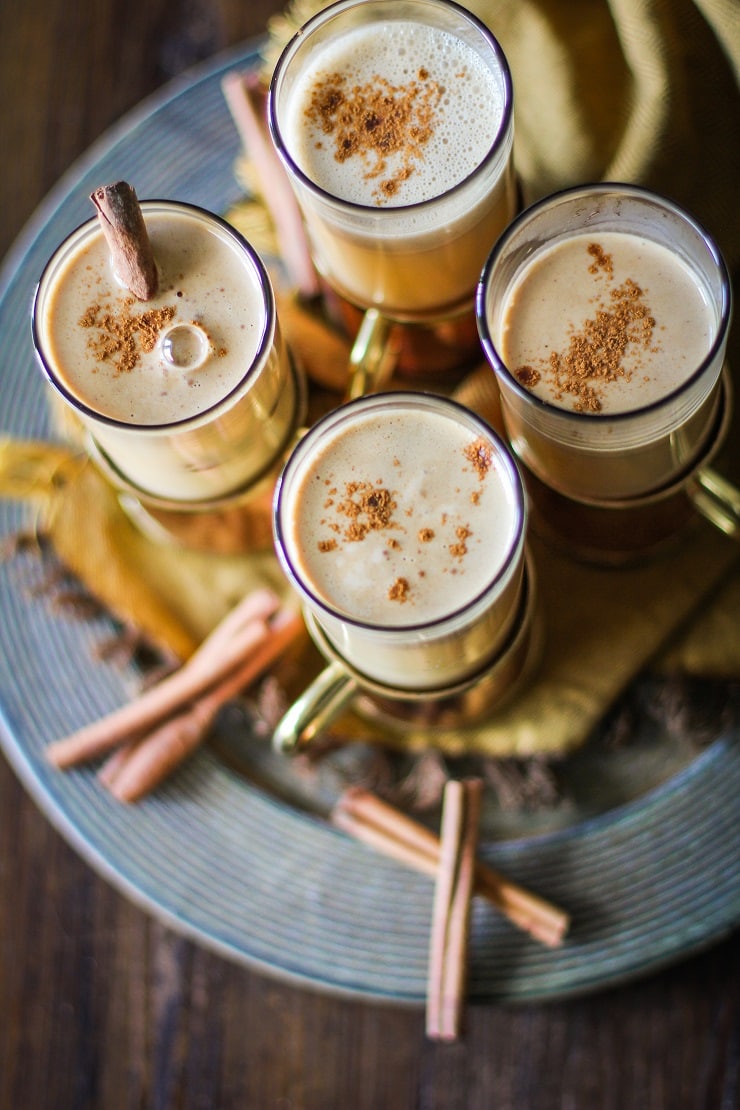 Let's just address the most important question I could possibly think of right now: Have you ever drank butter?
This isn't my first milk fat slurp down.
In point of fact, I used to drink butter every morning for years in the form of Bulletproof Coffee.
All's I can tell you is you haven't lived until you've sipped on butter.
Let's talk about Hot Buttered Rum.
What is Hot Buttered Rum?:
Hot Buttered Rum is a warm cocktail combining rum, spices like cinnamon and nutmeg, brown sugar (or some form of sweetener) and water or cider. My mom used to make it during the holidays, for either Christmas Eve or New Years Eve (or both) for a traditional mug of holiday cheer.
It's basically the cocktail version of one of the Hemsworth brothers making out with your mouth.
Like any cocktail, there are many ways you can make it, but the most common is using the aforementioned ingredients and heating everything together on the stove top.
What Makes This Recipe Unique?:
For a refined sugar-free version of the classic, I use unfiltered apple cider for sweetening and no added sugar. I also use ghee or grass-fed butter instead of regular butter just for the nutrients.
Ghee is lactose-free and contains omega-3 fatty acids in addition to 0mega-6 because it comes from grass-fed cows.
The result is the most perfectly sweet cocktail that is so rich and creamy, it will bring a big smile to your face!
You may just make it every single holiday season! Or all winter long…no one's watching!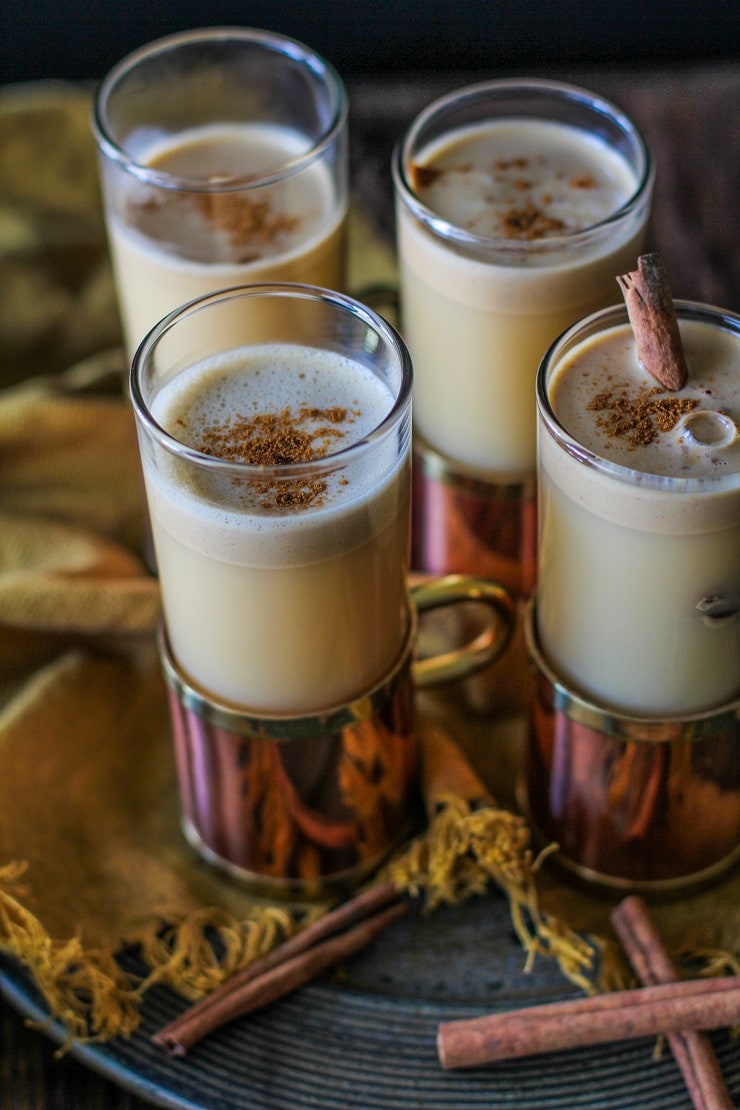 Hot Buttered Rum Ingredients:
Unfiltered Apple Cider: I go with organic unfiltered apple cider, but you can use your favorite apple cider or even apple juice. I find apple cider to have a unique richness that apple juice lacks, but you get to choose your juice, my friends!
If you're using a spiced apple cider, taste the hot buttered rum before adding cinnamon and nutmeg to be sure you aren't overdoing it on spice.
Rum: Pick your poison, but I always recommend quality rum (yes, even if it is for a cocktail), and spiced rum is even better! For this recipe, I use Diplomatico Reserva Rum.
Ghee or Butter: Ghee or grass-fed butter is what makes hot buttered rum nice and creamy and takes the edge off the sting of the rum. If you've never tried rum combined with a fat, it changes the entire experience! I recommend using high-quality (preferably grass-fed) salted butter or ghee for the best results.
How to Make Hot Buttered Rum:
All you do is heat and whisk the cider on the stove with butter until it gets all frothy-like. You then add the booze and BOOM, done and done: hot buttered rum.
Pour it into a funky glass or mug and sip merrily!
#ProTip: Hot liquid and butter whizzed up in a blender turns into a froth fest. So if you want to do one extra step and pour the mixture into your blender, you'll end up with a bloomin' hot buttered rum latte. Can you even? You can.
I used the whisk setting on my Blendtec Blender and simply left the center insert of the lid cracked just slightly.
Do not (I repeat: DO NOT) add hot liquid to a sealed single-serving blender. These blenders are not designed for hot liquid.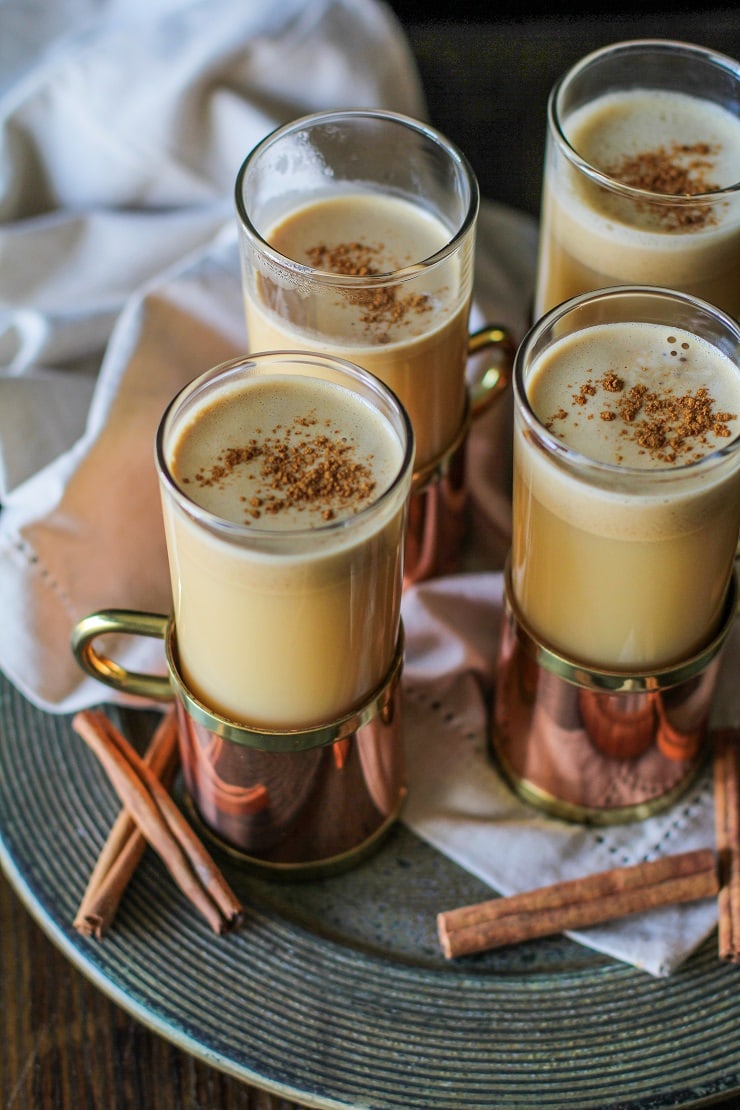 More Holiday Cocktail Recipes:
Get buzzed on butter.
Hot Buttered Rum with Cider
Hot Buttered Rum with Cider is a refined sugar-free paleo cocktail recipe that is ULTRA amazing!
Ingredients
3

cups

unfiltered apple cider

*

4

tablespoons

salted grass-fed butter

or more to taste

1-¼

cups

dark golden rum
Instructions
Add the apple cider, butter and cinnamon stick to a medium-sized pot and bring to a full boil. Whisk vigorously until frothy.

Remove from heat, add the rum, and serve hot.

Note: Once the cider mixture has come to a boil, you can skip the whisking and add all of the liquid (including the rum) to a blender, and blend until frothy. Just make sure the steam can escape by leaving the center hole of your blender's cover open.
Notes
*You can also use 100% pure apple juice, but cider is better! If your cider is already spiced, taste the cocktail before adding cinnamon or nutmeg to be sure you aren't overpowering the drink with spice.
For a sweeter beverage, you can add 2 tablespoons of maple syrup to the hot buttered rum (or to taste).
Nutrition
Serving:
1
of 6
|
Calories:
283
kcal
|
Carbohydrates:
15
g
|
Fat:
10
g
|
Sugar:
15
g