Gluten Free crepes with white cheddar, maple spiced apples, and salted coconut caramel sauce…
Cue the drool!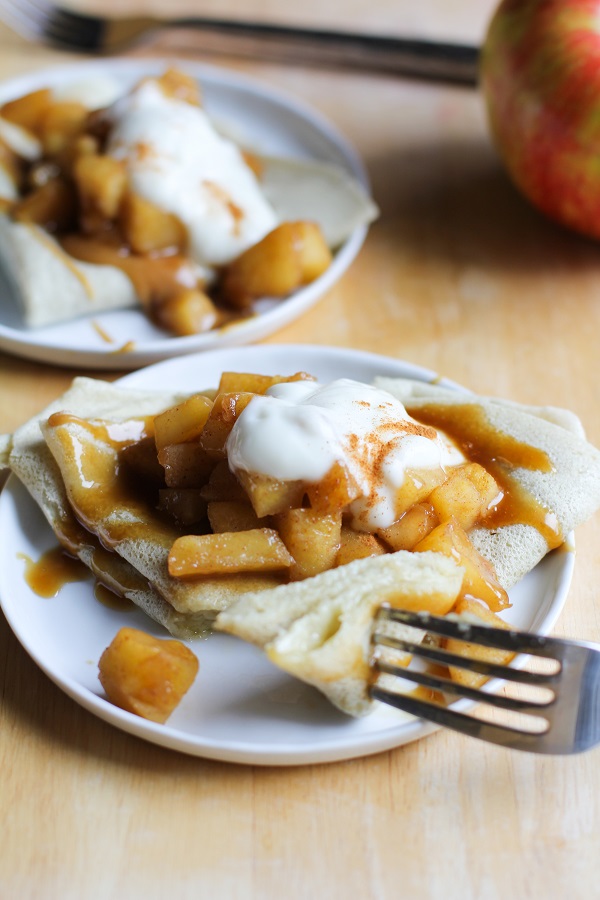 How do you do with the sweet and savory combo? Like, could you just ravage a bag of chocolate covered pretzels, or would you rather keep your sugar away from your salt and your salt away from your sugar? Deez crepes are all about sweet and savory flavors getting along famously in holy crepetramony.
Get it? That's like matrimony, but for crepes.
Let's keep going.
I have so much to say about this crepetramony, so let's start with the savory portion of this recipe: CHEESE.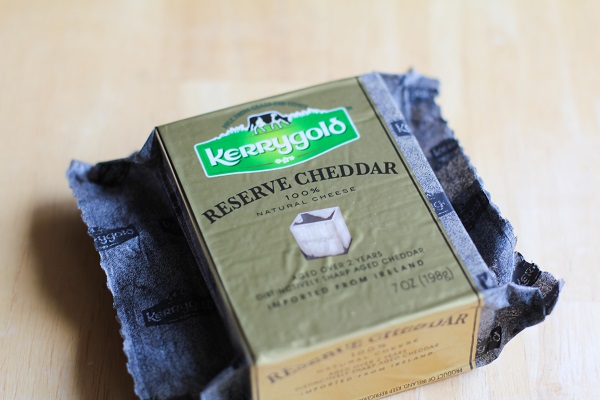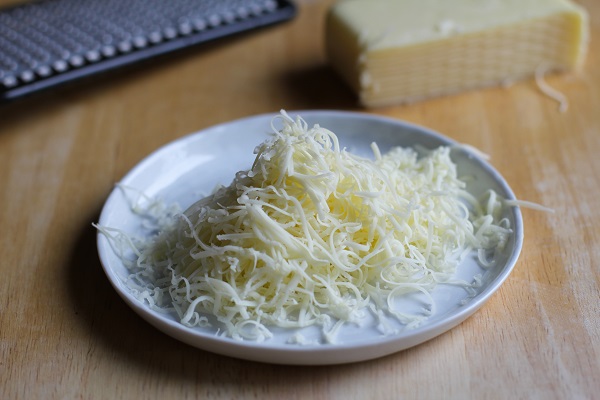 I made these Grain-Free Crepes, and sprinkled some aged white cheddar over them while they were still cooking in the hot pan.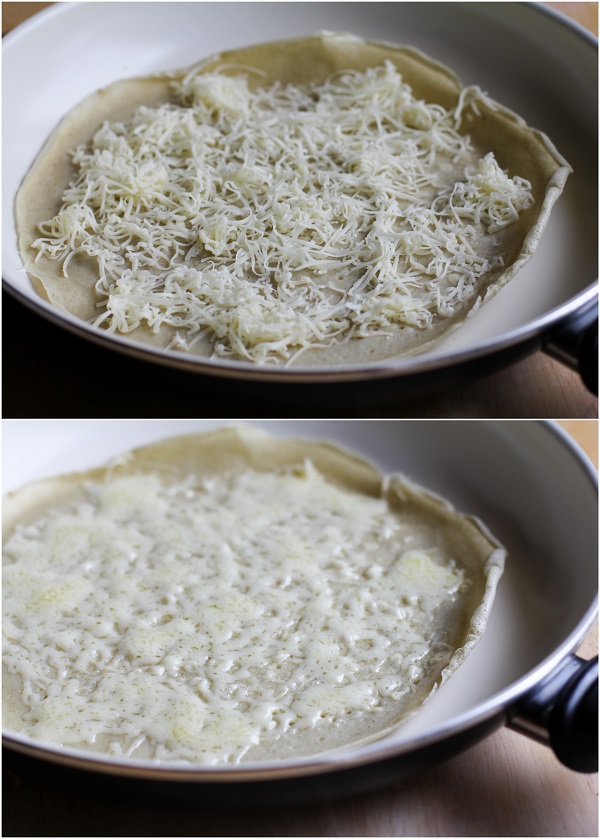 The rich flavorful cheese makes scrumptious melty delight within the folds of your crepe. And then we do things like add a little sweet to our salty bliss.
Have you ever made salted caramel? It can be a bit of a task, but I located an easier AND healthier version of the tasty sauce. I borrowed Faith's Salted Coconut Caramel Sauce from her blog, An Edible Mosaic, and simply omitted the butter because I didn't have any on hand.
The caramel is cane sugar-free and dairy-free as long as you leave the butter out. It tastes just like regular caramel, and even has the same consistency. Epic.mind.blow.!! Have a gander at it: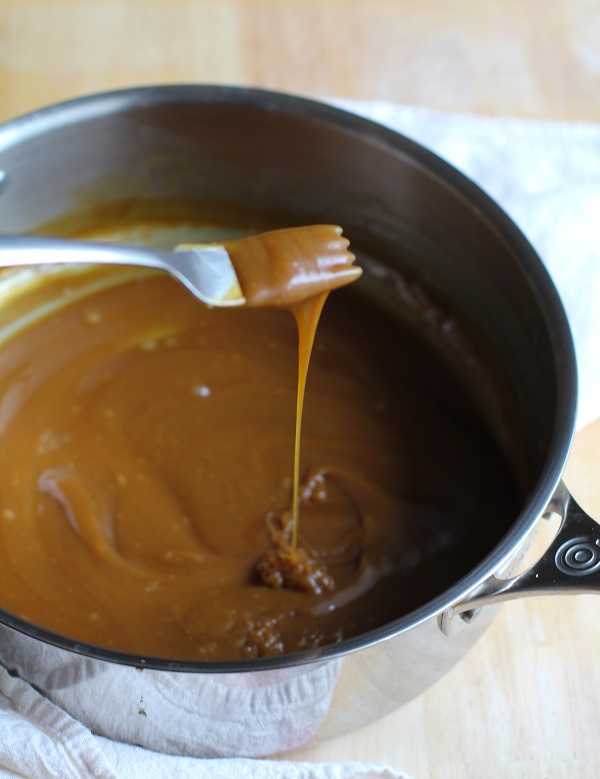 But wait, there's more…
I made an apple topping for these crepes, which is sweetened with pure maple syrup, cinnamon, nutmeg, and spiced apple cider. So when all's said and done, you end up with a cheesy crepe with spiced apple topping and salted caramel drizzled all over it. Serve these crepes with a dollop of Greek yogurt or homemade whipped cream, and you've got yourself a dessert that hits all the texture bases and satisfies both your sweet and salty cravings.
P.S. While these are definitely a decadent fall dessert, there's not a lick of cane sugar in the whole thing. So eat 12. But just kidding, because the recipe only makes 6. So make a double batch. For real.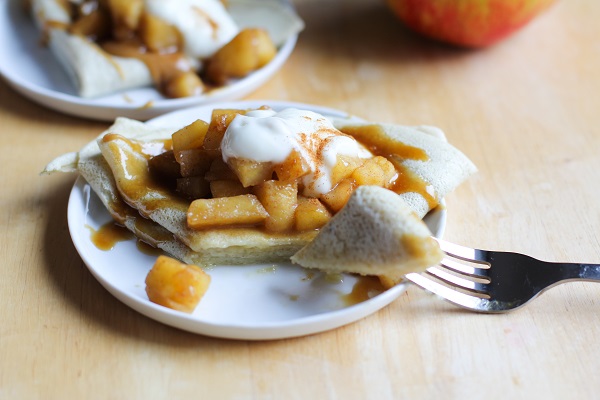 P.S. These are calorie-free.
Cheddar Cheese Crepes with Spiced Apples and Salted Caramel
Crepes stuffed with white cheddar, topped with soft warmly-spiced cooked apples and caramel sauce
Ingredients
For the Salted Coconut Caramel Sauce:
For serving:
1

cup

Kerrygold reserve cheddar

grated

Homemade whipped cream or plain Greek yogurt
Instructions
Follow the instructions for making the gluten free crepe batter.
Make the Salted Coconut Caramel:
Add the coconut milk, maple syrup, and coconut sugar to a medium-sized sauce pan and bring it to a full boil. Allow mixture to boil, stirring frequently, until thickened, about 10 to 15 minutes.

Add the vanilla extract, salt, and unsalted butter to the caramel mixture. Stir until combined, then remove caramel from the heat.

Set aside until ready to use. Note that the caramel will continue to thicken the longer it sits.
Make the Apple Topping:
Add all ingredients for the apple topping to a small saucepan and heat to medium.

Bring to a full boil, reduce the heat slightly, and allow apples to cook at a full but gentle boil. Stirring occasionally, cook until most of the liquid is absorbed and apples have softened, about 8 to 10 minutes.
Make the Crepes:
Take the crepe batter out of the refrigerator and let it come to room temperature (or close to it).

Heat a medium-sized (9 or 10-inch) skillet to medium-low with just enough oil or butter to lightly coat the surface.

Measure ¼ cup of the batter and pour it onto the center of the hot skillet. Immediately rotate the pan so that the batter is thinly covering the whole surface. Allow batter to cook until the edges begin to pull away from the pan and small air bubbles rise to the surface, about 1 to 2 minutes.

Carefully flip crepe to the other side and add desired amount of cheddar cheese (I used about 3 tablespoons of cheese per crepe). Allow cheese to melt then transfer the crepe to a plate. Fold it into a rectangle and top it with desired amount of apple topping, salted caramel, and a dollop of whipped cream or plain Greek yogurt.

Repeat for remaining batter and enjoy!
Nutrition