Kabocha Squash Cake with Chai Caramel is a healthier warmly-spiced dessert recipe. Made gluten-free and refined sugar-free, this cake is mostly naturally sweetened using kabocha squash!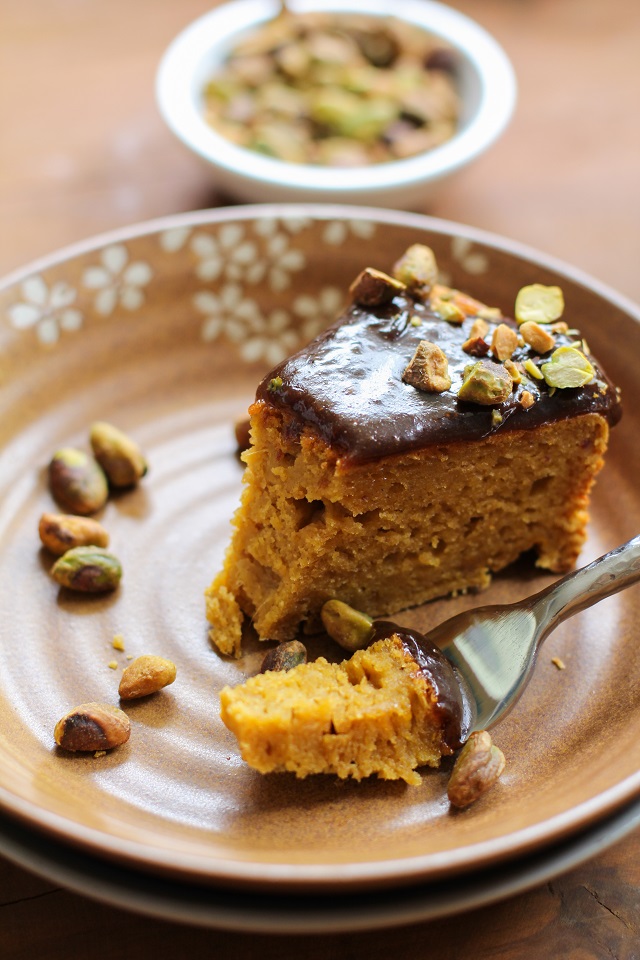 Also known as that time I made and ate a whole cake and lived to tell the tale.
Okay, okay. You caught me, I didn't eat the entire thing in one sitting…but I did eat half.
Something you may or may not know about me is I have little to no self-control when it comes to anything fluffy, sweet, cinnamon-y, crunchy, and/or gooey.
So basically, I have zero self-control. In life.
In my defense, this cake was and is a manifestation of of all the fall-esque things that make me feel as though I'm wearing an adult onesie made out of fleece and kitty cat sneezes.
Who can resist the food form of a snuggie for your tongue buds? No one!
Kabocha Squash:
Have you made the acquaintance of the kabocha squash? It's my favorite of all the squashes.
By a long shot, even! It's so thick and sweet, it's like you're chewing on nature's carb candy.
I used to be all about the butternut squash, until I met the kabocha squash, which is a whole other ball of squash wax. And now I see butternut squash as child's play. Still amazing, but it's got nothing on the kabocha. Just a little personal preference for the record.
Recipe Highlights:
The following is true about this cake:
It's the fourth gluten-free cake I've ever made. Ever.
This marks the first time I've ever made Chai Caramel
It's the best use of kabocha squash ever.
This yummy healthy cake was inspired by the cookbook, Baking with Less Sugar
About that…
I got my hot little hands on the cookbook, Baking with Less Sugar by Joane Chang and not only fell in love with the gorgeous photos but was super impressed by the huge range of tasty bakeables using – you guessed it – less sugar.
Chang owns Flour Bakery + Cafe in Boston, and is also the author of Flour, and Flour, Too, so it goes without saying, she knows her sugar.
Chang's focus for this book was to shed light on the science behind sugar – did you know sugar helps trap and hold moisture, stabilizes eggs, and whips air into solid fats during the creaming process, yielding a softer baked good?
This was all news to me! Her book is a training manual for showing us how to train our taste buds to enjoy sweets that contain little or no refined sugar.
The book has 60 recipes that incorporate either a small amount of cane sugar (which can be replaced with coconut sugar), honey, pure maple syrup, molasses, or fresh or dried fruit.
While most of the recipes in the book call for all-purpose flour, it is easy to substitute the regular flour for your favorite gluten-free blend. So basically, the book is super pimp for a sweet toother like me, who tries to keep the sweets less…sweet.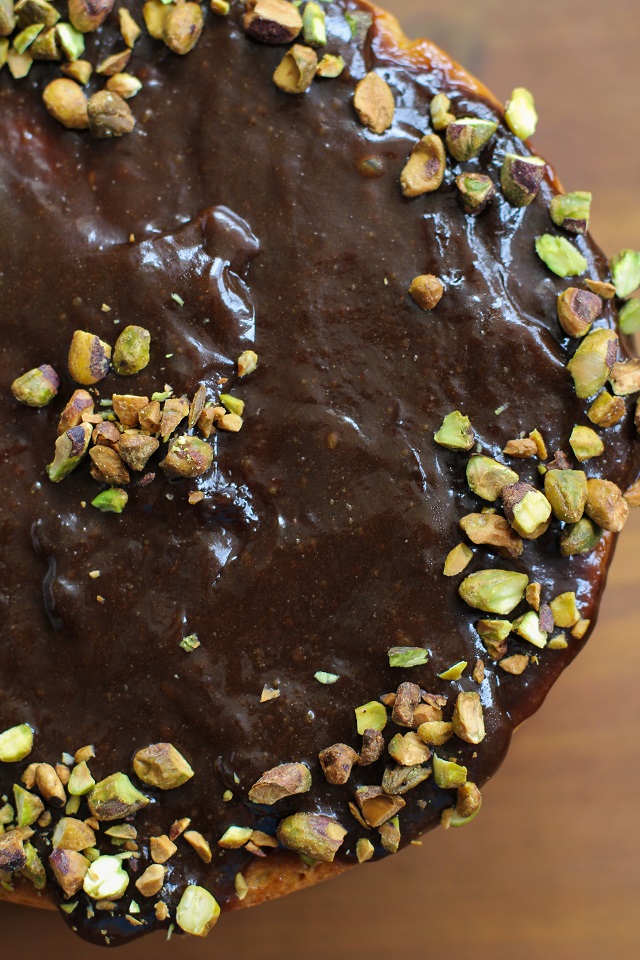 I know. Face. Plant.
All that said, I had a difficult time choosing which recipe to bake first.
I settled on the Kabocha Squash Spice Cake, because it sounded like a blanket of fall comfort for my face. I made a few adjustments and was super psyched with the result.
The following are the changes I made from the original recipe:
Used whole milk plain yogurt instead of whole milk.
Substituted canola oil for coconut oil
Added coconut sugar. I know…the point was to keep it low in sugar, but I was feeling a little extra sweetness. The cake still doesn't turn out mega sweet, so feel free to add more coconut sugar to taste.
Used gluten-free flour instead of regular all-purpose flour.
Added the chai caramel topping, because whoa momma, it's good!
I'd be willing to bet if you're like me and you enjoy sweet thangs on the daily but try to keep them on the lower glycemic end of things, this book will do ya good.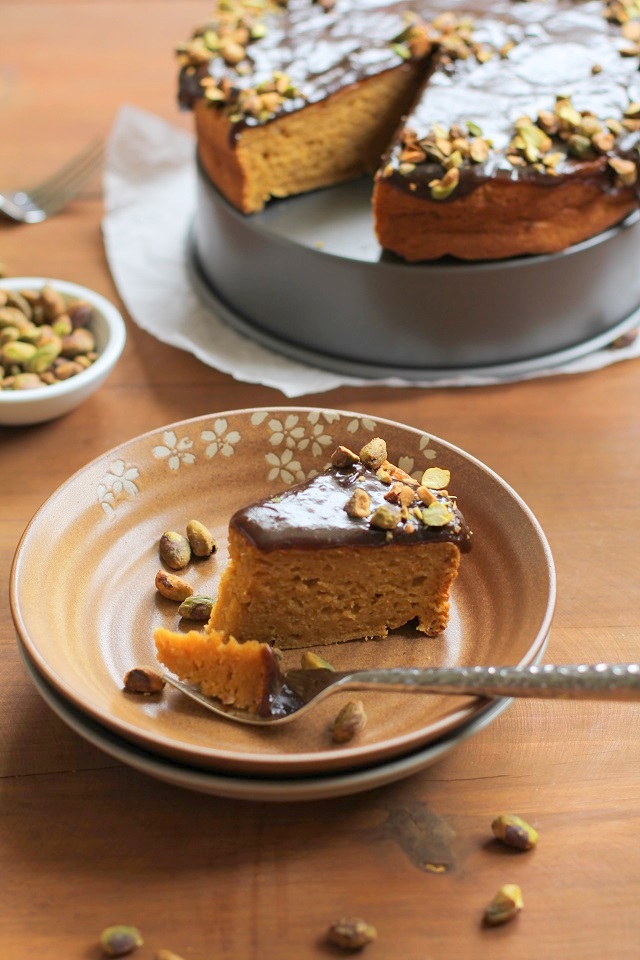 Moist, dense yet fluffy, sweet but not too sweet…this Kabocha Squash Cake is what dreams are made of.
Whip it up during the fall and winter months for day to day enjoyment, for special occasions, or for holiday gatherings.
Kabocha Squash Spice Cake with Chai Caramel
Kabocha Squash Cake made gluten-free and refined sugar-free
Servings:
1
(8-inch) cake
Ingredients
Kabocha Squash Spice Cake:
1

cup

mashed kabocha squash

12

large medjool dates

pitted

½

teaspoon

baking soda

½

cup

coconut oil

melted

2/3

cup

whole milk plain yogurt

1

Tbsp

fresh ginger

peeled and grated

2

large eggs

1¾

cups

gluten-free all-purpose flour

1/3

cup

coconut sugar

or more for a sweeter cake

1½

teaspoons

baking powder

1

teaspoon

ground cinnamon

¼

teaspoon

allspice

½

teaspoon

sea salt
Chai Caramel
½

cup

coconut sugar

½

teaspoon

ground cinnamon

¼

teaspoon

allspice

½

teaspoon

sea salt

to taste

1-½

tablespoons

salted butter

1

teaspoon

pure vanilla extract
Instructions
Bake the kabocha squash and mash it

Preheat the oven to 350 degrees F and lightly oil or butter an 8-inch round cake pan.

Place the dates in a bowl along with the baking soda and fill with boiling water. Allow dates to sit 10 to 15 minutes to allow them to soften. Strain the water and place dates in a high powered blender.

Add the mashed kabocha squash, coconut oil, plain yogurt, and grated ginger to the blender. Blend until completely smooth. Add the two eggs and blend just until combined.

In a mixing bowl, whisk together the flour, coconut sugar, baking powder, cinnamon, allspice and salt (dry ingredients).

Pour the pureed kabocha mixture into the bowl with the dry mixture and stir together until combined. The batter will be thick.

Pour the cake batter into the prepared pan and smooth into an even layer using a rubber spatula or wooden spoon.

Place on the center rack of the oven and bake 35 to 45 minutes, until the center tests clean.

Allow cake to cool to room temperature, about 1 hour.
Make the Chai Caramel:
Heat the coconut milk, coconut sugar, cinnamon, allspice, and sea salt in a medium-sized skillet over medium-high heat and bring to a full boil. Reduce heat slightly and allow mixture to continue to cook at a gentle boil, whisking constantly, until dark brown and thickened, about 10 to 15 minutes. Remove from heat and add the butter and vanilla extract. Allow the caramel to cool (Note: the caramel will thicken even more as it cools).

Turn the cake out onto a cutting board or cake platter. Pour the chai caramel on the center of the cake and use a rubber spatula to smooth it over the full surface of the cake. Sprinkle with chopped pistachios (or walnuts or pecans) and serve.
Nutrition
Serving:
1
Slice (of 8)
|
Calories:
382
kcal
|
Carbohydrates:
62
g
|
Protein:
4
g
|
Fat:
16
g
|
Fiber:
4
g
|
Sugar:
36
g
This post contains affiliate links, which means I make a small commission off items you purchase at no additional cost to you.