Grain-Free Waffles made easily in a blender with cinnamon-spiced stewed apples and homemade caramel sauce. A healthful gluten-free, refined sugar-free breakfast recipe perfect for the fall and winter months!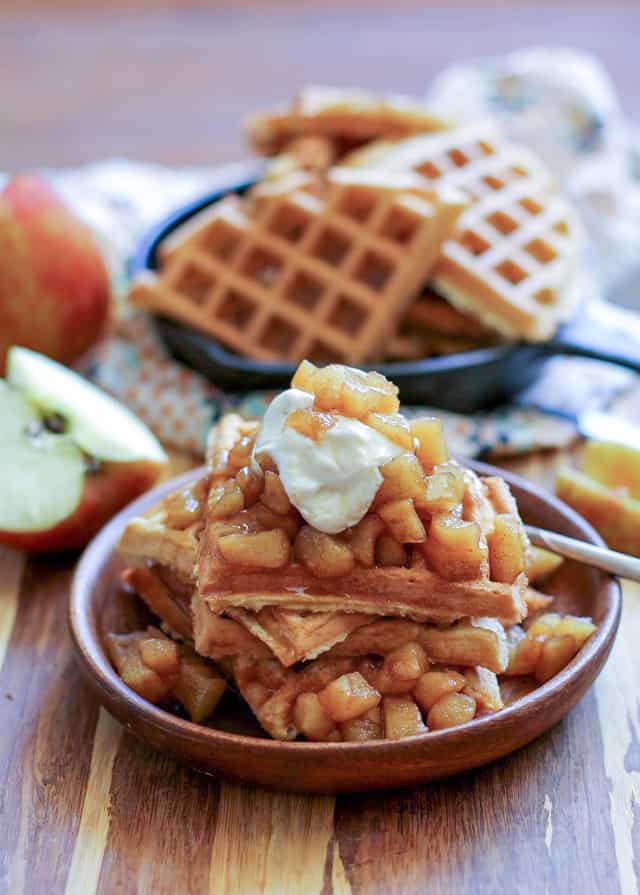 Apple pie waffles, that's what they call these.
If you embrace the Human Condition like me, and are always always seeking more, better, greater things to fill your hungry mind, body, and soul, you're probably all about the dessert-for-breakfast situation.
You wouldn't want to forgo a great encounter with a steamy stack of mock apple pie waffles drizzled with homemade caramel, and then go to work Monday morning and hear all about the delicious apple and pumpkin things your co-workers ate for breakfast all weekend, because: FOMO.
The spiced apples are where it is at with this recipe.
And the homemade Paleo Salted Caramel.
Don't even think about skipping it!
You can cook them up while you waffle batter is getting the spa treatment on the waffle iron.
The whole process is therapeutic, because your house will smell like a legit cider factory exploded into the most beautiful spectrum of warmly-spiced maple-cinnamon-scented aroma.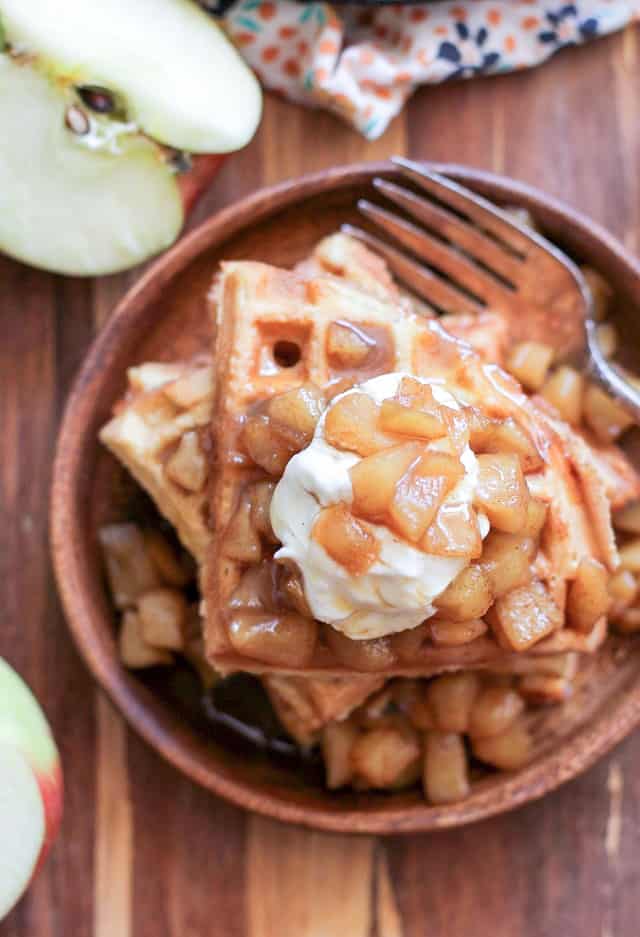 The only thing missing is a great playlist.
Mr. Probz Pandora Radio. Boom. Got ya covered.
The best part about these waffles, other than the fact that they taste like straight up apple pie is they are lower-carb all healthy-like.
There's not an ounce of refined sugar in the whole thing, and per usual, and the waffles are grain-free.
So I may talk a big talk about letting your hair down and eating dessert for breakfast, but in the grand scheme of things, this stack isn't all that bad for you.
In fact, you're getting your fiber and apple vitamins, so there is that.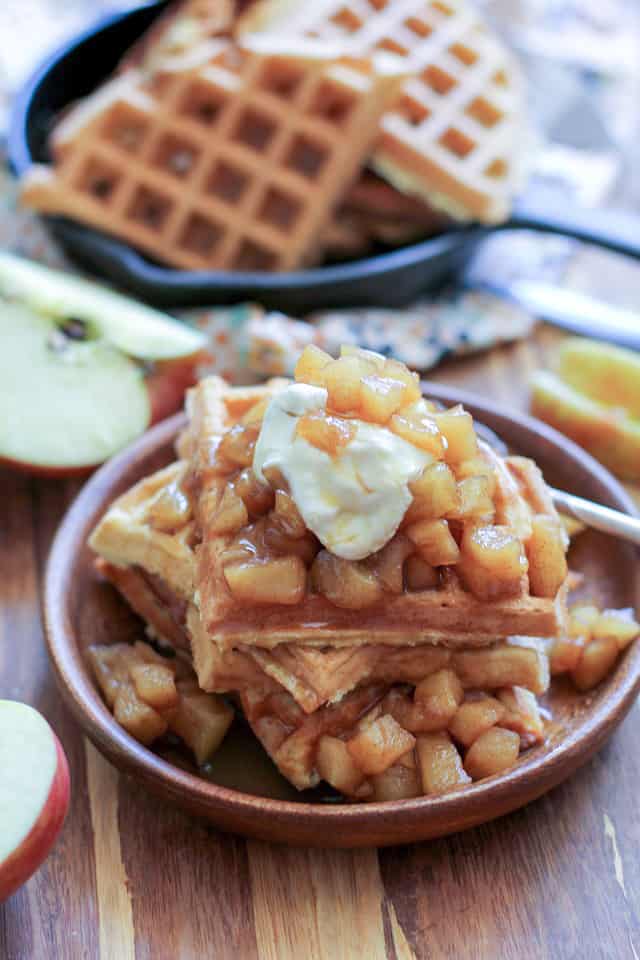 I will say, this is the breakfast you want to make when you don't need to be anywhere in a hurry, since there are many moving parts.
The caramel does take a hot minute (or 30), as do the spiced apples, but both can be made ahead of time if you'd like.
So basically, you want to make these waffles when you're allotting yourself a lazy weekend morning, sipping on all the pots of coffees or when you're able to make the recipe in parts.
The waffle recipe here is very similar to the Paleo Blender Waffles I showed you a while back.
They're a cinch to make, since you just toss all the ingredients in your blender to make the batter. You can use a mixing bowl, too, if you're having a no-tech Saturday or Sunday.
Also try these with my Chai-Spiced Paleo Salted Caramel!
Your weekend needs waffles.
Grain-Free Waffles with Spiced Apples and Caramel Sauce
Grain-Free Waffles with Spiced Apples and Caramel Sauce are a marvelously decadent breakfast for celebrating the weekend, fall, and life! 🙂
Servings:
3
Large Waffles
Ingredients
For Serving:
Coconut Whipped Cream or Greek yogurt
Instructions
Prepare the homemade paleo salted caramel.
Prepare the Spiced Apples:
Add all of the ingredients for the apples to a saucepan and bring to a full boil. Cover, reduce the heat slightly, and allow the mixture to cook at a gentle boil, stirring occasionally, until apples have softened and the juices are thick, about 20 to 30 minutes.
Prepare the Waffles:
Plug in your waffle iron, heat to medium-high, and spray with cooking spray.

Add all of the ingredients for the waffles to a blender and blend until smooth. Allow batter to sit 5 minutes.

Pour about 1/4 cup to 1/3 cup of batter in the center of the hot waffle iron (batter will be very thin). Secure the lid and cook until waffle is golden-brown and cooked through, about 2 to 3 minutes. Repeat for remaining batter.

Serve waffles with generous amounts of the spiced apple mixture and paleo salted caramel!
Nutrition
Serving:
1
Waffle + Topping
|
Calories:
323
kcal
|
Carbohydrates:
53
g
|
Protein:
10
g
|
Fat:
9
g
|
Fiber:
6
g
|
Sugar:
27
g