Paleo dairy-free Dulce de Leche Ice Cream made with coconut milk and sweetened with pure maple syrup. This rich, caramel dessert recipe is loaded with flavor!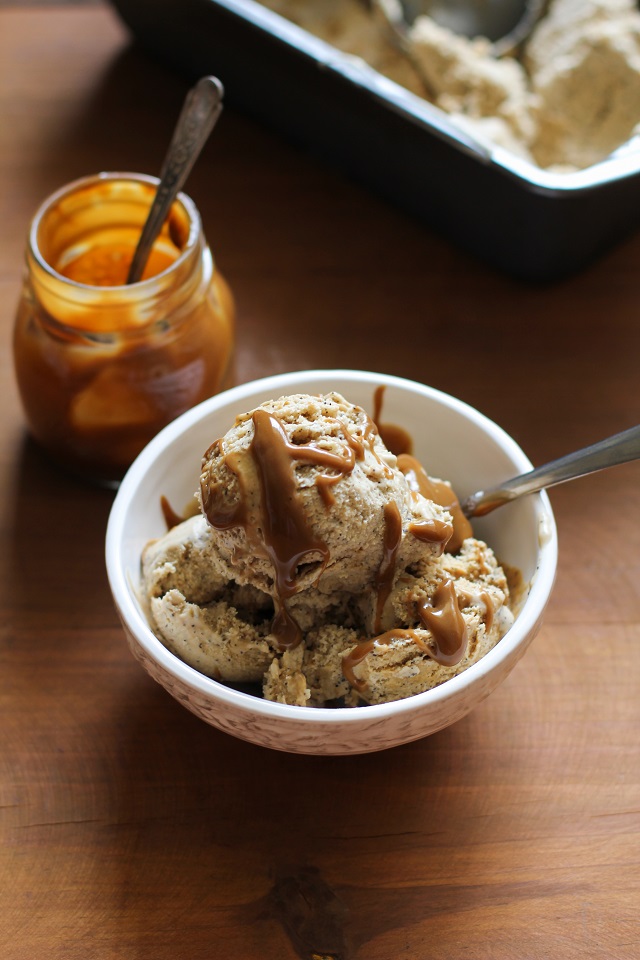 Dulce de leche ice cream and I have a sultry history.
Back when I had an obsession with Häagen-Dazs Dulce de Leche ice cream.
It was my every-Friday-night affair.
I didn't even know what dulce de leche was (just that it tasted like buttery bliss on my tongue buds) until I became best friends with a girl from Bolivia, and she explained the whole thing to me.
To summarize: dulce de leche (or manjar, doce de leite, cajeta, courtada, confiture de lait, HaPå, or варёная сгущёнка) is a big.deal.
So lettuce discuss.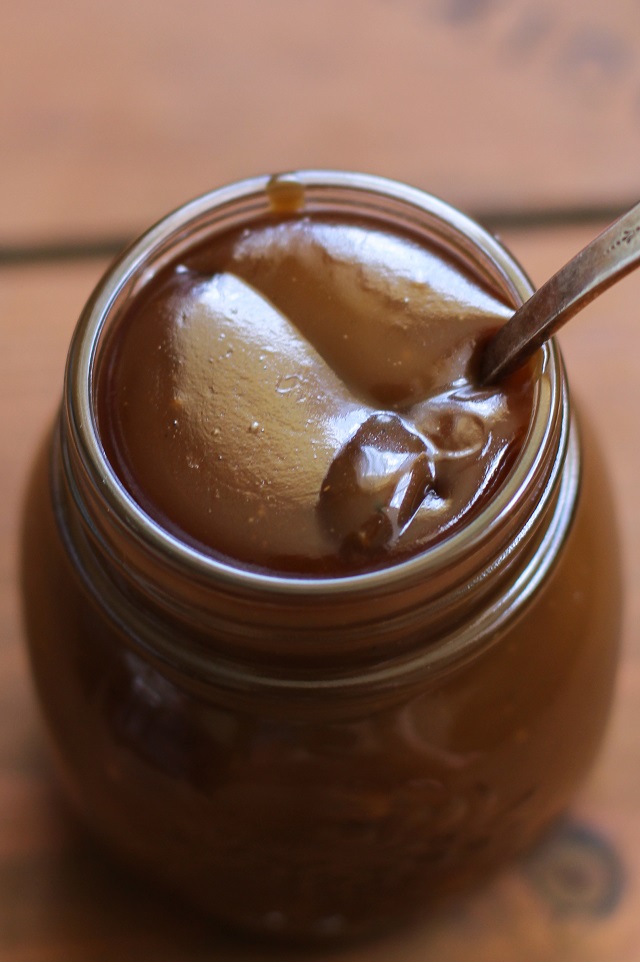 What is Dulce de Leche?
It may as well be a universal language, as many countries around the world have their own take on it. Made by slow cooking milk and sugar (or sweetened condensed milk or coconut milk depending on the country), our equivalent of dulce de leche is homemade caramel.
In case you're unfamiliar, the phrase dulce de leche means "candy (sweet) of the (made from) milk."
Many Central and South American countries have their own take on dulce de leche, as does Portugal and Spain…and – well – the rest of the world.
For instance, in Chile and Mexico, this caramel substance is referred to as "manjar," and it has a bit of a vanilla flavor to it.
Cubans tend to make it using curdled milk and call it courtada.
In the Dominican Republic, this treat is more of a fudge than a sauce, and has cinnamon added to it.
Puerto Ricans sometimes make dulce de leche with coconut milk, just like we've done here today.
A very similar rendition of dulce de leche is popular in France, Norway, Russia, and many other countries worldwide.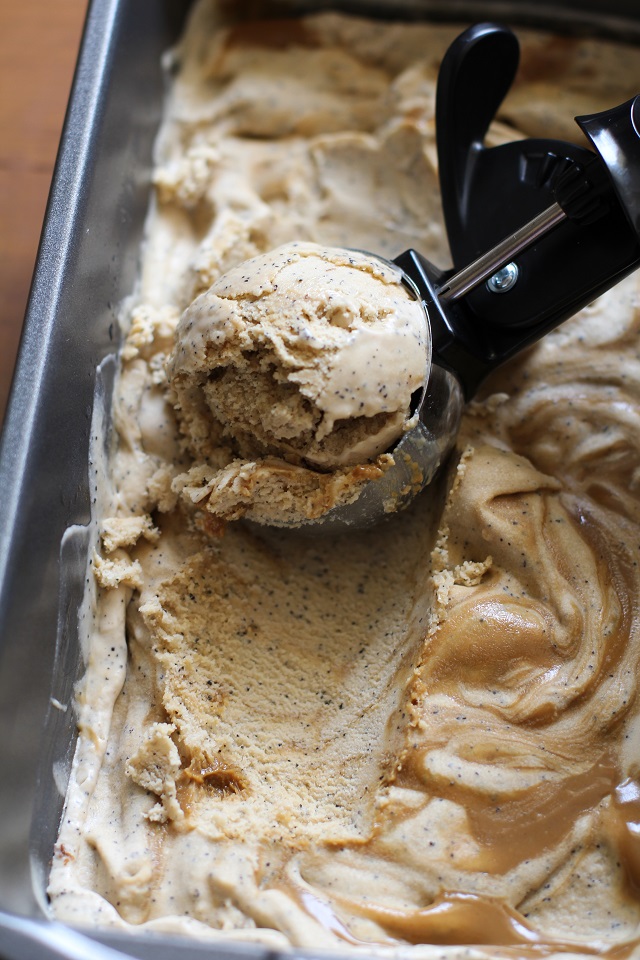 Perhaps my favorite part about all this, other than the fact that each nation has its own caramel dialect, is the fact that it is customary in many countries to spread this delight on toast and eat it for breakfast.
I went to South America twice a number of years ago, spending a total of three months in Chile and Peru. Each morning, I ate fresh fruit with yogurt and toast with butter and dulce de leche (or manjar as Chileans call it).
I even brought back bags of the stuff, which lasted be approximately 8.7 seconds when I got home. A full-tilt caramel addiction is a tough one to kick!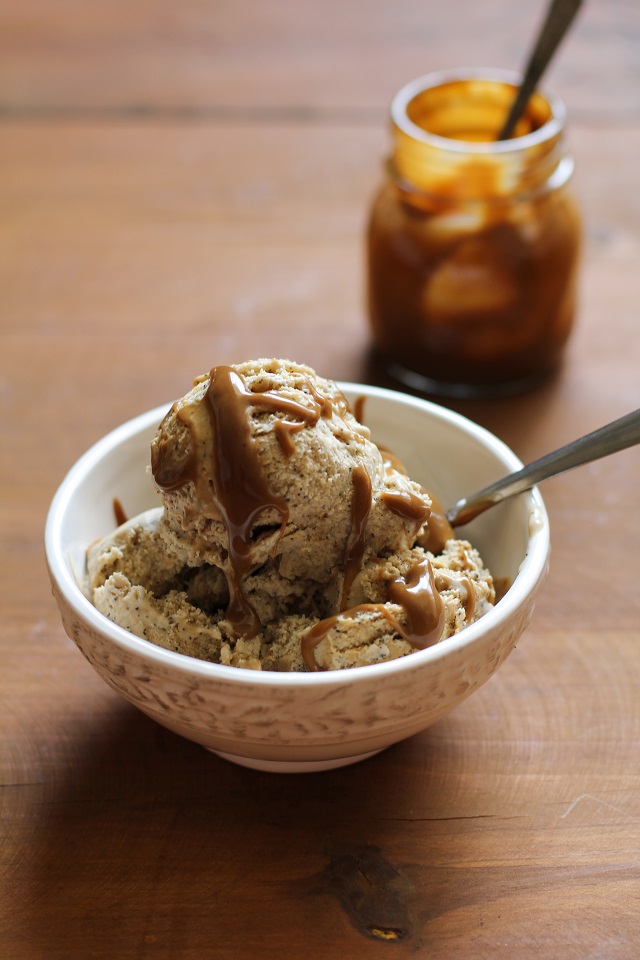 So this dairy-free dulce de leche ice cream.
You basically make a batch of vanilla bean coconut milk ice cream (sweetened with pure maple syrup or dates) and then pour in nearly an entire batch of homemade sugar-free Paleo Salted Caramel.
While the end result does not taste exactly like the store-bought version, you are left with a sweet, creamy, buttery dessert that makes your face hole go "ah yeah!"
Just be sure to save a smidge of the caramel sauce for serving the ice cream, because: wow!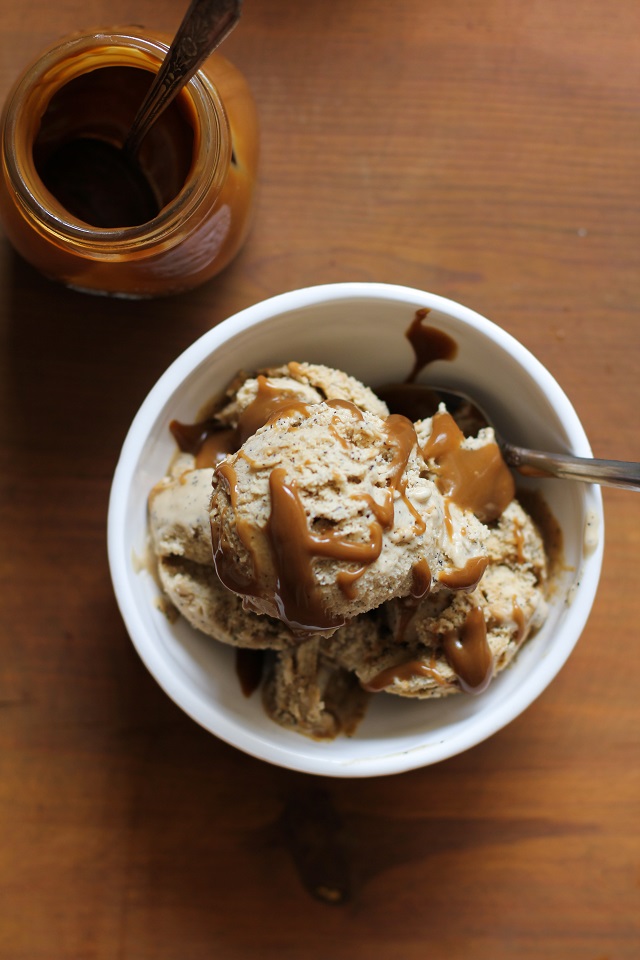 And that is all, folks.
All it takes is some whisking and churning to make this copy cat dulce de leche coconut milk ice cream that happens to be refined sugar-free.
You can easily make it vegan by leaving the butter out of the caramel.
And now I'm curious to know: when was the last time you dulce de leche-ed??
If you love ice cream recipes made with coconut milk, be sure to check out my Paleo Mint Chocolate Chip Ice Cream, Paleo Coffee Ice Cream, and my Strawberry Coconut Milk Popsicles.
Let the caramel addiction reign!
Dulce de Leche Ice Cream (Paleo)
Dulce de Leche Ice Cream with coconut milk is made dairy-free and refined sugar-free is an incredibly rich and flavorful ice cream recipe that tastes just like caramel
Instructions
Place your ice cream maker's bowl in the freezer overnight.

Prepare a batch of paleo salted caramel according to recipe instructions. Allow the caramel to chill in the refrigerator until completely cold.

Add all of the ingredients (except for the caramel!) to a blender and blend until completely smooth.

Set up your ice cream maker, then turn it on. Pour the ice cream base into the ice cream maker while it is slowly churning. Allow ice cream to churn until very thick, then add half of the caramel. Note: you may need to help stir the caramel into the ice cream using a spoon. Keep churning the ice cream until it thickens back up and the ice cream maker begins to bog down.

Transfer ice cream to a freezer-safe container. Drizzle half of the remaining caramel (dulce de leche) over the ice cream (reserving the remaining caramel for serving). Use a spoon to swirl caramel into the ice cream.

Either serve ice cream immediately for a soft serve-like consistency or cover and place in the refrigerator until frozen, about 2 hours.

When ready to serve, allow ice cream to thaw 10 to 15 minutes before scooping and serving with remaining caramel sauce.
Notes
*You can also use 6 to 8 pitted medjool dates to sweeten the ice cream. If you choose to go this route, soak the dates in very hot water for 10 minutes to allow them to soften. Strain the dates, allow them to cool, then add them to a blender with the rest of the ice cream ingredients. **Replace vanilla beans with 2 teaspoons of vanilla paste or 2 teaspoons vanilla extract
Nutrition
Serving:
1
of 6
|
Calories:
319
kcal
|
Carbohydrates:
36
g
|
Protein:
8
g
|
Fat:
17
g
|
Fiber:
7
g
|
Sugar:
28
g