Zucchini pasta (or zoodles) with beet marinara sauce is a nutritious, gluten-free vegetarian meal for a light dinner. Add your favorite protein source to make it a complete meal.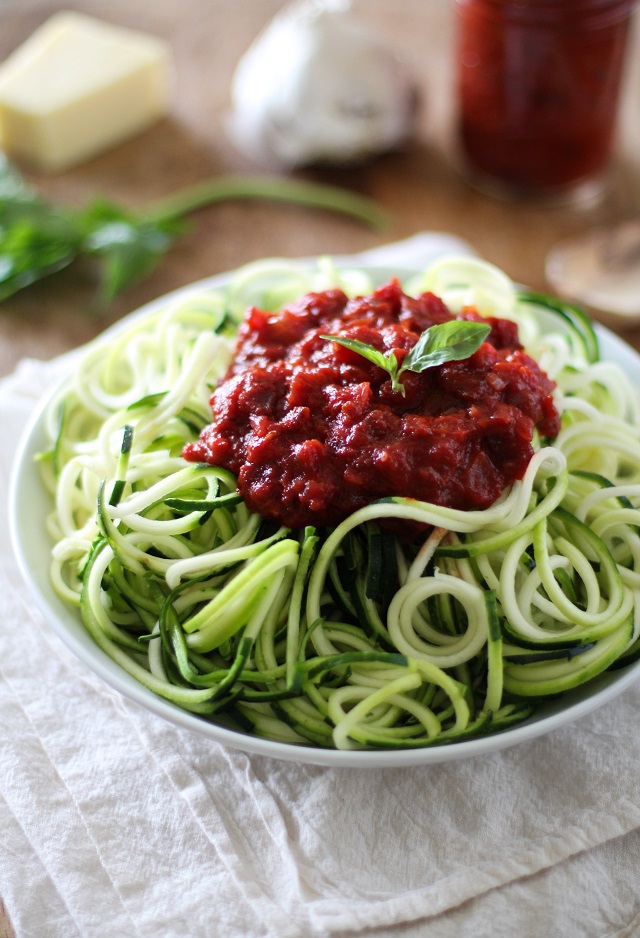 And now it's time for a pasta cleanse.
With the beet marinara sauce.
I've always admired those who spend a great deal of time and energy on making authentic Italian sauces.
My friends who make their own pasta sauces are very invested in having their sauces turn out the same way each and every time (a stark contrast to my fly by the seat of my pants, a little of this, a little of that BOOM! Pasta sauce approach).
They use very specific canned (or fresh) tomatoes, with a very specific amount of garlic, measure the sugar to the T, and let's not even discuss the wine v. no wine or the cinnamon v. no cinnamon scenario, there's just not enough storage space on this site to even go there.
A great sauce is a great sauce, no matter how you stir it.
There's just no arguing with perfection. I'm a huge fan of making all my sauces homemade, and when I added BEETS (of all the things) to marinara sauce, I knew I had struck gold. Seriously. Believe you me. G-O-L-D. Gold.
If you, yourself, and you are one of those sauce masters I mentioned above, you may be thinking to yourself, "BEET marinara? Abomination." Just bare with me here.
Beets add a natural sweetness and rich flavor to marinara sauce, and also give it this gorgeous deep, dark color.
Plus, you get the added antioxidants, vitamins, and minerals.
They do a whoa job of cutting the acidity of the tomatoes, and you guys, it doesn't take much more work than the usual to include them.
The recipe makes quite a bit of sauce, which is awesome if you're feeding a crowd, and also great for freezing and having available year-round.
I used previously cooked beets for this sauce, so your options are to to do as I did, or steam or roast a large beet ahead of time and chop it up for the sauce, or chop up a raw beet and cook the sauce slow and low until the beet is cooked through.
Zucchini noodles.
Have you had your way with them and now you're ready to move on to the next thing?
Could you go the rest of your life without a veggie noodle pasta? Do you wish all the spiralizers would take a swim down to Davy Jones' Locker, never to be seen again?
Nay.
Whether the zoodle trend has reached its peak and is plummeting to its trough, I'm just so satisfied by them.
They're the easiest to spiralize (I use my Paderno Spiralizer and it takes but 30 seconds to whip out an uuuuuge batch of noods), zucchini are always available in the grocery store (especially this time of year), and they're just so pairable with just about any sauce.
For me, these zucchini noodles with beet marinara makes for a glorious meat-less meal.
It's squeaky clean, easy to digest, and also great for the post-holiday mini cleanse.
If you're needing a little additional substance and protein, you can add sautéed shrimp, roast chicken, or even tofu. Serve with fresh grated parmesan and some fresh basil?
More Veggie Noodle Recipes:
Don't mind if we do.
Zucchini Noodles with Beet Marinara Sauce
Zucchini Pasta with Beet Marinara Sauce is a light, fresh flavorful vegan low-carb dinner recipe loaded with nutrients.
Ingredients
Beet Marinara Sauce:
3

tablespoons

olive oil

1/2

large yellow onion

finely chopped

4

cloves

large of garlic

minced

1 28-

ounce

can crushed tomatoes

1-1/2

cups

cooked beets

finely chopped

1/2

teaspoon

fine sea salt or to taste

1/2

teaspoon

dried oregano

1/2

teaspoon

dried thyme

1/8

teaspoon

ground black pepper

1/8

teaspoon

red pepper flakes

or to taste

1/4

cup

fresh basil

chopped
Zucchini Noodles:
2

tablespoons

olive oil

3

large zucchini squash

A pinch of salt and black pepper to taste
Instructions
Prepare the Beet Marinara Sauce:
Heat olive oil in a large saucepan over medium heat. Add the chopped onion and sauté, stirring frequently, until translucent, about 10 minutes. Add the garlic and sauté another two minutes.

Add the remaining ingredients except for the basil and bring to a gentle boil. Reduce the heat, cover, and simmer for 20 minutes. Stir in the chopped basil and remove sauce from heat.
Prepare the Zucchini Noodles:
Rinse the zucchini squash in cold water and chop off the tips and tails. Using a spiralizer (either hand-held or free-standing), spiralize the zucchini squash into noodles.

Heat 2 tablespoons of olive oil over medium heat in a large saucepan.

Add the zucchini noodles and sauté, stirring occasionally, until noodles are hot and reach desired "done-ness," which usually takes about 3-5 minutes.

Serve zucchini noodles with beet marinara sauce, freshly chopped basil, and grated parmesan cheese.

Note: If desired, the zucchini noodles can be left raw.
Nutrition
Serving:
1
Serving
|
Calories:
285
kcal
|
Carbohydrates:
30
g
|
Protein:
7
g
|
Fat:
16
g
|
Fiber:
8
g
|
Sugar:
14
g