Cucumbers are not just for putting over your eye sockets.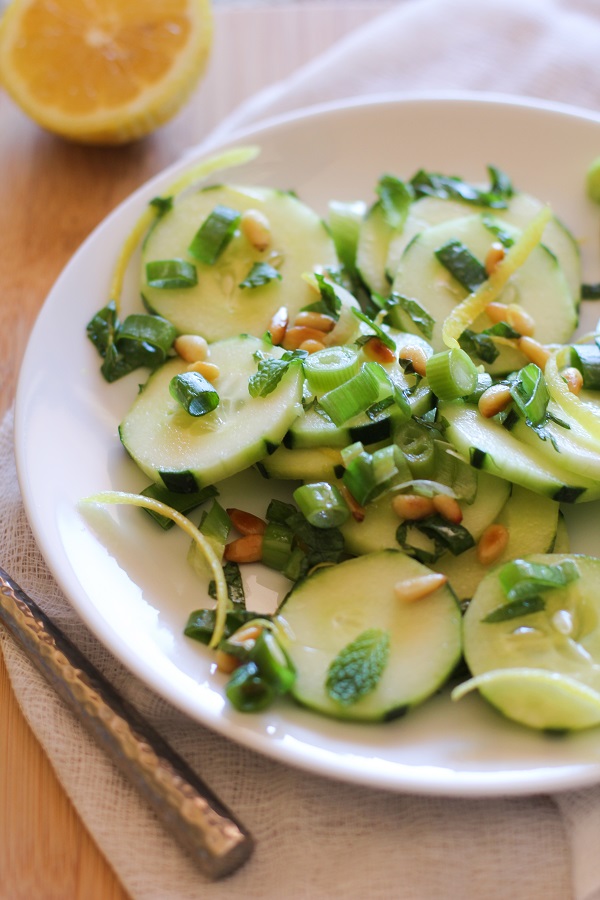 It's because of this salad that I no longer look at cucumbers just through closed eyelids.
It's because of this salad that I will be the talk of the barbecue all summer long.
It's because of this salad and this smoothie that I am no longer bloated.
It's because of this –
I'll stop.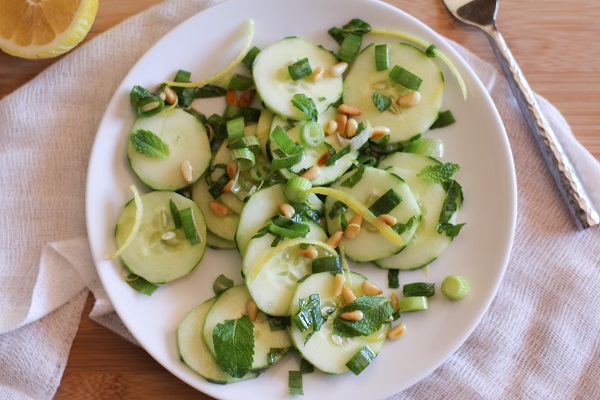 Now that it's sufficiently toasty outside, I've been eating salad for lunch purrrrdy much every day. Creature of habit right here. As much as I love my chock-full-of-goodies go-to green salad, I like to shake things up and keep it interesting – you know – really push the envelope.
I was perusing the Cooking Light website for something fun and different and I caught a glimpse of this Cucumber and Herb Salad with Pine Nuts. Sold! I already had a bunch of mint on hand, so I replaced the parsley and celery leaves with it.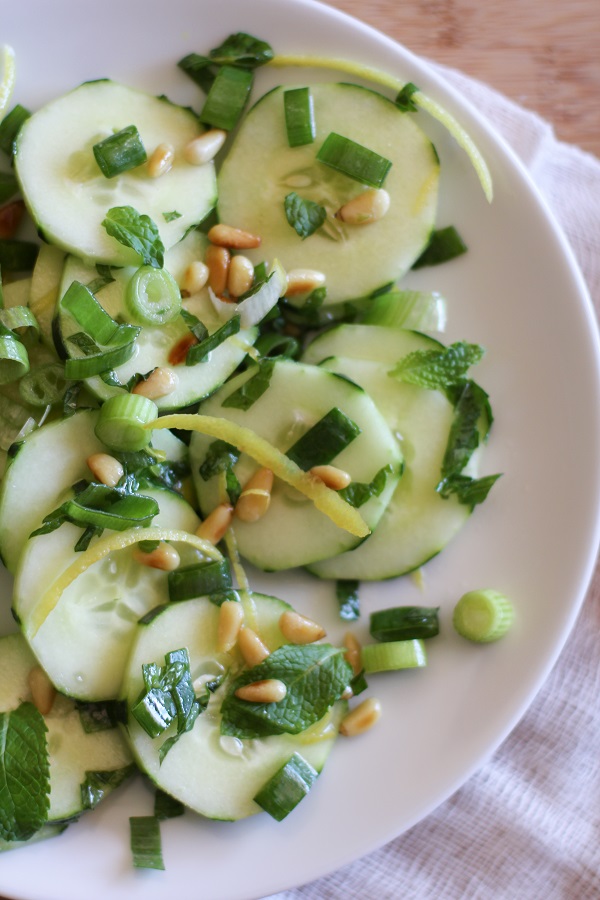 It's because of this salad that I learned about cucumbers. Ready to geek out?
For reasons unbeknownst to be, I've always assumed cucumbers have zero health benefits. But after a little research, I learned I was wrong. They aid with digestion, strengthen your connective tissue (which helps relieve arthritis), help reduce cholesterol, and lower your blood pressure. They contain electrolytes and also have a fair concentration of B vitamins and vitamin C, which makes them a nice little hangover cure. Word has it, eating cucumbers after tying one on will help prevent headache the next day. Wish I had known that little tidbit years ago.
The fact that cucumbers are also an anti-inflammatory is the reason we've been looking at them through closed eyelids. They help ease puffy eyes and swelling throughout the body. Hence the lack of bloatation. So now you know. you can add them cucumbers to your water for a little energy boost (or hangover prevention/cure).
What's the state of your lemon zester? Some people compare IRAs, workout routines, or handbags, but I'd like to know what your zester is like. Is it really just a cheese grater? Because that's what I've been using all these years. Howeves, I had been looking for an excuse other than cocktails to commandeer a fancy Lemon Zester
that makes long zest strips, and this salad provided that excuse. My zest will forever be changed.
And because I can't possibly eat salad without at least half of an avocado and a hardboiled egg, this is how I enjoyed the thing: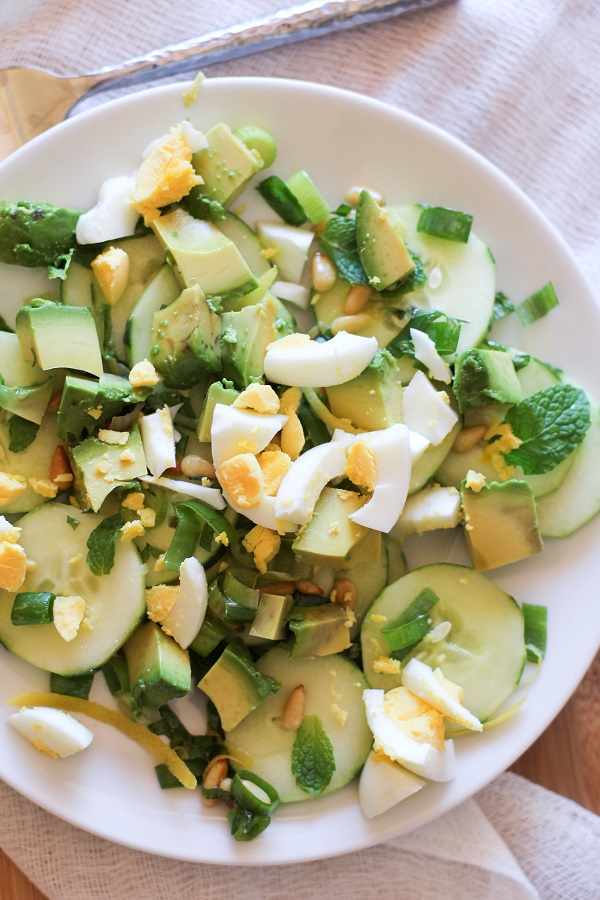 May your weekend be filled with zest and cucumber salad.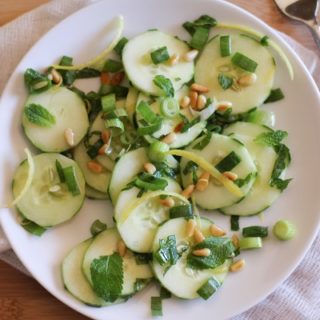 Zesty Cucumber Salad with Pine Nuts
Ingredients
1.5 tablespoon grapeseed oil
1 tablespoon lemon rind strips
3 tablespoons lemon juice
1/3 cup fresh mint, chopped
½ teaspoon kosher salt, or to taste
3 cups cucumber, sliced (about 1.5 large cucumbers)
3 stalks green onion, chopped
2 tablespoons pine nuts, toasted
Optional for serving:
1 avocado, peeled and diced
3 hard boiled eggs, chopped
Instructions
Whisk together the first 6 ingredients.
Peel the cucumbers and slice them into 1/8" rounds.
Add the cucumber, green onion, and toasted pine nuts to the bowl and stir everything together to combine.
You can serve the salad as is, or add avocado and hard-boiled egg to make it more substantial.
Nutrition Information:
Serving Size:

1 grams
Amount Per Serving:
Unsaturated Fat:

0g