These gluten-free Vegan Strawberry Crumb Bars are vegan, refined sugar-free, and healthy enough to eat for breakfast. Two recipe options are included in this post – a gluten-free version, and a grain-free, paleo version.
This post is Sponsored by Bob's Red Mill. Check out more delicious healthy recipes, snag coupons and find stores near you at BobsRedMill.com!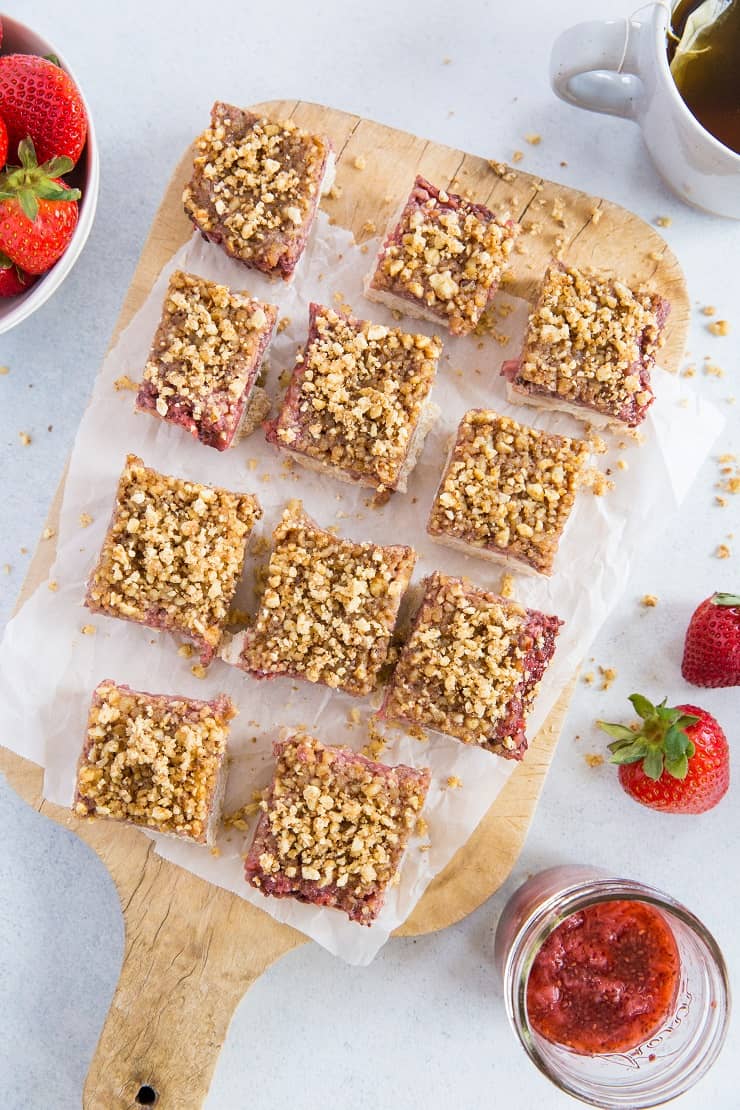 Who here is swan diving into berry season?? I always get excited for spring produce, and the fact that juicy, luscious berries begin taking the produce section by storm come April and May is always something to look forward to.
If you love yourself a good strawberry, you're going to LOVE these crumb bars!
All things considered, these bars:
Are perfectly sweet, but lower on the glycemic index than your typical bar.

Hold together like champs

Dairy-free, gluten-free, refined sugar-free, and vegan!

Perfect for enjoying alongside your steamy mug of coffee or tea.

Healthful enough to eat for breakfast.
Lettuce talk about crust.
What kind of crust do you go for in a crumb bar? A flaky, pastry crust? A cookie crust? Nutty? Graham? I would love to know!
When it comes to crumb bars, I personally love a crust that's somewhere between pastry and cookie…something that holds together super well for my feasting convenience, yet is delicate and also just ever-so-slightly sweet.
In this sense, I'm all about the pasty and cookie crust hybrid. Which is what we're doing here today, folks!
All you need for the crust is three simple ingredients: Gluten-Free 1-to-1 Baking Flour, coconut oil, and pure maple syrup. Simply stir these ingredients up in a mixing bowl and you're golden for a delectable crust! If you do dairy, you can absolutely replace the coconut oil with ghee or butter.
A side note about the crust: I know many of you eat a gluten-free diet, while others of you eat a grain-free and/or paleo diet. In order to ensure my paleo peeps got a piece of the action too, I went ahead and whipped up a paleo version of these bars.
The filling and topping are both paleo-friendly, so it's only the crust that needs to be changed depending on your dietary restrictions. Both the gluten-free and the grain-free versions of the crust are in the recipe card below.
Regardless of the crust option you choose, the preparation will be exactly the same.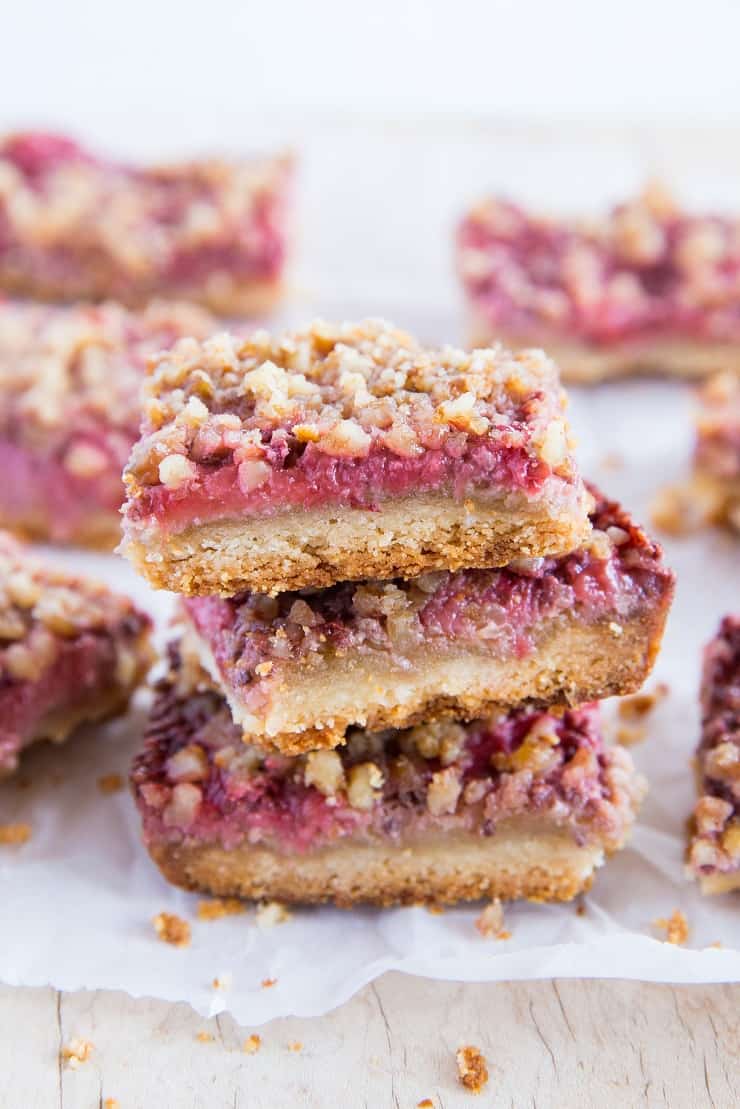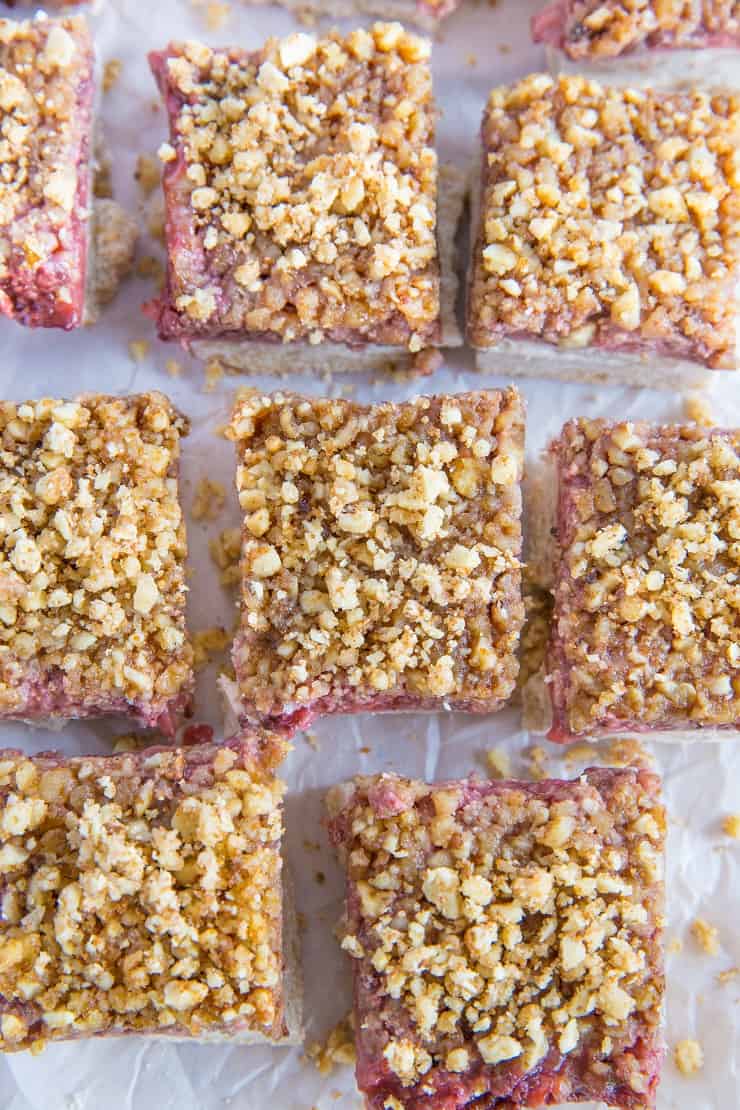 The strawberry filling portion of this recipe is nothing more than the Strawberry Chia Seed Jam I showed you last year. Simply whip up a batch of the jam ahead of time so that when you're ready to make the bars, the filling is already done. This is the only part of the recipe that requires a bit of planning, as the jam needs a few hours to thicken in the refrigerator before it is ready to be used.
And that leaves us with the streusel topping.
You guys, you're going to love this…it's made with walnuts, cashews (you can replace the cashews with more walnuts to decrease the size of the ingredients list), coconut sugar, and coconut oil. BOOM – crispy, crunchy, sweet, super simple streusel topping that will knock your socks off!
Simply combine the three forces – crust, filling, topping – bake off the bars, then refrigerate to allow them to set up. When you're ready to consume, fancy yourself up a mug of coffee or tea and enjoy yourself a delicious tangy-sweet, strawberry crumb bar!
Also try my Paleo Blueberry Crumb Bars!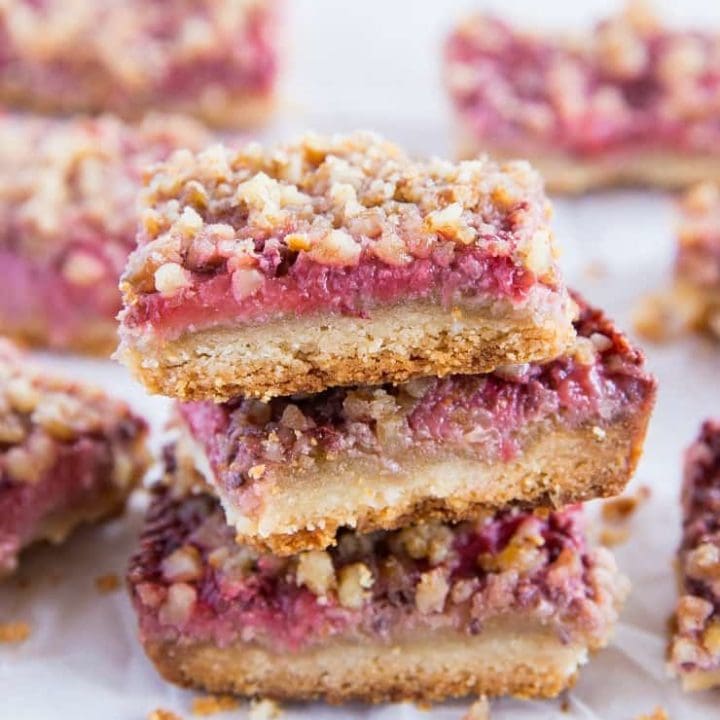 Gluten-Free Strawberry Crumb Bars
Total Time:
1 hour
10 minutes
You'd never guess these Strawberry Crumb Bars were grain-free or vegan!
Ingredients
For the Strawberry Filling:
For the Gluten-Free Crust:
For the Walnut Streusel Topping:
Paleo Crust Option:
Instructions
Prepare the Strawberry Chia Seed Jam (this can be done up to 5 days ahead of time, and must be done at least 4 hours ahead of time to allow jam to thicken).
Line a 8" x 8" baking pan with parchment paper.
Prepare the crust. (Note: the steps will be exactly the same regardless of which crust option you are making). Stir together the ingredients for the crust in a mixing bowl until a thick dough has formed. Press the dough into the parchment-lined baking dish and form an even layer. Place in the freezer for 5 minutes while oven is preheating.
Preheat the oven to 350 degrees F.
Remove the pie crust from the freezer and place on the center rack of the preheated oven. Bake for 15 to 18 minutes, until golden-brown.. Remove from oven and allow crust to cool to room temperature, about 30 minutes. Perform the exact same steps for
While the crust is baking, prepare the topping. To do so, add all ingredients for the topping to a food processor and process until combined and the nuts turn into pea-sized pieces.
Transfer the strawberry chia seed jam to the baking dish with the crust and spread into an even layer. Evenly distribute the nut topping over the strawberry jam. Bake at 350 degrees F for 30 to 40 minutes, until jam is bubbly and bars are golden-brown and appear to be set up.
Remove bars from the oven and allow them to cool to room temperature. Cover and refrigerate at least 2 hours, or until bars have set up. Pull the sides of the parchment paper to release the bars from the baking dish and place on a cutting board. Use a sharp knife to cut bars into squares and serve.
Nutrition Information
Yield

12
Serving Size

1 grams
Amount Per Serving
Unsaturated Fat

0g