It's National Oatmeal Day! Let's celebrate!
Have you been keeping up on your food holidays? Typically I find out about food holidays the day of or many days following, but today's different. Today, I participate, because: oatmeal!
Oatmeal has made an appearance on The Roasted Root a time or twelve in various flavors and formats. I had a sultry love affair with Peanut Butter and Jelly Baked Oatmeal a couple of years back, and have taken the dessert-for-breakfast approach with Carrot Cake Baked Oatmeal as well as this Blueberry Oatmeal Breakfast Cake with Coconut Drizzle. This time of year, I love Spiced Pear Oatmeal and Apple Cinnamon Crock Pot Steel Cut Oatmeal, and can aaaaalways go for Banana Bread Baked Oatmeal.
Suffice it to say, when Driscoll's asked if I wanted to put my oatmeal party hat on and celebrate National Oatmeal Day with them, I said, "why yes, I think I will!"
Whether I cook oatmeal on the stove top or bake it in the oven, I almost always eat it with fresh berries as I find oats n' berries to be quite the couple. I used Dricoll's strawberries and raspberries for this recipe, but you could also add (or substitute) blueberries or blackberries. Adding full-fat coconut milk to the oats resulted in a moist and creamy texture and made the breakfast taste decadent in spite of being completely healthful. To keep the oatmeal naturally sweetened, I used coconut sugar, but you can also use pure maple syrup or honey. Because the berries add sweet flavor to the mix, you can leave sweetener out altogether if you'd like!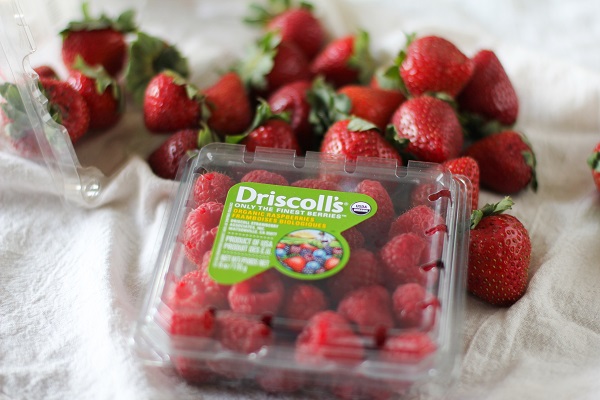 Let's talk about the health benefits of this baked lalapalooza, starting with them berries. Berries are high in antioxidants and fiber, and are a great way of sweetening up a dish while still being low in sugar. Did you know that aside from being considered a brain food, blueberries are also known for lowering stress? I'm starting to think Blueberry Mondays should totally be a thing. In addition, strawberries help regulate your blood pressure and have been touted as having cancer fighting properties. So, berries, folks! Add them to your eee'rythang!
And now zee oatmeal. Oats lower your risk of developing high blood pressure, increases your serotonin production (happy food!), and is full of fiber and protein, helping you stay fuller longer. I used gluten free rolled oats for this recipe, but you can use regular oats as well. Combining the oats with berries makes for a satisfying low-glycemic breakfast that is tasty both hot and cold.
I enjoyed the oatmeal with a healthy glob of plain yogurt and more fresh berries. You can also add full-fat coconut milk, almond milk, or even a dollop of whipped cream. If you're into brunching, brunch on this recipe ASAP! It takes no time or effort to make and can easily feed a crowd.
Add berries to your oats and feast!
Mixed Berry and Apple Baked Oatmeal
Change up your breakfast routine with this fruit-studded baked oatmeal!
Ingredients
2 cups gluten-free rolled oats
½ teaspoon kosher salt
2 teaspoons baking powder
¼ cup coconut sugar, optional
2 large eggs
1 14- ounce can full-fat coconut milk
1 teaspoon pure vanilla extract
2 cups fresh mixed berries*
½ honeycrisp apple, peeled and finely chopped
Instructions
Preheat oven to 350 degrees F.
Lightly oil a 9-inch round baking dish (or 8" x 8" square baking pan).
Add the rolled oats, salt, baking powder, and coconut sugar to a mixing bowl and stir to combine (dry mixture).
In a separate mixing bowl, whisk together the eggs, coconut milk, and vanilla extract. Pour this wet mixture into the bowl with the dry mixture and stir until well-combined.
Fold in the fresh berries and chopped apple to combine.
Pour the oat mixture into the oiled baking pan.
Evenly spread mixture around the pan and press the berries down so that they aren't sticking out too far.
Bake for 40 minutes or until center feels firm when poked and edges have browned slightly, or until the baked oatmeal tests clean.
Remove from the oven and allow the oatmeal to cool 5 to 8 minutes before serving with yogurt and fresh berries.
Notes
*I used 1 cup of chopped strawberries and 1 cup of raspberries
Nutrition Information
Serving Size

1 grams
Amount Per Serving
Unsaturated Fat

0g