A unique spin on the classic Arnold Palmer made with vanilla bean-infused jasmine tea, lychee juice, and lemonade. This refreshing drink is the perfect mocktail or cocktail mixer.
You look like you could use a cold beverage.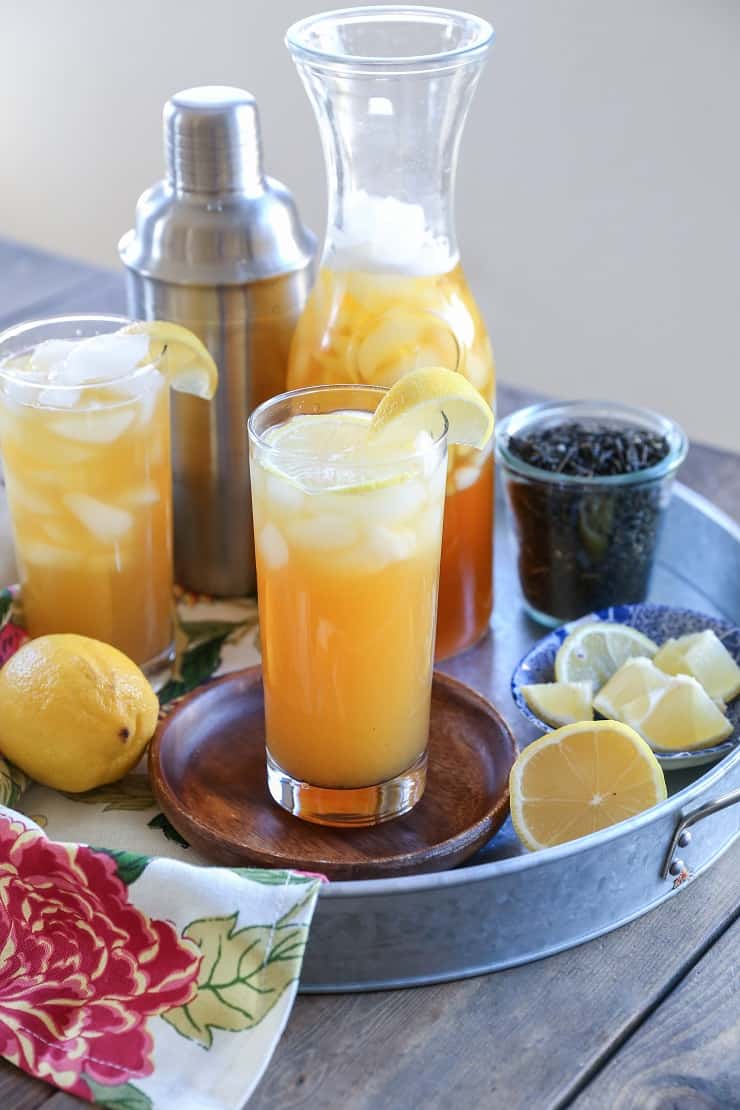 With summer heating up, I've honestly had very little inspiration lately to create new savory recipes; however, I've been all over the beverages, no-bake desserts, and no-cook everything.
I'm sure once I adjust to the heat, the fire for creating new hot foods will return. In the meantime, follow me.
I made us a Vanilla Bean Jasmine Arnold Palmer.
What Is An Arnold Palmer?:
Classic Arnold Palmer drinks are a simple combination of half iced tea and half lemonade.
Some people add alcohol to make a boozy cocktail, but traditionally Arnold Palmers are served without alcohol.
For this unique Vanilla Bean Jasmine Arnold Palmer, instead of regular black tea, we make a vanilla bean-infused jasmine tea.
We then combine the tea with both lychee juice and lemonade for a unique, refreshing summer beverage.
Do we add tequila? I don't see why not..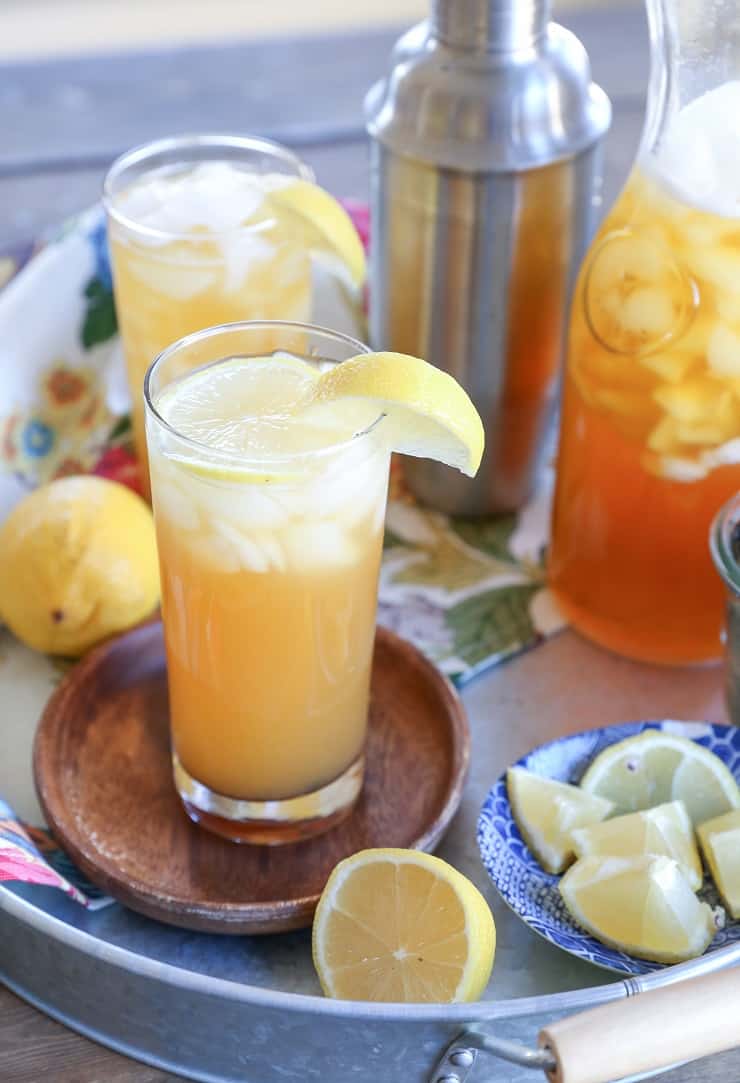 The way I see it, this Arnold Palmer situation is a lovely drink to share with friends and family over the 4th of July.
You can make this a big batch beverage situation by mixing the tea, lychee juice, and lemonade all together in a big pitcher and serve it to folks all at the same time, or you can prepare the drinks separately if individuals prefer varying tea-to-lemonade ratios.
I like using my own homemade lemonade, which I make using pure maple syrup (see my Naturally Sweetened Lemonade Margaritas for my lemonade recipe), but you can use your favorite store-bought lemonade in all the land.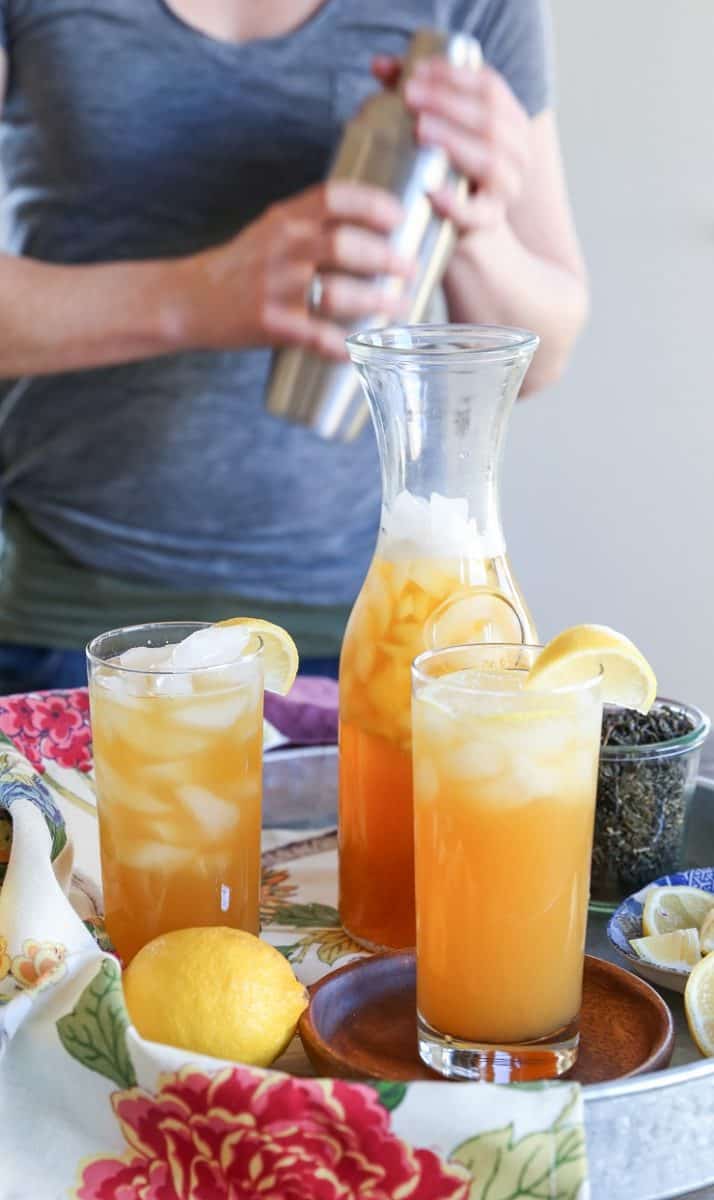 I hope you enjoy this fun and frisky take on the classic Arnold Palmer! And stay cool!
Vanilla Bean Jasmine Arnold Palmer
A fresh summer beverage to keep your hydration interesting! Jasmine tea and lemonade make for an incredible Arnold Palmer.
Servings:
4
to 6 Servings
Ingredients
Arnold Palmers (big batch)
1

cup

lychee juice

3

cups

lemonade

lemon wedges

for serving
Instructions
Make the Jasmine Tea:
Heat the water in a saucepan on the stove top until it boils. Remove from heat and add the tea, vanilla bean scrapings and whole vanilla beans. Allow tea to steep 10 minutes. strain through a fine mesh strainer and discard the tea leaves and vanilla beans. Note: if using tea bags, simply discard the tea bags. Stir in the pure maple syrup, and refrigerate until chilled
Make Arnold Palmers:
Combine the tea, lychee juice, and lemonade in a large pitcher. Stir well to combine and serve over ice with lemon wedges. As an alternative, you can make individual arnold palmers using desired tea and lemonade ratios.
Nutrition
Serving:
16
ounces
|
Calories:
154
kcal
|
Carbohydrates:
40
g
|
Sugar:
33
g
More Summer Beverages: