The molten depths of our earth's core has flipped inside out and surfaced where I live. I've been patiently waiting for you to say this first so that I could piggyback off your complaint but you seem to be so silent and air-conditioned, so I'll say it. It is viciously hot. I am a puddle of mean, heat-raged crazy. Ready to uppercut anything that's pretty or small.  And it's the heat that's doing it aaaaahhhhh make it stop!
Breathe.
There are places that are hotter than here. I've been to them. I was a puddle of mean, heat-raged crazy. That shirt done got tore to shreds. Pretty and small things got uppercut….ted.
Okay. Cat's out of the bag. I have been dripping sweat indoors, and that happens to people. Even princesses who can't handle more than 78 degrees Fahrenheit.
I'm trying to sucker punch the heat back down to the earth's molten core using sangria. Want to join?
You didn't believe how hot it was until you saw the beads of sweet on the glass…it's true. My beverages have been sweating and pissed off too.
This sangria was inspired by my boss, who is also a Gemini, also my dear friend, also heat-intolerant, and also has the same taste in food and wine as me. I have never been a huge fan of sangria, but I've had this little obsession lately called rosé. So when my boss informed me about the rosé sangria she makes, I knew I had to add it to our list of commonalities. Done.
You may have heard the skinny on pineapple juice, but it's pretty much the swankiest fruitalicious bundle of goodforyouedness and that's not even a tall tale.  Pineapple juice aids digestion because it has an enzyme (bromelain) that helps break down protein. This also helps relieve indigestion. It is also a natural inflammatory, antibiotic, and is high in Vitamin C and B6. Plus this thing I read says pineapple juice keeps you looking young and tall. That's not a tall tale either.
This is a tasty treat-of-a-refreshing beverage and once you're finished drinking it, you get to enjoy the rosé-soaked fruit. Gaaaawl, let me climb in the glass!
Why wouldn't we add pineapple juice to alcohol? Make this for the 4th of July!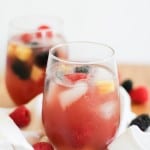 Pineapple Rosé Sangria
Print
Ingredients
1

bottle Rosé

2

cups

100% pineapple juice

1

pint

raspberries

1

pint

blackberries

1

cup

pineapple

chopped
Instructions
Add all ingredients to a large pitcher and serve in pretty glasses over ice
Recipe Notes
You may mash the fruit if you'd like, but I prefer to leave it whole