Thai Cauliflower Rice with Ginger-Almond Dressing, mango, green onion, bell pepper, cashews, and fresh mint. This flavor-packed vegan recipe is the perfect side dish to any meal.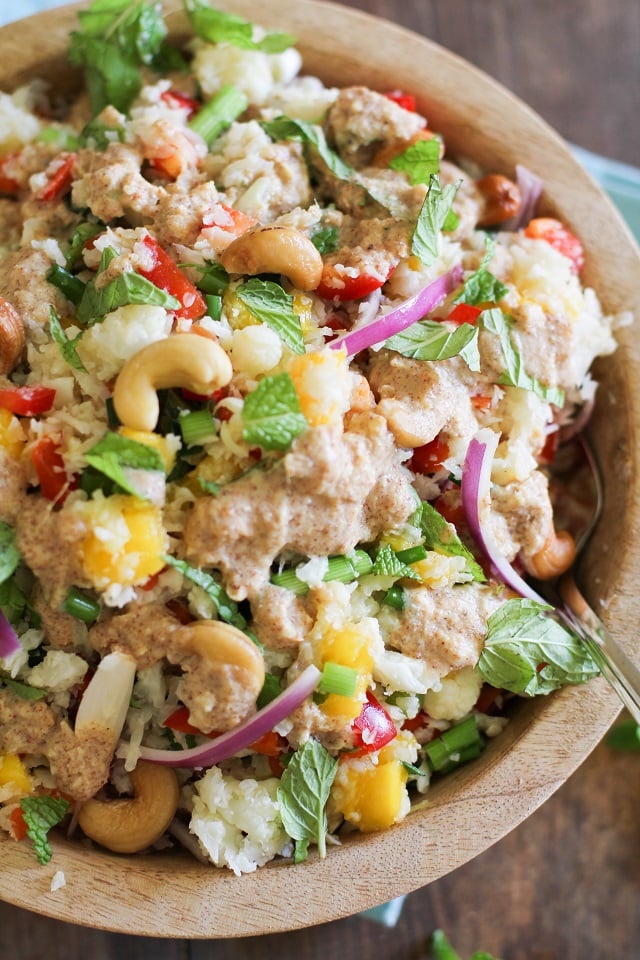 We've been hit with a cloudburst of rainy Spring weather over here in No Winter's Land lately, and our mountains have been soaking up the much-needed water and are already turning vibrant green.
The recent precipitation has been fabulous for our scarce water supply since we've had almost no winter at all over the last three years.
In addition to being much needed for our environment here on the West Coast, the windy, drizzly, unpredictable weather has also been great for me to re-prioritize and play catch up. Rainy weather keeps me off the trails, slows down my pace, and allows me to look around, and do things I've been putting on the back burner.
Like read copious amounts of other people's blog posts – a hobby for which I don't typically set aside enough time.
Like go on unpredictable, long drizzle day walks on delicious smelling wet pavement and listen to the birds chirp. Seriously, do we do these things enough in life?
Take a load to the thrift store, make recipes I've been meaning to try whether or not I intend to post them on my blog. Buy aqua-colored water shoes (on sale for $14 in the kid's section at REI, woop woop!!), listen to Terry Gross podcasts on the NPRs, visit with family, watch 1990s movies like Point Break, and of course exercise my human right to rainy day drinking.
The best part: I haven't been using "bad weather" as an excuse to feed my workaholism the way I normally would. I've been using it to take a breath of fresh air. And it also inspires me to make super nourishing and colorful food, like this here cauliflower rice!
Cauliflower rice may have reached its peak in popularity, but I'm far from over it. My relationship with the cauli rice is still fresh and steamy. I have to admit, this Thai version right here may just be my favorite cauli rice recipe to date.
The other day, I accidently bought 3 mangos thinking I would be using them in a freelance project, but then didn't end up needing them. Although I LOVE a good mango smoothie or salsa, I had a hankering for a mango-studded savory dish.
I was inspired by this recipe for Thai Cauliflower Rice Salad with Peanut Butter Sauce from The Awesome Green, working some adding and subtracting magic based on my own refrigerator inventory, and the rest as they say, is history.
Wrap your pupils around it.
This cauliflower rice. You're just going to have to taste it with your face. All the flavors, all the textures, all the sex appeal, all the color, that ginger-almond dressing.
The mint, the mango, the ginger-lime-almond butter flash of flavor, huge!
Whether or not you live a grain-free lifestyle, cauliflower rice is truly amazing. Full of antioxidants and Vitamin C, cauliflower provides many health benefits, which you don't get with regular rice.
Plus, you're not gonna believe the ways in which I ate this cauliflower rice. Hot, cold, wrapped in a collard leaf(I'll show you that one tomorrow), scrambled up with eggs of all things, and taco-ed up with black beans and cheeses.
It's completely ravageable on its own but is also great in and around the other foods, making it a pretty versatile dish! Add grilled chicken or sautéed shrimp? Don't mind if you do!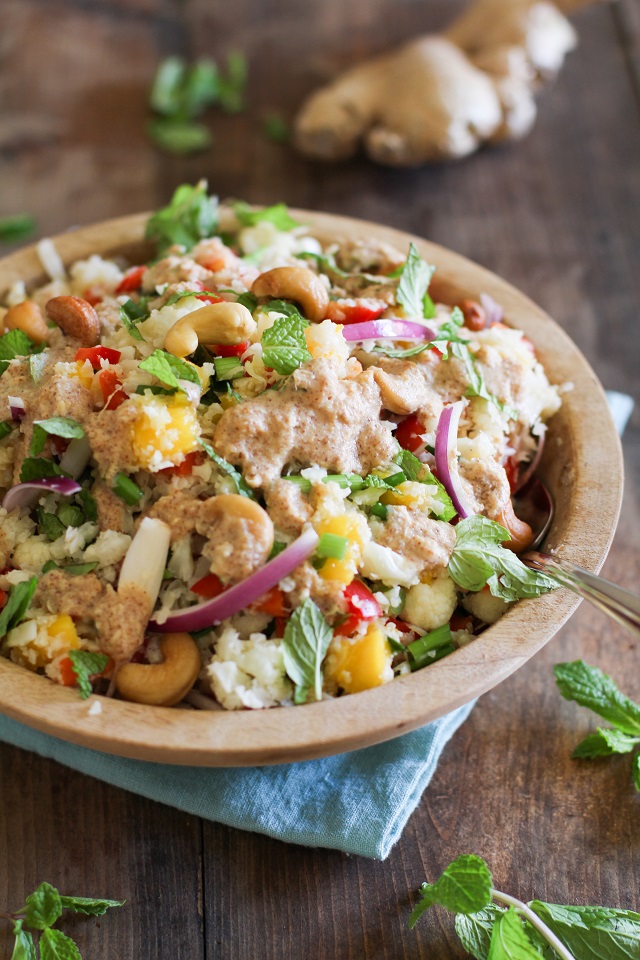 Make it now and save some for the thing I'm showing you tomorrow! Not that I'm being pushy. But do make it. As soon as humanly possible.
Thai Cauliflower rice-a-roni – the every day treat.
Thai Cauliflower Rice
The most unique, Thai-inspired cauliflower rice recipe to ever exist 😉 Fresh mango, mint, red onion, almond dressing, and cashews give it otherworldly flavor!
Ingredients
1

large head cauliflower

2

tablespoons

coconut oil

½

teaspoon

sea salt

or to taste

2

cloves

garlic

1

bunch green onions

chopped

1

large red bell pepper

chopped

1

large ripe mango

peeled and chopped

½

cup

red onion

sliced

1/3

cup

fresh mint leaves

chopped

½

cup

raw cashews
Ginger Almond Butter Dressing:
¼

cup

light coconut milk

1 1/2

tablespoons

fresh ginger

peeled and grated

2

tablespoons

lime juice

2

tablespoons

creamy almond butter*
Instructions
In a small bowl, whisk together the ingredients for the Ginger Almond Butter Dressing. Set aside until ready to use.

Remove the green stems from the cauliflower. Chop it into chunks and place it in a food processor. Pulse until rice-sized pieces result (Note: if you don't have a food processor, chop the cauliflower in half and grate it using a box grater).

Heat the coconut oil in a large skillet or wok to medium heat. Add the grated cauliflower and saute, stirring occasionally, until cauliflower softens and cooks down, about 10 to 15 minutes. Add the minced garlic and saute another 3 minutes.

Transfer cauliflower rice to a large serving bowl. Add the remaining ingredients, including the Ginger Almond Butter Dressing, and toss everything together until well-combined. Serve and enjoy!
Notes
*You can replace the almond butter with peanut butter or cashew butter
Nutrition
Serving:
1
Serving
|
Calories:
329
kcal
|
Carbohydrates:
33
g
|
Protein:
11
g
|
Fat:
19
g
|
Fiber:
9
g
|
Sugar:
17
g
More Cauliflower Rice Recipes: