It's that time, folks. Boys and girls of all ages are packing their pencil boxes and heading back to school! For your dining convenience during the busy school year, Sabra and I have teamed up to make your back-to-school eats fresh, easy, and healthy. Let's get our brain food on!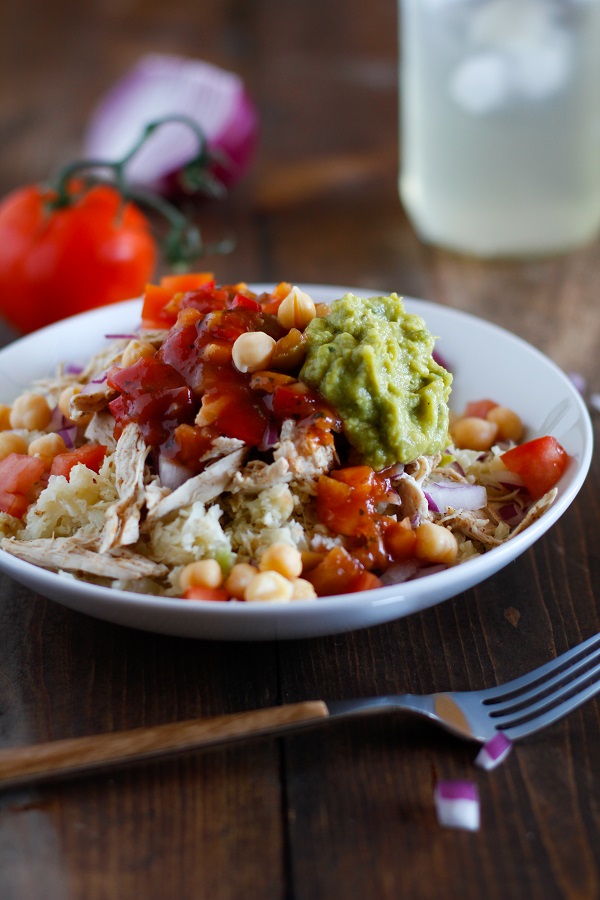 The term, "back to school" summons up fond memories of scrunchies, the color teal, leggings, purple slip-on shoes, unitards, Heathcliff, Boby's World, En Vogue, Salt-N-Pepa, Pogs, Nano Babies (or Tomagotchi), pay phones, etc., etc., go infinity and beyond.
While I don't have kids and am no longer in school myself, I remember the necessity for straight-forward, simple, and lightning-fast meals. From grade school all the way through my master's degree, it was always go, go, go, shovel down food, and go some more.
So in honor of the school year hustle and bustle, I teamed up with Sabra to create a back-to-school recipe that would be perfect for throwing together any night of the week, lickety split.
I used Sabra's spicy guacamole and mango peach salsa in these shredded chicken cauliflower rice burrito bowls, which made the meal come together in no time at all. Plus: delicious.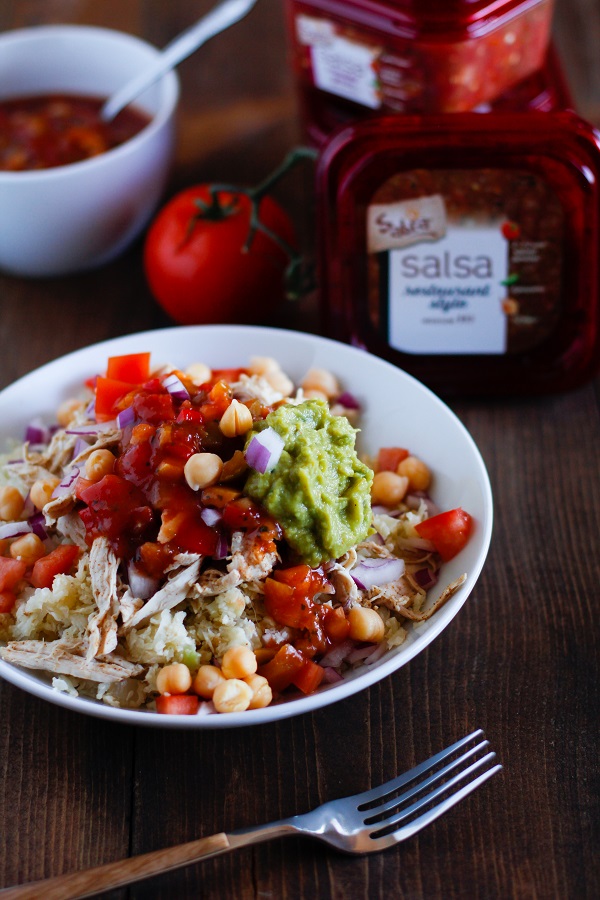 Let's talk time, because these bowls take but a jiff.
Did you know it only takes about 10 minutes to make shredded chicken? It's a revelation! Seriously, follow my lead.
The "rice" portion of the meal cooks up quickly, too. You can do as I did and make cauliflower rice, because: vegetables, or you can use brown or white rice for less preparation. If you go the cauliflower rice route, try either my Jalapeno Ginger Cauliflower Rice or my Spanish Cauliflower Rice with Kale.
Aside from the chicken, rice, salsa, and guac, you can add all your burrito faves, like garbanzo or black beans, chopped lettuce, sour cream, cilantro and cheese. Load these bad boys up!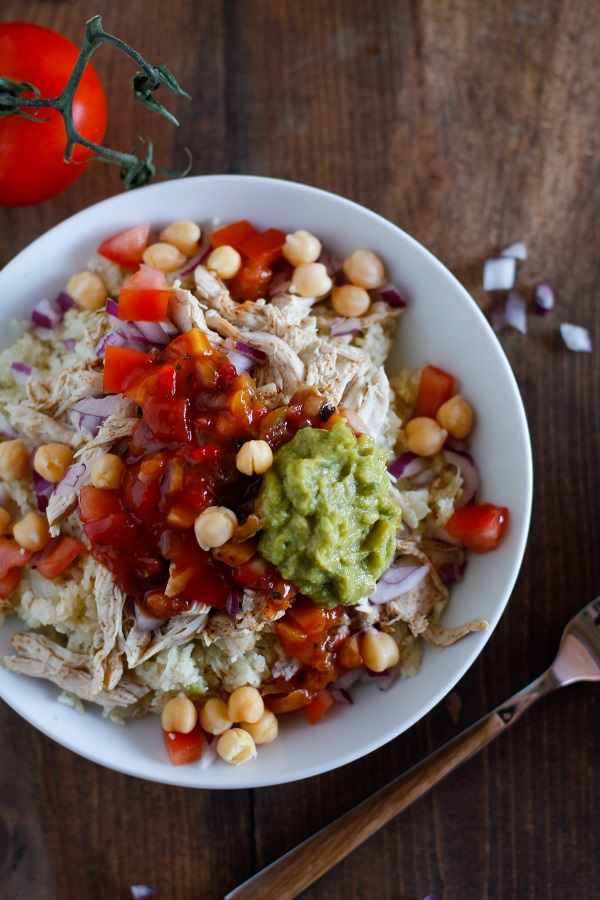 The way I see it, these bowls can be made for dinner during any busy day of the week, and can be packed for lunch the next day. If you are a parent and would like more ways to incorporate Sabra into your children's lunches, check out their Lunch Ideas board on Pinterest.
Put on your velcrows, sitck some Montell Jordan in your walkman and let's go back to school with these 'rito bowls.
Shredded Chicken Burrito Bowls
A quick and delicious go-to chicken burrito bowl perfect for any night of the week!
Ingredients
For the shredded chicken
1

tablespoon

olive oil

2

large boneless

skinless chicken breasts

½

cup

water or chicken broth

1

teaspoon

chili powder

Salt and black pepper to taste
For serving:
Cauliflower rice or cooked brown rice

1 14-

ounce

can garbanzo beans

heated

Red onion

chopped

Sabra Salsa

Sabra Guacamole
Instructions
Prepare the Shredded Chicken:
In a medium-sized skillet, heat the oil over medium (to medium-high heat) until completely hot.

Place the chicken breasts on the skillet and brown each side for 1 to 2 minutes.

Add the water (or chicken broth), cover the skillet and cook 7 to 9 minutes, until chicken is cooked through.

Place the chicken breasts on a cutting board and allow them to cool enough to handle. Using a fork, shred the chicken.

Sprinkle the chili powder, salt and pepper over the shredded chicken.
Prepare the Burrito Bowls:
Add desired amount of cauliflower rice or brown rice to 4 bowls.

Add shredded chicken, garbanzo beans, red onion, salsa, and guacamole.

Enjoy!
Nutrition