Huge thanks to everyone for your kind comments and support on the release of my second cookbook, Let Them Eat Kale! I feel like I've been showered with all the butterfly kisses and I can't thank you enough.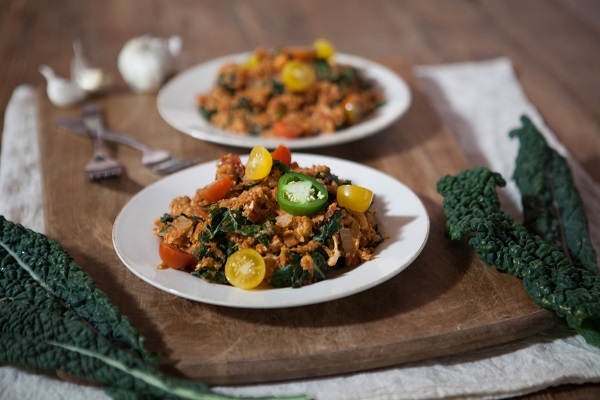 In honor of yesterday's publication of Let Them Eat Kale!, I thought I would share one of the recipes from the book.  My friend, Jen Schmidt snapped photos of me prepping the cauliflower rice, and once the recipe was finished, Jen and I both took photos of the end result. She even let me use one of her fancy lenses, which made me feel like a straight-up pro. It was lots of fun taking pictures alongside my friend, who does absolutely outstanding work. I even asked her questions about aperture. I still don't get it. Joking. Not really.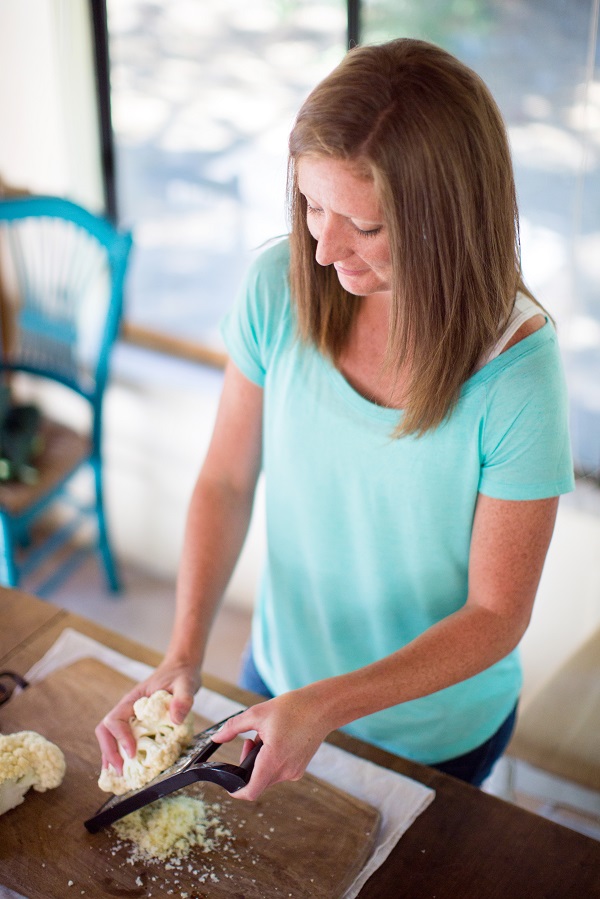 Cauliflower rice is one of my favorite foods to make and eat in volume. Grating it requires a little elbow grease, but you can also use a food processor. I figured because cauliflower is a thing and kale is a thing, I may as well put the things together and create the ultimate trendy dish. Spanish Cauliflower Rice with Kale should be in all your burritos until the end of time. It will make you quiver and slur your words. Or is that tequilla? Bygones.
You may remember how to make cauliflower rice from the Cauliflower Rice Burrito Bowls or the Jalapeño Ginger Cauliflower Rice, but in case you missed those posts, here's a little tutorial.
Oh, here I am! I'm about to destroy – nay,  improve – a head of cauliflower.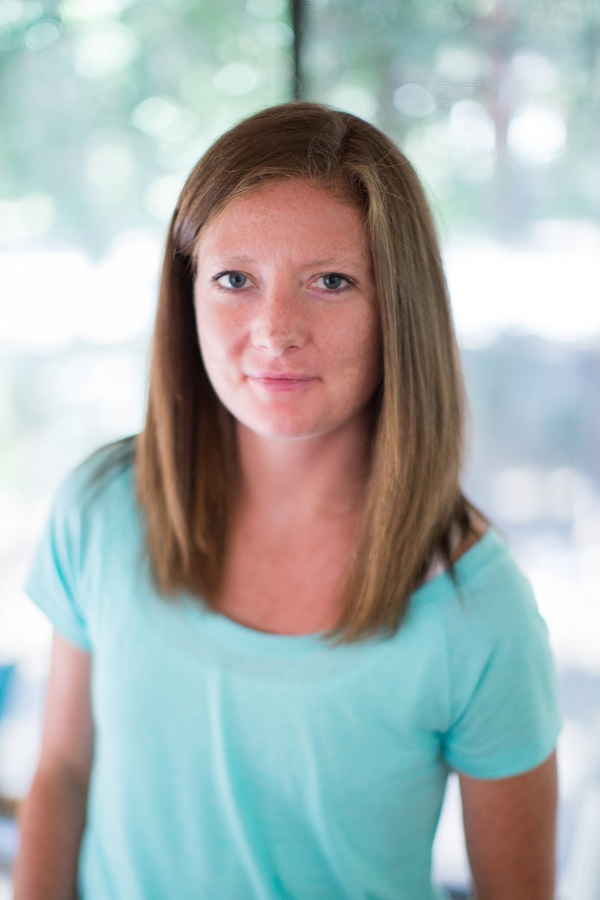 You begin by grating up a whole head of cauliflower and chopping your onion, garlic, and jalapeño.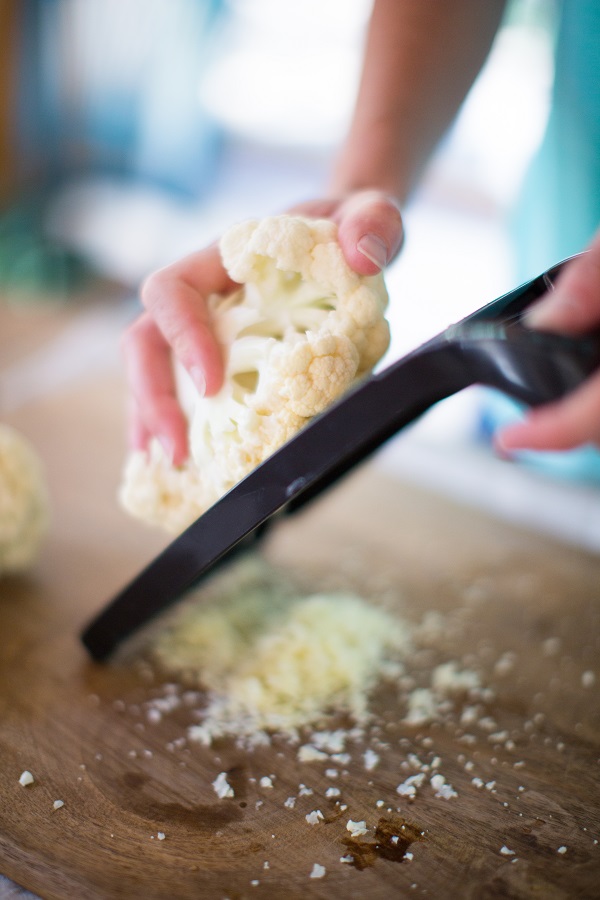 You then remove the stems from your kale leaves…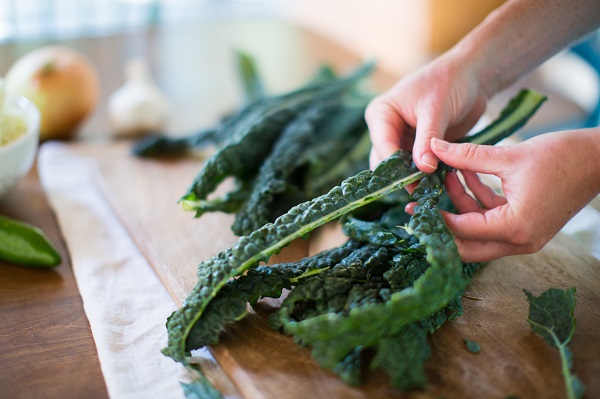 … and chop the leaves up. You can use the stems in a smoothie or feed them to your dog!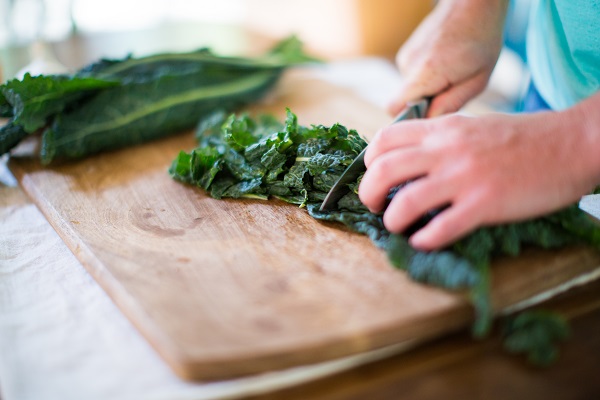 You saute the onion, garlic, and jalapeño until they're nice and soft. Then add your cauliflower.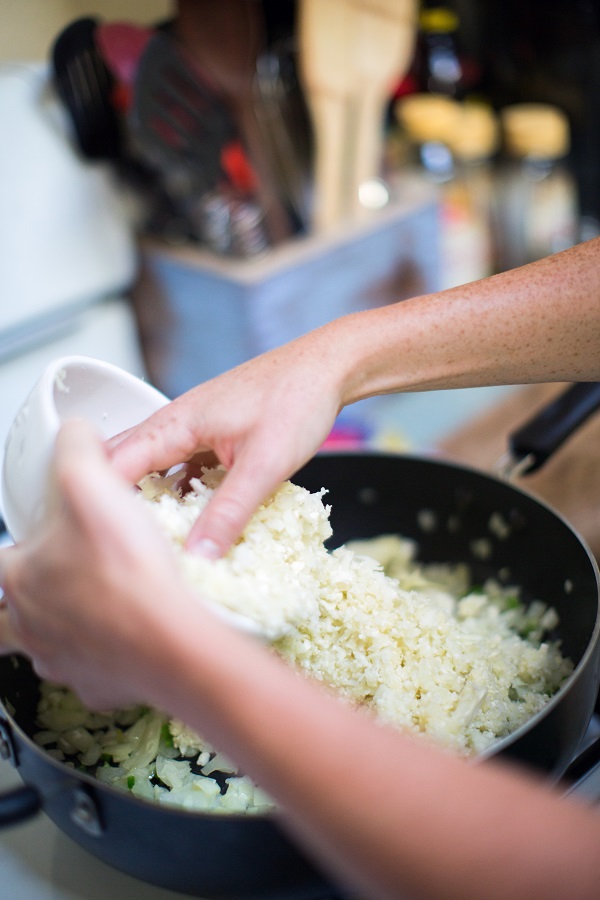 Let the cauliflower cook down for 5 to 8 minutes or so. Then, in go the diced tomatoes, chili powder and salt.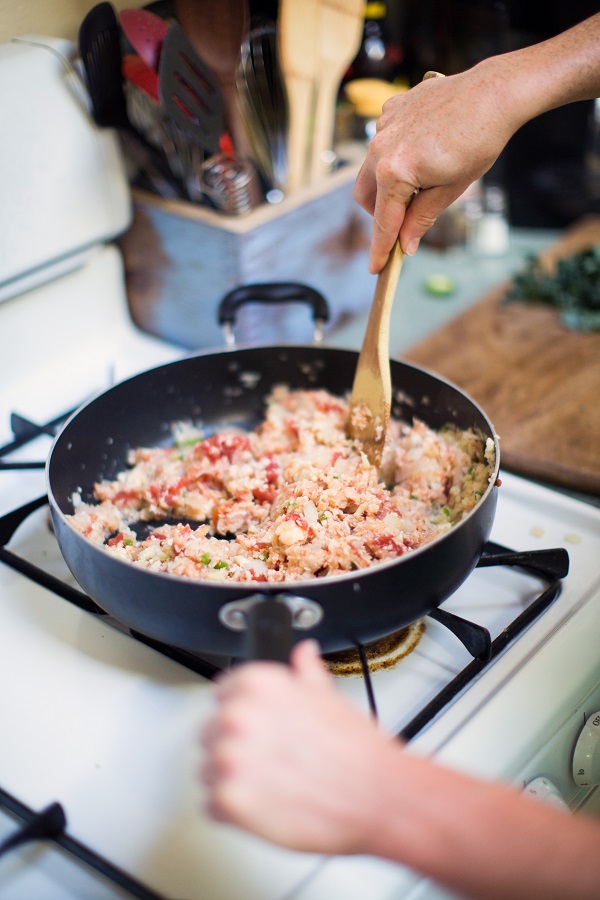 Followed by the kale leaves. Continue cooking until the kale leaves are nice and wilted.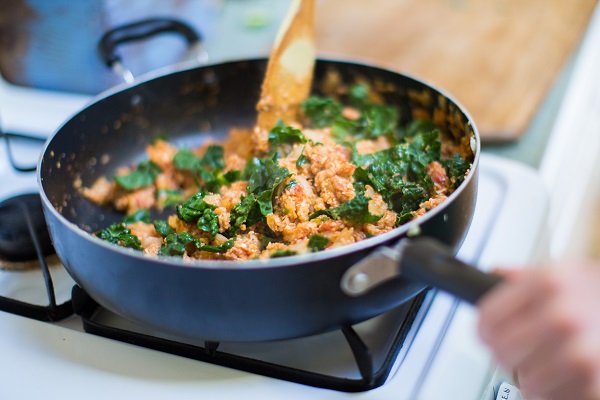 What happens next is between you and the cauliflower rice.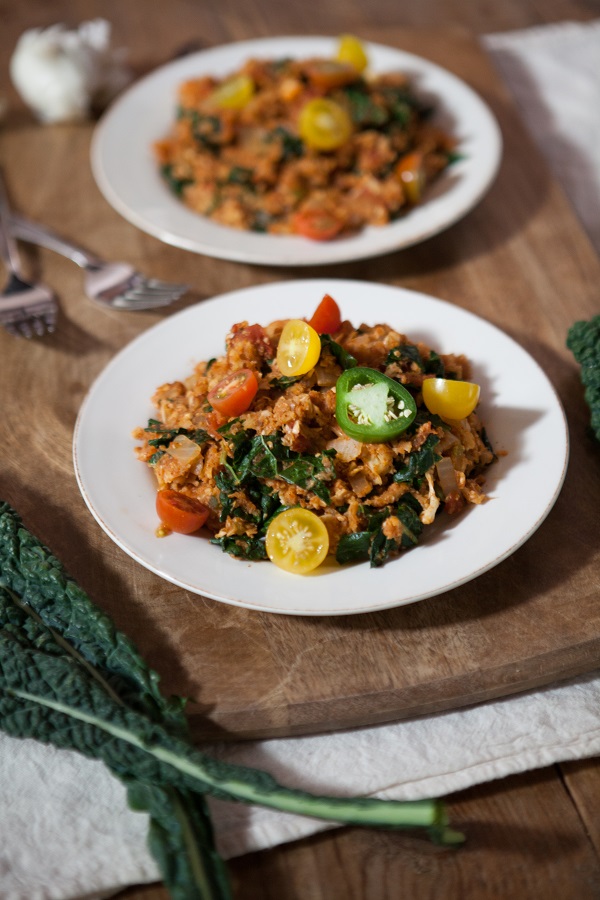 Eat like no one's watching.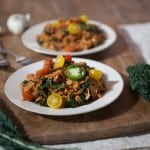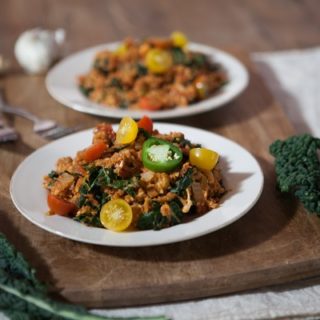 Spanish Cauliflower Rice with Kale
Print
Ingredients
2

tablespoons

olive oil

1

yellow onion

chopped

1

large head cauliflower

grated

6

cloves

garlic

minced

1

jalapeño

seeded and finely chopped

2

cups

tightly packed kale leaves*

1 14.5-

ounce

can diced tomatoes

1

teaspoon

kosher salt

or to taste

1.5

tablespoons

chili powder

Cherry or grape tomatoes for serving

optional
Instructions
Remove all of the green stems from the cauliflower and chop the head in half. Using a box grater (or a food processor), grate the whole head of cauliflower.

In a large skillet, heat the oil to medium-high and sauté the onion until fragrant and softened, about 5 minutes.

Add the jalapeño, and garlic and sauté another 2 to 3 minutes.

Add the grated cauliflower and cook, stirring frequently, until it begins to turn brown and cook down, about 5 to 8 minutes.

Add the diced tomatoes, salt, and chili powder and stir well to combine. Cook until much of the liquid is absorbed, about 5 minutes.

Add the chopped kale leaves and stir them into the mixture well. Cook until they have turned bright green and have wilted, about 3 minutes.

Serve cauliflower rice alongside your favorite entrée.
P.S. Have you entered my cookbook giveaway yet? You can do so here until 7/31!