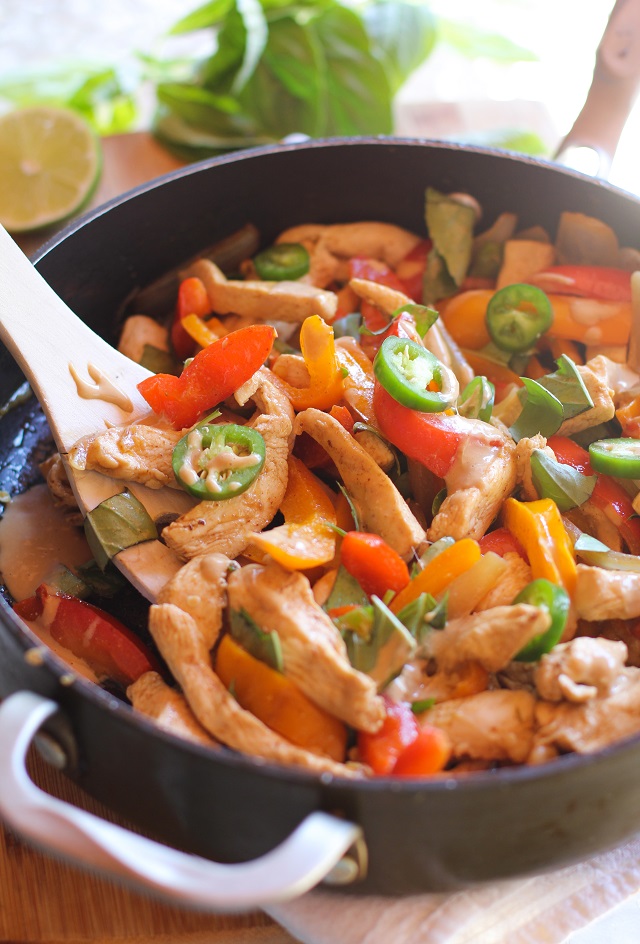 Momma's proud of this one, my babies.
Ruuuuhl proud. Like go to your kitchen and make it right now! You know what's funny? Instead of typing, "kitchen," I started typing, "chicken." That's what's ruuuhl funny.
Now I'm visualizing a ginormous chicken standing in the hallway of my chick – err..kitchen…did it again…with its wings waving at me like, "Yo! Jules! What's for dinner? Tofu?" (in a brooklyn accent, of course), and in my head I'm like, "Noooo, chicken. No. It's you. Don't make it awkward."
Sheesh.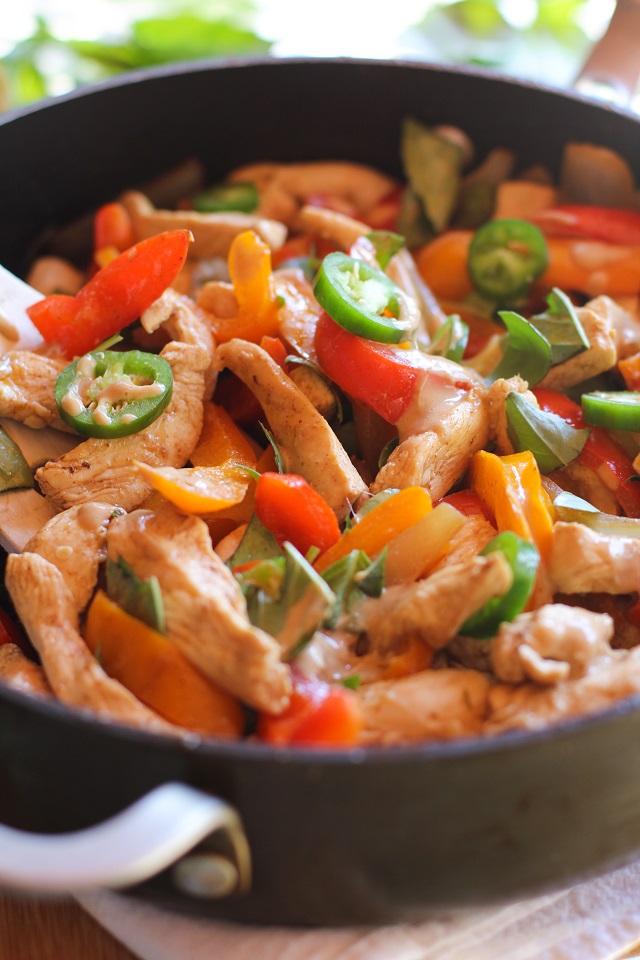 Anyhoo, this simple recipe puts a big smile on my face because I have a feeling you're just going to eat.the.sucker.up. You know what's funny? Instead of typing, "sucker," I almost typed – nevermind.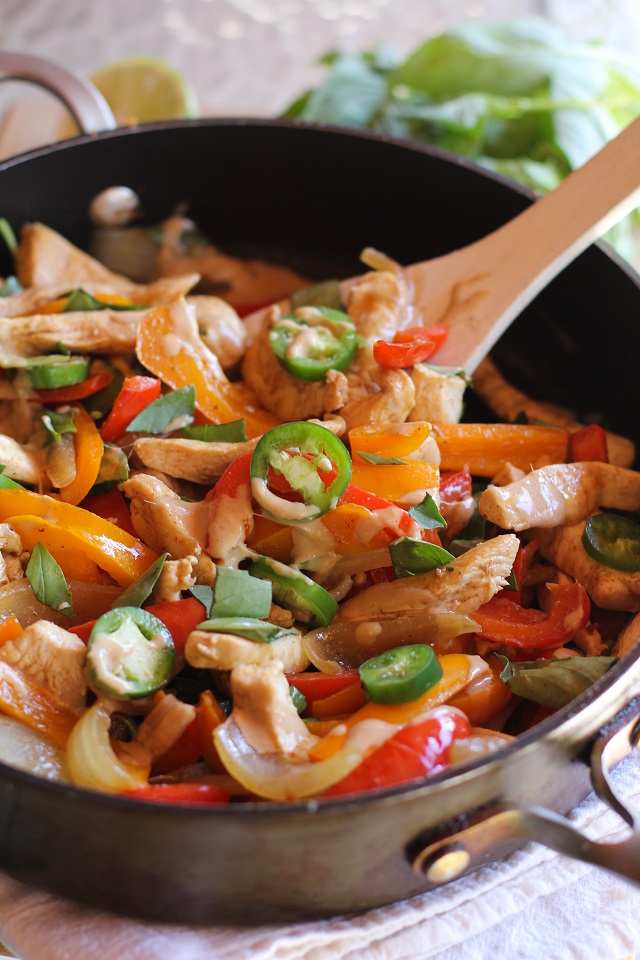 Ethnic food made easy's my jam. I love whipping together fast, uncomplicated meals with otherworldly flair. Simple chicken stir fry with tasty sauce? It don't get much better than that!
I spotted a recipe for Thai Basil Chicken Stir Fry in June's Cooking Light and immediately went to the store for ingredients…the next morning…because I saw the recipe at 9pm and girl doesn't leave the house past 8:35.
Because I've been craving a good peanut sauce lately, I tossed some coconut milk, fresh ginger, and creamy peanut butter into a blender and enjoyed the chicken doused in sauce. You don't necessarily neeeeeeed to make the sauce, but why wouldn't you, my friends? Party on your tongue organ.
Whip out some epic side dish such as this Ginger Turmeric Ginger Rice or Jalapeno Ginger Cauliflower Rice and you're all set for a dandy time.
Go to your chicken and make it right now!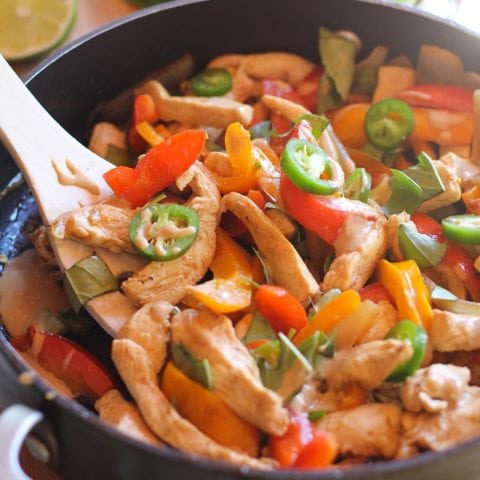 Thai Basil Chicken Stir Fry with Ginger Peanut Sauce
Thai Basil Chicken Stir Fry with Ginger Peanut Sauce is fresh, flavorful and satisfying! Perfect for those who love peanut sauce.
Ingredients
For the Peanut Sauce:
1/3 cup full-fat canned coconut milk
3 tablespoons unsalted unsweetened creamy peanut butter
1 tablespoon liquid aminos, or low-sodium soy sauce
1 tablespoon fresh lime juice
1 tablespoon fresh ginger, peeled and grated
For the Chicken Stir Fry:
2 tablespoons grapeseed or canola oil
1 medium yellow onion, cut into wedges
1 red bell pepper, cut into matchsticks
1 orange bell pepper, cut into matchsticks
1 Serrano chili, seeded and sliced
1 pound boneless skinless chicken breasts, cut into strips
4 cloves garlic, minced
3 tablespoons peanut sauce, recipe above
½ cup fresh basil leaves, chopped
Instructions
Add all of the ingredients for the ginger peanut sauce to a small blender and blend until smooth. Set aside until ready to use.
Add the oil to a large skillet or walk and heat to medium-high. Add the onion and saute 2 minuntes, stirring frequently. Add the bell peppers and serrano and saute, stirring frequently for 3 to 5 minutes. Add the chicken, garlic, and 3 tablespoons of the peanut sauce (reserve the rest for serving) and cook for 5 to 8 minutes or until chicken is cooked through.
Stir in the fresh basil and salt. Taste for flavor and add more salt, soy sauce and/or peanut sauce to taste.
Serve stir fry over rice with desired amount of ginger peanut sauce.
Nutrition Information
Serving Size

1 grams
Amount Per Serving
Unsaturated Fat

0g