Vegetarian red curry made in only 30 minutes! Yellow squash, zucchini, potato, carrot, and bell pepper are stewed in aromatic coconut milk for a filling yet healthful meal.
Red curry in a hurry! Speedy quick! Lightning fast! Super healthful and simple!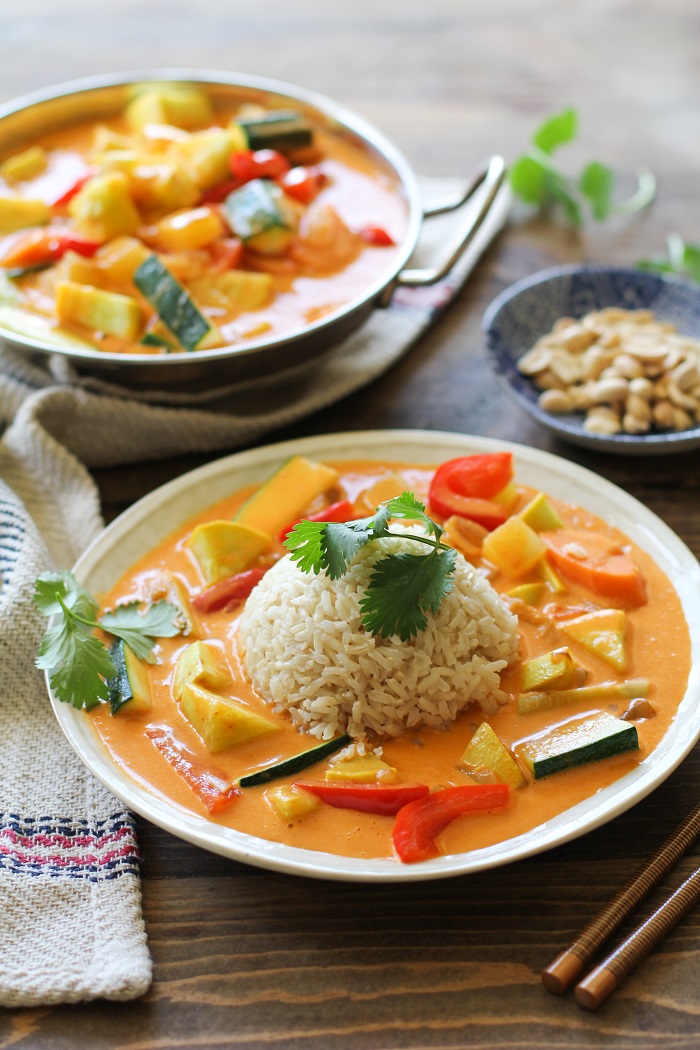 Back when I was in Bend at the beginning of the summer, the man stallion and I ate lunch at a cafe just before driving back to Reno. The cafe had all sorts of sandwich and salad options, but I was instantly drawn to the red curry. It came out so fresh and tasty, I knew I needed to recreate it at home, and best of all: I knew it would be easy to do so.
Using in-season summer vegetables, coconut milk, and red curry paste, you can make this healthful meal in a flash. My carnivorous friends: you can easily add chopped chicken breast, shrimp, or pork to this recipe for some animal protein.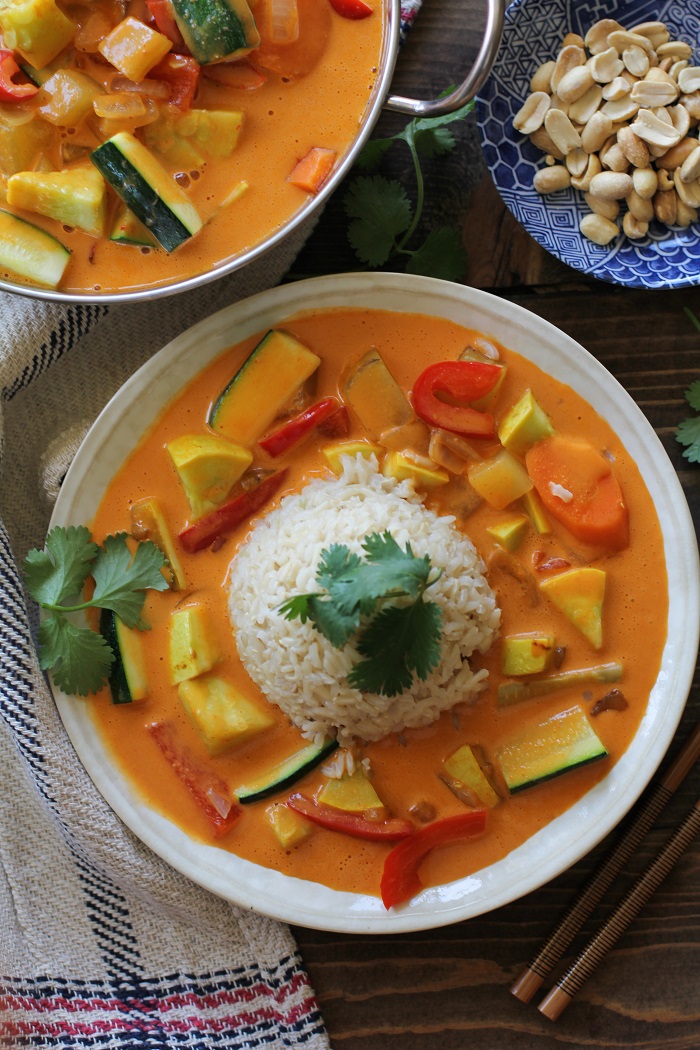 Speaking of customizations, lets talk…
Options for Recipe Change-Ups:
You can use this recipe as a gateway to all your 30-minute curry needs using any in-season veggies. Consider incorporating any winter squash (such as butternut kabocha, acorn, etc.), sweet potato, bok choy, tomato, fennel, broccoli, cauliflower, etc.
Add spinach, chopped kale or chard for some extra superfood infusion.
To make this a well-balanced meal, add plant-based or animal-based protein of choice, such as your favorite beans, tofu, egg, chicken, or shrimp.
I developed this recipe in partnership with Kroger. You can find it on their Inspired Gathering site, along with a plethora of other tasty seasonally-inspired recipes.
This recipe was origionally posted on Kroger's Inspired Gathering site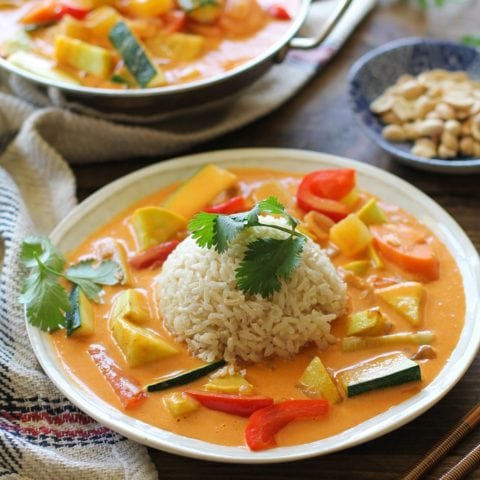 30-Minute Summer Vegetable Red Curry
30-Minute Summer Vegetable Red Curry
Ingredients
1 large carrot, chopped
1 Yukon Gold potato, chopped
1 red bell pepper, chopped
1 tablespoon fresh ginger, peeled and grated
3 cloves garlic, minced
1 medium zucchini squash, chopped
1 medium yellow squash, chopped
Instructions
Heat the coconut oil to medium-high in a large skillet or wok. Add the carrot and potato. Cover and cook, stirring occasionally, until the veggies have softened but are still al dente, about 8-10 minutes.
While the veggies are cooking, prepare the curry sauce by pouring the coconut milk and curry paste into a blender and blend until completely smooth. Set aside until ready to use.
Add the bell pepper, ginger, and garlic to the skillet with the veggies and continue cooking, stirring occasionally, for 2 minutes.
Add the zucchini and yellow squash, along with the red curry sauce. Bring to a gentle boil, then reduce the heat to a simmer and cook until squash is cooked to desired doneness, about 5 minutes.
Taste curry for flavor and add sea salt to taste. Serve curry with cooked rice and fresh cilantro.
Nutrition Information
Serving Size

1 g
Amount Per Serving
Unsaturated Fat

0g